Grand Canyon of Tuolumne
Trip Highlights
Rapids & Waterfalls
Box Canyon
One-way Thru Hike
Rejuvenating Solitude & Remoteness
Traverse Grand Canyon of the Tuolumne
Potential to See Wildlife
Description
Ideal in June and early July (it gets too hot in mid to late summer), this Yosemite adventure, through the deepest gorge in Yosemite National Park, passes by some of Yosemite's most remarkable waterfalls flowing among massive, glacially-carved canyon walls. Beautiful riverside camps in this remote wilderness offer more solitude than most destinations in Yosemite. Our adventure begins in beautiful, flower-filled Tuolumne Meadows and ends at the historic High Sierra Camp of White Wolf Camp 32 miles down canyon. Along the way we'll pass by innumerable raging cascades and many placid pools of the mighty Tuolumne River through some of the most incredible scenery in the Sierra Nevada! Scenic highlights of this wilderness paradise include Wildcat Point, Muir Gorge and the idyllic Pate Valley, not to mention the beautiful shores of the Tuolumne River as it plummets towards Hetch Hetchy beneath 5000 ft. granite walls!
Join the Wildland Trekking Company on a journey in John Muir's footsteps through the incomparable Grand Canyon of the Tuolumne River! Give us a call at 1-800-715-HIKE (4453) to learn more today!

NEED TO KNOW: YOSEMITE PERMITS
Yosemite issues backcountry permits 5.5 months in advance. It's beneficial to register before permits are issued and if you do, we recommend not making concrete travel arrangements until the permit is secured. We have a very good success rate with Yosemite permits, but if unsuccessful your deposit is 100% transferrable or refundable.
Read more …
Return Guests get a 10% discount on all Trips!
DIFFICULTY LEVEL 4
Our difficulty ratings are based on a scale of 1-5, tours with a rating of 1 being least difficult, tours with a rating of 5 being most difficult
Backpack Weight:

25-35 pounds

Daily Hiking Distances:

5-9 miles

Most Elevation Loss:

3000 feet

Most Elevation Gain:

3700 feet

Quality of Trails:

Well maintained

Additional:

A flat, sandy dirt tread leads through Tuolumne Meadows to the head of the canyon. A highly engineered, rocky trail leads past numerous waterfalls on stair steps, switchbacks and cobbled rocky sections to wide open Pate Valley. After steep switchbacks leaving the canyon, the trail traverses through forest and glacial moraines before reaching White Wolf.
PHYSICAL REQUIREMENTS
Participants should:
be very active, healthy people
exercise vigorously several times per week
be comfortable hiking, biking, or running for hours at a time without taking breaks
Travel Info
TRAVEL TO YOSEMITE VALLEY BACKPACKERS CAMP
This trip meets in Yosemite Valley in the parking lot of Curry Village near the bear boxes at shuttle stop 14 at 6PM on Day 1. Your guide will contact you approximately 10 days before your trip to coordinate this rendezvous and answer any last minute questions you have. Your guide will be waiting for you in a Wildland Trekking hat and shirt. This trip includes dinner and camping that night at the backpackers camp. Personal vehicles can remain parked at Curry Village during your trip.
Most of our guests rent vehicles or drive their own to Yosemite Valley. However, you can also travel to and from Yosemite National Park using train and bus options from much of California:
From Fresno: Yosemite Area Rapid Transit (YARTS) is offering 4 bus rides each direction from Fresno to Yosemite Valley. To reach the Yosemite Valley Backpackers Camp get off at Curry Village and either walk or take a national park shuttle to North Pines Campground. Walk to the back of the campground and across the footbridge to the camp.
From Other California Cities: by rail on the Amtrak San Joaquin Train to the city of Merced (serviced by most large cities in California) or by Amtrak "Thruway" Bus Service from Merced to Yosemite Valley. To book your trip, use Amtrak's Online Reservation Service to book round-trip Amtrak travel to "YOS" (Yosemite Valley).
Taxes & Fee's
California does not charge sales tax on services, so there is no sales tax for this trip.
All trips in Yosemite National Park have a 5% fee required by the National Park Service. This fee is applied when your reservation is made and is passed through directly to the national park.
There are no other taxes or fees associated with this trip. Feel free to give us a call at 1-800-715-HIKE (4453) with any questions!
Private Trips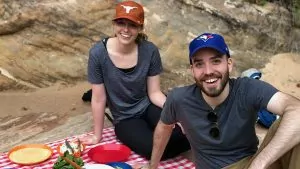 Travel in perfect company by booking a private trip exclusively for your group!
Our sliding scale for private trips is based on the final number of guests in your group. Rates are per person and do not include sales tax, national park fees or guide gratuity. The final rate is based on the actual number of guests on the trip and may adjust based on cancellations or additions.
Please Note: you can also enjoy a private trip at our normal scheduled rates by filling any empty tour to capacity. However, if group members drop from the tour those spots will automatically become available on our website for instant booking. By purchasing a private trip at the rates listed below, your trip will remain exclusive to your group regardless of cancellations. 
Private Rates FOr This Trip
2 People: Rate x 2.5
3 People: Rate x 1.75
4 People: Rate x 1.25
5+ People: Rate x 1.15
*all rates are per person
PDF Trip Itinerary Packet
Book online