Rocky Mountain Day Hike Tours
Maximize your time at Rocky Mountain N.P. by embarking on a day hike tour with one of our expert guides! Enjoy the assurance that comes with hiking with a guide who knows the area!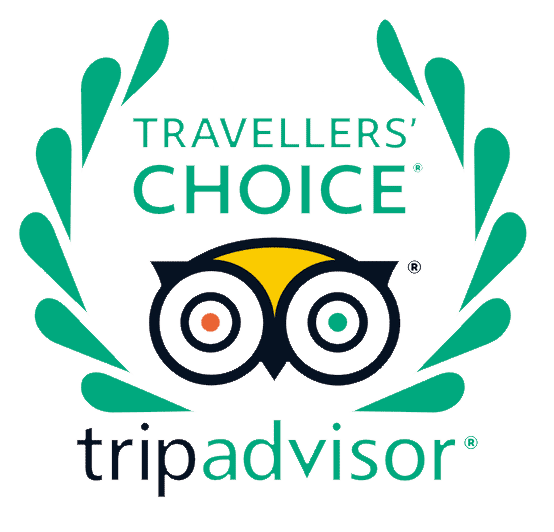 Taking a full day to hike in the mountain wonderland of Rocky Mountain National Park is something you'll never forget! Join us for a guided day hike deep into the high peaks of the Continental Divide! Our day hike tours will take you to the waterfalls, wildlife, wildflowers, alpine meadows, and mountain summits in this breathtaking national park.
All day hikes include a professional guide, natural and cultural history interpretation, use of a backpack and trekking poles, snacks and a picnic lunch. We offer 7 options, each a distinct, hand-picked adventure to highlight amazing aspects of Rocky Mountain National Park. Give us a call at 800-715-HIKE (4453) to learn more or book your hike today!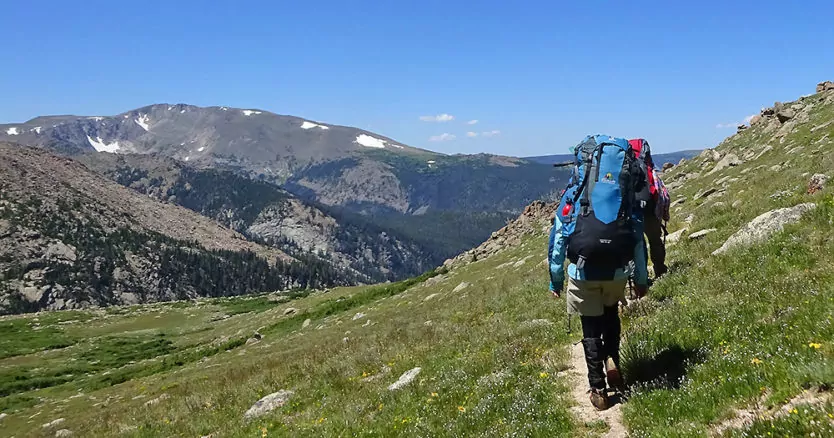 Rocky Mountain Backpacking Trips
Rocky Mountain National Park is in many ways the heart of the Colorado Rockies. Our Colorado backpacking trips take you high to alpine basins, mountain lakes, craggy peaks, glaciers, forests and the wildflower-filled meadows of Rocky Mountain National Park. We offer a variety of trips that fit a range of fitness and experience levels. For novice hikers a hike to Thunder Lake, "Across the Divide," or Continental Divide Loop are great options; more experienced and ambitious hikers might look to our Longs Peak Loop or Mummy Range Trek. Regardless of your choice, we're ready to provide an unforgettable adventure!
Rocky Mountain Llama Treks
Enjoy the amazing backcountry of Rocky Mountain National Park on a multi-day tour, hiking with just a light day pack! Llamas will carry our gear in and out so we can fully enjoy being in this truly stunning mountain country! These trips are all-inclusive opportunities to make the very most of your time at Rocky Mountain National Park, and to comfortably experience an adventurous excursion into the Rockies. Choose from multiple spectacular llama treks in Rocky Mountain National Park.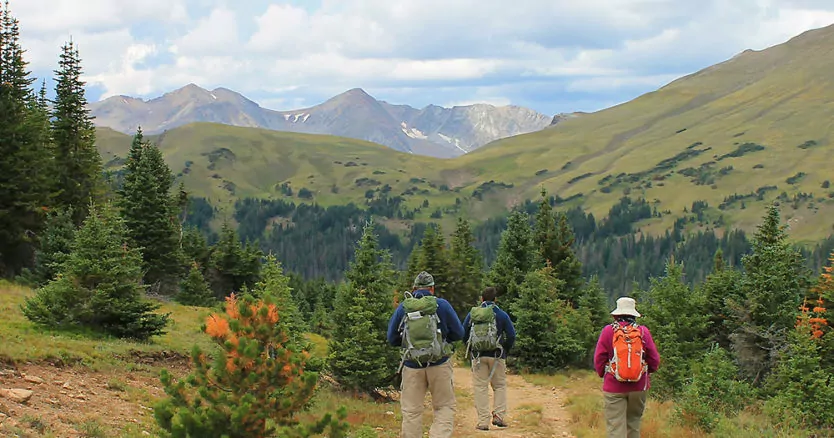 Rocky Mountain Basecamp Tours
Our Rocky Mountain National Park Basecamp Tour is an opportunity to enjoy the great outdoors and famous Colorado Rockies from the comfort of a scenic, private campground. We'll leave camp each day and embark on a series of day hikes that hit the highlights of Rocky Mountain National Park. On our Colorado camping tour we hike to waterfalls, high peaks, mountain lakes, lush valleys, excellent areas for wildlife like moose and elk, and more. Each evening we'll return to camp for showers, great outdoor meals, and campfires. Come join us for an extraordinary experience of the Rocky Mountains!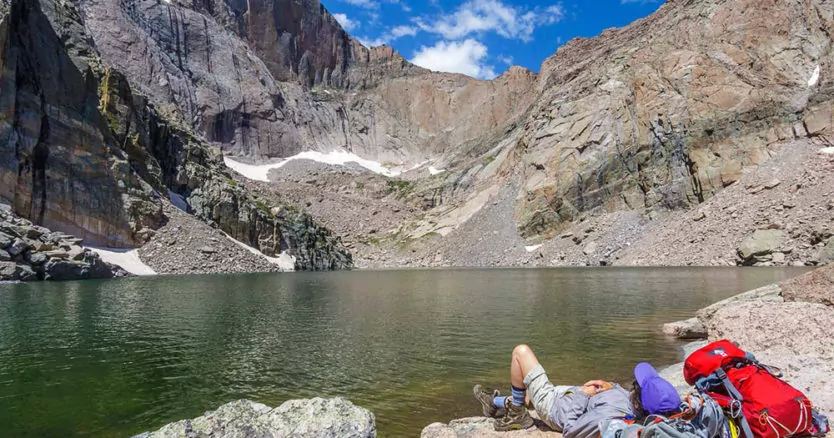 Rocky Mountain Inn-based Tours
Our all-inclusive inn to inn hiking Colorado tours immerse guests in the ecology, human, and natural history of Rocky Mountain National Park. From our base in comfortable and historic lodging in Estes Park, Colorado, we'll experience all of the diversity the Park has to offer: from pristine mountain lakes to high peaks and alpine glaciers, to the iconic Rocky Mountain Bighorn Sheep - our day hikes are chosen to highlight the most remarkable features of this National Park.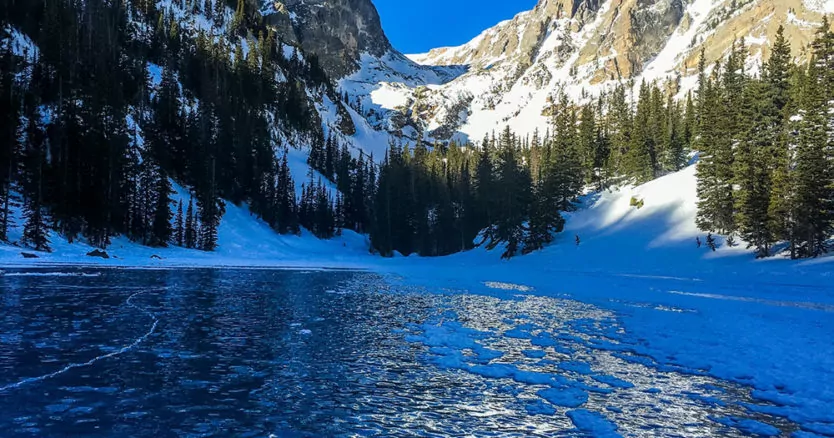 Rocky Mountain Snowshoe Tours
Discover the Colorado Rockies in winter on a Rocky Mountain Snowshoe Adventure. We traverse beneath the high peaks near the Continental Divide, cross frozen mountain lakes, explore mountain meadows where Elk, Rocky Mountain Bighorn Sheep, Lynx, and even the rare Wolverine may be seen. Absorb the magic of winter! We offer a 1-day Snowshoe Tour and a 4-day, inn-based snowshoe tour with historic accommodations in Estes Park. Whether you have 1 day or a week, snowshoeing Rocky Mountain National Park is something you'll never forget!
MORE ABOUT ROCKY MOUNTAIN DAY HIKES
CHOOSING A DAY HIKE IN THE ROCKY MOUNTAINS
Each of our seven Rocky Mountain National Park day hikes offers a distinct, hand-picked adventure.
Looking for a long, adventurous hike up a mountain peak? Join us for an inspiring climb to Hallett Peak, which rises over the Continental Divide at 12,718 feet. You'll climb above Bear Lake and Emerald Lake and ascend Flattop Mountain to take in incredible views. The trail will take you through an ancient glacial landscape, including Tyndall Glacier and Glacier Gorge. After a rocky final ascent of Hallett Peak, you'll be treated to a jaw-dropping view at the top.
One of the best ways to experience Rocky Mountain alpine lakes is on our Chasm Lake Day Hike. Trek through dense spruce-fir forests on your way to Chasm Lake, situated at the base of famous Longs Peak (14,259 feet). You'll enjoy breathtaking views of The Diamond and Mount Lady Washington (13,281 feet). Learn about the geological history of Colorado's mountain cirques from your expert guide.
Winter is one of the most beautiful seasons to visit the Rocky Mountains. Snowshoes and trekking poles are included as we take a snowshoe trek through an alpine wonderland. The adventure begins at Bear Lake at the base of Tyndall Gorge carved by Tyndall Glacier. Trek past Dream, Nymph and Emerald lakes, then take in majestic views of Longs Peak, Hallett Peak and Flattop Mountain.
BENEFITS OF A ROCKY MOUNTAIN NATIONAL PARK DAY HIKE
A day hike with Wildland Trekking will let you immerse yourself in world-renowned landscapes while we take care of the logistics. Even if you have only one day to visit Rocky Mountain National Park, our knowledgeable and experienced guides will help you make the most of your time.
Wildland Trekking is all about orchestrating every detail for an unforgettable hike. We provide gourmet meals and top-shelf gear, so you can travel light — just bring hiking shoes, extra layers, plenty of water and a sense of wonder.
New to guided tours? Here are a few reasons to go guided:
Hassle-free hiking: We handle all the details, including itineraries, gear, meals and local transportation.
Professional guides: Tackle an alpine mountain trek with confidence as you follow one of our medically trained guides.
Natural and cultural history: Our expert guides will enrich your hike with their knowledge of the area's history.
Learn more about our Rocky Mountain National Park tours and each of our day hikes in the Rocky Mountains, and contact us seven days a week with any questions. See you on the trails!
ROCKY MOUNTAIN VISITOR INFORMATION
TIPS FOR VISITING ROCKY MOUNTAIN NATIONAL PARK