Winter in the Rocky Mountains
Learn all about what it means to visit Rocky Mountain National Park in the Winter
Winter in Rocky Mountain National Park is truly a winter wonderland. Picture the most beautiful place you can imagine, and fill it with snow-covered mountain peaks, glistening snow on the valley floor, frozen waterfalls, and snow-dusted wildlife at dusk; that is a tiny glimpse of the Rockies in winter. It is a magical time of year. When planning a trip to Rocky Mountain in the winter, it is important to gather as much information as possible before you set out.
One thing to consider is that the weather changes abruptly and drastically in the mountains. It could be sunny and clear one minute, and then a storm could roll in, making the temperature drop and snow fall the next minute. Always be prepared with layers of warm and waterproof clothing, extra socks, hats, and gloves. It is important to carry at least 3 liters of water with you—even though you may not be sweating, and you may not realize how much you are exerting yourself, it is still possible to get dehydrated in the cold. Also, it is important to wear sunscreen—even though it is chilly and you are bundled up, the sun reflecting off the snow could still give you sunburn.
There are many benefits to visiting Rocky Mountain in the winter, and some drawbacks, as well. Below we have categorized the most common "when-to-go" questions to help you determine if winter is the best time for you to visit the park.
benefits of visiting in winter
One of the biggest benefits of visiting Rocky Mountain in the winter is the lack of crowds. Visitation in December, January, February, and March combined is half of the visitation in July alone. You have so many opportunities to experience tranquility during this rejuvenating time of year, and you'll be able to explore the park in ways that most only dream of.
Since most of the trails are covered in snow during the winter, this is a great opportunity to try a new hobby: snowshoeing! Multiday snowshoe tours are available throughout the winter, as well as day snowshoe adventures. These tours take you to alpine lakes, where you'll gaze at majestic snow-covered peaks in the distance. Appropriate gear, snowshoes, snacks, and an expert guide are all provided. Snowshoes are also available for rental in Estes Park and Grand Lake.
drawbacks of visiting in winter
One of the drawbacks of visiting Rocky Mountain National Park during the winter months is that Trail Ridge Road is closed. Typically this road—12,183 feet at its highest point, remains closed from late October to late May. However, the road is open to Many Parks Curve, approximately 7 miles from the start of Trail Ridge Road from the east. Check the current road conditions when planning your winter trip.
things to do in winter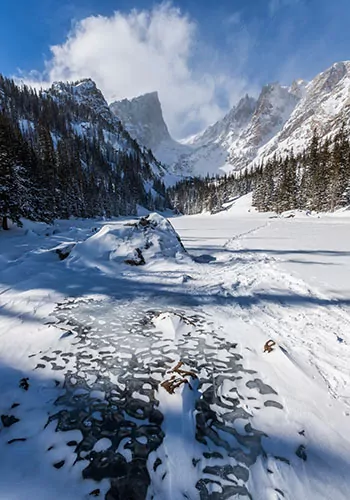 Winter brings a full list of activities that you may not be able to do any other time of the year. It is a season of solitude in the park, and you will get to experience it in a way that others only dream of. Below is a list of the most popular things to do in Rocky Mountain National Park in the winter:
Snowshoeing: Since most trails are covered in snow for the majority of the winter, snowshoeing is a great alternative to hiking. There are tons of trails in the valleys that are perfect for snowshoeing and may lead you to alpine lakes, and frozen waterfalls, and/or provide incredible views of gigantic, snow-covered peaks in the distance. Multiday snowshoe tours are offered throughout the winter, where you will explore the park during the day and stay at a cozy inn and enjoy fantastic meals in the evenings. Day snowshoe treks are available for those who have less time but still desire to experience the magic of Rocky Mountain with a guide.
Cross-country skiing: Available for rental in Estes Park, and Grand Lake, cross-country skiing is a great way to see the park in the winter. The best trails for cross-country skiing include Nymph Lake, Emerald Lake, Dream Lake, Mills Lake through Glacier Gorge, and East Inlet Trail, on the west side of the park.
Photography: Winter photography in Rocky Mountain National Park should be on the top of everyone's to-do list. Freshly dusted snow, along with the crisp winter lighting makes for perfect photos. Even though it is super-cold in the mornings, it is recommended to get up early at least once during your trip to capture the sunrise in winter; pack your layers and a warm drink, and you will not be disappointed.
Bus Tours: Offered by the park's non-profit partner, Rocky Mountain Conservancy, these bus tours are offered through the winter, and showcase the wildlife, snow-capped summits, and Bear Lake corridor. A guide will share knowledge of the Rockies from inside the comfort of a heated bus.
Wildlife Watching: Winter brings out different characteristics in each species of wildlife. Coyotes and pikas tolerate the cold and can occasionally be seen, whereas marmots and bears hibernate. The most prevalent wildlife to see during the winter in the Rocky Mountains are elk and deer; they escape the bitter tundra and move to the plains. They can be seen all over the park, but most commonly are seen on Bear Lake Road, in Moraine Park, and at the Fall River Entrance. Because the wildlife is concentrated in a smaller area, there is a great chance to view them with a spectacular winter backdrop.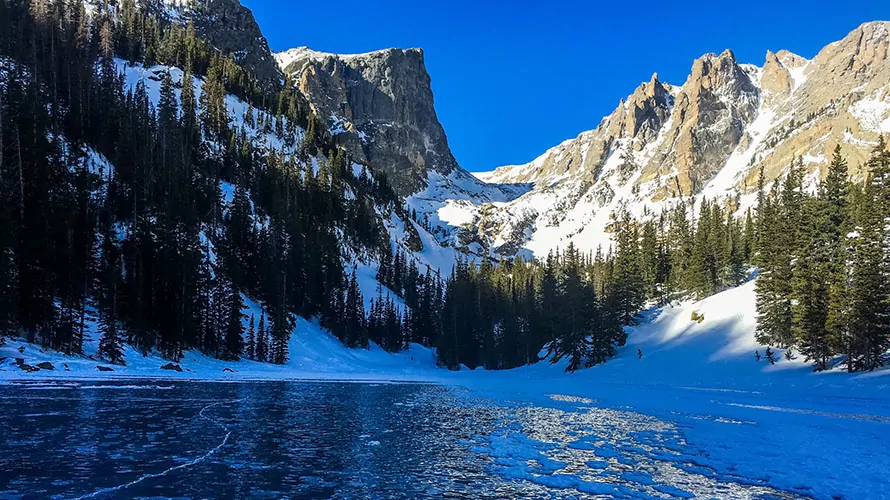 hiking in winter
The east side of Rocky Mountain National Park doesn't receive as much snow as the west side of the park, so it is much easier to hike without using snowshoes or cross-country skis. Typically, trails below 8,500 feet are more accessible for winter hiking. As always, make sure you check the trail conditions, or talk to a Ranger, before starting a hike.
Below is a list of the best winter hikes in Rocky Mountain:
1. Chasm Lake
Chasm Lake is a marvelous alpine lake at the base of Colorado's most famous peak—Longs Peak, at 14,259. The lake lies in a granite cirque, with sheer cliffs towering 2,400 feet above, known as "The Diamond". With its view of The Diamond, Longs Peak, Mount Lady Washington, and Mount Meeker, this is one of the most sought-after views in the park.
Begin at the Longs Peak Trailhead, and stay left when the trail splits. Follow the trail through the thick, snowy lodgepole pine, fir, and spruce forest. At just over 2 miles, you will break the treeline, and enter the subalpine, with Longs Peak, Mount Lady Washington, and Mount Meeker coming into view. The junction for Chasm Lake is at 3.5 miles, and the trail will split to the right; this portion of the trail contains some route finding and easy rock scrambling. Once you reach Chasm Lake, you are immediately met with picture-perfect views. Be sure to allow yourself plenty of time to enjoy this amazing landscape.
This trail is open year-round and provides excellent views of the surrounding mountains, covered
d with snow. Whether you are planning a holiday getaway in December, or trying to experience the last of the snow in early spring, this is a perfect trail for you! Hiking this trail in winter, you may want to bring traction devices. Even if the trail looks clear when you first start, there is a high chance of snow once you get to higher elevations. Also, having trekking poles is helpful in general, but when you have to cross a snowfield, they are especially helpful to keep your balance and have something to lean on.
2. Calypso Cascades
The trail to Calypso Cascades takes you past Copeland Falls—just under a half mile from the trailhead. There is a side trail that takes you to the upper and the lower falls, which will most likely be beautifully covered in snow and ice. You will want to bring traction devices with you, as the trail can be quite icy and snow-packed once you pass Copeland Falls. Continue on the main trail, and you will cross Sandbeach Creek on a footbridge. At 1.3 miles, you will reach a junction, stay left here for the trail to Calypso Cascades. Hike on through the quiet, snow-dusted ponderosa pines for another half mile and you will reach Calypso Cascades. In the winter, the cascades are under layers of snow and ice, but if you listen closely, you will be able to hear the rumble of flowing water beneath the snow.
This is an ideal winter hike in the Rocky Mountains. Since most visitors are snowshoeing in the Bear Lake or Glacier Gorge areas, there are fewer people hiking in Wild Basin, so you have a great chance for solitude in this peaceful area of the park. And, with fewer people frequently on this trail, you are likely to see wildlife, including the white-tailed ptarmigan, which is beautiful and magical to see in the snow.
3. Chasm Falls
Starting at the trailhead—located on Trail Ridge Road (which is open to Many Parks Curve in the winter when the rest of the road is closed), you will begin down Old Fall River Road, the first road built in Rocky Mountain National Park. After walking for approximately one mile, the road takes a sharp switchback, taking you east and giving you great views of the valley below. The junction for Chasm Falls is 1.4 miles, and it is a short walk to the overlook of the falls. In winter, the waterfall will most likely be frozen with spectacular ice features. This hike is great during the winter season, as it doesn't gain too much elevation, so the trail is easy to complete. Since you are hiking on an old road, there is little chance to lose the trail, even when covered with snow.
4. Upper Beaver Meadows
Soon after beginning the trail, you will reach a split in the trail—this is a "loop within the loop", so you can take either a right or a left at the junction. Taking a left at the fork, you will be gifted with incredible views of Longs Peak and the mountains of the Continental Divide. Eventually, you will enter a ponderosa pine forest, which is beautiful with winter snow glistening from its needles. This trail is spectacular because you get a little bit of everything—expansive views, wide-open meadows, snow-speckled pine forests, and frozen streams. You are traveling through the upper limits of the montane ecosystem, which is home to many species of wildlife, a treat to see in the winter. Follow the signs at each junction you come to, and once you reach the ridgeline, you will have a great view of Deer Mountain in the distance. The view from the top is panoramic and you are able to look out to the snow-covered peaks of the Continental Divide; this is a view that people dream of, but few have the chance to actually experience.
5. Deer Mountain
You will start through a ponderosa forest, blanketed in crisp, white snow, giving a sense of peace and tranquility to those who travel through it. En route to Deer Mountain, you will get remarkable views of the Mummy Range and Little Horseshoe Park. Keep your eye out for elk and deer throughout the first mile of open meadow. The trail then becomes strenuous and contains a series of switchbacks—be careful of these switchbacks during icy conditions and make sure to wear traction devices. At 3 miles, you will reach the summit of Deer Mountain and receive incredible panoramic views of Estes Park, Moraine Park, Longs Peak, and Hallett Peak. This is a great place to take a break, eat a snack (and remember to drink water, even if you're not sweating), and take in this remarkable winter wonderland. When ready, head down the mountain the same way you came up.
weather in winter
Winter is characterized by cold and wet conditions. Arctic conditions occur at elevations above 10,000 feet; sudden blizzards, deep snowpacks, and high winds are prevalent. Lower elevations on the east side of the park seldom see deep snow, but usually experience high winds and moderate snowfall. On the west side of the park, there is less wind and more snow.
Always be prepared for a dramatic change in weather; winter storms can roll in unannounced, and you don't want to be stuck in cold, windy, or snowy conditions without appropriate gear. It is important to pack warm, waterproof layers, extra socks, and even a change of clothes.
You can check the current weather for Estes Park, and Grand Lake.
Below are the average temperatures and days of precipitation for Estes Park, on the east side of the park, and Grand Lake, on the west side of the park:
Month
Estes Park
Grand Lake
Days of Precip
Avg Hi
Avg Lo
Avg Hi
Avg Lo
December
35°F (1°C)
18°F (-7°C)
30°F (-1°C)
0°F (-17°C)
3-8 Days
January
36°F (2°C)
18°F (-7°C)
32°F (0°C)
-2°F (-18°C)
3-8 Days
February
36°F (2°C)
7°F (-8°C)
34°F (1°C)
2°F (-16°C)
4-7 Days
March
44°F (6°C)
23°F (-5°C)
43°F (1°C)
9°F (-16°C)
5-7 Days
join a guided colorado Winter adventure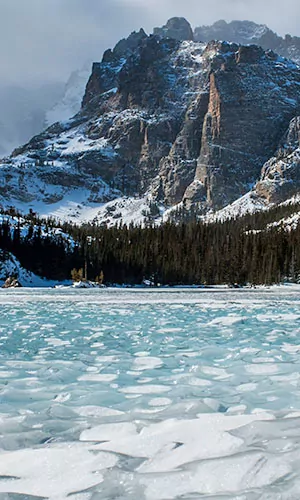 Our Rocky Mountain National Park Snowshoe tours include:
Lodge-based Rocky Mountain Snowshoe Tour – this is a 4-day adventure with local lodging in Estes Park, transportation into the Park each day, snowshoe, backpacks and ski poles, all meals and snacks (including hot drinks on the trail), and a professional Colorado mountain guide.
Emerald Lake Half-Day Snowshoe Tour – this tour is 4-5 hours and includes snowshoes, ski poles, snacks, hot drinks, local transportation, and a professional Colorado mountain guide.
Black Lake Full Day Snowshoe Tour – this 7-8 hour tour includes snowshoes, lunch, snacks, hot drinks, local transportation, and a professional Colorado mountain guide.
SUMMER COLORADO HIKING ADVENTURES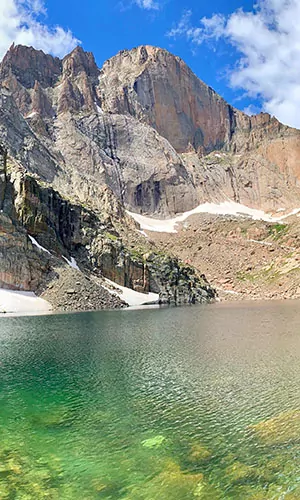 Rocky Mountain National Park is home to some of the most epic and amazing hiking vacations in the world. Wildland Trekking offers trips with the best of Rocky Mountain: waterfalls, mountains, views, wildlife, solitude, adventure, and fascinating natural and cultural interpretation.
Guided Rocky Mountain treks are all-inclusive which covers permits; local transportation (excluded on certain tours); meals; equipment; safety systems and professional hiking/wilderness guides; all of which allow visitors to maximize their time in Rocky Mountain and focus entirely on enjoying the Park.
ROCKY MOUNTAIN ADVENTURE TOURS