Backpacking Permits in Rocky Mountain
Learn about the permits you'll need for backpacking in the Rockies
Backpacking in Rocky Mountain is world-class; the park contains approximately 355 miles of trails—this includes perfect trails for those who have recently developed a passion for backpacking, and also trails for those who have many, many miles under their boots. When planning a backcountry trip in the park, it is important to know the itinerary you are aiming for, but to be flexible as well, in case the sites you desire are unavailable. You can look at the Wilderness Campsite Map and the Wilderness Site Details to help plan your itinerary. You can also check out Wilderness Campsite Availability List to see if any of the sites you desire are available for the dates of your trip.
Wilderness Permits are required for all backcountry trips in Rocky Mountain National Park. Reservations can be made in advance for campsites; below we will outline when, where and how to apply. However, walk-ins are also available, if there is space. There is a $30 fee for all permits, both reservations and walk-ins alike, for trips between May 1st and October 31st. You can pick up your permits at the Beaver Meadows Visitor Center, or at the Kawuneeche Visitor Center.
If you are unable to secure the permits you want, or the reservation process seems like it will stress you out, consider going with a guiding company! The company takes care of all the logistics, including permits, transportation, meals, and provides all necessary gear, including backpacks, tents, sleeping bags and pads, trekking poles, etc. You can fully enjoy your national park trekking vacation while Wildland Trekking takes care of everything for you!
wilderness permit reservations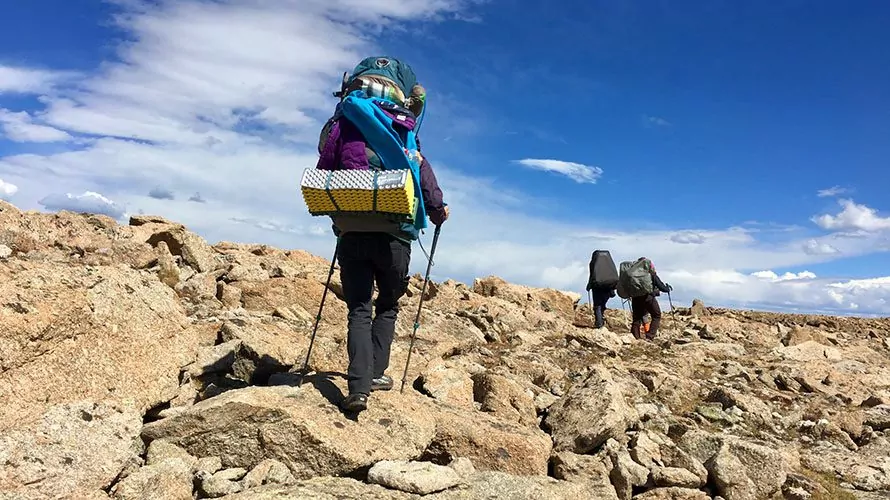 If you want to guarantee that you will get the campsite you have in mind, or you just love trip planning, you will want to complete a reservation request as soon as they come available. Depending on what time of year you are planning a trip determines when you can apply for a reservation.
When to apply: Reservations may be made months in advance, or at least three days before the start date of your trip. Below is a table of when reservation requests are able to be made:
| | |
| --- | --- |
| Dates of Trip | Reservation Requests Can Be Made |
| May 1st through October 31st | March 1st (if applying online, or at Beaver Meadows Visitor Center), or March 3rd (if applying at the Kawuneeche Visitor Center) through October 28th |
| November 1st through April 30th | October 1st through April 30th |
How to apply: If you are making a reservation for a trip May 1st to October 31st, you can apply online using the Wilderness Campsite Reservation Request Application or in person at the Beaver Meadows Visitor Center starting March 1st. If you apply in person at the Kawuneeche Visitor Center, reservations can be made starting March 3rd. Permits may only be reserved online or in person at one of these Visitor Centers; email, mail or phone reservations are unavailable.
group sizes
For parties of 1 to 7 people, individual sites are available. Each camping area has one or two sites. For parties of 8 to 12 people, group sites are available. Because of the impact on the land between campsites, the Park Service requires that large groups either use special group sites, or camp at least a mile from each other, instead of using two neighboring individual sites.
safety precautions with wildlife
Rocky Mountain National Park is not home to grizzly bears, although black bears and other wildlife dwell in the backcountry. To help prevent bears, mice, marmots and other animals from becoming a problem, the National Park Service requires all parties to use carry-in/carry-out bear resistant containers for food and other items with scent. These containers are required from April through October for any backcountry camping below the treeline, or at Boulderfield on the Longs Peak Trail. You can buy your own bear resistant container, or you can rent one in Estes Park. Bear-resistant containers must be placed 200 feet (or about 70 adult steps) from campsite.
Also, avoid leaving excess food in your car at the trailhead; black bears have been known to break in to cars for food. Many trailheads have food storage lockers where you can leave any food or scented items that you are not taking with you.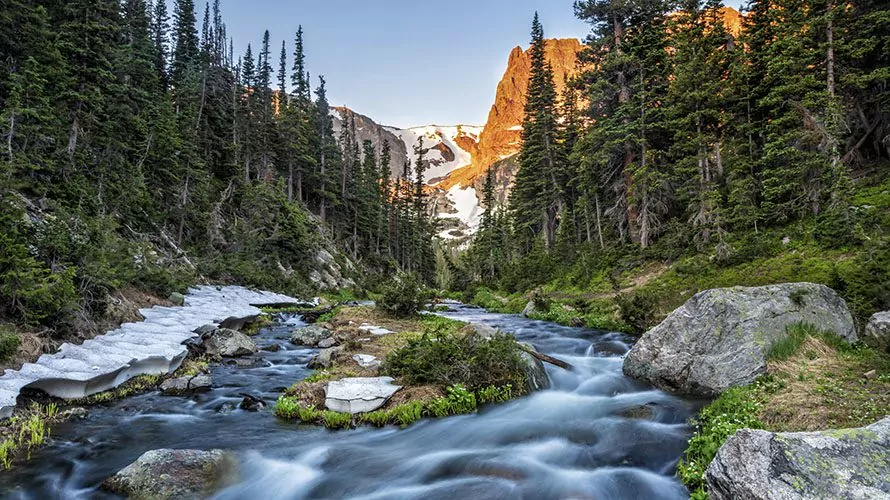 leave no trace
Help preserve the backcountry for any visitors who come after you by following the 7 Leave No Trace Principles. These will provide a safe and successful trip for you, as well as protect the land for other visitors and for the wildlife that reside in the backcountry. Below are ways you can leave no trace:
1. Plan ahead and prepare
2. Travel and camp on durable surfaces
3. Dispose of waste properly
4. Leave what you find
5. Minimize campfire impacts
6. Respect wildlife
7. Be considerate of other visitors
You can read all about Leave No Trace before you start preparing for your adventure.
JOIN A GUIDED COLORADO HIKING ADVENTURE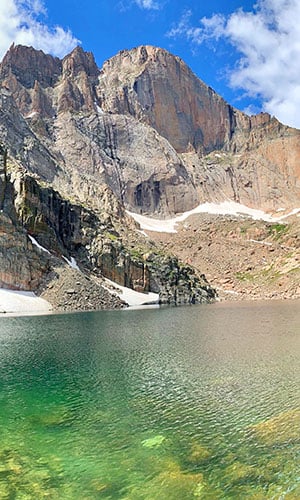 Rocky Mountain National Park is home to some of the most epic and amazing hiking vacations in the world. Wildland Trekking offers trips with the best of Rocky Mountain: waterfalls, mountains, views, wildlife, solitude, adventure and fascinating natural and cultural interpretation.
Guided Rocky Mountain treks are all-inclusive which covers permits; local transportation (excluded on certain tours); meals; equipment; safety systems and professional hiking/wilderness guides; all of which allows visitors to maximize their time in Rocky Mountain and focus entirely on enjoying the Park.
ROCKY MOUNTAIN ADVENTURE TOURS