What to See in Rocky Mountain in a Day
Learn how to make the most of Rocky Mountain National Park in one day
Rocky Mountain National Park is just over 415 square miles, and contains just about 355 miles of maintained hiking trails, 450 miles of streams, 156 lakes, and 77 peaks over 12,000 feet in elevation; giving every visitor a chance to find something they love. This land is beautiful and untamed, and you could spend months, if not years, in the park and never see all of it. However, this isn't a possibility for most, as time and budget restraints often limit the amount of time you can spend in the park. If you only have one day to spend in Rocky Mountain National Park, this guide will share some tips and recommendations for how to experience the most of the park in a short amount of time.
Best way to see Rocky Mountain in One Day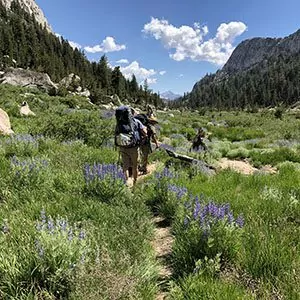 You can divide Rocky Mountain National Park into five sections. It may not be possible to explore each of the five areas in one day, but you may be able to check a couple off your list, giving you a well-rounded experience in Rocky Mountain National Park. Below is a brief description of each of the sections:
The north: this is Beaver Meadows Entrance Station and above to the park's border. The area is known for it's wilderness. The land is untamed and without human disruption. There are lots of backcountry lakes and long, connecting trails through the high Mummy Range.
The alpine: this is the eleven miles of Trail Ridge Road that are above the tree line, and it's surrounding area. You will find yourself at an amazing vantage point, without anything restricting your view. It is known best for it's amazing tundra landscape and wildlife.
The west: best known for it's big meadows, and big moose, the west side is the entire Kawuneeche Valley.
The east: this is south of Beaver Meadows Entrance Station, and along Bear Lake Road. This is where you would go for easy access to trails and alpine lakes. There are spectacular views, and many lakes in this area.
The south: this is where you would find Longs Peak and Wild Basin, the area is known for it's immense backcountry. To read more about how to hike Longs Peak, click here.
If you only have one day in the park, it is recommended that you enter through the east side of the park, at Estes Park, and exit in the west, at Grand Lake. Make sure you stop at the Beaver Meadows Visitor Center for information and displays. When you enter through Estes Park, there are many trailheads that begin on Bear Lake Road. There is also a park shuttle bus that operates on the east side of the park. You can leave your car at the Park and Ride, and use the shuttle bus to get to the trailheads, instead of stressing over limited parking. To find the perfect hike for your interests, you can check out our list of favorite Rocky Mountain hikes.
You can then drive Trail Ridge Road, which is the highest paved road in the country, taking you to incredible and scenic overlooks. The road takes you into the tundra, so you will get to experience different wildlife and plants living in this life-zone. The Alpine Visitor Center is along the road, and has a short trail that takes you to 12,000 feet, without much effort. Trail Ridge Road connects the east to the west, so you can get a great, overall experience of the park. Once on the west side of the park, you can enjoy big meadows and big wildlife. Also, be sure to check out the Holzwarth Historic Site, and imagine living in this rugged and unforgiving (but so beautiful) terrain in the early 1900's.
Another great way to get the most out of just one day in Rocky Mountain National Park is to book a guided day hike. Day hikes take you to alpine lakes, cascading waterfalls, wildlife, wildflowers and mountain summits. With an expert Rocky Mountain guide, you will learn all about the geology, history, wildlife and plants of the region while seeing the best of the best. Appropriate gear (including trekking poles, backpacks, etc.), snacks, and lunch are provided, so you can focus on enjoying your surroundings, and the guiding company will take care of the rest.
Sunrise in ROcky Mountain national park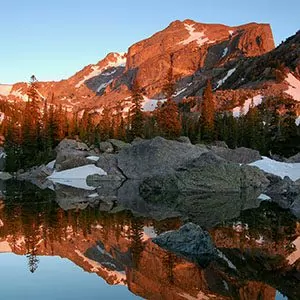 The Rockies are stunningly impressive all day long, but especially when the peaks are set ablaze by the rising or setting sun. When the sun illuminates the mountains, slowly coloring them with oranges and reds, while everything below is shadowed in purples and blues; this is every sunrise and sunset enthusiasts' dream. Below are the best places to watch sunrise in Rocky Mountain National Park:
1. Sprague Lake: located on the Sprague Lake Loop, this trailhead is off Bear Lake Road. The loop is just under a mile, and takes you to Sprague Lake, which is a 13-acre lake and is usually flat and placid, providing a great reflection of the surrounding mountains. Photographers will love visiting Sprague Lake for sunrise, as the sun peaks over the mountains, casting a beautiful array of colors on the granite mountains and the lake below.
2. Dream Lake: this trail also begins at the Bear Lake trailhead. Just past the trailhead, the Bear Lake Loop continues to the right, and the Dream Lake Trail splits to the left. At a half mile, you will reach Nymph Lake, covered in lily pads. Continue, and after 1.1 miles total, you will reach the banks of Dream Lake; it's name is very fitting, as you have views of Hallett Peak at 12,713 feet, and Flattop Mountain at 12,324 feet. The landscape of this subalpine lake is fantastic all day long, but at sunrise, you get to watch as these behemoth granite peaks blazing with the day's first light. It's a little bit of a trek early in the morning, but so worth it.
3. Many Parks Curve: this is a pull out on Trail Ridge Road, and from it's vantage point, you can look across at Deer Mountain, at 10,013 feet, and in the distance Longs Peak, at 14,255. The valley below, sculpted by glacier, makes for a breathtaking contrast that helps put the size of the mountains into perspective. This is a excellent spot for sunrise, as you can just park your car and watch the show, and you can watch as the most famous peak in the park comes to life with light.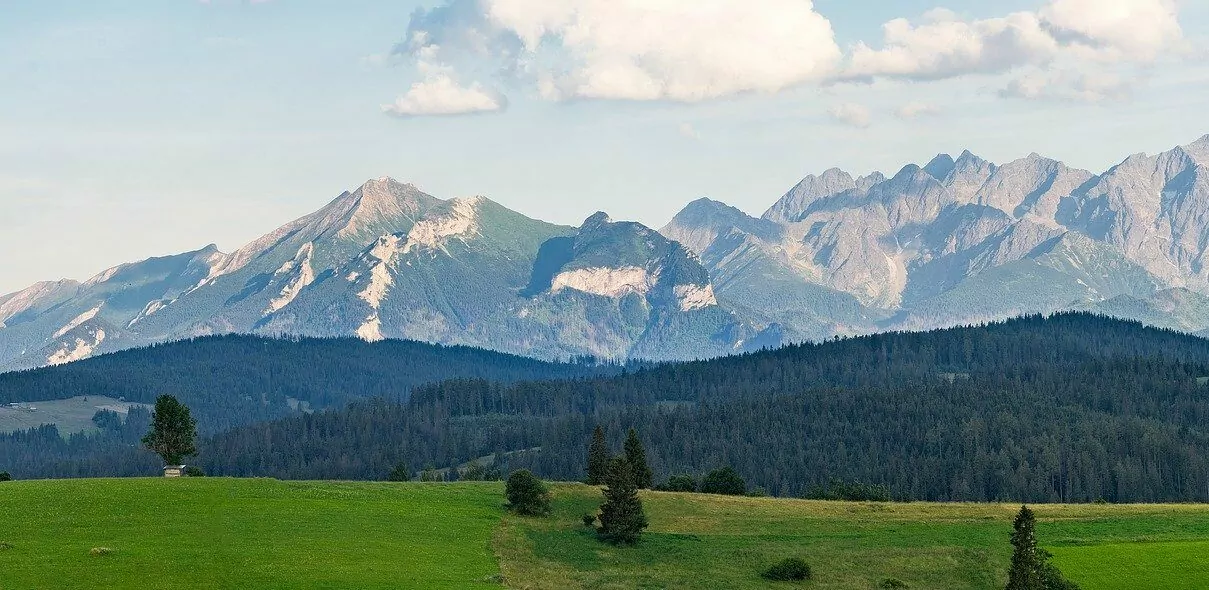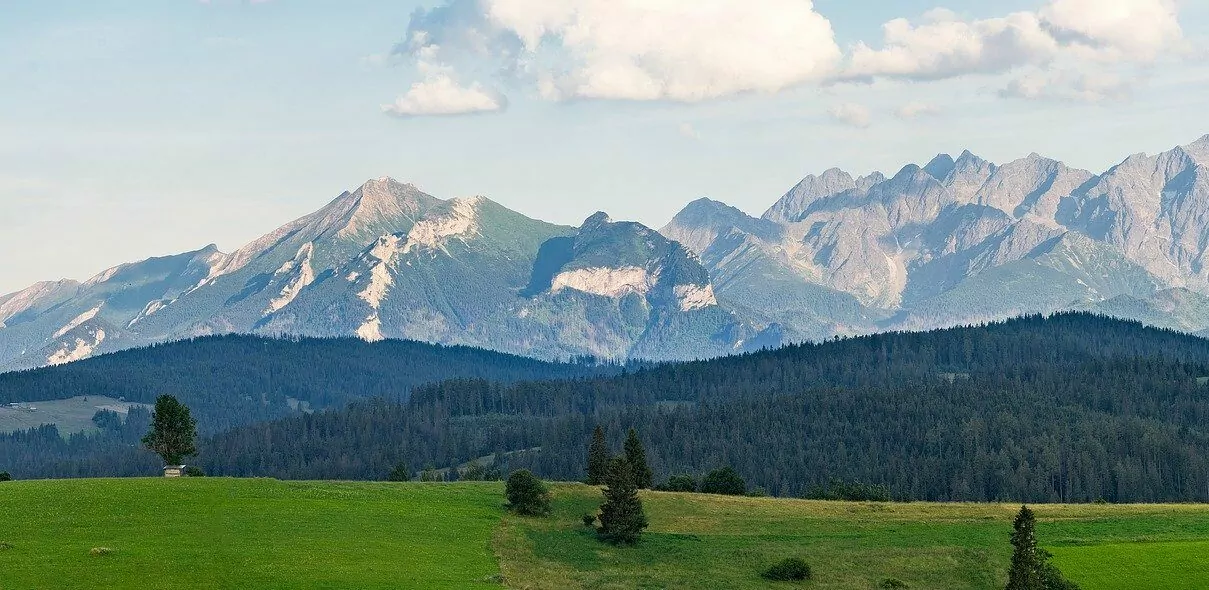 Sunset in Rocky Mountain national park
Take a hike in Rocky Mountain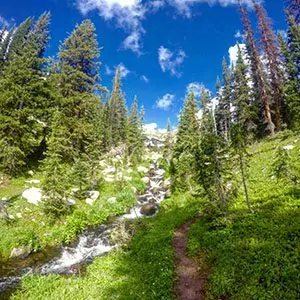 There are a number of great trails in Rocky Mountain, so you are sure to see incredible landscapes, no matter which trail you choose. For a comprehensive list of our favorite hikes in Rocky Mountain, click here. Before heading out on a hike, read Rocky Mountain's trail conditions. Below are the best hikes in Rocky Mountain, if you only have one day:
1. LONGS PEAK: Arguably the most famous peak in Rocky Mountain National Park, Longs Peak stands at 14,259 feet, making it the tallest peak in the park. Because of the popularity, the length of the trail, and the difficulty, an early morning start is essential to a successful summit—most recommend starting at 3 am. From the trailhead—located off Highway 7 outside the park, hike uphill, staying left at the fork. Above the treeline, the trail gets a little dicey and dissipates, so follow the markers. You should know that this trail requires scrambling and route finding, and contains exposure and steep ridge traverses. The trail is steep and daunting, and not for the faint of heart, but once you get to that summit, let the celebration begin. You can see forever with unparalleled views, and you gain bragging rights for bagging the tallest peak in the park.
2. CHASM LAKE: Chasm Lake is situated at the base of Longs Peak sheer wall called The Diamond. It is a clear, pristine lake, surrounded by granite mountains, and on a clear day, you may be able to watch as rock climbers attempt to scale The Diamond to Longs Peak. The trail to Chasm Lake begins at Longs Peak trailhead, after crossing the treeline, follow signs for Chasm Lake, and traverse along the cliff's edge until you reach the final ascent for the lake. Make sure you save yourself enough time to eat lunch and enjoy this incredible view before making your way back down to the trailhead.
3. BEAR LAKE TRAIL: Bear Lake Trail takes you on a ½ mile loop around Bear Lake, or you can hike to Emerald Lake, passing Nymph and Dream Lakes along the way. Emerald Lake is a stunning alpine lake located beneath the Continental Divide, views of Hallett Peak, Tyndall Glacier and Flattop Mountains are in the distance; it is a 3 mile roundtrip hike.
4. GLACIER GORGE: Glacier Gorge is a sub-alpine valley, and the hike contains picturesque scenery of waterfalls, meadows, alpine lakes, glaciers and mountain cirques. From the trailhead, you will pass Alberta Falls and continue up to Loch Vale—an absolutely stunning granite cirque towering above the pristine alpine lake. After, you can push on to Sky Pond, which is beautiful and rewarding, with views of glaciers; however, this requires scrambling up sometimes slippery rocks. It is a 9.8-mile hike to Sky Pond and back.
5. ODESSA GORGE: Odessa Gorge is a 9-mile roundtrip hike that takes you from Bear Lake to the canyon of Odessa Gorge, scattered with pristine lakes of it's own. From the trailhead, the trail is mostly downhill, and you will find yourself in a world of mountain spires towering over alpine lakes. Views of Little Matterhorn, Notchtop and Knobtop Mountains, all at over 12,000 feet are in the distance. Make sure you give yourself to eat a lunch and enjoy the scenery before heading back to the trailhead.
6. MOUNT CHIQUITA: Mount Chiquita is a strenuous 5 mile hike from Chapin Pass Trailhead. From the trailhead, hike up toward Chapin Pass Summits, and after 1.5 miles, you will reach the saddle. The trail becomes steep and exposed, and then all but vanishes once you get closer to the top. At the summit, you are rewarded with phenomenal views of Longs Peak, the Mummy Range, the Gore Range and the Indian Peaks. From Mount Chiquita, you can continue on to Mount Ypsilon, which will add another 3 miles onto your trip.
7. WILD BASIN TRAIL: Wild Basin Trail is a great day hike because there are many destinations, at varying distances, guaranteeing a delightful hike. At 5.5 miles, you can reach Copeland, Calypso and Ouzel Falls—powerful and cascading, these waterfalls are a great turn around point for someone with less time. Or, you can continue hiking past Ouzel Falls, to the breathtaking Ouzel Lake. Consider spending the night on a portered camping trip.
Food and Other attractions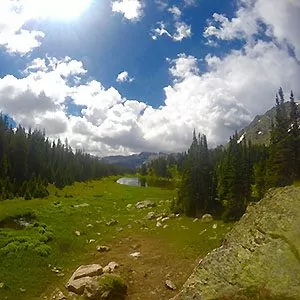 Open from mid-May to September, there is only one place to eat inside Rocky Mountain National Park. The Café at Trail Ridge is located by the Alpine Visitor Center, at the top of Trail Ridge Road, selling sandwiches and snacks. There are many places to eat in Grand Lake and Estes Park, as well as grocery stores in each town, so you can buy picnic supplies to enjoy at one of the many, many scenic overlooks in the park.
You can tour the Holzwarth Historic Site to see what early life was like in the Rockies. And make sure you stop by one of the Visitor Centers for information and educational opportunities. You can also become a Junior Ranger at any of the Visitor Centers—for kids and adults alike!
JOIN A GUIDED COLORADO HIKING ADVENTURE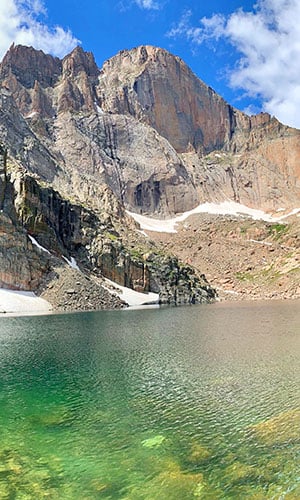 Rocky Mountain National Park is home to some of the most epic and amazing hiking vacations in the world. Wildland Trekking offers trips with the best of Rocky Mountain: waterfalls, mountains, views, wildlife, solitude, adventure and fascinating natural and cultural interpretation.
Guided Rocky Mountain treks are all-inclusive which covers permits; local transportation (excluded on certain tours); meals; equipment; safety systems and professional hiking/wilderness guides; all of which allows visitors to maximize their time in Rocky Mountain and focus entirely on enjoying the Park.
ROCKY MOUNTAIN ADVENTURE TOURS