Hiking Longs Peak
Learn all about what it takes to hike Longs Peak
Standing tall and proud, at 14,259 feet, Longs Peak towers over every other summit in Rocky Mountain National Park. This iconic peak is what most people think about when they think of Rocky Mountain, or Colorado mountains, in general. The 15-mile trek to the summit is a journey, and very well worth it. But, this hike should not be taken lightly, this is not for the faint of heart. You will be challenged physically and mentally; but the pay off is extraordinary. The views from the summit are world-class and unbeatable, you can see for 100 miles in any direction—it doesn't get any more epic than that!
Below we will address some of the biggest questions when planning a trip up Longs Peak. Don't just take our word for it though, make sure you check with a ranger at a Visitor Center in the park for trail conditions and an alpine weather forecast.
what to expect along the route
The route you will be hiking/climbing is called the Keyhole Route. It is more than just a hike; it is a rock scramble that will have you using both hands and both feet, and will test your limits as you cross sheer vertical faces, with narrow ledges, loose rocks and steep cliffs. The trail is easy to follow and well-marked until you reach the Boulder Field, from there to the summit requires trail finding skills. There are seven sections of the route, as described below:
1. The Boulder Field: the marked trail ends here, and you will have to navigate boulder field terrain.
2. The Keyhole: there is a break in the rock, creating a "keyhole", this is where the climbing route to the summit starts.
3. The Ledges: a series of steep and narrow ledges travels along the cliffs edge. You will want to follow red and yellow bull's eyes.
4. The Trough: there is extreme exposure here, and the terrain is very loose, so watch your footing and take extreme caution.
5. The Narrows: here you will cross a sheer vertical rock face on a narrow path.
6. The Homestretch: a smooth granite wall that you have to hand-and-foot climb to the summit.
7. The Summit: the top of Longs Peak! Time for celebration; drink some water, take in the views, and prepare for the climb down.

best time to hike longs peak
The best time of year to hike Longs Peak is from mid-July to mid-September. This is usually when the route is free of snow and ice, and provides the best chance for a safe summit. However, the weather in the alpine can change quickly and drastically, so check with a Visitor Center for an alpine weather forecast before starting the hike.
The best time of the day to begin your hike to Longs Peak is at 3 am (yes, you read that right, 3 o'clock in the morning). Typically, this 15-mile hike takes between 10 and 15 hours to complete, and you will want to be below the treeline when afternoon thunderstorms begin.
what to bring
As you can tell, a hike to Longs Peak requires a lot of planning, and should never be attempted without the appropriate provisions. Below is a list of what you should bring on your journey to the summit:
Water: it is recommended to bring 3 to 4 liters of water.
Food: your snacks should be high in energy without making you feel heavy. They should be high in carbohydrates, protein and electrolytes. Salty snacks are also recommended, as they replace any salt that you are sweating out.
Broken-in boots: you want to make sure that your hiking boots have hit the trail a couple of times before you begin this strenuous hike. Trust us, your feet will thank you.
First aid kit: to treat small injuries or blisters, and to give you peace of mind.
Layers of clothing: you will want to bring non-cotton layers and insulated jackets, because as you climb in elevation, the temperature will drop.
Rain gear: most afternoons on Longs Peak are met with thunderstorms, so it is essential to bring both rain jacket and rain pants.
Headlamp: just in case it takes you longer to get down than you had anticipated. This is also a piece of gear that provides peace of mind.
Sun protection: bring along a hat, sunscreen and a long-sleeved shirt. You are embarking on a very long day, and most of it will be above the treeline with no shade.
how to train for longs peak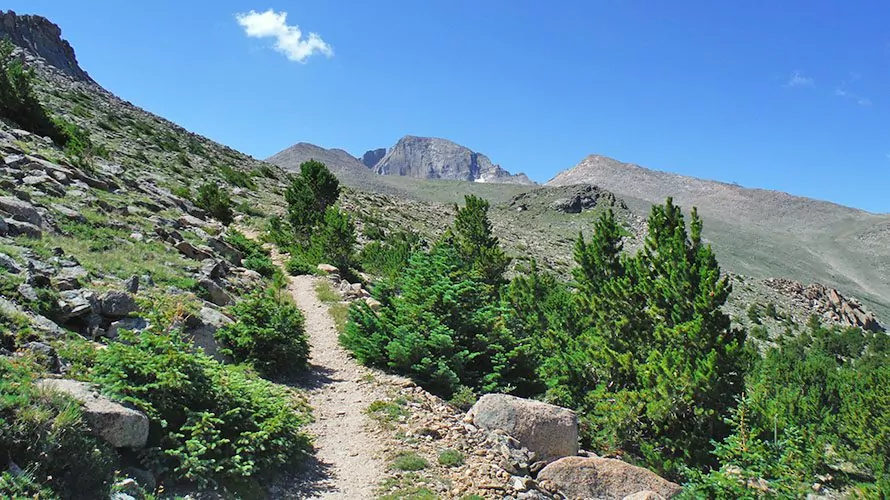 This 15-mile hike should take you approximately 10 to 15 hours to complete. You will be challenged and pushed throughout the entire hike, and you will be very worn out at the end the day. Physical preparation is essential for a successful summit. Below are ways that you can train for your hike up Longs Peak:
Acclimate your body and lungs: You can do this by going to shorter hikes at lower elevations on the days leading up to your planned summit.
Climb stairs: Running up and down stairs is a great way to build important muscles for your big hike. It will boost your aerobic fitness, and strengthen glutes, hamstrings and calves.
Hike difficult terrain: The terrain of the Keyhole Route is what makes it so challenging, getting used to hiking on difficult terrain is helpful.
Practice hiking in the heat of the day: Since you will be hiking for a majority of the day, it is important to train for the heat by hiking during the day, when the sun is blazing. (Make sure you drink plenty of water on these heat-of-the-day training sessions.)
safety precautions
One of the biggest safety concerns when hiking Longs Peak is altitude sickness. This occurs at high elevation, when you are unable to get enough oxygen. Symptoms include a dull, but throbbing headache, nausea, loss of appetite, feeling dizzy, and vomiting. It is important to take these symptoms seriously; most of the time, they will not get better as you climb, in fact, they will typically get worse. Let your group know right away if you are experiencing any of these symptoms. It is best to turn around as soon as the symptoms arise.
Being physically fit has no bearing on whether or not you will get altitude sickness. The best way to prevent these symptoms is by acclimating your body and lungs, by going on short hikes at lower elevation, working your way up to Longs Peak.
Another safety concern is summit fever. This is not actually a medical condition, as it sounds, but instead a desire to reach the top, no matter what the cost. Weather, late starts, and underestimating the physical challenge all factor in to whether you will reach the summit. If you are doubtful, turn back. Not reaching the summit is not a failure; it is smart to turn back when you need to, and you will still receive incredible views along the way.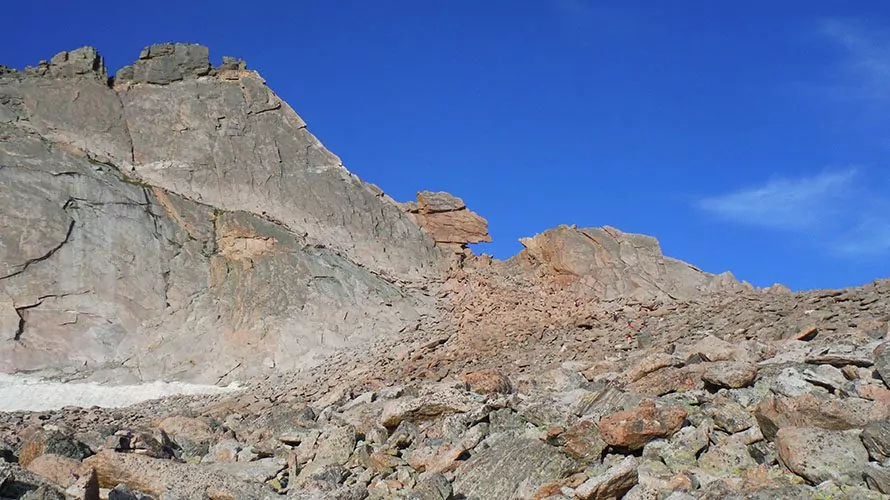 guided hikes to longs peak
To ensure a safe and fun summit, join a guided day hike or backpacking trip to Longs Peak. With a knowledgeable and experienced guide, you can hike confidently to the top of the tallest peak in Rocky Mountain National Park. Along the way, your guide will share interpretation about the Rockies and surrounding area. Appropriate gear is provided for all trips, as well as lunch (or meals on backpacking trips).
join a guided colorado hiking adventure
Rocky Mountain National Park is home to some of the most epic and amazing hiking vacations in the world. Wildland Trekking offers trips with the best of Rocky Mountain: waterfalls, mountains, views, wildlife, solitude, adventure and fascinating natural and cultural interpretation.
Guided Rocky Mountain treks are all-inclusive which covers permits; local transportation (excluded on certain tours); meals; equipment; safety systems and professional hiking/wilderness guides; all of which allows visitors to maximize their time in Rocky Mountain and focus entirely on enjoying the Park.
rocky mountain adventure tours