Spring in the Rocky Mountains
Learn all about what it means to visit Rocky Mountain National Park in the Spring
Spring in the Rockies is absolutely breathtaking. There are herds of wildlife, most of which give birth in the spring, and they are often seen grazing on the fresh and lush vegetation at lower elevations before moving up to the alpine. Also, wildflower-speckled meadows, with snow-topped mountains in the distance is every photographer's dream. The season is full of life and creates a refreshing feel to this already magical park. There are tons of benefits to visiting Rocky Mountain National Park in the spring, as well as some drawbacks. In this guide, we will categorize the most common "when to go" questions to try and help you figure out if spring is the best time for you to visit Rocky Mountain.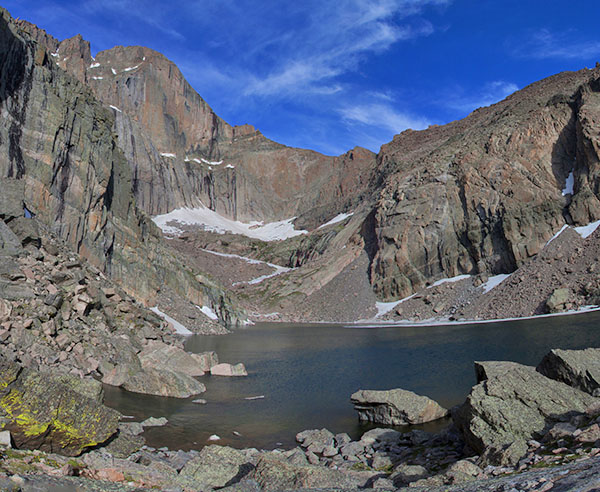 benefits of visiting in spring
The biggest benefit of visiting Rocky Mountain National Park in spring is that the crowds have yet to arrive. Visitation in April and May combined is almost half of the visitation in June alone. This means that you have much more opportunities for peace and solitude in the park.
Another benefit of visiting in spring is the sense of life and rejuvenation in the park. Snow typically starts to melt at high elevations in late April, causing cascading waterfalls, rushing streams and rivers, and lush flora on the valley floor. Spring is also the time of the year when most wildlife are giving birth, so the young and their mothers are often seen in the plains during the spring.
things to do in spring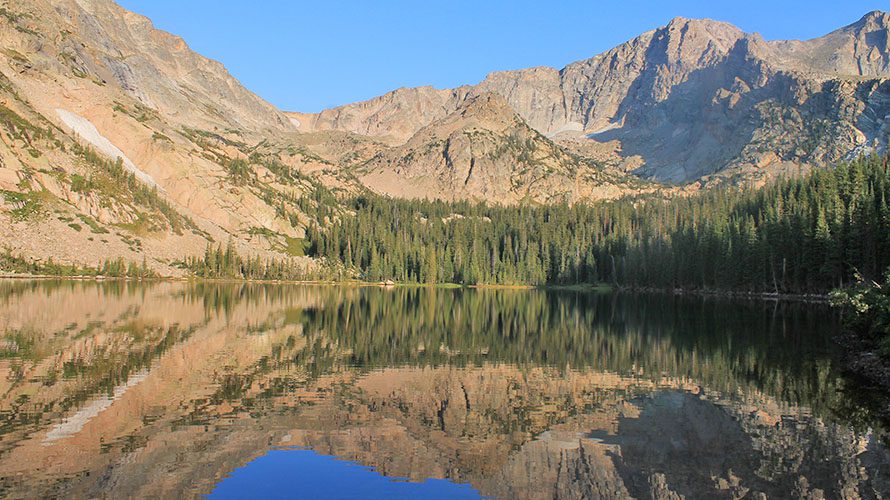 "There is something for everyone in Rocky Mountain National Park" is a phrase that we've used often. It couldn't be more true for visitors in spring. Whether you want to hit the trail on a hike, try snowshoeing, watch the magnificent and abundant wildlife, or just take in the views of a wildflower-speckled meadow; spring is the time for you. No matter what interests draw visitors here, spring is a fantastic time for it all in Rocky Mountain National Park. Below is a list of popular activities in spring:
Hiking: Since there may still be snow and/or ice at higher elevations in the spring, the best hiking this time of year is in the lower valleys (the montane ecosystem). Waterfalls are typically rushing with snowmelt and wildflowers are blooming, making this one of the best times of year for hiking. The best trails in spring include Cub Lake, Ouzel Falls, Fern Falls, Deer Mountain, Chasm Falls, and East Inlet Trail.
Fishing: Spring is a great time of the year for fishing in the park. Snow is beginning to melt from the Continental Divide, bringing fresh water and an abundance of food into the lakes and rivers in the plains. Native greenback cutthroat and Colorado River cutthroat trout wait in the confluence for food to drift by, and this makes for a perfect spot to catch them. Ideal fishing locations in spring include Black Lake, Loch Vale, Poudre Lake, and Peacock Pool. Fishers over the age of 16 are required to have a Colorado Fishing License.
Wildlife Viewing: One of the most popular things to do in Rocky Mountain National Park is wildlife viewing. With herds of elk, big horn sheep, mule deer, and more elusive animals like moose, marmots, pikas, and otters—it's easy to get excited about all the wildlife. Spring is a fantastic time to spot wildlife. Most move down to the lower elevations of the plains during fall, winter, and spring, before moving up to the alpine in the summer. In spring, you are likely to find wildlife grazing on the lush green plants of the lower valleys. This is the time of year when most animals are birthing, so it is common to see elk calves and big-horn sheep lambs in areas like Moraine Park and Horseshoe Park.
Wildflowers: Dominating the lower valleys in springtime, wildflowers begin to bloom in late April and early May. More than 5,000 wildflowers bloom in the Rockies, with each zone hosting different species. The best trails for wildflowers are Nymph Lake, Cub Lake, Ouzel Falls, and Ute Trail.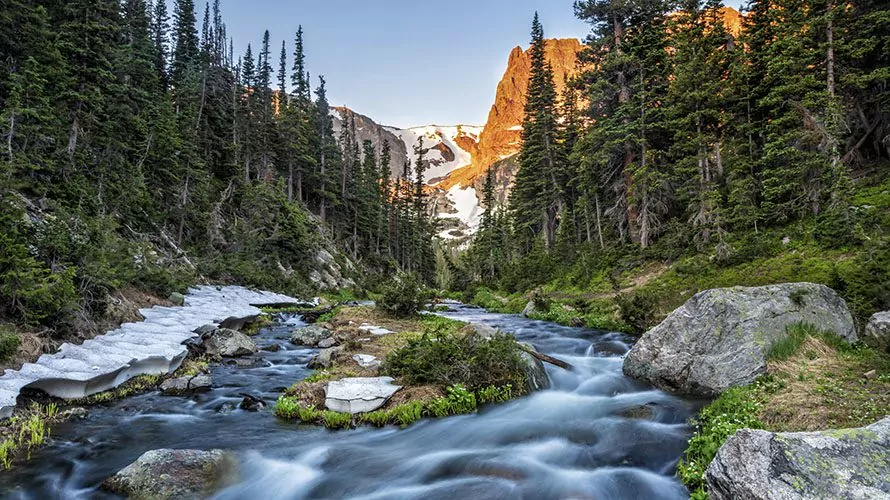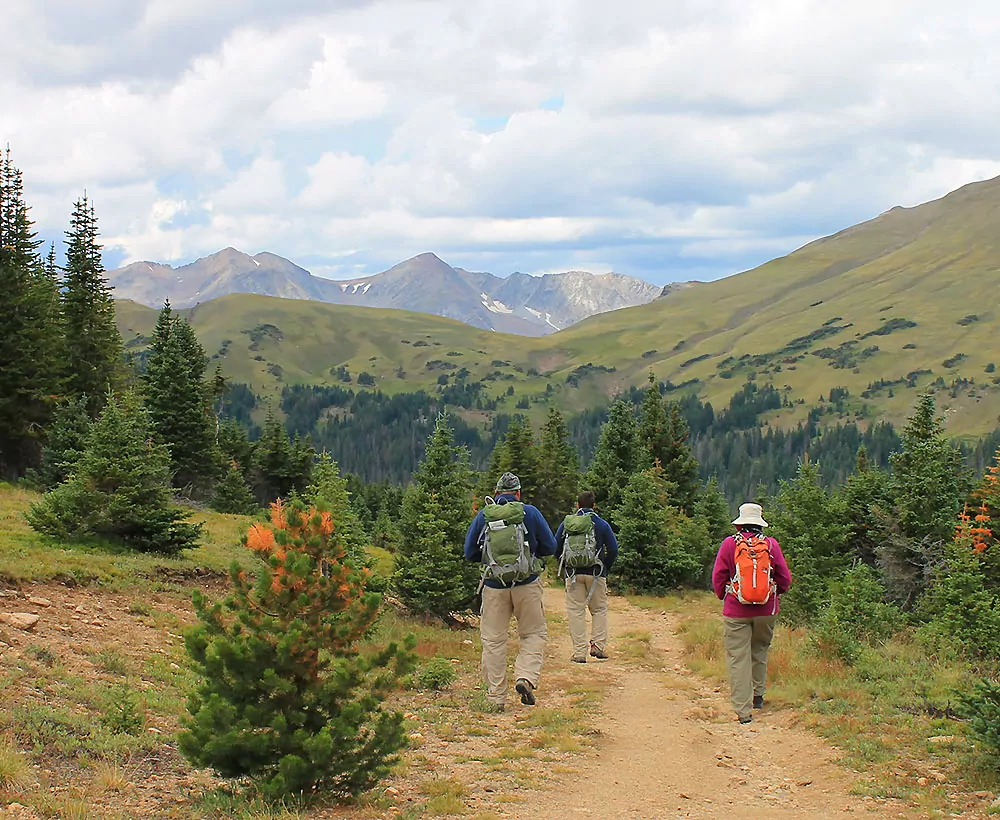 hiking in spring
One of the best seasons for hiking in Rocky Mountain National Park is the spring. Typically, trails at higher elevations are still covered in snow until late April. There are fantastic hiking options in the valley—trails at elevations of 8,000 to 9,500 feet. These trails are usually cleared of snow, and take you through meadows where streams are flowing intensely, wildlife is abundant, and flora is green with life.
However, if you wish to get higher, to elevations above 9,500 feet, there is great potential for snow-packed trails. Route-finding skills are essential, and snowshoes or traction devices are recommended. Multiday snowshoe tours are available through April, and snowshoes are available for rental in Estes Park and Grand Lake.
You can check out our list of the best Rocky Mountain trails for a more comprehensive list of trails.
weather in spring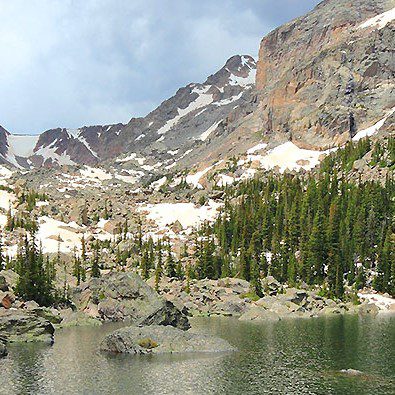 Spring is a season of unpredictable weather, as well as varying seasons through the different life zones. The valleys, at elevations of 8,000 to 9,500 feet, will typically experience spring in late April, although snow is not uncommon this time of year. The subalpine, at elevations of 9,500 to 11,500 feet, typically won't experience spring until June, and by this time the valleys have begun the summer season. Rocky Mountain National Park is known for its fluctuating weather in spring; ranging from wild, wet, and cold, to dusty, dry, and warm. Note that the weather in alpine environments can change rapidly, bringing storms and/or snow without warning; make sure you arrive at the park prepared with layers.
You can check the current weather for Estes Park, and Grand Lake.
Below are the average temperatures and days of precipitation for Estes Park, on the east side of the park, and Grand Lake, on the west side of the park:
Month
Estes Park
Grand Lake
Days of Precip
Avg Hi
Avg Lo
Avg Hi
Avg Lo
April
51°F (10°C)
28°F (-16°C)
49°F (9°C)
20°F (-6°C)
6-7 Days
May
60°F (15°C)
35°F (1°C)
58°F (14°C)
27°F (-2°C)
7 Days
JOIN A GUIDED COLORADO HIKING ADVENTURE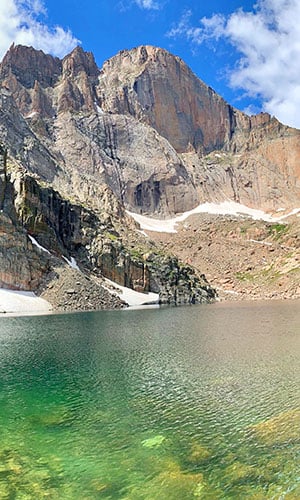 Rocky Mountain National Park is home to some of the most epic and amazing hiking vacations in the world. Wildland Trekking offers trips with the best of Rocky Mountain: waterfalls, mountains, views, wildlife, solitude, adventure, and fascinating natural and cultural interpretation.
Guided Rocky Mountain treks are all-inclusive which covers permits; local transportation (excluded on certain tours); meals; equipment; safety systems and professional hiking/wilderness guides; all of which allow visitors to maximize their time in Rocky Mountain and focus entirely on enjoying the Park.
ROCKY MOUNTAIN ADVENTURE TOURS