Summer in the Rocky Mountains
Learn all about what it means to visit Rocky Mountain National Park in the Summer
Summer is a great time of the year to visit Rocky Mountain National Park. Wildflowers are blooming in the alpine tundra from late June to August, and the weather is near-perfect. There are huge upsides to visiting the park during the summer months, as well as some drawbacks. No matter when you visit, you are sure to experience the best of the West. Below have categorized the most common "when to go" topics, to help you determine if summer is the best time for you to visit Rocky Mountain.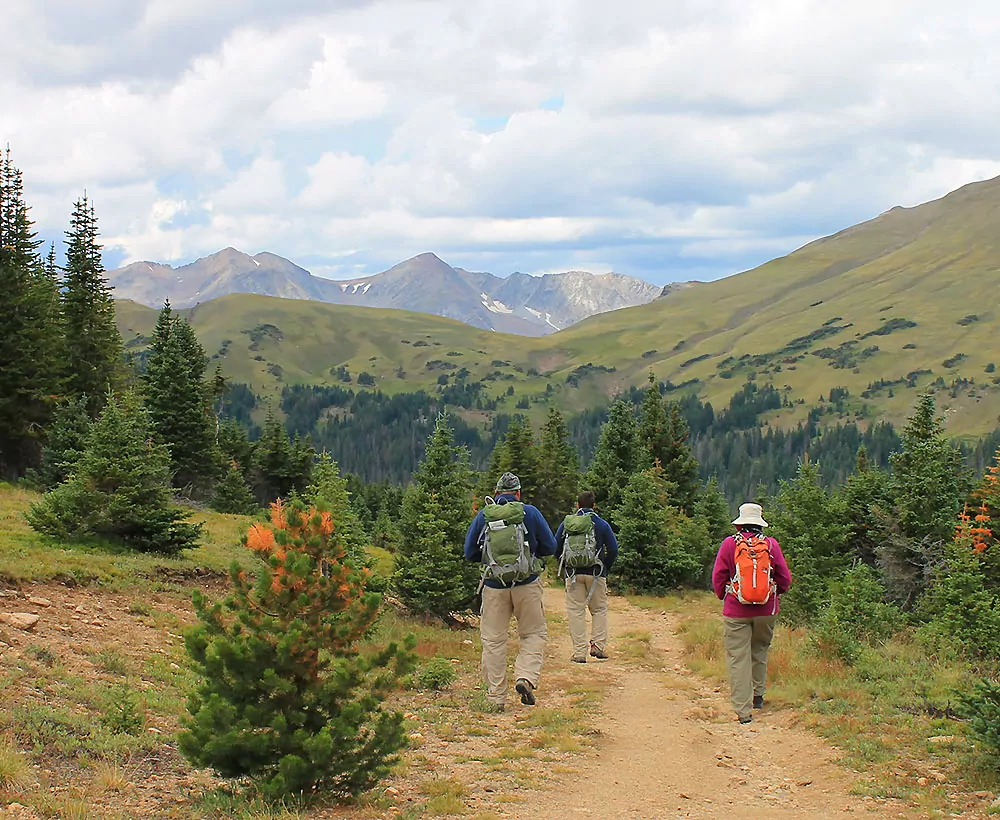 benefits of visiting in summer
The biggest benefit of visiting in the summer is the beauty of the park. Wildlife is soaking in the sun and many have their young with them. Wildflowers are blooming in the plains in early summer, and in the alpine tundra in late summer. The weather is typically sunny and clear, with crisp, blue skies. Most of the snow has melted, so rivers and waterfalls are flowing greatly, and trails are accessible during the entire season.
The other benefit to visiting in summer is the opportunities for hiking and backpacking. It is the perfect time of the year to strap on your hiking boots and hit the trail. There are over 350 miles of trails in the Rocky Mountains, with a wide range of difficulty and distance, so everyone can find a trail to enjoy. You can get some ideas on where to hike from our hand-picked list of favorite hiking trails.
drawbacks of visiting in summer
The biggest drawback to visiting Rocky Mountain in summer is the crowd. Almost half of the park's annual visitation occurs in the months of June, July, and August.
If the only time you can visit the park is during summer, don't let the crowds hold you back. Here are some ways you can avoid the crowds:
1. Wake up early: The earlier you get started in the morning, the more of the park you'll have to yourself before the day visitors arrive.
2. Go on a hike: You can see a lot of Rocky Mountain from your car, but you can see so much more on a hike. Going on a hike also eliminates some of the congestion of the busy road pullouts and parking lots. Click the link on the side for our list of 12 Best Hikes in Rocky Mountain.
3. Plan ahead: Making reservations, and securing permits beforehand is a great way to guarantee your place in the park.
4. Go on a picnic: Avoid the congestion of Estes Park during lunch and dinner, and pick up supplies at the store in town for a picnic. There are a ton of great spots—with lakes, waterfalls, streams, or expansive views, to enjoy your meal.
5. Enjoy the wild west: Over 80% of visitors enter the park from the east. The west side of the park has incredible views, and great chances to see the elusive moose; venturing over to the other side has many perks.
6. Use the Hiker Shuttle Express Route: Avoid the busy parking areas; leave your car in Estes Park, hop on the shuttle bus, and ride into Rocky Mountain.
things to do in summer
Summer is an exciting time to b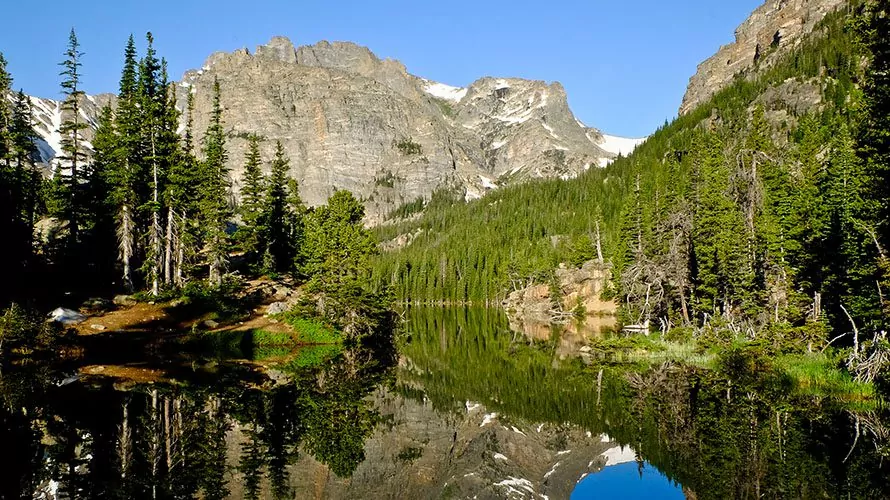 e in the park. Whether you want to go on a hike to an expansive overlook, go fishing at a lake surrounded by glacier cirques, get up close and personal with a cascading waterfall, or attempt to climb a towering cliff, you are going to love being in Rocky Mountain in the summer. Below are some of the most popular things to do in Rocky Mountain National Park in the summer:
Hiking: Since most of the snow has melted at higher elevations, there are so many incredible hiking trails that are accessible in the summer. You can find out which hike is best for you by checking out our list of Rocky Mountain hikes, or by looking at the park's full list of hikes.
Backpacking: Summer is the best time to go backpacking in the park; since all of the trails are open, it gives you great opportunities to go on multi-day trips in the backcountry. Make sure you plan in advance so you can get the itinerary you desire. Read about how to get backpacking permits, or go on a guided backpacking trip.
Fishing: With over 50 rivers, streams, and lakes, fishing is a very popular thing to do in summer. Fish typically bite when it is warm out, so mid-day in the summer is ideal. Any fisher over the age of 16 is required to obtain a Colorado Fishing License. Some of the best places to fish in summer in the park include Glacier Creek, Mills Lake, Dream Lake, and Sky Pond.
Climbing: The wide range of peaks and granite walls in the park make Rocky Mountain National Park world-class for rock climbing. With the variety of rock, there is ample climbing—mountaineering, bouldering, and big wall are all popular in the Rocky Mountains. Read the National Park Service's climbing regulations when planning your trip.
Ranger Programs: Summer is a great time of the year to attend a ranger-led program. With daily interpretive hikes that take place at various locations in the park and evening programs, all ages will find these activities enjoyable.
Horseback Riding: If you want a true, western experience, horseback riding is a great thing to do in the summer. The guided ride takes you through meadows, next to rivers, and to fantastic views. Two stables—Moraine Park Stables and Glacier Creek Stables, are inside the park, and many others operate outside the park boundaries.
Bicycling: A wonderful way to experience Rocky Mountain is on a bicycle. Bicycles are permitted on all roads, including Trail Ridge Road and Old Fall River Road. Trail Ridge Road is 48 miles in length and has an elevation gain of 4,170, so it is not for everyone, and it is recommended to plan ahead with a car on the other side. If Trail Ridge Road is too much for you, bicyclists are allowed to ride on any paved road in the park where a car can drive—although there are few shoulders and no bike lanes, so ride at your own risk.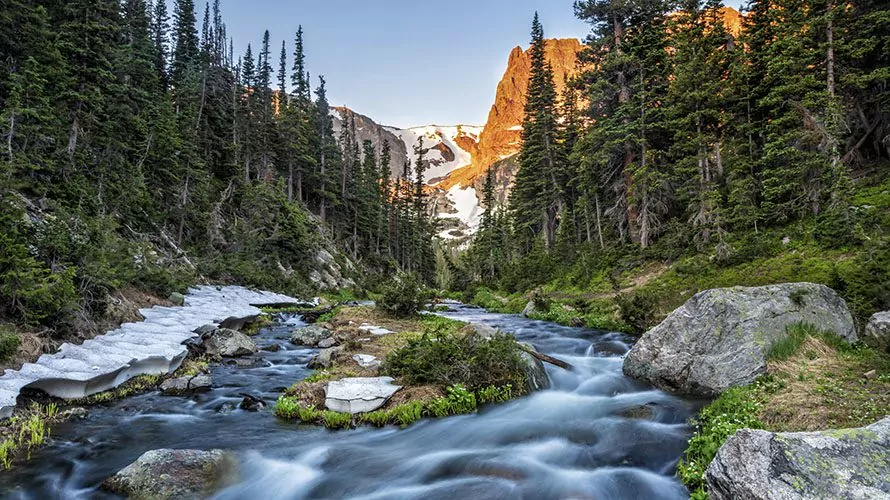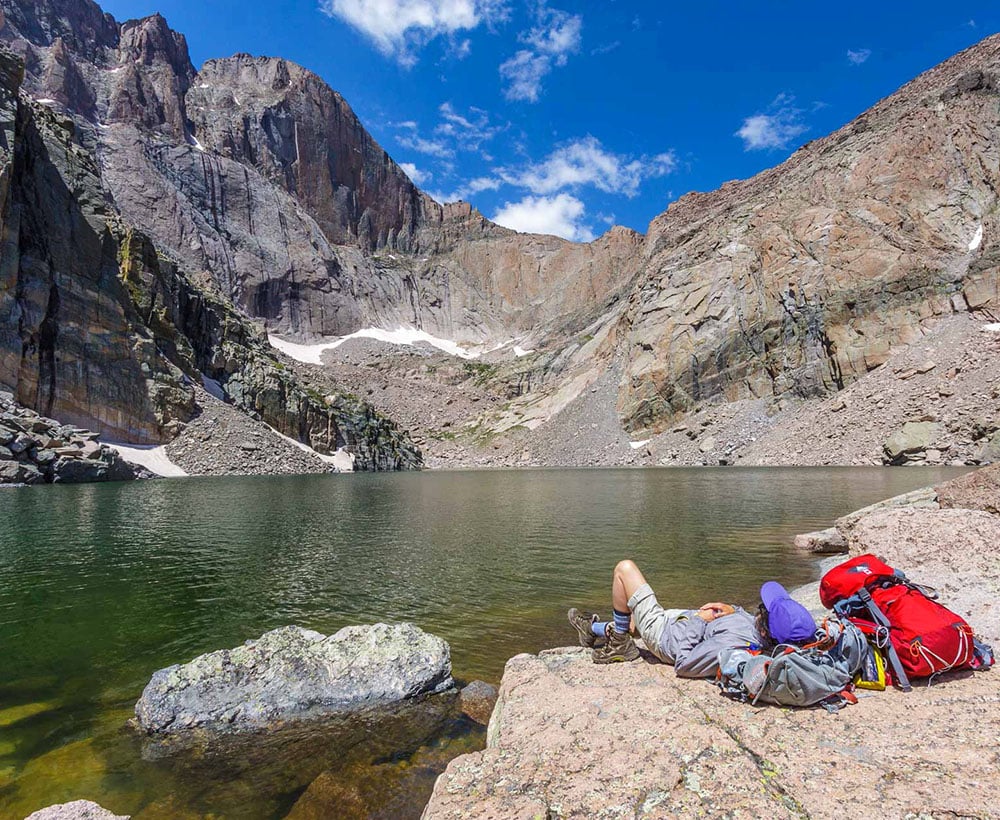 hiking in summer
Summer is, by far, the best time of year to hike in the Rocky Mountains. Typically, Trail Ridge Road opens in late May, giving you more trails to choose from—and trails that start at higher elevations, sometimes taking you to expansive views with little effort. There are over 350 miles of trails in the park, and they range from easy, riverside walks, to bagging peaks of over 12,000 feet. In the summer, the snow has melted in the alpine, so you are able to get into the high county, explore some incredible trails in the park, and get fantastic and panoramic views of the park.
We recommend going on a guided day hike, where you will gain insight into the geology and history of the Rockies from an expert guide.
backpacking in summer
Summer is also the best time of year for backpacking in the park. You are able to get up high and string together a multiday trip without running into snow barriers. Of course, always check the trail conditions before starting. With the summer weather, you will typically have warm, clear days, and chilly nights—absolutely perfect for pitching a tent among the mountains and below the stars.
Since this is the most popular season for backpacking, it may be more difficult to obtain permits for the itinerary that you desire. Plan ahead; knowing which trails you want to be on and which backcountry campsites you want to stay at will be helpful when applying for a permit. Also, be flexible; have a backup plan, and be willing to make some adjustments to your itinerary.
To avoid the stress of planning a backcountry trip and applying for permits, join a guided backpacking trip—where all the logistics, permits, and meals will be taken care of, so you can fully enjoy your trip without any extra stress.
weather in summer
Summer brings clear, blue skies and warm temperatures. You can expect 70s to 80s during the day, with the temperature dropping into the 40s in the evening and overnight. The west side of the park receives much more precipitation than the east side, so always be prepared with rain gear and layers, even in the summer. Afternoon storms and wind are common this time of year.
You can check the current weather for Estes Park, and Grand Lake.
Below is typical weather for June, July, and August in Estes Park—on the west side of the park, and Grand Lake—on the east side of the park:
Month
Estes Park
Grand Lake
Days of Precip
Avg Hi
Avg Lo
Avg Hi
Avg Lo
June
74°F (23°C)
45°F (7°C)
71°F (21°C)
32°F (0°C)
5 Days
July
80°F (26°C)
50°F (10°C)
76°F (24°C)
38°F (3°C)
9 Days
August
76°F (24°C)
48°F (8°C)
73°F (22°C)
35°F (1°C)
8-9 Days
JOIN A GUIDED COLORADO HIKING ADVENTURE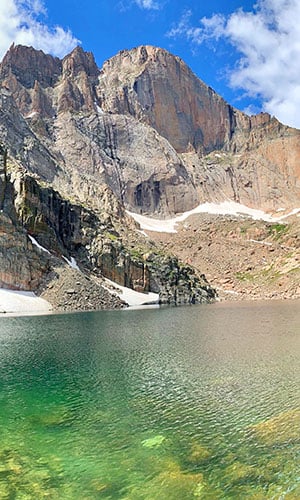 Rocky Mountain National Park is home to some of the most epic and amazing hiking vacations in the world. Wildland Trekking offers trips with the best of Rocky Mountain: waterfalls, mountains, views, wildlife, solitude, adventure, and fascinating natural and cultural interpretation.
Guided Rocky Mountain treks are all-inclusive which covers permits; local transportation (excluded on certain tours); meals; equipment; safety systems and professional hiking/wilderness guides; all of which allow visitors to maximize their time in Rocky Mountain and focus entirely on enjoying the Park.
ROCKY MOUNTAIN ADVENTURE TOURS