Rock Mountain Inn-Based Tours
On our inn-based hiking tours you can sit back and relax while we take care of everything. Your only "job" is absorbing and enjoying all Rocky Mountain National Park has to offer!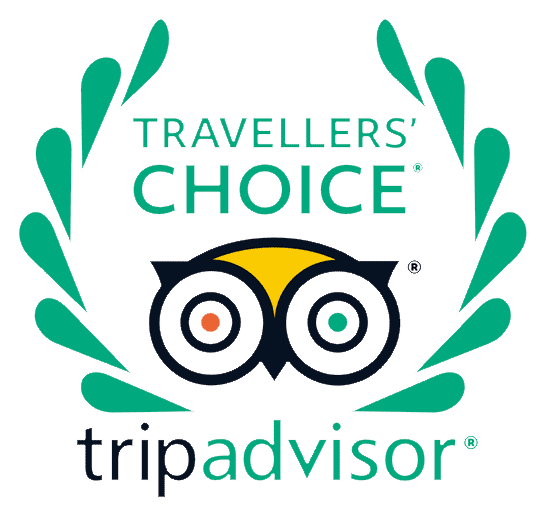 Discover the magic of Guided Rocky Mountains on our Inn-based hiking or snowshoeing tour. We offer all-around Rocky Mountain experiences including alpine hiking or snowshoeing, wildlife, waterfalls, vast meadows, glaciers, pristine rivers, and big views. You'll experience Colorado's amazing mountains in a way few people do! Travel through land rich with natural and cultural history, geological phenomena, and wild beauty, and then spend the nights in a cozy, wonderful lodge in Estes Park. You can relax knowing we've hand picked exceptional day trips, lodges, and meals to make your vacation an unforgettable one!
Rocky Mountain Inn-Based Tours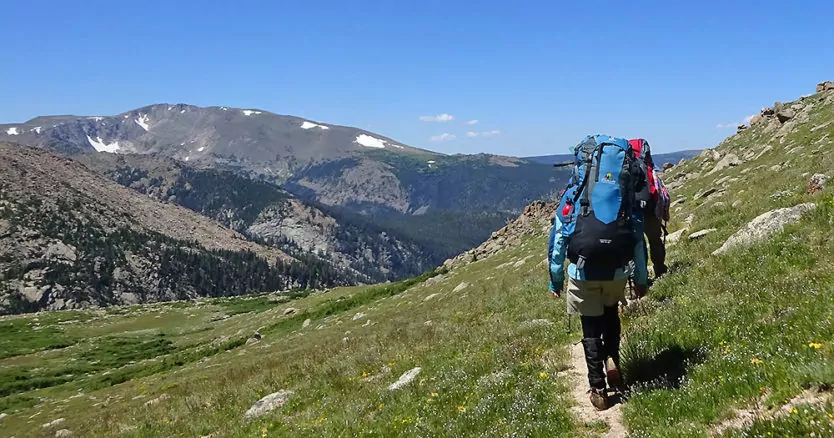 Rocky Mountain Backpacking Trips
Rocky Mountain National Park is in many ways the heart of the Colorado Rockies. Our Colorado backpacking trips take you high to alpine basins, mountain lakes, craggy peaks, glaciers, forests and the wildflower-filled meadows of Rocky Mountain National Park. We offer a variety of trips that fit a range of fitness and experience levels. For novice hikers a hike to Thunder Lake, "Across the Divide," or Continental Divide Loop are great options; more experienced and ambitious hikers might look to our Longs Peak Loop or Mummy Range Trek. Regardless of your choice, we're ready to provide an unforgettable adventure!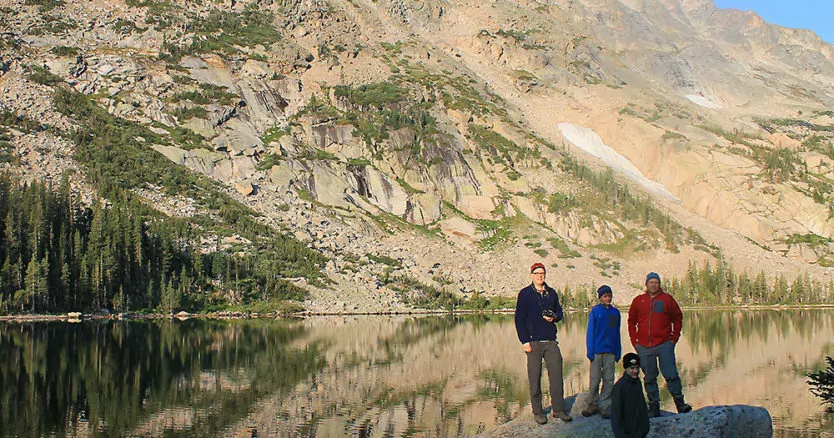 Rocky Mountain Llama Treks
Enjoy the amazing backcountry of Rocky Mountain National Park on a multi-day tour, hiking with just a light day pack! Llamas will carry our gear in and out so we can fully enjoy being in this truly stunning mountain country! These trips are all-inclusive opportunities to make the very most of your time at Rocky Mountain National Park, and to comfortably experience an adventurous excursion into the Rockies. Choose from multiple spectacular llama treks in Rocky Mountain National Park.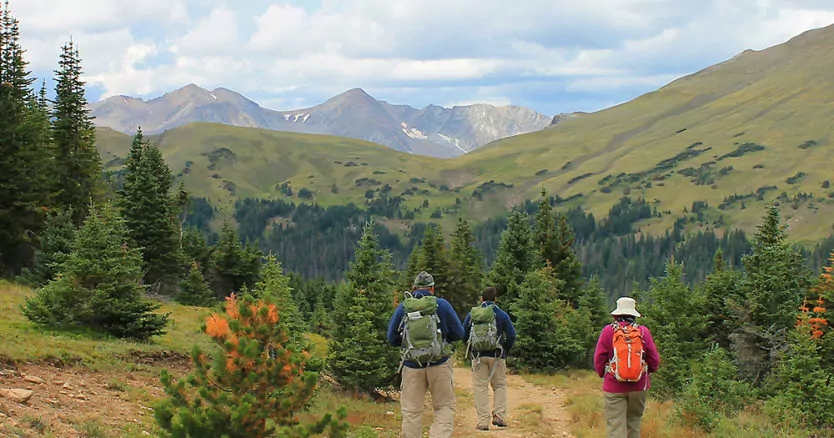 Rocky Mountain Basecamp Tours
Our Rocky Mountain National Park Basecamp Tour is an opportunity to enjoy the great outdoors and famous Colorado Rockies from the comfort of a scenic, private campground. We'll leave camp each day and embark on a series of day hikes that hit the highlights of Rocky Mountain National Park. On our Colorado camping tour we hike to waterfalls, high peaks, mountain lakes, lush valleys, excellent areas for wildlife like moose and elk, and more. Each evening we'll return to camp for showers, great outdoor meals, and campfires. Come join us for an extraordinary experience of the Rocky Mountains!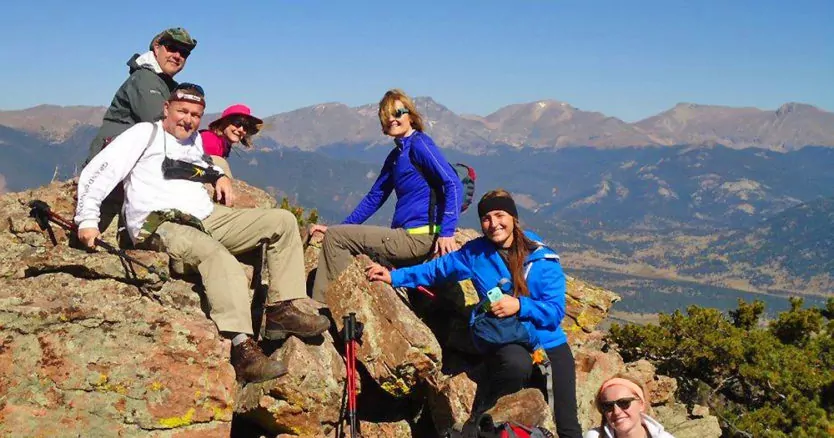 Rocky Mountain Day Hikes
Make the most of your time in Colorado with a guided Rocky Mountain day hike tour! Choose from 9 unique, signature hikes, each an exceptional experience on its own. We provide backpacks, trekking poles, snacks, lunch and a professional guide. Learn about the amazing geology of this region - how once it was high alpine plains that have since been gouged by encroaching and receding glaciers. Learn about the wildlife and plants. And hear amazing stories about the people who have called this place home. Join us for an exceptional day in the mountains!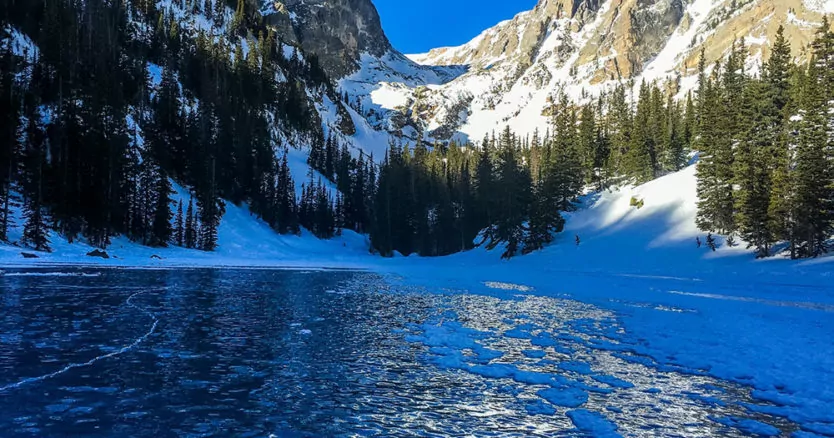 Rocky Mountain Snowshoe Tours
Discover the Colorado Rockies in winter on a Rocky Mountain Snowshoe Adventure. We traverse beneath the high peaks near the Continental Divide, cross frozen mountain lakes, explore mountain meadows where Elk, Rocky Mountain Bighorn Sheep, Lynx, and even the rare Wolverine may be seen. Absorb the magic of winter! We offer a 1-day Snowshoe Tour and a 4-day, inn-based snowshoe tour with historic accommodations in Estes Park. Whether you have 1 day or a week, snowshoeing Rocky Mountain National Park is something you'll never forget!
ROCKY MOUNTAIN VISITOR INFORMATION
TIPS FOR VISITING ROCKY MOUNTAIN NATIONAL PARK