Best time to visit Zion
Learn about the best times to visit Zion National Park
Updated: 10/31/22
There are many things to take into consideration when planning a trip to Zion National Park. First, you should take an introspective look at how you handle crowds. Summer is by far the busiest time of year in Zion, helping to make it the 4th most visited park in the United States. (If summer is the only time of year that you can visit, we will give you some tips and tricks below to avoid the crowds in summer.) Secondly, you should think about what activities you want to do in the park to help you determine what month to visit.
We have broken down the most common "when to go" questions into categories below. Hopefully with this guide, you will be able to determine which time of year is best for you to visit Zion National Park.
WEATHER AND TEMPERATURE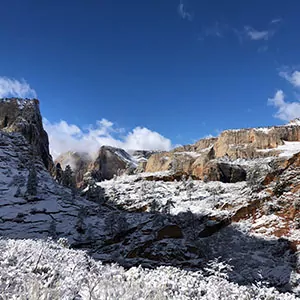 Zion is a large park with several different elevations and habitats, so weather patterns and temperatures will vary depending on where you are and what elevation you're at. Generally, however, Zion is very hot in the summer and cold in the winter. The shoulder seasons of spring and fall are generally nice, but come with their own weather events that are unique to them. Summer is by far the busiest season in the park, but Zion is a desert and the summers can be very hot, sometimes reaching into the triple digits. Most of Zion is a desert and you will find desert like environments throughout the park, but it is also a part of the Colorado plateau which serves as a drainage system for the Rocky Mountains. Most of the water in the park comes from the Virgin River which still flows strong in the summer. Many of Zion's deep canyons and gorges have a kind of natural air conditioning. Especially the slot canyons stay very cool during the day as they do not receive much sunlight. Heat exhaustion, heat stroke, and dehydration will be you're a biggest threats in summer. There are water filling stations at nearly every shuttle stop, so you won't typically have to worry about running out of water as long as you make sure to refill before each hike. Late summer and early fall bring the monsoon season in Utah, where afternoon rain showers and flash floods are not uncommon. Flash flooding  is a very real risk during this season and they can lead to severe injury or death if the warning signs are not heeded. This can make hiking the Narrows more treacherous, despite the water feeling better as the temperatures are warmer. Autumn usually brings wonderful fall colors and cooler temperatures to Zion. Snow doesn't typically begin until December, but you can expect very cold weather and the possibility of rain freezing into ice overnight when the temperature drops.
Winter, on the other hand, is often very cold in Zion. Although many come to the park for the fantastic winter photography of white snow contrasted on the red cliffs, this is near to being false advertising as Zion does not get very much snow throughout the year. Because the park is not at very high elevation, it can also rain during the winter which will quickly melt any snow that fell. Rain during that warmer hours of the day or visitors continually tracking over snow is likely to melt snow. This water will then often refreeze into ice as the temperature drops overnight. If you're looking to get winter photography in Zion, watch the forecast closely and get up early if it has snowed overnight as it may not remain for more than a couple of hours. Even if it does snow at higher elevations, many trails will be closed in the winter due to ice and snow and not allow you to hike to higher elevations where the snow will be more abundant. Camping and backpacking are possible in Zion and winter, but you will need four season tents and low rated sleeping bags to make it comfortable. As we said above, many trails are closed due to winter weather so you may be more limited in your hiking options in winter. Snow typically does not start until December and often ends around March, for a classic winter schedule. Spring brings its own challenges in Zion. Although the warmer temperatures bring with them new life and an abundance of it, the weather can still be cold overnight and prevent you from camping comfortably. While many trails open as the snow melts, one of the most famous trails, the Narrows, will most likely be closed in the spring due to higher water levels from increased snowmelt. While the hike is possible in the winter with wet suits or dry suits, it is most often closed in spring. Flash floods can occur at any time of the year, but they are more likely to occur in spring due to higher water levels. Not only can these floods be incredibly dangerous, but they can severely impact what trails and areas are available to hiking. It is very important to consider the weather when planning your trip, as well as staying up-to-date on the weather while in the park. While all the seasons have their drawbacks, they all also have advantages. There is truly no bad season as far as weather is concerned to visit Zion, as each one brings with it its own challenges and benefits.
Below are the average temperatures and days of precipitation in Zion Canyon and Kolob Canyons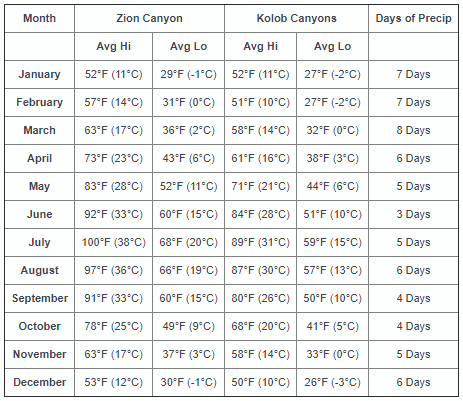 BEST TIME OF THE YEAR FOR SIGHTSEEING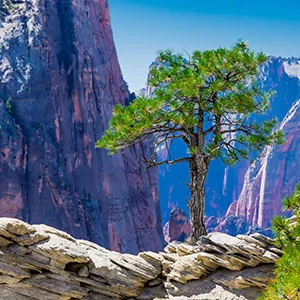 For sightseeing in Zion National Park, the best time of year to visit is in the spring and fall. The temperatures are cooler than in the hot summer, the weather is warmer than in the cold winter months, and the crowds have lessened. Spring is a wonderful time to see the lush green landscape, as well as the rushing water of the Virgin River and waterfalls cascading gently over the side of cliffs. Although you probably won't be able to hike the Narrows, you were still able to walk on the Riverwalk trail to the Narrows trail head where you will be able to see this fantastic slot canyon and fast flowing Virgin River. Fall is great for cooler temperatures and warm autumn colors of the cottonwoods residing by the Virgin River.
Of course, winter and summer have their upsides for sightseeing as well. Winter can create some stunning scenery if there has been a recent snow. Although the snow typically doesn't stick around very long, you might get a chance to get out and catch some of those fresh snow pictures before it all melts in the warmer part of the day. Winter is also a good option for sightseeing because you can drive your personal vehicles to the park. Summer, spring, and fall all require that you take the shuttle as your only means of driving through the canyon. This means you'll have to stick to the schedule of the shuttle buses and not be able to spend as long at every look out as you would like. However, the shuttles in summer can have their own benefits for sightseeing. No one hast to drive if you're taking the shuttle, so everyone can find a window seat and enjoy the scenery. Riding the shuttle loop can also be wonderful for sightseeing as you get to see the entire park in a short amount of time. The hot weather in the summer makes being outside for a long periods of time cumbersome for some visitors, so sightseeing with relaxed, short periods of time outside is great and the sights are still phenomenal. Late summer and early fall also bring the park's annual monsoon season. While these monsoons can cause flash floods and can be dangerous if you are too close, a thunderstorm descending over Zion's red cliffs can be spectacular to see. If you are on the rim of a canyon and can watch from a safe distance, flash floods are also spectacular events to observe. Of course, summer brings with it many, many visitors that can create crowds making sightseeing less enjoyable. Any time of the year is going to provide you with incredible scenery and an enjoyable experience, but overall, spring and fall are the best times of year for sightseeing.
BEST TIME OF YEAR FOR HIKING AND BACKPACKING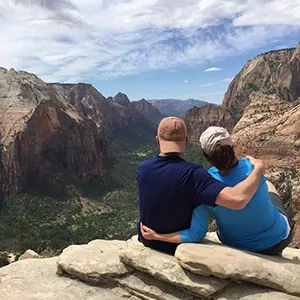 The best time of year for hiking in Zion is in the fall. Typically, most trails are open this time of year, whereas in the spring, trails may be closed because of the Virgin River flooding or leftover ice and snow from winter. Also, the crowds begin to thin in the fall, and hiking is much more enjoyable. Check the current trail conditions for up-to-date information. Plus, the fall colors in Zion are simply wonderful and allow for fantastic sights while you hike. The cooler temperatures during the day (compared to summer) and the cold nights also make fall wonderful for hiking as you may get to hike in long sleeves and be warmed by your activity. It is also usually still warm enough in early fall to hike the Narrows without the wet suit or dry suit that you will need in the winter.
The best time of year for backpacking is in the spring, summer and fall. As most of these trails are longer and away from the crowds, you don't have to worry too much about the busyness of summer. Make sure you look at the wilderness trail conditions, so you can plan your trip accordingly. Winter in Zion brings too much cold weather and snow to be called the best for hiking, as many of the trails are closed for the danger of ice on the trail or falling from overhead. However, if you are visiting in winter, don't think that there aren't options for trails to hike. While they may not be the famous ones through the river or up huge rock formations, many trails are still accessible in winter and provide amazing views of the canyons and other sights to see. While backpacking is possible in the winter, you will need winter gear and expertise to make it safe and enjoyable You can read about how to obtain backcountry permits here. Or you can book a day hiking tour, inn-based tour or camping-based tour with Wildland Trekking to avoid the stress of planning a National Park trip on your own.
best time of Year for wildlife viewing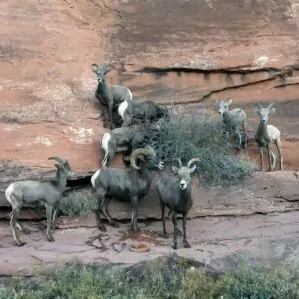 The best time to view wildlife in Zion really depends on what you want to see. Each season brings with it both challenges and benefits to wildlife viewing and photography, so if that's what you're interested in, make sure to do your research. Spring is hard to beat for wildlife photography, as all the animals are shaking off the cold of winter and some are giving birth to their young. Bighorn sheep give birth late winter to early spring and mule deer fawns appear in late spring to early summer. This is also the time of year that many reptiles and smaller mammals come out of hibernation and can be seen scurrying across the trails. However, spring is also the time of year that many of the large animals move to higher elevations as the snow melts and the weather becomes warmer. This season also brings with it lots of crowds, including spring break travelers, that make the park more busy and less conducive to seeing wildlife in quiet areas. Fall is a great alternative to spring for seeing wildlife. Some of the reptiles might still be out of hibernation depending on the weather, and the fewer crowds and will be less likely to scare off your animal. In addition, many of the bigger animals such as mule deer and bighorn sheep as well as predators such as coyotes, gray foxes, bobcats, and even mountain lions will move towards lower elevations that will remain warmer throughout the year. Winter brings its own special opportunity to see wildlife as their tracks are perfectly preserved in the snow for visitors to see and there are so few visitors that many of the animals are willing to come to the more populated areas. Contrary to what you might think, summer is also great in terms of your wildlife. Perhaps the biggest benefit of wildlife viewing in the summer is the warmer nights that make it easier to be outside. Many of Zion's animals are nocturnal and in summer when there are lots of people around, they will be especially sure to stay out of sight during the day. But at night, you might catch glimpse of a ringtail scavenging around the campground, a gray fox running across the road, or a bobcat hunting rodents on the hillside. Some of the parks animals, including as many of the birds such as California condors and Mexican spotted owls, can be seen all year round but might require some patience to find. If you're looking to see a specific animal, you can ask a ranger about where the best place would be or what has been caught lately on remote camera traps.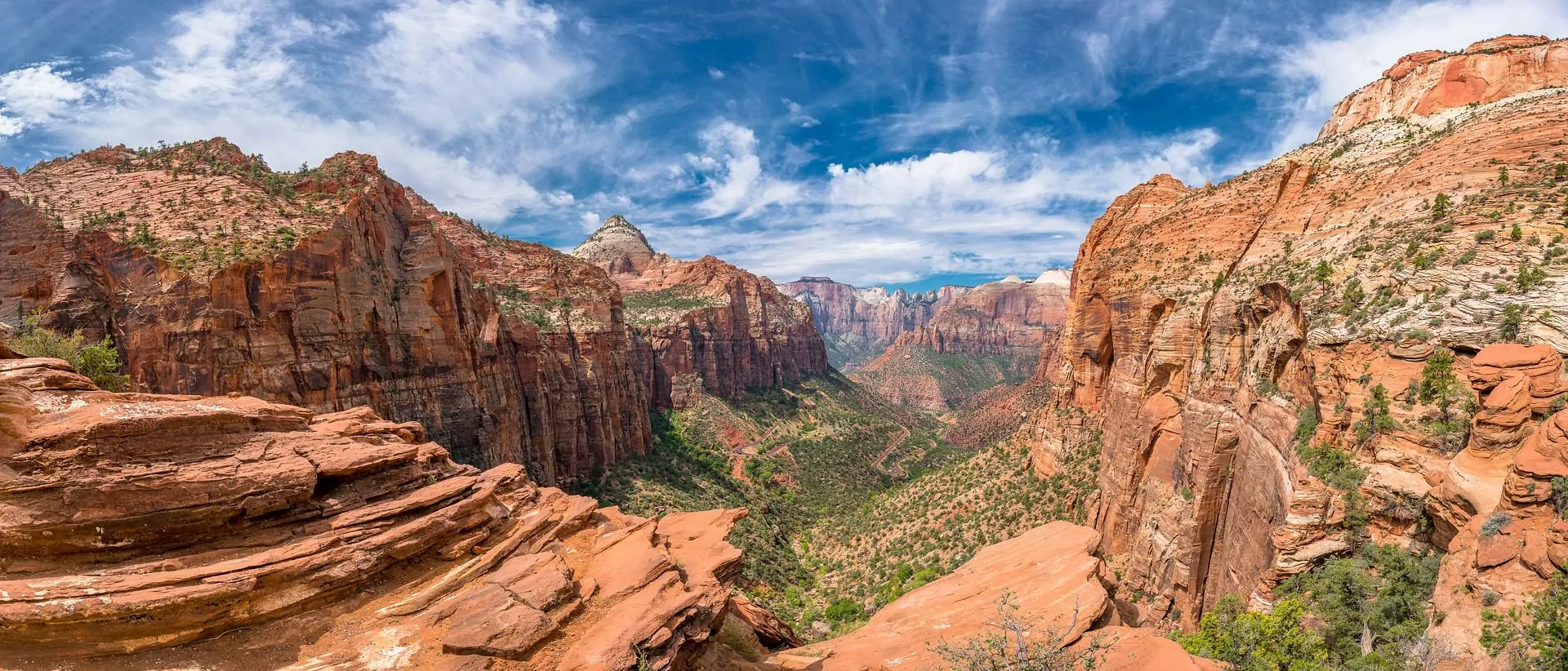 BEST TIME OF YEAR TO AVOID THE CROWDS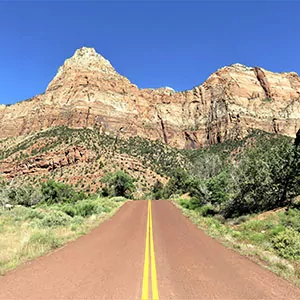 The best time of year to avoid the crowds in Zion is in the late fall, winter, and early spring. While the weather may be chilly and less facilities are open, the amount of visitors is exponentially less this time of year. Winters are typically cold and wet; while it may reach 50-60°F during the day, it could easy dip below freezing at night. But don't let this frigid weather deter you from visiting in the winter; it is truly beautiful and also your best chance for solitude in Zion. You will also find that November through February are the only times of the year were you can drive your private vehicle through the park. All other times of the year you will have to take the shuttle bus that runs throughout the canyon. In the summer, and even in spring for spring break, the lines for the shuttles can be very long and there may only be standing space on the buses themselves. During the winter months, you don't have to worry about this at all and are free to take your time driving through the park on roads that are nearly empty of other visitors. You will also find that accommodations are much more readily available in winter than they are in the other seasons. As anyone who has tried to plan a last-minute trip to Zion knows accommodations are nearly impossible to find within six months if you're looking in the summer. But if you plan to visit in winter, you'll find accommodations more readily available. You will also find that accommodations are far less expensive in winter than they are in peak season months, which is just another added perk of the season. But we understand that not only is the winter weather somewhat unpleasant, but that winter can be a difficult season to plan a vacation. Many people likely just took vacation for the holidays and need to get back to work in January and February. But if you are one of the lucky few who can visit in winter, it will be an experience that you will never forget.
If summer is the only time of year that you can visit the park, here are some tips to make your trip enjoyable and avoid the crowds:
1. Get to the park early: the earlier you get to Zion, the more likely you are to get a parking spot; and the more of the park you have to yourself before the crowds arrive.
2. Visit Kolob Canyons: The Zion Canyon is small and crowded—since most visitors spend the majority of their time there. Kolob Canyons, on the other hand, are in a more isolated area of the park, provide incredible and unique views, and are much less travelled.
3. Go on a picnic: avoid the eateries at busy eating times, and choose to go on a picnic instead. You can stop at the grocery in Springdale before heading into the park. There are wonderful places along the river and in the shadows of the cliffs above you for a picnic meal.
best time of year to hike the Narrows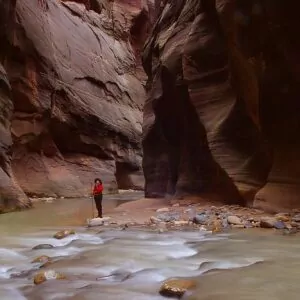 Without a doubt, the best all-around time to hike the Narrows is in the summer, but this comes with some drawbacks as well so you may want to consider one of the other seasons if you can. The Narrows is an incredibly famous hike Zion national park that uses the Virgin River as its trail. Guiding you through a slot canyon with sandstone cliffs on either side of hundreds of feet high, this hike is truly like nothing else you have ever experienced. In some months, it may be less of a hike and more of a swim if the water levels are high. The Narrows always involves wading upstream through the river and sometimes swimming as well. There is only one time of the year when the Narrows is typically closed: spring. High levels of snow melt in the spring make the Virgin River waters rise to the point where the Narrows hike would be a swim upstream in a frigid, fast-moving river. Because of the dangers of doing this and the impossibility of swimming upstream the entire way, the Narrows are almost always closed for some part of the spring, although it varies from year to year. Winter and fall are both options, but only for those who have the correct gear and expertise. The Virgin River water can reach 38°F in winter (nearly freezing) and should not be hiked without a wetsuit or a dry suit with insulating layers. This leaves most visitors with the option of hiking in the summer, which is one of the better options because the warmer air it makes the still very cold water feel refreshing. The Narrows is still a somewhat dangerous hike and even those hiking in summer should be aware of the dangers of flash floods. The monsoon season in late summer and early fall make flash floods more likely, even from thunder storm that are miles away. Heed all flash flood advisories and warning signs. If you're traveling to Zion for the singular reason of hiking the Narrows, then June is your best time to go. This is one of the warmest months of the year (so the water will feel better on your feet) and it is before the monsoon season hits in July (so your risk of flash floods is much lessened). Of course, hiking the Narrows is very popular in summer brings many crowds. So if you really want the hike all to your self, you might consider going in one of the shoulder seasons when the weather is still pleasant and the trail is still relatively safe. You can learn more about this hike, what gear you will need, which direction to do the one way trail, and what to expect here.
best time of year to hike angels landing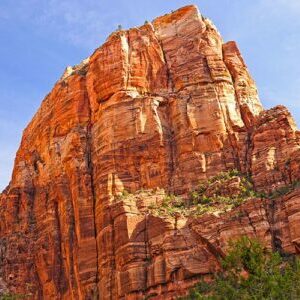 The best time to hike Angels Landing is… well… not winter. Despite the ease of getting permits and the draw of fewer crowds, winter is not a good time to hike Angels Landing. This incredibly famous and dangerous hike leads you miles up a huge rock formation. The hike up to Scout Lookout (which provides spectacular views and is a great alternative to Angels Landing and doesn't require permits) is accessible throughout the year, but the last quarter mile to the top of Angels Landing rock formation becomes incredibly treacherous in winter. The so-called chain section of the hike that leads you along a narrow path with a single chain on your left (going up) and a sheer precipice on your right becomes even more treacherous when the trail is covered in ice. Some of this trek even has you walking across a thin strip of rock with cliffs on either side of you.  This is all dangerous enough in the summer, but in the winter when ice and snow are likely, it is simply not worth the risk. There are also sections of steep steps in the summer that turn into walls of slippery ice to climb up in the winter. (Incidentally, this hike has extreme heights exposure and is not for those who don't like heights). Besides winter, however, any other time of the year is great to hike Angels Landing. Summer, of course, is the most busy and permits are very competitive. Although summer is the busiest time overall in the park, there are so few permits for Angels Landing that anytime outside of winter is going to be competitive to get them. Many guests like to do this hike in spring or fall as the temperatures are more bearable and you get to see the lush green that spring has brought or the beautiful fall colors as the trees drop their leaves. If you want to do this hike but aren't sure you want to go on your own or don't want to go through the hassle and worry of getting permits, you can book a trip with a guiding company who will provide permits and send an expert local guide on the hike with you. This is a great way to experience Angels Landing without the hassle of getting permits and with more peace of mind with a trained professional there.
Best time of year to visit with kids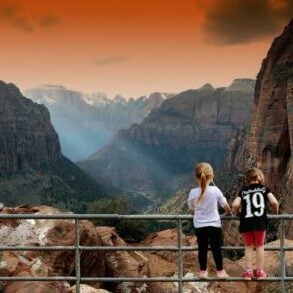 When it comes to visiting Zion with kids, it really depends on what you want to do and what you think your kids can handle. All the other factors for why it's good or not to visit in a certain season apply when you're bringing kids, but both the good and the bad factors are often amplified. The kids will be most comfortable temperature wise in summer, but that is also when many other visitors are in the park. Not being able to drive your private vehicle through the park can be problematic for bringing little ones that need lots of gear. Kids might also become frustrated and tired more quickly waiting for shuttle buses or in other long lines. But, summer is the easiest time to get the kids on vacation because that's when school is out of session, so this is the season that most choose to visit with kids. The shoulder seasons of spring and fall are also great for visiting with little ones. You won't have to worry about the weather too much, as long as they have some warm layers and rain clothes in case the weather takes a turn for the worse. You might have fewer options for hikes and other activities to do with kids in the shoulder seasons, but it's still a great time to visit. Visiting Zion with kids in the winter comes with all the pros and cons of visiting Zion without kids in the winter. You can drive your personal car which is a big bonus for traveling with kids, but the weather can be very cold and your activities can be limited. In the end, it needs to be each family's decision on when they want to bring their kids to the park. Some families want to expose their kids to many of the outdoor activities at a younger age while other families feel that their kids won't be able to handle exposure to more extreme activities yet. Whatever you decide, keep in mind all the pros and cons that come with each season so that you can make an informed decision about when to take your family to the park.
JOIN A GUIDED HIKING ADVENTURE
Zion National Park is home to some of the most epic and amazing hiking vacations in the world. Wildland Trekking offers trips with the best of Zion: canyons, views, wildlife, solitude, adventure and fascinating natural and cultural interpretation.
Guided Zion treks are all-inclusive which covers permits; local transportation (excluded on certain tours); meals; equipment; safety systems and professional hiking/wilderness guides; all of which allows visitors to maximize their time in Zion and focus entirely on enjoying the Park.