All about hiking the Zion Narrows
Learn more and get some tips for hiking the Zion National Park Narrows
The Narrows is, unsurprisingly, the narrowest section of Zion Canyon. Walls in this slot canyon tower thousands of feet above you, while the Virgin River is only twenty to thirty feet wide at points. A hike through the Narrows requires you to walk through the Virgin River, so there are good times to do this hike, and not-so-good times.
You can access the Narrows in two locations, the first being from the last shuttle stop, at the Temple of Sinawava. This is referred to as hiking from the bottom up, and can be as short as a couple of minutes until you turn around, or as long as 10-miles, turning around when you reach Big Spring. The second location that allows access to the Narrows is referred as hiking from the top down, and begins at Chamberlain's Ranch. If you hike from the top down, it is a strenuous 16-mile hike, and can be done as a day hike or an overnight trip. More information on whether to hike from the bottom up, or from the top down is provided below.
The Narrows is one of the most popular hikes in Zion National Park, but also one of the most rewarding, as you are able to experience the mighty Virgin River and imagine how it carved the canyon millions of years ago. This guide will help you plan your hike in the Narrows, and give insight on how to do it safely.
 BEST TIME TO HIKE THE NARROWS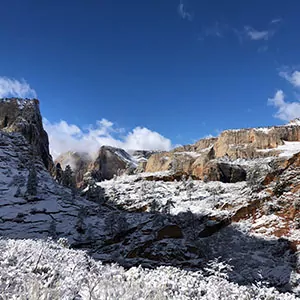 The season and the flow of the Virgin River is a huge factor in determining the best time of year to hike the Narrows. The Virgin River in the winter and spring is typically cold and high, as it snows at high elevation. The Narrows can close completely in the spring as the snow melts and increases the water to over 150 cubic feet per second.
Late-spring and summer is when most people chose to hike the Narrows, as the water is warmer and lower. However, this is also the most dangerous time of year to be in the Virgin River. Monsoon season is mid-July to mid-September and runs a risk of flash flooding. You should check with the Visitor Center or online weather for up-to-date flash flood information.
The weather in autumn provides more stable conditions, but the days are shorter, giving you less time to enjoy your hike. No matter what time of year you decide to hike the Narrows, always check with a ranger or at the Visitor Center for recommendations and information.
 HIKE FROM THE BOTTOM UP, OR FROM THE TOP DOWN?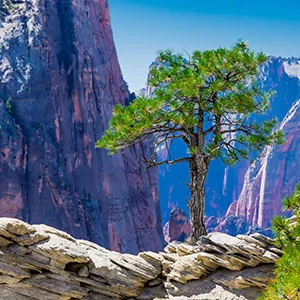 When planning your hike in the Narrows and trying to decide on whether you should hike from the bottom up or from the top down, you need to determine how much time you will have for the hike. Hiking from the bottom up is ideal for those with less time to complete the hike, this route allows you to turn around at any point. Hiking from the top down is much more of a commitment, it is a 16 mile hike from Chamberlain's Ranch to Temple of Sinawava, and typically takes about 12 hours.
Another thing to consider is how much in advance you are planning you trip. Permits are required for hiking from the top down, as well as backcountry camping permits if you wish to make it an overnight trip. You are not required to obtain permits for hiking the Narrows from the bottom up.
If you chose to hike from the top down, you will need to arrange transportation, as Chamberlain's Ranch is a 1.5 hour drive from the Temple of Sinawava. It is recommended that you get a shuttle to the trailhead and hike back to your vehicle.
 HOW TO GET PERMITS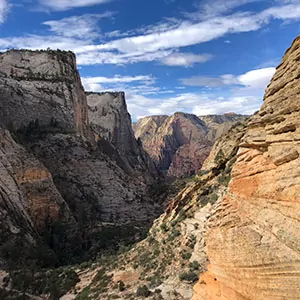 If you are planning to hike the Narrows from the bottom up—starting at Temple of Sinewava, you do not need to obtain a permit. However, if you are hiking from the top down, either as a day hike or an overnight trip, you will need a permit. For reservations, click here.
If you are planning to hike the Narrows in one day, but there are no advanced reservations left, don't stress! Zion National Park will open the Last Minute Drawing 7 to 2 days before your trip date. If there are still spaces open after the Last Minute Drawing, they will become available for walk-in, to be obtained the day before your trip.
Backpacking in the Narrows requires backcountry campsite permit. There are 12 campsites in the gorge of the Narrows. Six of the twelve spots are available for advanced reservation, and the other half are only available as a walk-in permit—you can get these permits from 10 am to 5 pm on the day before your trip.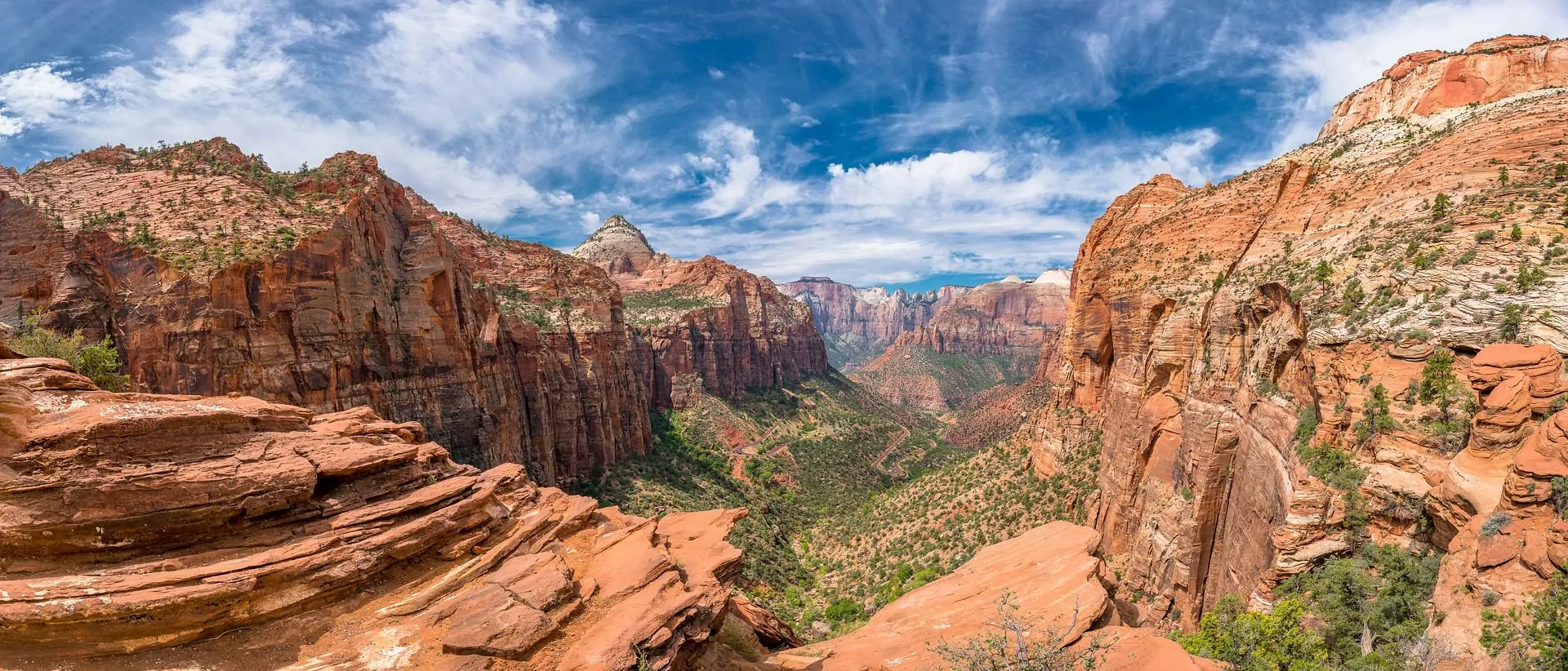 CAMPING IN THE NARROWS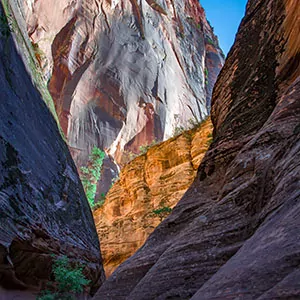 There are 12 campsites available in the Narrows. The first campsite takes roughly five hours to reach, and the last campsite takes roughly eight hours—you can look at a map here. When making reservations for campsites, try to be realistic on your hiking ability and how far you want to hike the first day.
Camping is only acceptable at designated campsites, since the deeper you get into the Narrows, the less likely you are to find high ground to safely camp. There is also cryptobiotic soil that is very fragile, and would ruin hundreds of years of growth if you pitched a tent on top of it. To read more about Leave No Trace principles, click here.
 WHAT TO BRING ON YOUR TRIP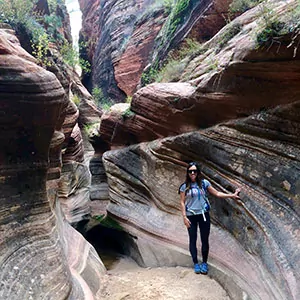 Bringing the right gear and food for your trip through the Narrows will make or break your day. Below is a list of recommended items to bring with you:
Water: You will need to bring at least 3-liters of water with you. This hike can be very strenuous and you will likely be hiking for most of the day, and in the heat of the day, so staying hydrated is essential. Bring a water filter with you if you think you will need more than 3-liters, or if doing an overnight trip; do not drink untreated water.
Food: Your hiking food should be high in energy without making you feel heavy, and should be full of protein, carbohydrates and electrolytes. Salty foods are also recommended to replenish any salt you sweat out.
Water shoes: You will be hiking through the Virgin River, so water shoes or sandals with a back strap are recommended. Another option is wearing old tennis shoes that you don't mind getting wet. Waterproof hiking boots are not recommended, as the water will remain in the shoe and become very heavy.
Sun Protection: A hat, sunscreen, a long-sleeve sun shirt, and lip balm are recommended, as the sun may be beating down on you.
Synthetic layers: Non-cotton layers will dry much faster and are ideal for hiking through the Narrows.
Water-proof backpack: There are points where the river may be high, and up to your waist or torso, so having a waterproof backpack will keep you things dry.
 SAFETY PRECAUTIONS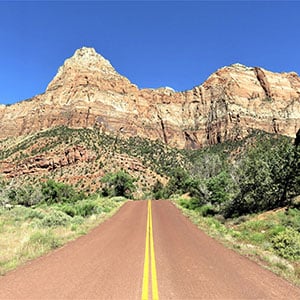 Always check with the Visitor Center before heading out to the Narrows, they will be able to inform you of flash flood risks and other pertinent information. Flash floods can be caused by storms that are miles away, so even if it is not raining on you, it doesn't mean that you are safe from a flash flood. You should look at the flash flood risks before starting your hike.
Other ways to stay safe in the Narrows are:
Hike in groups of three or more: This allows someone to go for help if there is an injury or emergency.
Bring a headlamp: This may help you get out of the canyon if it takes longer than expected.
Bring a first aid kit: Having the tools to treat a small or large injury is essential in the wilderness.
Bring a water filter: It is not safe to drink untreated water, so having a water filter is an extra precaution in case you run out of water in the canyon.
Always tell someone where you are going, and what time you plan on getting out: This lets someone on the outside be able to alert NPS if you are in stuck in the Narrows. Make sure you let them know when you are safely out, so they don't unnecessarily worry about you.
You can read Zion National Park's list of how to hike the Narrows safely here.
 JOIN A GUIDED HIKING ADVENTURE
Zion National Park is home to some of the most epic and amazing hiking vacations in the world. Wildland Trekking offers trips with the best of Zion: canyons, views, wildlife, solitude, adventure and fascinating natural and cultural interpretation.
Guided Zion treks are all-inclusive which covers permits; local transportation (excluded on certain tours); meals; equipment; safety systems and professional hiking/wilderness guides; all of which allows visitors to maximize their time in Zion and focus entirely on enjoying the Park.