Zion Narrows Hike: Everything You Need to Know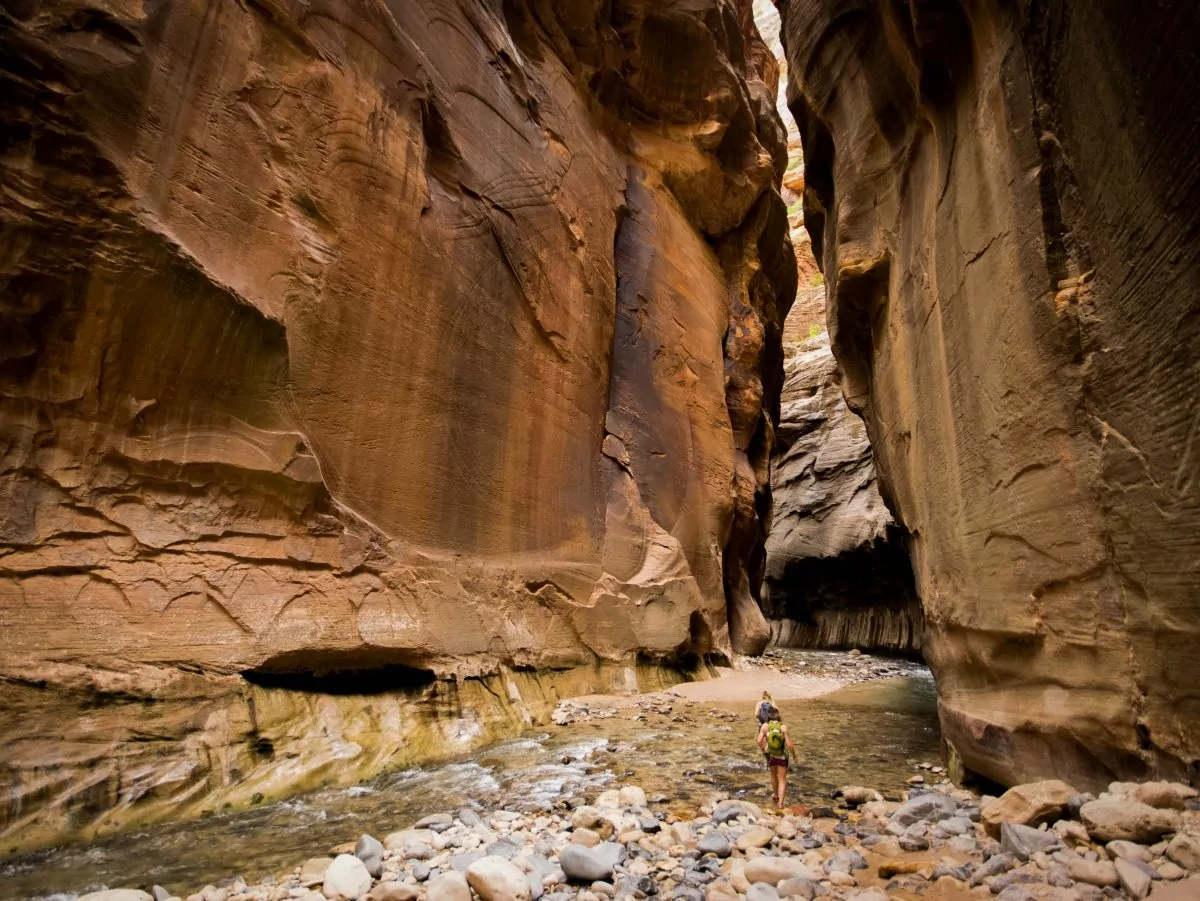 The Zion Narrows is a tall, narrow gorge carved out by the North Fork Virgin River. As one of Zion National Park's most popular hikes, it is a bucket-list destination for outdoor enthusiasts worldwide. If you're looking for a hiking route that will amaze you, challenge you, and heighten your appreciation for the Southwest's natural beauty, Zion Narrows is an excellent choice.
Because Zion Narrows is a unique destination, it presents some different challenges for hikers. In this guide, we will help you prepare for these challenges to make sure your Zion Narrows adventure is as safe and enjoyable as possible. Whether you're looking for information about Zion Narrows hiking permits, preparing for the hike, what time of year to hike the Narrows, or guided hiking excursions, we've got all the details you need for your hike.
Award Winning Utah Hiking Vacations
What Makes the Narrows Special?

Zion Narrows, as the name suggests, refers to the narrowest section of Utah's Zion Canyon. This canyon is so tall and so narrow that hardly any direct sunlight reaches its bottom. It is considered one of the best — if not the best — slot canyon hikes in the world.
As Zion Narrows is a hike like none other, it requires you to think about several things that you don't have to worry about on other hikes, like permits, special equipment, water flow rates, the potential for flash floods, and the difficulty of walking through a river for hours on end. We will address all of these in the following sections to help you feel prepared and informed for your hike.
Zion Narrows: Top-Down or Bottom-Up?

There are a few different ways to hike the Narrows. The option you select will depend on your hiking preferences, experience and time availability.
1. Bottom-Up
If you're a casual hiker who wants to see the best the Narrows has to offer, consider starting your hike from the Temple of Sinawava, which is the final stop on the Zion Canyon shuttle. From here, you can travel up the Riverside Walk trail and continue along the river to take in some of the Virgin River's best "narrows" segments. You can go as far up the river as you want and turn around whenever you like. A permit is not needed for the bottom-up hike.
If you have the energy and time for some more canyon scenery, you can take a detour by hiking up Orderville Canyon, which can be as relaxing or demanding as you want.
2. Top-Down: Day Hike
Hiking Zion Narrows from the top down is considerably more strenuous. It's a challenging 16-mile hike beginning at Chamberlain's Ranch, a remote location that you can only access by driving there yourself or by hiring a private outfitter.
If you're a strong, fast hiker looking for a challenge, you can complete the hike in one day — just make sure to get an early start and maintain a steady pace. In case the sun goes down before you finish your hike, make sure to bring a headlamp along.
If you choose this direction, you will get to experience the North Fork River's gradual transformation from open stream to one that meanders deep through a slot canyon. To hike this route, you will need to obtain a wilderness permit.
3. Top-Down: overnight Hike
The top-down hike takes approximately 12 to 14 hours to finish. If you would prefer to take things at a more leisurely pace, we recommend that you camp overnight and complete the hike over two days. This is the more popular option. You'll need to obtain a wilderness permit to complete this overnight hike. When buying this permit at the Visitor Center, you will also pick out one of the park's designated campsites.
All-inclusive USA Hiking Adventures
Best Times of Year to Hike the Zion Narrows
When deciding what time of year to visit the Narrows, there are three primary factors to consider — temperature, flow and floods.
1. Temperature
In some ways, the temperature is actually the least important factor to consider as you choose when to hike the Zion Narrows. Water flow permitting, the Narrows is open all year round. And considering this is the most popular hike in one of the most popular National Parks in the United States, colder weather may actually be better since frigid temperatures thin out the crowds.
Whatever the weather, Wildland Trekking provides temperature-appropriate river hiking gear for every Narrows trip, during every time of year. Depending on the season and the immediate conditions, this could mean a full dry suit or a simple pair of river sandals. In the early spring, our groups often hike in dry pants. Late-spring and late-fall groups typically hike in neoprene "wet suit" pants.
All groups typically wear specially provided canyoneering shoes with neoprene socks. The exception is during those hot summer months when it's simply nice to hike in your very own set of river sandals. However, we only recommend this when the water level is very low.
2. Flow
The National Park Service closes the Narrows whenever the water flow is above 150 cubic feet per second (CFS), which can happen frequently during the spring snowmelt. If you book a Wildland Zion tour from mid-March to early-April, you should be aware that the Narrows could be closed. If this section of the Park is closed, your trip will still be wonderful, as we have many wonderful alternate hikes available. However, if the Narrows are on your bucket list, your best bet is to book for the fall.
You can check the U.S. Geological Survey or look at historical monthly averages on the chart below. Remember, if the river is flowing at over 150 CFS, the Narrows will be closed.
Virgin River Narrows Flow, Monthly Mean CFS
YEAR
Jan
Feb
Mar
Apr
May
Jun
Jul
Aug
Sep
Oct
Nov
Dec
2008
71.9
60.1
80.9
162.9
163.7
61.2
46.4
41.4
34.9
39.6
48.3
45.7
2009
59.3
62.1
73.0
185.1
213.7
63.9
53.0
44.2
39.2
39.5
48.2
47.5
2010
51.6
67.2
89.4
256.1
478.3
164.0
58.9
67.4
43.3
79.4
64.7
414.4
2011
90.7
76.6
156.1
615.5
858.4
339.6
94.6
62.2
64.6
80.2
97.6
83.9
2012
68.2
68.7
89.9
136.8
68.9
38.6
40.4
52.0
45.3
44.9
54.9
53.5
2013
61.0
72.8
76.6
97.8
74.9
33.9
42.0
53.4
71.9
69.5
84.4
55.2
2014
63.0
59.5
58.6
56.2
49.2
33.1
38.5
50.4
104.4
40.5
46.5
48.3
2015
51.4
50.6
64.2
53.7
60.1
46.4
41.7
38.4
53.6
56.3
54.8
61.0
2016
69.2
83.8
102.6
195.1
180.9
66.7
37.5
60.9
56.7
When you're planning your Zion Narrows hike, check out the water flow data and see what the river is doing right now!
3. Floods
Spring brings desert wildflowers along with a greater chance of rain showers, snowmelt, and flash floods. Summer is nice and warm in the Narrows, but the North American monsoon can bring on rapid afternoon rainstorms. Fall has the most stable weather.
Unless there is an official Flash Flood Warning from the National Weather Service — meaning that a flash flood is imminent — the Park does not typically close the Narrows for flash flood danger. Flash floods can happen at any time, and we will not be hiking the Narrows if there is significant flash flood danger. If you're traveling without a guide, you should avoid the Narrows during any flash flood danger.
A 344-square-mile watershed feeds into the Virgin River Narrows, so it only takes a few drops of rain to create a flash flood.
Seasonal Takeaways
Your hike will vary based on the conditions in the Zion National Park Narrows. Below, we will give you an idea of what you can expect during each season:

Spring: The Narrows is generally closed for several months in the spring because flow rates tend to be high from spring run-off and snowmelt. This closed period is generally between mid-March and mid-May, although it varies from year to year depending on the weather. If the flow rate exceeds 150 CFS, the National Park Service won't issue permits.
Summer: Summer is an ideal season to visit the Narrows. The temperature of the air and the water is warm and the days are long. Shuttles run until around 9 p.m., giving you plenty of time to complete the top-down hike in one day. However, keep in mind that summer is the most popular season. The Narrows could be crowded, so you can expect to share the trail with many other hikers — particularly between Riverside Walk and Big Springs. Also, keep in mind that summer is the most difficult season to obtain a permit and flash flooding is possible during this season.

Fall: Autumn is also a great time to hike in the Narrows. It's less crowded than the summer, the fall colors are starting to come out, and if you visit in the early fall, the weather is quite pleasant. If you come later into fall, you'll have fewer daylight hours and the temperatures may be a bit less comfortable. The park's shuttle service also runs fewer hours during this season, which may cut your hike short.
Winter: Hiking the Narrows in winter is cold, but it's often the best time to avoid crowds. If you plan to hike the Narrows in winter, be prepared for limited daylight hours and frigid temperatures. Also, the park shuttle does not run regularly in the winter and the road leading to Chamberlain's Ranch may be closed due to snow. If you want to hike the Narrows top-down in a day during the winter, the National Park Service won't issue you a permit due to the insufficient amount of daylight to hike it. Be sure to plan carefully for the winter conditions so your hike is still safe and enjoyable.
Zion Narrows Hiking Permits
Whether or not you need a permit to hike the Narrows trail will depend on the direction you plan to hike. If you plan to do the bottom-up hike starting at the Temple of Sinawava, a permit is not necessary. However, if you choose the top-down hike, whether in one day or over two days, a permit is required. You can visit the National Park Service's site to find out more about day-hike and overnight reservations.
If you plan to do the Narrows hike in a single day, but no more advanced reservations are available, don't panic — the park will open their "Last Minute Drawing" two to seven days before the desired date for your trip. If there are still available spaces after this drawing, they'll become available for walk-in, which you can obtain the day before your trip starts. However, these spaces are limited (and popular), so be sure to show up to the permitting office early if you want to snag a walk-up permit.
If you would like to go backpacking in the Zion Narrows, you'll need to get a backcountry campsite permit. The Narrows gorge has a dozen campsites:
Deep Creek site: Available for online or walk-up reservations with a maximum group size of four.
River Bend site: Available for walk-up reservations only with a maximum group size of four.
Right Bench site: Available for online or walk-up reservations with a maximum group size of six.
Flat Rock site: Available for walk-up reservations only with a maximum group size of two.
Ringtail site: Available for online or walk-up reservations with a maximum group size of six.
Kolob Creek site: Available for walk-up reservations only with a maximum group size of 12.
Box Elder site: Available for online or walk-up reservations with a maximum group size of six.
Boulder Campsite: Available for walk-up reservations only with a maximum group size of six.
Left Bench site: Available for online or walk-up reservations with a maximum group size of six.
West Bench site: Available for walk-up reservations only with a maximum group size of six.
Spotted Owl site: Available for walk-up reservations only with a maximum group size of four.
High Campsite: Available for online or walk-up reservations with a maximum group size of 12.
For the six Zion Narrows camping sites that can only be reserved with a walk-in permit, you can obtain the permit the day before your hiking trip between 10 a.m. and 5 p.m.
Important note: The NPS does not issue permits when the waters are above safe levels. As mentioned above, permits for the one-day top-down hike are not issued during the winter because there is not sufficient daylight to finish the hike.
If you book a tour with Wildland Trekking that includes the Zion Narrows hike, we will take care of permits for you so you won't have to go through the process yourself.
How to Prepare for Your Narrows Hike
In this section, we'll discuss how to hike the Narrows, what you can expect and what to bring.
Zion Narrows Hike Difficulty

The main difficulty of hiking the Zion Narrows is having to wade through the river. Boulders the size of basketballs at the bottom of the river can make it difficult to find your footing at times. Because you walk in the river for much of the hike, this can be quite taxing on your body. Be prepared to fall, trip, and stumble as you make your way across. It's all part of the experience!
Naturally, the higher the water is, the more difficult it will be to traverse. The level of the water fluctuates widely from one day to the next and depends on factors like snowmelt and rainfall. Here's what you can expect on your hike for the given Virgin River flow rate:
Below 70 CFS: If the river is below 70 CFS, walking through it is somewhat difficult and knee-deep crossings are frequent.
Between 70 and 150 CFS: When the current exceeds 70 CFS, it becomes quite challenging to walk against the current, and the water will frequently come up to your mid-thigh.
Above 150 CFS: If the flow exceeds 150 CFS, the Zion Narrows will be closed to all hikers. The Narrows will also close if the National Weather Service issues a Flash Flood Warning.
You can stay up to date on the current water levels in the Zion Narrows and the flow of the North Fork Virgin River, thanks to the U.S. Geological Survey.
When hiking up the river, it's important to be aware that there isn't an "out" except the trailhead. If you begin to get tired, you'll have to hike back the way you came in.
Equipment
Below is a list of items you'll want to bring with you on your Zion Narrows hike. While some of them are general hiking necessities, others are specific to this unique hike: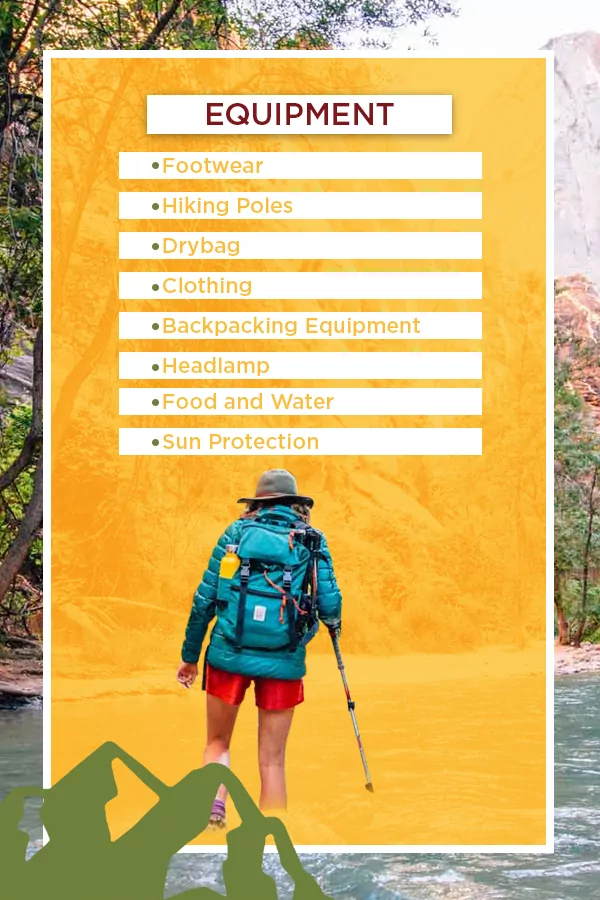 Footwear
When hiking the Narrows, you'll walk through water up to your knees for almost the entire time. Accordingly, you'll need durable, water-friendly footwear that has toe protection. We recommend trail runners without GORE-TEX, so they can drain and breathe. For socks, we recommend a high-quality pair made of neoprene, which helps your feet stay blister-free and warm during your hike.
Avoid bringing footwear like light sandals or water shoes. They will most likely break before the day has ended and, if your toes aren't covered, the rocks in the river may injure your feet. You should also refrain from wearing bulky hiking boots. While they offer great protection for your feet, they will most likely take a long time to dry and will end up smelling foul.
Hiking Poles
Since you'll be hiking through water for most of the day and the river current is quite strong in places, having trekking poles or a hiking stick will help you maintain your balance. If you have only one hiking stick, use it on the upstream side to make it easier to balance. If you arrive at the trailhead without a hiking stick, you can likely obtain one where the Riverside Walk trail ends.
Drybag
Chances are you'll have some belongings you won't want to get wet, such as your camera, phone, and wallet. You can stow these items in a drybag. Although the Narrows hike is mostly knee or waist deep, you will encounter a few sections where you'll be submerged up to your chest — and you might even have to swim!
Clothing
Only bring clothing items that you don't mind getting wet. Non-cotton layers are recommended, as they will dry the quickest. Because you won't be getting too much direct sunlight, bringing along a fleece is a great way to stay warm. If you're visiting during the cold months between October and April, water temperatures can drop down to 40 or even 30 degrees, so wearing a wetsuit or drysuit is a good idea.
Backpacking Equipment
If you're opting for the top-down backpacking hike, you'll need to bring along some standard overnight equipment. This includes a small tent, sleeping bag, portable stove, and drybags to store all of this equipment. You should also be aware that campfires are prohibited in the Zion National Park backcountry, so make sure to leave your campfire gear behind.
Headlamp
There's always a chance you could get stuck on the trail after sundown, so don't forget to bring a headlamp. If you don't have this useful piece of equipment, hiking the trail will be impossible once the sky is completely dark. Bringing a headlamp is especially important if you're trying to complete the top-down hike in a single day. When shopping for a headlamp, look for models that are lightweight and waterproof.
Food and Water
You should bring along a minimum of three liters of water. The Zion Narrows hike can be extremely strenuous, and you will probably be on the trail for most or all of the day. This makes it critical to stay hydrated. Additionally, the Virgin River contains toxic cyanobacteria, so you shouldn't filter water on the trail unless it comes from springs. For the Narrows hike, you'll need to carry all your drinking water with you.
The food you bring should provide lots of energy but not make you feel sluggish or heavy. Aim to bring food rich in carbohydrates, protein, and electrolytes. We also recommend bringing along some salty foods to replenish the salt lost through sweating.
Sun Protection
Even though the tall, narrow canyon will block much of the sun, you will still be exposed to direct sunlight in certain sections. We recommend bringing a long-sleeved sun shirt, sunscreen, a hat, and lip balm.
Tips for Hiking the Narrows

In addition to the advice above, here are some extra tips to make your Narrows excursion safer and more comfortable:
Stay dry: You'll be partially submerged in the water for much of the hike, so you'll want to keep yourself and your belongings as dry as possible. Wear non-cotton layers, which will dry more quickly. For your belongings, bring them in a waterproof backpack or a drybag.
Hike in groups: You should travel in groups of three people or more, which will allow someone to seek help if there's an emergency.
Take a first-aid kit: In the remote wilderness, it is essential to have the equipment to treat injuries.
Don't drink the water: Due to increasing temperatures and dry conditions, cyanobacteria has flourished in Zion National Park. The NPS has issued a warning about the toxic cyanobacteria and advised visitors against drinking any instream water in the Park. While they have rescinded the advisory for the North Fork of the Virgin River, we recommend just bringing all your drinking water with you instead of trying to filter your drinking water.
Hike the Narrows With Wildland Trekking

At Wildland Trekking, we offer a variety of hiking tours in the national parks of Southern Utah. Many of these tours combine Zion with highlights from other nearby parks, like the Grand Canyon and Bryce Canyon. We lead both inn-based and camping-based Zion Narrows day hikes that feature the greatest attractions from Utah's Canyon Country and comfortable lodge-based and camping accommodations.
If you have less time and want to get the most out of your experience, join us for one of our 
Zion Day Hike Tours
. These tours are designed to maximize your day in the park with a guided hiking tour on one of Zion's best trails. Regardless of your preferences, Wildland Trekking has an all-inclusive option for you. To learn more about our hiking tours and schedule your trip, 
connect with us today
!