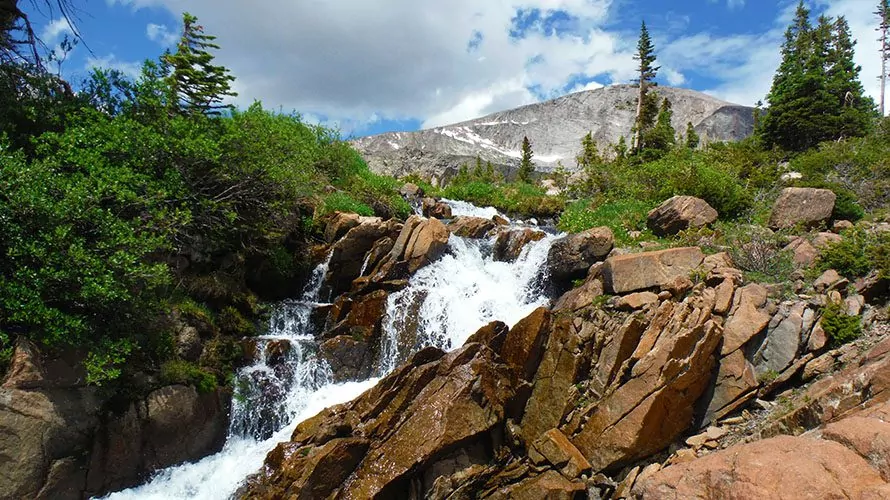 Wild Basin Trail
Wild Basin Trail is the starting point to spectacular waterfalls, alpine lakes, and mountain views. The region hosts a variety of trail lengths ranging in day hikes too multi-day backpacking and stock-supported trips.
Located in the Southern part of Rocky Mountain National Park, Wild Basin is a less frequented region. Its most popular attractions are a series of waterfalls along the Wild Basin Trail. Ambitious day hikers or backpackers can escape the crowds to find solitude venturing further to Thunder, Ouzel, or Finch Lakes.
History of the Wild Basin Trail
Wild Basin is believed to be named for the abundance of plants and wildlife it hosts. In 1978 a wildfire was ignited from a lightening strike. At this time the National Park Service was indecisive about managing wildfires, and allowed the natural occurring fire to burn. After a month, the wildfire neared the park boundary and town of Allans Park was evacuated. 500 firefighters scrambled together to extinguish the fire within the confines of Rocky Mountain. This event lead to a deeper conversation on managing wildfires within wilderness. Aspen trees have grown successfully in the wake of the fire, as this is scene from the trail.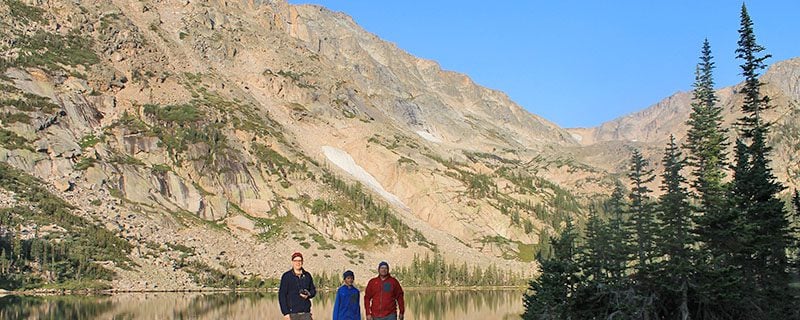 3 Best Day Hikes on the Wild Basin Trail
All trail distances below begin from the Wild Basin Trailhead. A great hiking trail along the St. Vrain drainage, featuring multiple rest stops with views of waterfalls and meadows.
Below are the primary options for day hiking the Wild Basin Trail:
| | | | | | |
| --- | --- | --- | --- | --- | --- |
| | Destination | Miles | Elev | Difficulty | Style |
| | Copeland, Calypso, and Ouzel Falls | 5.5 mi |  + 1,250 ft | Easy | Loop |
| | Ouzel Lake | 10 mi |  + 1,900 ft | Moderate | Out and Back |
| | Thunder Lake | 12 mi |  + 2,350 ft | Difficult | Out and Back |
1. Copeland, Calypso, and Ouzel Falls
Combing these three waterfalls makes for a great easy day hike. Each cascading waterfall gains in steepness and height as you progress down the trail. Copeland Falls is seen from a side trail a half mile from the trailhead. Hike another 2 miles, taking the trail left and crossing the creek over a bridge. Calypso Cascades is another .5-mile up hill. Travel another .75-mile up the trail to reach Ouzel Falls. At the bridge below the falls, notice the side trail leading up hill. Take this to a spectacular viewpoint beneath this powerful waterfall.
Hike back to the trailhead the way you came or continue hiking past Ouzel Falls another mile till reaching the Wild Basin Trail. Take a right, and follow this trail back to the trailhead to create a great loop hike.
2. Ouzel Lake Trail
Ouzel Lake makes a place to break for lunch after hiking past the waterfalls. From Ouzel Falls hike .5-mile to the trail junction. Take the left trail, and hike another 2 miles gradually up hill. Great views of Longs Peak and Mt. Meeker can be seen from this section. Many great rest spots exist near the lake, and one wilderness campsite. Consider spending the night on a portered camping trip. From the lake retrace your steps back to the vehicle.
3. Thunder Lake Trail
A spectacular alpine lake nestled between inspiring mountains. Thunder Lake is a long day hike with significant elevation gain, it is fitting for those looking for a challenging hike with rewarded with solitude. It is known for its excellent fishing, beautiful meadows, and multitude of side hikes. Thunder Lake is a wonderful place to spend multiple days on a backpacking trip or llama supported hiking adventure.
From the Trailhead follow the Wild Basin Trail 4 miles gradually up hill. At the trail junction, hike left onto the Thunder Lake Trail for another 1.5 miles till reaching Thunder Lake. A side trip to see Calypso and Ouzel falls adds .8-mile to your hike. From Thunder Lake Backcountry hiking trails lead to Box and Eagle Lakes. As well a steep difficult trail leads to Boulder Grand Pass on top of the Continental Divide.
Maximize Your Visit to Rocky Mountain National Park on a Hiking Tour
Guided day hike tours and multi-day packages (backpacking trips, llama treks, inn-based tours and camping tours) allow visitors the opportunity to make the most of their time in Rocky Mountain National Park and to do it hassle-free. Guided tours include gear (backpack, trekking poles, crampons in winter), meals, accommodations on multi-day tours, local transportation, and a professional Colorado hiking guide. Through their knowledge, stories, and personal passion, guides can bring a place to life in a way that's much more difficult to do on your own. Read more about Rocky Mountain Hiking Tours.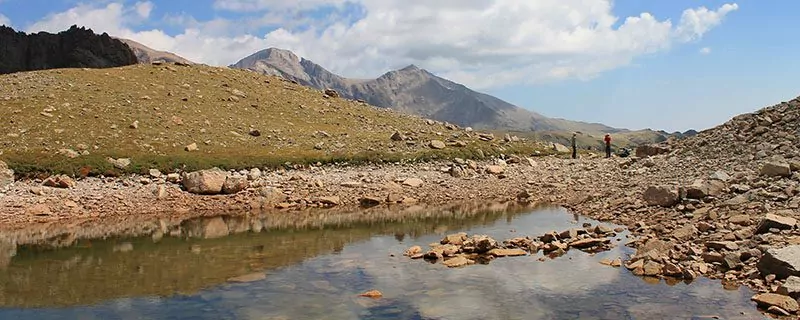 3 Backpacking trips along the Wild Basin Trail
Multiple wilderness campsites exist in Wild Basin. It is possible to camp at one lake and day hike, or move camp each night.
| | | | | |
| --- | --- | --- | --- | --- |
| | Route | Miles | Difficulty | Campgrounds |
| | Finch Lake |  9 – 14 mi | Moderate | Finch Lake |
| | Ouzel Lake | 10-15 mi | Moderate | Ouzel Lake |
| | Thunder Lake | 12 – 20 mi | Strenuous | Thunder Lake |
1. Finch Lake Backpacking Trip (2-3 days)
Finch Lake is a secluded lake underneath Mt. Copeland. It hosts a backpacking site and a stock use sight. It makes for a great 1-2 night trip. The shortest way to Finch Lake is using the Finch Lake Trailhead. However, it can still be accessed from the Wild Basin trailhead. Using Finch Lake as a base camp hike to the remote Coney and Hutcheson alpine lakes. Consider a Llama supported trip to Finch Lake.
2. Ouzel Lake Backpacking Trip (2-3 days)
Ouzel Lake features an amazing wilderness campsite very close to the Lake, featuring magnificent views to be enjoyed all day. Using your campsite as a base camp, find solitude at the remote location of Bluebird Lake. Hiking to Thunder Lake is with distance as well. Learn more about a guided trip to Ouzel Lake.
3. Thunder Lake (3-4 days)
The potential day hike options utilizing Thunder Lake is phenomenal. Hiking to Box and Eagle lake is a challenging backcountry route finding. While hiking the Boulder Grand Pass trail onto the Continental Divide is an exhilarating steep trail. From this vantage point it is possible to summit Mt. Alice or Tanima Peak. All the same, spending the afternoon at the lake itself is worth it. Learn more about overnight guided Thunder Lake backpacking, and portered trips to Thunder Lake.
Join a Guided Rocky Mountain Backpacking Trip
Joining a Rocky Mountain National Park backpacking tour is a worry-free, adventurous way to experience Rocky Mountain National Park. With your gear, meals, local transportation, permits, and fees taken care of for you, you can travel light and focus 100% on enjoying the hiking experience, while the guide company takes care of everything else. Also, by going with local experts you'll enjoy a greater level of safety and gain a much better understanding of the history, ecology and uniqueness of the region.
All-inclusive Rocky Mountain Backpacking Trips
When to Hike and Seasonal Considerations
Wild Basin Trails offer opportunity year round. Spring can be slow to thaw out, while Summer brings great hiking conditions. As always, Fall brings beautiful color changes, and snowshoeing and cross-country skiing occur in the Winter.
Necessary Permits
Day Hike Permits
No permits necessary for day hikes in Rocky Mountain.
Backpacking Permits
Wilderness camping permits can be obtained online starting March 1st of each year. Reservations are given on first come first serve basis. The Rocky Mountain National Park Website updates availability daily of each specific campsite throughout the Summer.
For more information on Rocky Mountain National Park's permit system, click here.
Getting to the Wild Basin Trailhead
From the Beaver Meadows Visitor Center in Estes Park take Highway – 7 South out of town for 13 miles. Turn right onto Country Road 84 (Next to the Wild Basin Trailhead sign). Show your park pass or purchase one at the entrance station. Drive another two miles on a gravel road to the furthest parking lot.
During the summer peak visitation season anticipate the parking lots full by 8:00am or earlier. As parking fills, vehicle access is limited to pre-existing shoulders and parking further down the road. By 10:00am, parking is often limited to the Entrance Station, if this occurs anticipate an additional two hours of walking to your day. Plan to arrive early or plan accordingly.
Suggested Packing List
Day Hike Packing List
2-3 liters of water
Salty, calorie-rich snacks
lunch
backpack
trekking poles
wide-brimmed hat
sunscreen, sunglasses
cotton t-shirt (spring-fall)
medium to thick upper layers
rain jacket
1st-aid kit
Backpacking Packing List
all items listed for day hikes PLUS
multi-day backpack
3-season tent
0-20 degree sleeping bag
sleeping pad
backpacking stove and fuel
backpacking meals
3 pairs wool socks
extra t-shirts
Please Respect Our National Parks – Leave No Trace
We strongly recommend abiding by all Leave No Trace ethics guidelines and practices so that our national parks and public lands are preserved for the enjoyment of future generations and for the people and animals who call these places home. Simple things like packing out your trash, obeying national park rules, and respecting the peace and quiet of our national park trails is a great start. If you're going on a backpacking trip, you can read about more about the 7 Leave No Trace Principles.