All About Visiting Yellowstone in July
The benefits, drawbacks, activities and other features of visiting Yellowstone in July.
Updated: 10/26/22
July is a great time to visit Yellowstone National Park. The weather is nice, the wildlife is plentiful, and all areas of the park are able to be explored. There are many benefits to visiting Yellowstone in July, as well as some drawbacks. Below, we've broken up the most common "when to go" questions into categories to make it easy to determine if July is the best time for you to visit.
Benefits of Visiting in July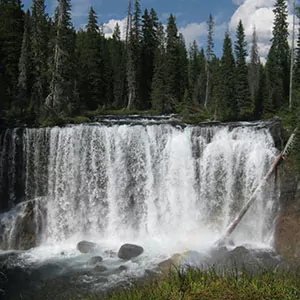 The biggest benefit of visiting Yellowstone in July is the accessibility of the trails. It is a perfect time to strap on your hiking boots and hit the trail because you can access almost every location in the park in July. Most of the snow has melted, so you'll have over 1,000 miles of trail to choose from. Both hiking and backpacking can help you escape the higher volume of crowds this time of year, so the accessibility of trails is great for those who want to get into the back country. You can get some ideas from our hand-picked list of best trails in Yellowstone. Another benefit of visiting in July is the wildlife viewing. While the calving season for both bison and elk is finished for the summer, these animals are still roaming through much of the park and can be seen by visitors driving along the road. Bears are out and about for the summer and many water fowl and members of the weasel family such as otters and beavers can be seen in the lakes and rivers. Wildlife is one of the main reasons to come to Yellowstone as the park has the highest concentration of mammals in the lower 48 states, and summer is no exception to the remarkable wildlife viewing opportunities you have in the park.
The weather in July is much more suitable than earlier in the early summer and late spring for those wanting to make sure to avoid snow and adverse weather. There are usually about five days of rain in July and the temperatures can get very warm– almost hot– during the day, but you won't have to worry about late snows in the park. This leaves the park accessible to many people who do not have the snow gear to visit other times of the year. While it can still be chilly at night, the days will be warm and long and perfect for exploring.
Drawbacks of Visiting in July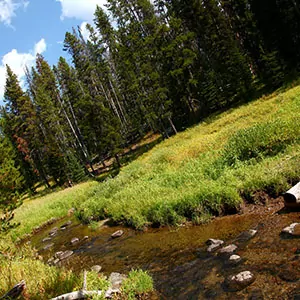 The biggest drawback to visiting in July is the crowds—on average, 4 million people visit Yellowstone in July alone. This means standing in long lines for services, circling around parking lots looking for a spot, and possibly hours of delay on the roads from the sheer amount of traffic or from unexpected situations such as a bear on the side of the road or a car accident. While there are multiple ways to access different areas of the park throughout the two loops, once you are on one route there are no alternatives, so you may be stuck behind a car accident or bear jam (as the rangers call them) until it is cleared. It is important to be flexible with your plans and be willing to change your schedule due to unforeseen circumstances. While there are certainly areas of the park that are less popular and can give you some feeling of solitude, many of the famous sites will not be the quiet wilderness experience you might have been hoping for.
As a result of the crowds during peak season, accommodations within and around the park suffer from higher prices and less availability. Places to stay around Yellowstone in summer book up to a year in advance, so you will need to know when you are planning to visit and book your accommodations far in advance. Those who are planning a last-minute trip will be lucky to find a place to stay at all– even a good distance away from any of the entrances to the park– and will probably have to shell out peak season prices for it. And while the wildlife that the park is famous for may still be mostly active, some of the more elusive animals will be even more elusive in summer. Wolves are rarely seen by visitors in the park in summer as they move to higher elevations away from the roads due to the higher temperatures.
Overall, however, July is one of the best seasons to visit Yellowstone because of the accessibility of the park. The major con is that everyone else knows that July is one of the best months to visit Yellowstone. If you can only make it to Yellowstone in the summer, here are some tips to avoid the congestion:
1. Go on a hike: taking just one step on a trail eliminates a lot of the crowds, and Yellowstone has over 1,000 miles of trails to choose from.
2. Get an early start: the earlier you start, the more of the park you'll have to yourself.
3. Have a plan, but also be flexible: know where you want to go before you begin driving, but also enjoy the scenery if you get stuck in a bison jam.
4. Avoid the busy eateries at mealtimes: there are plenty of beautiful places in the park that make perfect picnic spots.
5. Find an off-the-beaten-path hike: read our list of favorite trails in Yellowstone National Park.
Things To Do In July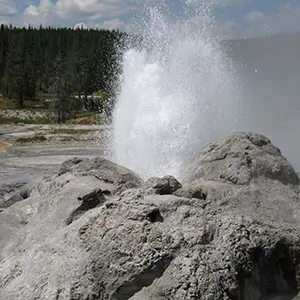 Hiking is one of the best things to do in July. Most of the snow has melted, and all of the trails are able to be hiked, giving you the opportunity to go on long hikes to the high country or on multi-day backpacking trips. Hiking is also an excellent way to avoid the crowds as many of the famous sites such as Old Faithful and Grand Prismatic Spring have hiking trails around them that bring you to overlooks which allow you to view the features with less people around. There is also great hiking in the area around Grand Canyon of Yellowstone as well as around Yellowstone Lake in the southern part of the park. Backpacking options abound and getting into the back country will definitely allow you to experience more solitude and quiet this time of year. There are nearly endless options among the 1,000 miles of hiking trails in the park that you can backpack on. You can either plan your own adventure or book a guided backpacking tour to experience the backcountry without needing advanced backcountry gear or knowledge. Llama treks are also a great option to lighten up your pack while being able to spend more time in the backcountry. You can read about how to get backcountry permits or join a guided trip.
July is a great month to get on the water—whether it be fishing, kayaking, or swimming in one of the designated swimming areas. For fishing, the best locations are the Gardner River, Lamar River, Slough Creek and Soda Butte Creek. Permits are required for any fishing in the park and can be purchased at any visitor center or fly store outside Yellowstone. Boats are available for rent at Bridge Bay, on Yellowstone Lake. And guided kayak tours are available at Grant Village on Yellowstone Lake. You can check out our list of best tours in Yellowstone to find the tour that fits your interests. Wildlife and landscape photography are also very popular activities, as this park is seeped in the beauty of nature. Bison and elk roam along the roads and black and grizzly bears are not uncommon sights, even in the populated areas of the park. Star photography is also a fun activity as the July nights are warmer and more bearable than those earlier in the season, and the stars in this park are simply stunning.
Bus tours of the park and whitewater rafting are also offered for those looking to experience the park in a different way. If the more adventurous sports aren't your thing, there are many visitor centers and museums that are well worth visiting and have excellent information about the park and the surrounding area.
Things to see in july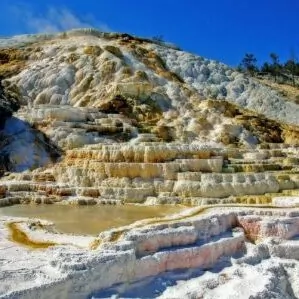 There are almost as many things to see in July as there are to do and if you read the last section, you know that's a lot. Yellowstone is full of sightseeing and it is one of the most popular activities in the park. Below we've put together a list of some of the must see spots in July but separated the entires into the famous and very popular sites and then added some lesser known areas that might have less crowds and be more peaceful. This list is far from exhaustive however, so make sure to do your own research to see what specifically piques your interest in the park.
Classic– but crowded– sights
Old Faithful: It's difficult to make a trip to Yellowstone at all without seeing Old Faithful, the most iconic geyser in the world. While many geysers in the park are unpredictable and erupt in frequently, Old Faithful has lived up to its name and wows guests by erupting many times a day, spewing hundreds of gallons of boiling water hundreds of feet in the air. While it is probably the most popular and crowded area of the park, Old Faithful is by far worth a visit.
Grand Prismatic Spring: Known for its technicolor water and brilliant colors that radiate even into the steam that it releases, the Grand Prismatic Spring is one of the largest and most colorful Hot Springs in the park. With brilliant colors of blue, green, orange, and yellow, this hot spring wows anyone who comes to see it. The area offers a boardwalk along the edge of the spring as well as hiking trails up to an overlook where you can get a better look at the colors.
Mammoth Hot Springs: In great contrast to the colors and water of the Grand Prismatic Spring, Mammoth Hot Springs is made of terraces of lime stone that have been built up over the years as mineral rich water bubbles from beneath the earth's crust. These glorious fountains, tinged with white and a deep burnt orange, are nothing like anything visitors have seen before and many say are more beautiful than any fountain man could design.
Road Less Traveled Options
Lamar Valley: This out-of-the-way valley in the north eastern section of the park is lesser-known compared to the popular Hayden valley for wildlife viewing, but is no less spectacular. With fewer crowds and less traffic, Lamar Valley is perfect for viewing large herds of bison and scattered elk. This valley is also your best bet to see wolves during this time of year, although they usually retreat to higher elevations where it is cooler.
Black Growler Steam Vent: Located near Norris geyser basin, black growler steam vent is one of the hottest hydrothermal features in the park and is named for its distinct growling noise. In contrast to hot springs and geysers, steam vents are hydrothermal features that are typically at higher elevations or along a hillside which prevents them from having abundant access to water. This causes what little water there is to turn to steam immediately as the temperature at black growler has been measured up to 280 degrees.
Artists Paint Pots: This little known trail called the Artists Paint Pots is near Gibbon geyser basin. While not as colorful or as large as some of the other hydrothermal features in the park, the paint pots offer a unique spectacle that can be viewed few other places in Yellowstone. Instead of brilliant colors and scolding water volcanoes shooting into the air, the paint pops are bubbling springs of mud that are often described as mesmerizing to watch. Depending on how much water is in the area, they either bubble with the consistency of thick paint or sputter and pop in the dryer areas.
Llama Treks in july
Llama treks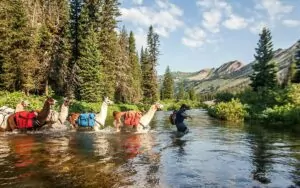 are fantastic in July and offer the ability to explore the backcountry of Yellowstone with minimal impact and maximum comfort. Each llama can carry 70 pounds of gear and supplies, so guests get to hike with lighter day packs. Options range from 3-day trips to 6-day trips and feature waterfalls, wildlife, vast meadows and stunning scenery. If you'd like to enjoy the benefits of a llama trek but aren't interested in a fully guided adventure, you can also rent llamas or hire Wildland Llamas to provide a drop camp for you. (Drop camps are a service where the outfitter carries in your supplies and helps set up your camp, but it is not a guided trip.)
Many people wonder if llamas are as good as horses for stock animals in the back country. Turns out, many hold the opinion that llamas are better than horses, although there are pros and cons to both. The biggest difference is that you are leading a llama instead of riding it as you would a horse, but some see this as a pro. Llamas have minimal impact on the environment compared to horses, can handle more technical terrain, are less easily spooked and easier to handle, and function as a sort of guard animal in camp. Camping in Yellowstone where there is so much wildlife can be nerve-racking for some people, especially as grizzly bears have a strong presence. Not only will dear, elk, and bison not associate llamas with humans as they would horses, llamas form a sort of camp guard against bears as they will sense danger long before humans do and give a warning call. In addition, llamas are not native to the area, and even larger animals like bears and cougars are likely to leave a group of large, unfamiliar animals alone. Plus, many guests have found that llama's quirky personalities provide enjoyable company to hikers. On Wildland llama treks, you can either choose to lead a llama or to hike without one. These animals allow for longer trips into the back country as you get to hike with a lighter day pack and have more creature comforts around camp that your llama can carry for you. You can read all about hiking with llamas and what your experience will be with these animals.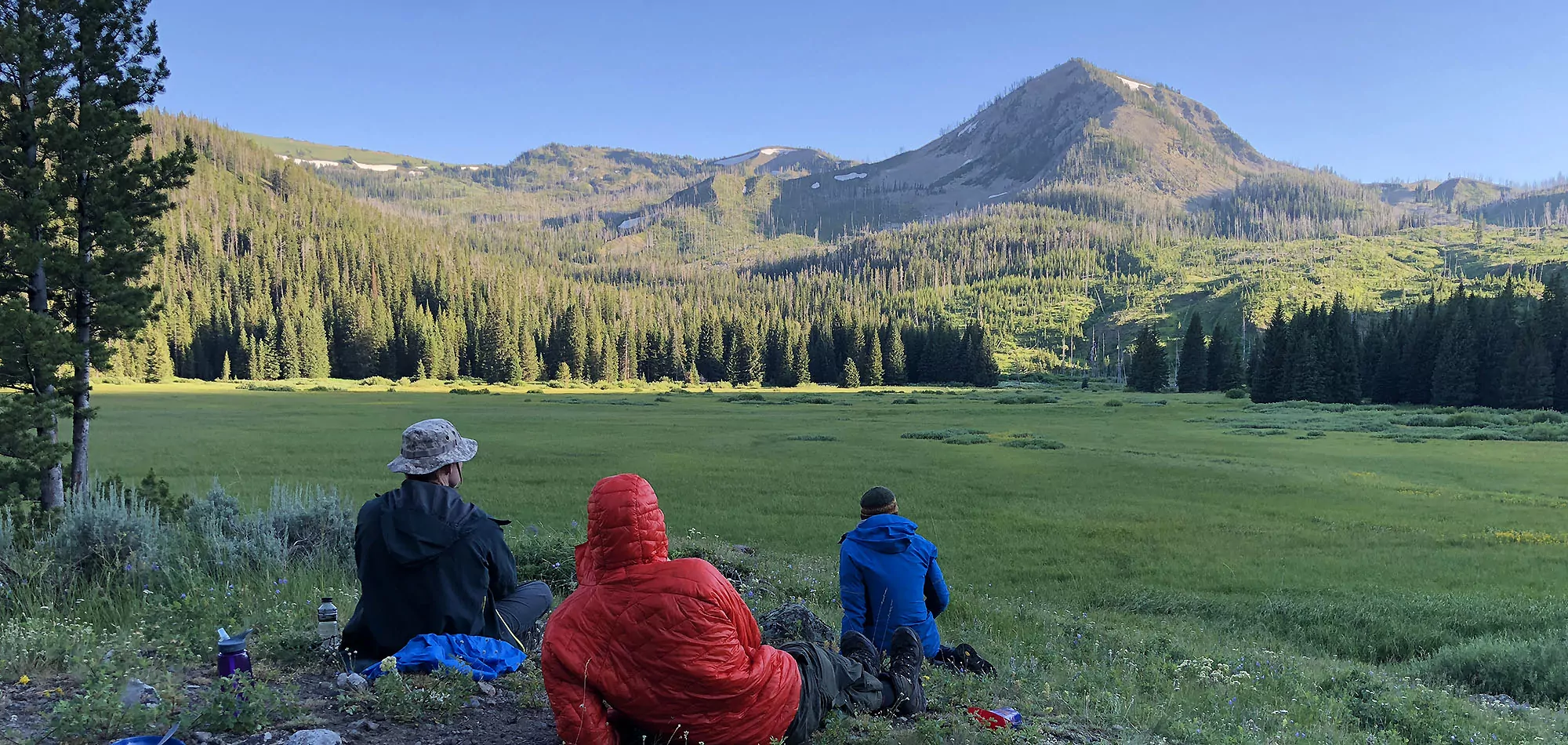 Hiking in July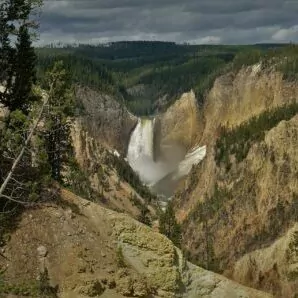 Hiking is wonderful in July, and there are many trails to choose from. Before hitting the trail, you can look into the trail conditions, so you know how to prepare. Consider going with a guiding company—the company takes care of all the logistics and permits, so all you have to worry about is enjoying the scenery around you.
There are many, many options for day hikes in Yellowstone National Park that will suit every experience level. Of course, hiking around famous sites like Old Faithful and Grand Prismatic Spring will give you a little bit of an escape from the crowds while still being around the famous areas. Old Faithful's extended boardwalk in the nearby geyser basin and overlook are excellent options for hiking as well as the overlook near Grand Prismatic Spring. If you're looking to make this latter hike longer, you can trek up to Fairly Falls which is beyond the overlook. The farther you go, the more the crowds within out. Near Canyon Village, the Grand Canyon of Yellowstone offers spectacular hiking options from quiet strolls along the rim, to hiking down into the canyon on the 7 Mile Hole trail or the paths that lead down to Red Rock Point or to the brink of the lower falls in the canyon. Many of these trails lead you past amazing hydrothermal features, stunning overlooks, and many places to view wildlife. Farther south in the park, you can hike all around Yellowstone Lake on the Storm Point trail, which is an easy and family friendly  2.5 mile trail. If you're up near Mammoth Hot Springs, the Beaver Ponds Loop Trail is a great option for a moderate hike coming in around 6 miles. Living up to its name, this trail is an excellent one to see wildlife as it winds through both forest and sage brush and finally brings you to ponds that usually have beaver habitats. Check out our list of best Yellowstone hikes for more ideas.
Because Yellowstone National Park is so large, many people do more sightseeing then hiking. This allows visitors that go hiking to get a unique perspective on the park and to find a small escape from the crowds. However, hiking in Yellowstone National Park can be dangerous if you don't take proper precautions. Make sure to dress for the weather and have rain gear with you as afternoon thunder showers are not uncommon. Many guests are also fearful of the abundance of wildlife, but hikers who take precaution do not need to be dissuaded by the animals. Never approach any animals that you encounter; always give them space to leave without coming towards you and understand that Yellowstone is the wild and so are the animals. Bison have injured more people in the park than any other animal, bears included, so make sure you give these majestic animals space and respect. Visitors are allowed and encouraged to carry bear spray in the park, but if precautions are taken such as hiking in a group and responsibly giving animals space, hiking in the high country can be enjoyed safely.
Backpacking in July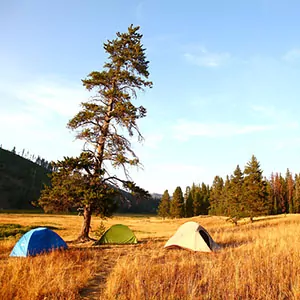 Backpacking is ideal in July. Since the snow has melted, you can journey into the high country and experience the park in a way that few visitors get to. Away from the crowds and the traffic, backpackers will get to understand Yellowstone as the first visitors who came here did. Deep in the wilderness, a trek into the high country in this park is a trip you will never forget. Because of the crowds, however, backcountry permits may be difficult to obtain as they limit the number of people on the trail. But as long as you are flexible with your itinerary and plan in advance, you should be able to get the route you desire.
With so many hundreds of miles of trail available, there are truly endless options for trails to backpack in Yellowstone. You can make your trip anything from just a single night weekend trip to an extended stay in the backcountry where you may see wildlife and scenery that those who stay in the populated areas would never dream of. A rather popular option is a backpacking trip from Heart Lake to Snake River that that includes geothermal vents without the boardwalk or the crowds, gorgeous lakeside camping, great opportunities to see wildlife, and of course the majestic Snake River. This trip is at minimum 4 days, but can be made longer if you want. A trek around Shoshone Lake also allows you to see a backcountry lake and a backcountry geyser basin in the same trip. The trail can be done either as a through hike or as a loop in around 5 to 6 days beginning at Lonestar Geyser Trailhead. With excellent fishing and swimming (if you don't mind cold water), many chose take a layover day without hiking anywhere to enjoy its pristine waters and amazing views.
Of course, backpack in Yellowstone comes with some hazards that day hiking does not. While the weather is typically mild in July, backpackers should still be prepared for the worst weather they might encounter and should have rain equipment available. Mosquitoes and other biting bugs will also be out this time of year, so bring bug spray or bug nets to keep them off of you. Yellowstone is grizzly bear country, and these animals can pose a real danger to backpackers, especially if you do not follow proper precautions for cooking and storing your food. Each backcountry campsite is equipped with either a food hanging pole or bear resistant containers to keep your food away from these animals, as individuals who gain access human food often become aggressive and must be killed. Know how to react if you encounter a bear and never approach any wildlife that you encounter. Stream crossings, hypothermia, overheating, and hydrothermal features all also pose risks to backpackers. Do some research on how to keep safe in the back country before you go. Going with a guiding company can also be a great option as the expert local guides will take care of all the logistics, details, and safety precautions so that you can relax and enjoy your trip more. Don't let the risks deter you from embarking on the amazing experience that is backpacking in Yellowstone.
Weather in July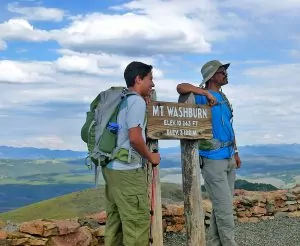 Yellowstone is a very large park with elevations ranging from 6,000 to over 11,000 ft. As a result, the weather in different parts of the park will vary greatly depending on your location and your elevation. It is important to check the forecast for the section of the park you will be visiting each day in order to get an idea of what the weather will be like. If you can't find a weather page for your section of the park, you can always check the forecast for the nearest visitor center or ask a range about what they expect. Generally, however, the weather in Yellowstone in July is typically hot during the day and cooler in the evening. The average temperature for Mammoth Hot Springs is a high of 81 and a low of 49 degrees Fahrenheit (27/ 9 degrees Celsius). At Yellowstone Lake, the average temperature is a high of 72, and a low of 40 degrees Fahrenheit (22/ 4 degrees Celsius). On average, there are 5 days of rain in July.
July is a great month to visit Yellowstone as far as the weather is concerned. The unpredictable snows have spent their last hurrah in June, so July is typically safe from the harsher weather of earlier in the year. The highs during the day are pleasant to hike in, and July is the driest month of the year. It does still rain on occasion, however, and thunderstorms are not uncommon in the afternoon especially at higher elevations. Nights will be chilly, so make sure to bring some jackets and warm layers if you plan on being out in the evening. July has some of the longest days of the year, and the long hours of sunshine late into the evening–as it doesn't become dark until eight or nine at night– are some of the best times to explore the park and to view wildlife. Visitors should be aware that Yellowstone's high elevation makes the air incredibly dry. This means that visitors who are from areas where humidity comes with heat will feel as though the air is hotter than it actually is. The extreme dryness can also cause cracking skin on your hands and feet, so make sure to bring lotion if you anticipate this. July is the month when the weather is least likely to get in your way, so get out there and start exploring.
WIldlife in july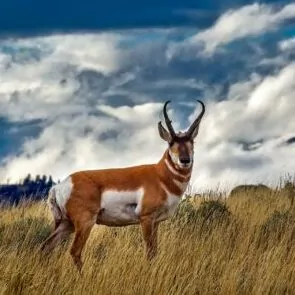 With the calving seasons for bison and elk over in May and June, July is on the slower side for wildlife, but that does not mean that these animals are not still abundant in the park. It is difficult to drive anywhere in Yellowstone without seen bison or elk on the side of the road, or even on the road sometimes. Just a few individual bison or sometimes huge herds see fit to wander across or on the roads, causing huge traffic jams but also giving visitors the chance to see these amazing creatures up close from the safety of their car. Hayden Valley and Lamar Valley are the most popular places in the park to go specifically to see wildlife. Marshy and without much water circulation, these valleys are clear of trees and offer spectacular views of the landscape and of the animals that live there. Other less common ungulates such as pronghorn (see left), bighorn sheep, mountain goats, and moose also inhabit the park, but aren't as prevalent and don't travel in as large of groups and thus are not seen as often. Grizzly bears are one of the most sought after wildlife sightings in the park and many guests get a chance to see one, often on the side of the road. These animals can be dangerous and aggressive if approached, so always leave 100 yards between yourself and bears and wolves and 25 yards between yourself and any other wildlife you see. This park is one of the best places in the country to see gray wolves, but they are seen less often in summer as the packs usually move to higher elevations where the temperature is cooler, although a lucky visitor might get a glimpse of a wolf pack around dawn or desk in the Lamar Valley. Many of the other elusive predators that live in the park such as cougars, bobcats, wolverines, and Canadian lynx, also retreat to the high country for the summer. These creatures are seldom seen by visitors or even rangers, but are more often than not are caught on remote camera traps that are tripped by movement or heat. Yellowstone has the largest concentration of mammals in the lower 48 states and wildlife viewing and photography is one of the major reasons so many people visit this park.
Recommended Wildland trips in july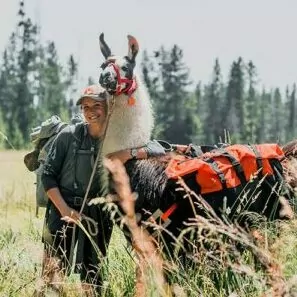 Planning a trip to Yellowstone in July can be a headache as you try to plan months in advanced in order to get reservations and put together an itinerary that avoids the crowds but that also lets you see the famous sights. But you can bypass the headache by booking a trip with Wildland Trekking. We offer a variety of trips for every comfort level from backpacking treks and base camp trips, to inn based tours and day hikes. In Yellowstone in the July, we also offer llama treks, an alternative to backpacking that allows you more creature comforts plus a lighter pack on your back. All Wildland trips are all inclusive, so you don't need to worry about local transportation, meals, accommodations, or much of your gear. We provide it all so that you can relax and enjoy your trip. Feel free to explore all the trips we offer in Yellowstone, but here are a few picked out especially for July.
Wild Yellowstone Llama Trek and Pebble Creek Llama Trek: These 4 and 3 day llama treks respectively will be eye opening for anyone who has never hiked with llamas. Enjoy the spectacular scenery in the northeastern section of the park with some of the most beautiful meadows and rivers away from the crowds all the while hiking with a small day pack and novel animal companions. You won't want to miss out on these exciting Yellowstone adventures.
Gallatin Crest Traverse: This "top-of-the-world" Yellowstone backpacking trip takes you to some of the most remote and gorgeous parts of the park. Get away from the roads and the crowds and take a trip up to alpine lakes, lush meadows, and stunning peaks on this day 5 trip which includes a layover day where you can relax and enjoy the scenery. While never guaranteed, wildlife sightings are very common in this part of the park so get your camera ready and come on the spectacular journey.
Best of Yellowstone Tour: For those looking to experience Yellowstone's most famous sights and maintain some of the creature comforts of home, this trip is for you. On this five day, inn based tour, you'll get to experience all the wonders of Yellowstone on day hikes that represent distinct areas of the park before returning to your rustic lodge accommodations in the evening and relaxing in front of the fire. This trip blends the adventurous with the relaxing and is perfect for those looking for a headache free, comfortable trip.
Join a Guided Hiking Adventure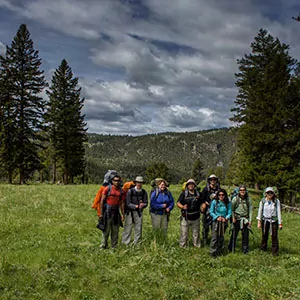 Yellowstone National Park is home to some of the most epic and amazing hiking vacations in the world. Wildland Trekking offers trips with the best of Yellowstone: geysers, waterfalls, views, wildlife, solitude, adventure and fascinating natural and cultural interpretation.
Guided Yellowstone treks are all-inclusive which covers permits; local transportation (excluded on certain tours); meals; equipment; safety systems and professional hiking/wilderness guides; all of which allows visitors to maximize their time in Yellowstone and focus entirely on enjoying the Park.
YELLOWSTONE ADVENTURE TOURS