All About Visiting Yellowstone in March
The benefits, drawbacks, activities and other features of visiting Yellowstone in March.
Updated: 8/24/22
March in Yellowstone is typically still a snowy wonderland. Many species of wildlife are concentrated in lower elevations, where it's easy to spend hours observing them. There are many benefits to visiting in March, and some drawbacks as well. Below, we've broken up the most common "when to go" questions into categories to make it easy to determine if March is the best time for you to visit Yellowstone.
Benefits of Visiting in March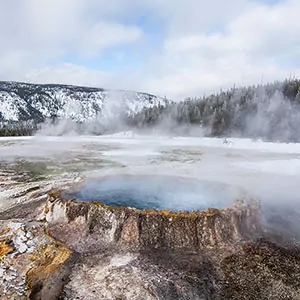 The biggest benefit of visiting in March is the wildlife viewing. Most animals make their way to the meadows and valleys because the high country is too cold in the winter. The high concentration of animals at lower elevations makes it much easier to view them—bison, bighorn sheep, pronghorn, wolves, and elk are plentiful in Yellowstone's valleys. The snow on the ground is often an aid to those wanting to view wildlife as many of these creatures retain their dark-colored coats in the winter and stand out starkly against the snow, making them easier to spot from farther away. The snow also gives those looking for wildlife the opportunity to see tracks of some of the more elusive creatures like cougars, bobcats, lynx, and badgers that also inhabit the park but are rarely seen. The snow preserves these tracks better than dirt and mud would allowing visitors to see the evidence of these animals.
Another benefit to visiting in March is the lack of crowds. Even though it is transitioning into spring, it is still quite chilly, so Yellowstone is not a big spring break destination. Because there are so few people, you may be able to experience a sense of quiet in the park. This means you are far less likely to encounter traffic jams because of wildlife or be forced to circle around parking lots to find a spot. The lack of crowds also means that accommodations are more readily available and more affordable than in the summer. Places to stay in and around Yellowstone often book up more than a year in advance during peak season, but in winter you can usually find something within a few weeks of your travel date.
Another obvious benefit of visiting Yellowstone in March is the sheer beauty of the snow-covered landscape. Usually clothed in green and brown, Yellowstone takes on an ethereal and hushed atmosphere in winter as there are a few crowds and everything is pristine with the new snow. Yellowstone in the winter makes for some excellent pictures, especially if you can get some shots of the geothermal features in the park still spewing out boiling water in the middle of snowy terrain.
You will also get the chance in March to participate in some of the winter sports that the park has to offer such as cross-country skiing and snowshoeing as alternatives to traditional hiking and backpacking. These unique experiences give you a chance to see the park in the winter landscape that few are brave enough to venture into. Many of the trails are groomed and marked while there are also options for venturing further into the backcountry, though not without additional risks.
Drawbacks of Visiting in March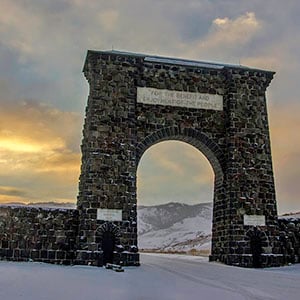 One of the biggest drawbacks to visiting the park in March is that most of the roads are closed to private vehicles. The only road that is open for visitors to drive themselves is the road from the north entrance at Gardiner, to the northeast entrance at Cooke City.
Another drawback is that March is the park's transition from winter to spring. The two accommodations within the park that are open during the winter close at the beginning of March. However, lodging in Gardiner, West Yellowstone, and Cody is open year-round. The same is true for snowshoe and ski rentals—the operations in the park stop renting at the beginning of the month, but companies in West Yellowstone and Gardiner continue to rent gear through March. In addition, even if you can get rentals for snowshoes, cross-country skis, or over-snow vehicles like snowmobiles, many of the roads are close to winter traffic in preparation for the summer opening. Mammoth Hot Springs to Norris closes to over the snow traffic on March 5 and Norris to Madison and Norris to Canyon Village close two days later on March 7. The road between Canyon Village to Fishing Bridge closes on March 12 and the remaining groomed roads close on March 15. This leaves much of the park entirely inaccessible to visitors. Visitors during the second half of the month leave Lamar Valley and the surrounding area as the only places in the park to explore without a long and dangerous cross-country ski trip in the backcountry. While this area is well worth a visit due to its abundant wildlife and sheer beauty, many of the famous sites such as Old Faithful, Grand Prismatic Spring, and the Grand Canyon of Yellowstone are inaccessible during this time.
Yellowstone is very cold this time of year. Temperatures at night can dip below zero and violent wind and snow storms can make the weather feel even colder than it is. While visitors coming in the summer do not need to prepare very much gear besides maybe a rain jacket and summer hiking clothes, those coming in winter will need to be fully prepared with winter gear and clothing to withstand the weather. Those who don't come prepared will let best be miserable and at worst be in danger of hypothermia or frostbite. This leaves the park inaccessible to many who don't have the winter gear and expertise to make a trip to Yosemite in March possible.
things to do In March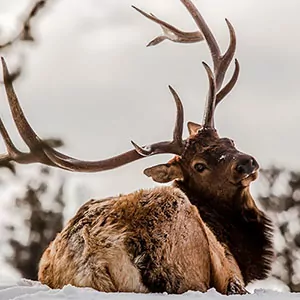 There is a plethora of things to do in Yellowstone in March. Many trails at lower elevations are open but covered in snow in the winter, giving you a great opportunity to snowshoe or cross-country ski. You can read about all the trails that are open in the winter for snowshoeing or skiing to plan for your trip. And if you want interpretive knowledge about the park, you can join one of the many guided skiing and snowshoeing tours that operate in the park. There are many options for skiing and snowshoeing trails. Of course, some of the trails, including the ones around Canyon Village, cannot be accessed by car in the winter. Instead, you will need to book a snow coach or snowmobile tour or apply for a permit for a non-commercial over-snow vehicle to access these areas. But keep in mind that many of the roads close in early March and all remaining roads close to over snow traffic on March 15.
Wildlife viewing is also exciting and abundant in the park in March. Check out the bison, pronghorn, wolves, and maybe even mountain goats on their steep ridges in Lamar Valley, the Tower Area, and Mammoth Hot Springs. The snow in these areas can be a benefit to those looking for wildlife as many of the larger creatures such as the wolves and bison retain brown coats in the winter, making them easier to spot even at long distances. The snow also gives visitors the opportunity to see tracks of the elusive creatures in the park such as bobcats, wolverines, mountain lions, and lynx that all inhabit this area but are really seen by visitors. Photography of these creatures is also a popular pastime as a pure white snowshoe hare bounding across the snow or a coyote diving headfirst into powder hunting voles makes for excellent photos. If you're visiting before the March 15 closure of the roads to over-snow traffic, you'll be able to access much of the park via snowmobile or snow coach and see some of the famous areas like Old Faithful, Grand Prismatic Spring, and the Grand Canyon of Yellowstone. If you're visiting after March 15, however, you'll still have access to Mammoth Hot Springs, the Tower Area, and Lamar Valley for the chance to see wildlife and some of the park's unique geothermal features.
If the weather prevents you from being outside or the more active winter sports aren't your thing, there are many museums and visitor centers in the Park that provide interpretive information about the area and often have films and exhibit that visitors can learn from. There are also plenty of eateries and options for entertainment outside the northern entrance of the park in Gardiner where guests can try bison burgers.
THings to see in march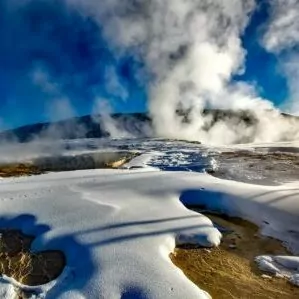 March is beautiful in Yellowstone. With the abundance of snow and the abundance of wildlife, everything in the park has a different feel than in summer and is well worth pictures. But the park's transition from winter to spring can make some of these sites inaccessible completely during certain parts of the month. Below is a list of some of the must-see sites in Yellowstone in March along with an indication of whether you can access them after the March 15 road closures. This list is not exhaustive, so check out our list to see what piques your interest.
Old Faithful: This Yellowstone icon has been amazing visitors for decades with its consistent eruption, spewing thousands of gallons of boiling water 200 feet into the air. While many geysers erupt infrequently and unpredictably, Old Faithful has lived up to its name and erupts predictively, making it the most viewed geyser in the entire park. Accessible only by over-snow vehicles before March 15 
Mammoth Hot Springs: Some of the most strange and unique hot springs in the entire park are found at Mammoth Hot Springs. Creating strange geometrical shapes with mini waterfalls of boiling water running down burnt orange-colored stones, these springs are certainly a must-see for Yellowstone. With an extensive boardwalk walking area as well as some hiking, this destination will not disappoint.  Accessible throughout winter by car 
Lamar Valley: More out of the way than the famous Hayden Valley, the Lamar Valley is just as good for wildlife viewing, especially in the winter. Herds of bison and elk gather here in March for the lower elevation and the abundance of food and wolves can also be seen here at dawn and dusk. This is one of the best places for wildlife viewing in the park, so you won't want to miss it. Accessible throughout winter by car 
Grand Canyon of Yellowstone: If the Grand Canyon of Yellowstone is impressive in the summer, it is even more impressive in the winter as the slopes are covered in snow and the icy Yellowstone River flows to the bottom of the gorge. There are multiple skiing trails around the rim, but skiers are advised to use caution and walk out to viewpoints as avalanches along the slopes of the canyon are possible. Accessible only by over-snow vehicles before March 15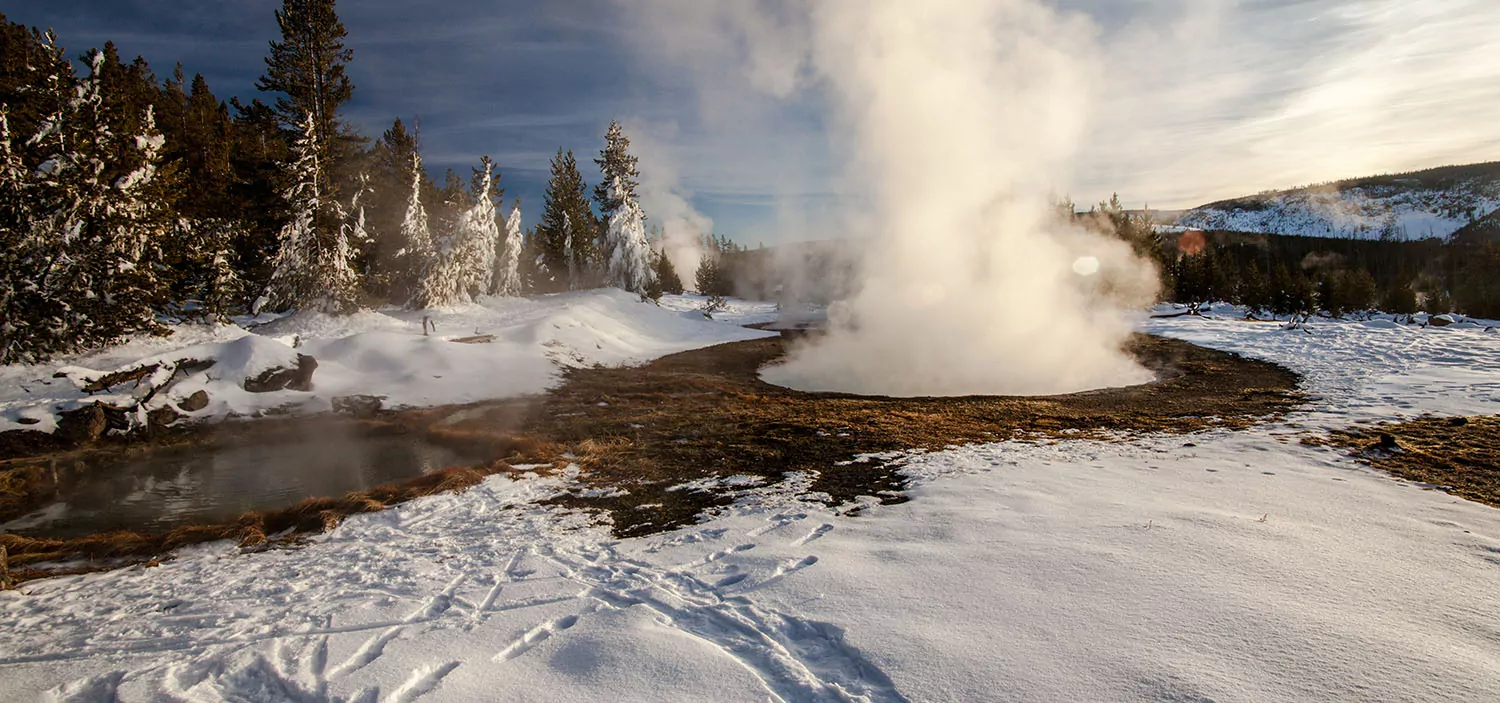 Hiking in March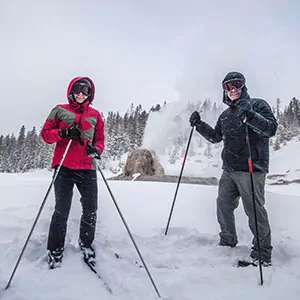 There is still a lot of snow in the park in March, meaning that you'll probably be hiking in more than just your hiking boots. Snowshoeing and cross-country skiing are incredible ways to experience the backcountry of Yellowstone in the winter. Many trails are open for these activities in Mammoth Hot Springs, West Yellowstone, Lamar Valley, and the Tower Area. There are plenty of ski and snowshoe options that are only accessible by over-snow vehicles like snow coaches and snowmobiles.
The Canyon Rim Ski Trail is a great option for those looking for unique views as a 4.5-mile moderate ski around the rim of the Grand Canyon of Yellowstone. There is a North Canyon Trail along the Grand Canyon of Yellowstone that is also moderate but shorter, coming in at 3 miles. If you're looking for something on the easier side, Cascade Lake Ski Trail and Old Canyon Bridge Ski Trail are both great options. Always talk to a ranger if you can before you head out on a ski or snowshoe adventure about the current conditions and what trail would be best for your skill level.
Cross-country skiing and snowshoeing in Yellowstone can be dangerous, and hikers should be aware of the risks before they set out. Whether you are traveling on groomed trails and roads or venturing into the backcountry, your safety is your own responsibility and is not guaranteed by the park. The weather in March can turn quickly, so hikers should be aware of the forecast and be prepared to turn back if the weather turns bad. Any wildlife that you see on the trail should not be approached, and hikers should stay on the trail around geothermal areas. It is never safe to leave the trail around hot springs or geysers, as what may look like solid ground may only be a thin layer of ice over boiling water.
Hikers should be aware of avalanche danger and understand proper safety procedures for crossing avalanche-prone zones. Hypothermia and overheating are both risks in Yellowstone in March when doing aerobic activities, so make sure you understand what gear you need and how to prevent these conditions. Drink plenty of water while you're on the trail, even though it is cold, and carry it in insulated bottles so that it doesn't freeze. Do not walk or snowshoe directly on ski tracks or take off your skis to walk on groomed trails, as this can create hazards for other skiers falling into the holes you make. Even if you're an advanced skier or snowshoer, plan your time generously as deep snow, weather, and elevation can all play a part in how long a trail takes you. While hiking in this kind of condition does come with some risks, it is an amazing experience that many visitors don't get to have.
backpacking in march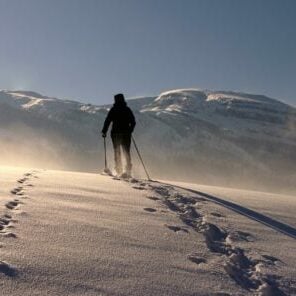 Backcountry camping in Yellowstone's winter is an amazing experience that very few visitors get to take part in. You'll notice I didn't say backpacking because traditional backpacking is impossible in the winter due to the large amounts of snow. But you can snowshoe or cross-country ski into the backcountry and go on overnight trips. There are many different options for itineraries for backcountry trips as well as guided tours. You should always keep in mind which locations will be accessible by car and which you'll have to access by over-snow traffic before March 15. Backcountry camping is not allowed in certain areas due to wildlife, bear management, or increased dangers of some other kind, so you should always check with the ranger and online to make sure the area you're planning to get a permit for is available to travel in.
Backcountry camping in Yellowstone's winter is challenging but very rewarding. All of the risks that come with day hiking in the winter are amplified when you get up in the backcountry along with a few new risks that are specific to backcountry camping. The National Park Service has put together a fantastic video and page on their website that goes over many of the regulations for camping in the backcountry as well as tips on how to make your trip more enjoyable. One of the most important points is to make sure you know your limits and are aware of the dangers you might come across. Get avalanche training, and understand the safety measures and gear that you will need to take with you for avalanche safety.
Gear that does great backpacking in the summer won't withstand the brutal conditions of winter in Yellowstone, so make sure to test all of your gear in winter conditions before you rely on it in the backcountry. Subzero temperatures, whiteouts, whipping winds and snow storms, deep snow, delicate snow bridges, and icy lakes all pose serious threats to those in the backcountry. Carry a first aid kit and equipment to repair your gear if it's broken. Make sure to be considerate of all other hikers (although there won't be many) and collapse your snow shelter at camp if you made one. Yellowstone has designated backcountry campsites many of which have food polls for hanging your food to keep it away from wildlife. You will have to bring your own rope to do so or bring approved bear-resistant containers. Geothermal areas also pose a threat to those in the backcountry. Never leave the trails in these areas as what appears to be solid ground may only be a thin layer of ice over scalding water. Also be prepared with navigational equipment and know how to use it as many backcountry trails are not marked in winter and can be difficult to find, especially in a snowstorm or whiteout. Don't overestimate how much you can travel in one day as campsites are designated in the backcountry.
Of course, just like when day hiking, you will need to dress appropriately to avoid hypothermia, frostbite, and overheating when doing aerobic activities like cross-country skiing. Know how to recognize the signs of these conditions and turn back if need be. While they were many dangers to keep track of and regulations to follow, camping in the backcountry in Yellowstone in winter is a very rewarding experience and is a way to see the park that few people are willing to try. You won't regret putting the effort in that it takes to plan a trip to Yellowstone's winter backcountry.
Weather in March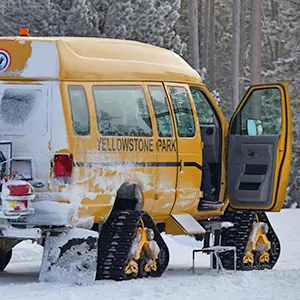 Yellowstone is a very large park with elevations ranging from 6000 to over 11,000 feet. Thus the temperature and weather can vary dramatically depending on where you are and the elevation you're at. March is very much still winter in Yellowstone and can be brutally cold and snowy with whiteouts, snow storms, subzero temperatures, and very strong winds. The average temperature for Mammoth Hot Springs is a high of 41, and a low of 19 degrees Fahrenheit (5/ -7 degrees Celsius). At Old Faithful, the average temperature is a high of 31, and a low of 2 degrees Fahrenheit (0/ -16 degrees Celsius). On average there are 8 days of snow in Yellowstone in March. Keep in mind that these temperatures are only averages and that it can get much colder and the park can receive greater amounts of snow. Those in the backcountry at higher elevations very often find themselves in subzero temperatures of -20° or colder.
These conditions make visiting the park require more gear and specialized clothing than in summer. Those who come to Yellowstone in the winter unprepared will at best be miserable and cold and at worst be in danger of hypothermia and frostbite. Most cases of hypothermia in the park occur when the temperature is between 30° and 50° Fahrenheit so make sure to dress in layers and know the forecast and conditions before you set out on the trail. Overheating is a real threat in Yellowstone in March due to visitors not dressing in layers and doing aerobic activities like snowshoeing or cross-country skiing. If you only bring your ski jacket, you will be too hot most of the time but too cold if you take it off. It is important to dress with good bass layers, a warm fleece or down as a mid-layer, and a waterproof shell to keep snow off of you.
While many of the lakes and rivers freeze over in the winter, it is not recommended to walk, skate, or ski on these bodies of water as the ice can be thin. Geothermal areas can also be dangerous in winter as it is more difficult to find the trail, and thin layers of ice over scalding hot springs can appear to be solid ground.  Roads will be icy and you'll be sharing them with wildlife, so make sure to drive slowly and take adequate precautions. If you have a private permit for non-commercial over-snow vehicles such as snowmobiles, please operate them with caution as you will be sharing the groomed roads will wildlife as well as cross-country skiers.
Wildlife in march
While it may not seem intuitive, March is a great time in Yellowstone to view wildlife. Many of the ungulates such as bison, elk, deer, moose, and pronghorn make their way to the valleys at lower elevations because of the (relatively) warmer temperatures, more readily available food, and smaller amounts of snow. Lamar Valley, which lies on the only road that is accessible in winter to drive on with a private vehicle, is an excellent place to see herds of these animals with their dark coats standing in contrast to the snow. These animals will also often walk along the roads and on groomed trails to avoid having to trudge through deep snow that takes up lots of energy and causes them to lose heat. With so little food available to them during this time of the year, many of these animals especially bison will stand still for hours, conserving energy and heat.
As the best place in the lower 48 states to see them, wolves are a very sought-after wildlife sighting. They are most active at dawn and dusk and can often be seen in the Lamar Valley easier in winter than in summer due to their dark black coats standing out against the snow. Many visitors set up tripods along the side of the road and wait for hours for these animals to get images of them. While both the black bears and the grizzly bears in the park hibernate in the winter, it is not impossible to see one in March. Especially if the weather has been fair, some of the adult males might have come out of their dens by later in the month.
The snow also gives visitors the opportunity to see the evidence of some of the more elusive creatures in the park. With fresh snow preserving tracks better than dirt, visitors may be able to identify the footprints of mountain lions, bobcats, Canadian lynx, badgers, and even wolverines. These animals are rarely seen by visitors in the park, although it is not impossible to see one of them in the backcountry away from the populated areas. The park is home to the highest concentration of mammals in the lower 48 states and is home to many more that space would fail to mention here.
Join a Guided Hiking Adventure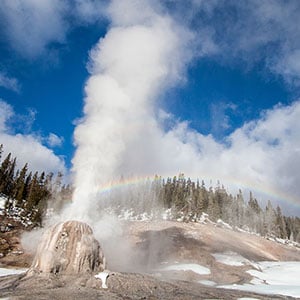 Yellowstone National Park is home to some of the most epic and amazing hiking vacations in the world. Wildland Trekking offers trips with the best of Yellowstone: geysers, waterfalls, views, wildlife, solitude, adventure, and fascinating natural and cultural interpretation.
Guided Yellowstone treks are all-inclusive which covers permits; local transportation (excluded on certain tours); meals; equipment; safety systems and professional hiking/wilderness guides; all of which allow visitors to maximize their time in Yellowstone and focus entirely on enjoying the Park.
YELLOWSTONE ADVENTURE TOURS