All About Visiting Yellowstone in January
The benefits, drawbacks, activities and other features of visiting Yellowstone in January.
Updated: 09/06/22
January in Yellowstone National Park is a magical, winter wonderland. Nothing beats the snowy meadows, frozen icicles, hot steam from the geysers mixing with the bitterly cold air, or an ice crystal-covered bison trudging through a white plain. There are many benefits to visiting in January, as well as some drawbacks. But no matter what, if you decide to go to Yellowstone in January, you are sure to have a fantastic trip and leave with an appreciation of the solitude during winter in the park.
Benefits of Visiting in January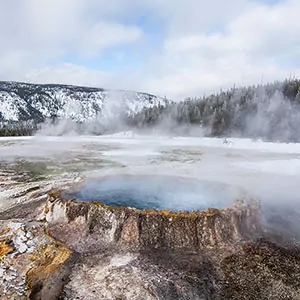 The biggest benefit of visiting in January is the wildlife viewing. Most animals in the park aren't willing to stay up in the high country when it gets cold and snow-covered, so they make their way to the meadows and valleys. The high concentration of animals at lower elevations makes it much easier to view them—bison, bighorn sheep, foxes, wolves, and elk are abundant in the valleys. Elk, which typically gather in smaller herds, are abundant near the Mammoth Hot Springs area, while bison, which often form very large herds, are congregated in the Lamar and Hayden Valleys. There are few things like seeing a bison covered in icicles trudging through deep snow. Make sure to use caution when driving through the Lamar Valley as you will be sharing the road with wildlife, particularly bison, that see the advantage of walking along a paved road as opposed to trudging through deep snow. Those wanting to see wildlife will benefit from the enormous amount of snow in January in two ways. The first is that the animals are less likely to move around and out of your view as much, as movement saps energy and heat in this winter environment. Bison will often stand still for hours conserving their heat. And second, the snow will help you see some of the more elusive animals by making them easier to pick out against the white background. Half of the wolves in the park have dark coats that will be much easier to see against the white snow than they are in summer against trees and dirt.
Another benefit of visiting Yellowstone in January is the lack of crowds. The month of July sees 4 million visitors, while the entire winter season only sees 0.3 million. Because there are fewer people, your chances for solitude grow exponentially. This means that you are much less likely to run into long lines of traffic, extended waits for services, or crowds around famous sites. The lack of crowds also means that many of the accommodations in and around the park will be more readily available and less expensive than they will be at peak season. Anyone who has planned a trip to Yellowstone in the summer knows that accommodations book up to a year in advance and that you will have to shell out peak season prices for the best places to stay. But in the winter, you can usually find accommodations within a few weeks of a travel date. There are two lodges within the park that remain open in the winter. The one at Mammoth Hot Springs you can access by car, but the other at Old Faithful must be accessed with over-snow vehicles such as snowmobiles or snow coaches. There are also other accommodation options outside the park in Cody or Gardiner that offer great access and are open year-round.
Visiting Yellowstone during the winter is an extremely different experience than visiting any other time of year. You will see the park in a way that very few people do. Perhaps an obvious benefit of visiting in January is the sheer beauty of the landscape. There are few things like this mountainous terrain cloaked in a mantle of pure white snow. Yellowstone in winter has great photography opportunities, especially if you can get to some of the hydrothermal features and see these boiling springs amidst the frozen landscape. You will get to experience novel over-the-snow travel and have the opportunity to participate in snow sports such as cross-country skiing and snowshoeing, which are only available for a short season in the winter.
Drawbacks of Visiting in January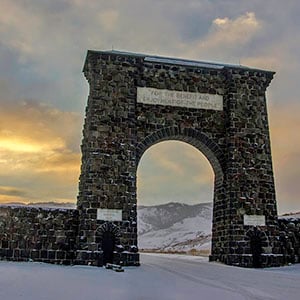 One of the biggest drawbacks to visiting the park in January is that most of the roads are closed to private vehicles. The only road that is open for visitors to drive themselves is the one from the north entrance at Gardiner to the northeast entrance at Cooke City. This road passes through Lamar Valley, offering the best wildlife viewing, but it remains the only one open. To access other areas of the park, you will need to use over-snow vehicles, such as snowmobiles or snow coaches. While some may find this method of travel novel compared to using personal vehicles, it can be expensive and time-consuming. Additionally, not all lodges, visitor centers, museums, or eateries will be open in January, so you may need to plan ahead for your own food and activities.
While the snow in Yellowstone is beautiful and provides many great opportunities, it also brings frigid weather in January. Subzero temperatures, blizzards, whiteouts, whipping winds, and icy conditions are not uncommon during this month. This means visitors will need to be well-prepared with proper gear and clothing (which can be more expensive), and it's advisable to bring books, decks of cards, or board games to stay occupied if the weather keeps you indoors. A whiteout not only hampers hiking but also snow coach travel, so you might find yourself spending days inside the lodge. This is one of the inherent risks of visiting Yellowstone in winter. Particularly for visitors staying at the Old Faithful Lodge, where the average low is 0 degrees, you should be prepared for the possibility of being confined indoors for the duration of your trip in the event of a blizzard.
In addition to the risks posed by the weather, the shorter winter days and freezing temperatures will significantly limit your outdoor activities. Morning and evening temperatures drop rapidly from the (relatively) warmer daytime temperatures, often falling below zero. This leaves you with only a few hours of winter daylight warm enough for safe outdoor excursions, even if there's no blizzard or snowstorm. Visitors should be aware of the dangers of frostbite and hypothermia, even if temperatures are not below zero, as well as the hazards associated with avalanches, wildlife encounters, hydrothermal features, and overheating. While Yellowstone presents inherent risks at any time of the year due to its volcanic activity and wildlife, winter adds some additional risks not present in the summer. However, this shouldn't deter visitors from experiencing the park in January; rather, they should be aware and prepared for the potential dangers.
Things To Do In January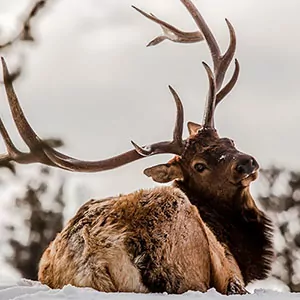 Because of the incredible amount of snow, traditional hiking is not an option in January, but you can modify your hiking plans a bit and still get out there on the trails. The trails at lower elevations are usually open in the winter, despite being covered in snow. This gives you a great opportunity to snowshoe or cross-country ski. Snowshoes and skis are available for rent at Mammoth Hot Springs, along with snowshoe and cross-country ski tours that give you a unique perspective of the park—highlighting geysers, frozen waterfalls, and plentiful wildlife in snow-covered meadows, all with knowledge from a Yellowstone expert. Many of the trails around the famous areas such as Old Faithful and Norris Geyser Basin have great options for short snowshoes or cross-country ski treks. Of course, any trail not in Mammoth Hot Springs, Lamar Valley, or the Tower Area will have to be accessed by a snow coach or snowmobile. Many companies offer snow coach transportation from any entrance of the park to Old Faithful or the Grand Canyon of Yellowstone. Some companies also offer snowmobile tours, or the National Park Service has a lottery system for a Non-Commercially Guided Snowmobile Access Program —where visitors over the age of 18 can snowmobile through the park without a commercial guide. These are great ways to get deep into the park since you can't drive the road yourself.
Wildlife viewing and photography are also very popular options during this time of year, as many of the ungulates (bison, elk, deer, etc.) have congregated in the valleys, particularly in Lamar Valley, which has the only road open to private vehicles. Coming to these lower elevations for the (relatively) warmer temperatures and shallow snow which gives better access to food, these creatures are magnificent to see. Forming large herds in the snow, bison often stand so still in an effort to conserve heat that icicles form on their long "beards." Some of the smaller animals are also a joy to watch in winter as a coyote plunges head first into the snow hunting for rodents and pure white snowshoe hares or long-tailed weasels go bounding across the powder.
While bears are hibernating during this time of year, wolves are still out and about, searching for weak, sick, or young bison, elk, and deer to hunt. Winter is one of the best times to see wolves are they have come down from the high country and are easier to see in contrast to the white snow as opposed to summer when they blend in better. If you have access to over-snow travel, the southern section of the park offers great opportunities for hiking and wildlife viewing, especially around Canyon Village.
If the weather prevents you from spending time outside (which is not entirely out of the question), the Old Faithful Visitor Center and Museum is open in January and the Albright Visitor Center near Mammoth Hop Springs is open year-round. These fantastic museums provide interpretive information and have historical exhibits about the park and the surrounding area. Rangers will also be available to answer any of your questions, interpretive or practical about the weather or conditions.
Things to see in January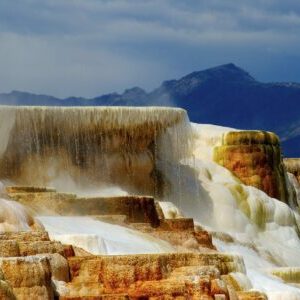 January in Yellowstone affords visitors will all kinds of opportunities for amazing sightseeing. With a snow-blanketed landscape along with wildlife, hydrothermal features, and alpine scenes sprinkled amongst the snow, there is truly no end of things to see. But winter does come with some additional challenges that summer does not, as visitors have to take over snow vehicles to many of the park's destinations. Below is a list of some of the must-see sights in the park in January along with an indication of whether you can drive a personal vehicle or if you must take over snow vehicles. Make sure to do your own research as well to see what piques your particular interest in the park.
Old Faithful: This icon of Yellowstone is a can't-miss any time of year. It isn't the biggest nor most impressive of Yellowstone's geysers, Old Faithful has lived up to its name and erupts consistently, to the amazement of viewers. In the last 30 years, it has only varied in eruptions by about 30 minutes. Accessible only by over-snow traffic.
Mammoth Hot Springs: Perhaps the most unique hydrothermal feature in the park, Mammoth Hot Springs is a fountain of scalding water instead of a pool. Built upon terraces of limestone tinged with white and burnt orange that have formed from long years of mineral-rich water rising from beneath the earth's crust, many have described this feature as more beautiful than any fountain man could have designed. The area offers an extensive boardwalk along with hiking trails that can be accessed in winter. Accessible throughout winter by car.
Lamar Valley: While typically out of the way in summer, this valley is one of the best spots in the park for seeing wildlife, including bison, elk, wolves, pronghorn, and coyotes. These animals congregate here for the thinner snow that makes food more readily accessible and for the relatively warmer temperatures compared to the high country. A lowland sweeping across many miles with mountains set as the background and huge herds of bison in the foreground, this valley is not to be missed in winter. Accessible throughout winter by car.
Norris Geyser Basin: One of the hottest and most active geyser basins in the park, Norris Geyser Basin is not to be missed any time you visit Yellowstone. While the bubbling hot springs and spewing geysers are a treat to see any time of the year, they are especially remarkable when surrounded by a fresh layer of snow. Accessible only by over-snow transportation.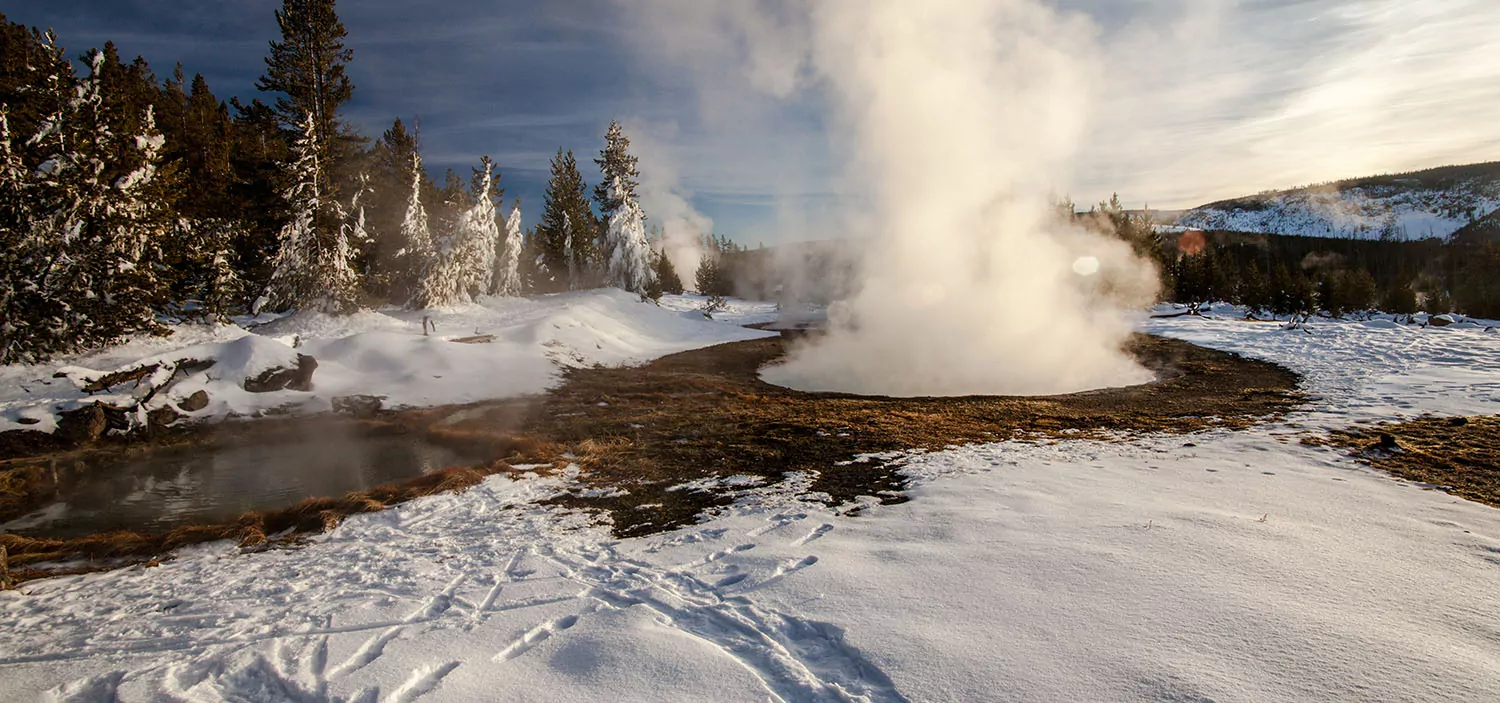 Hiking in January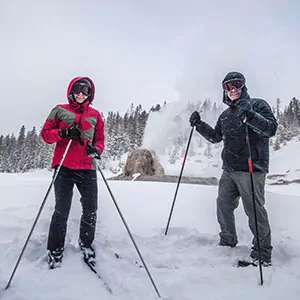 There is a lot of snow in Yellowstone in January, meaning that you'll probably be hiking in more than just your hiking boots. Snowshoeing and cross-country skiing are incredible ways to experience the backcountry of Yellowstone in the winter. Many trails are open for these activities in the areas of Mammoth Hot Springs, Old Faithful, and the Grand Canyon of Yellowstone. Winter guided tours are a great way to explore the park, with all gear provided and lodging and transportation included, so you can relax and enjoy Yellowstone in a way that few other gets to.
The Canyon Rim Ski Trail for cross-country skiing is a great option for those looking for unique views as a 4.5-mile moderate ski around the rim of the Grand Canyon of Yellowstone. There is also a North Canyon Trail along the Grand Canyon of Yellowstone that is moderate but shorter, coming in at 3 miles. If you're looking for something on the easier side, Cascade Lake Ski Trail and Old Canyon Bridge Ski Trail are both great options. Always ask a ranger before setting out on a trail about the conditions and the skill level required for completing it. Snowshoers should not walk directly in ski tracks as this can create holes in the snow that are a danger to others. Both snowshoers and skiers are asked to not remove their footgear and walk in their boots as these indentations can be dangerous and to fill in any fall areas so that others do not fall into them as well. Those wanting to participate in these kinds of activities should be aware of what trails are accessible via car and which will require over-snow transportation.
Hikers should also be aware of the dangers that they might encounter on these trails in winter and know what to do in an emergency situation. All those in the backcountry, even just for a day hike, need to have navigational equipment as many winter trails are not marked or groomed. Even if it is not actively snowing, following your footprints back to the trailhead is never a reliable source of navigation. Any wildlife that you see on the trail should not be approached and while it is unusual to see bears in the winter, it is not impossible for them to venture out of their dens. Weather in January can turn quickly and often drops below zero when the sun goes down, so hikers should be prepared to turn back if need be. Hypothermia, frostbite, and overheating are all serious risks, so make sure to dress appropriately and understand the symptoms of these conditions. Drink plenty of water despite the cold and carry it in an insulated container so that it doesn't freeze. Some of the trails that are not groomed in the backcountry have avalanche zones, so make sure you know the proper procedures for crossing an avalanche area or avoid trails that are avalanche prone.
Hikers should also be aware of the dangers of backcountry geothermal areas that may not be marked and may not have boardwalks. Never leave the trail in such areas as what might appear to be solid ground may only be a thin layer of ice over boiling water. Even if you are an experienced cross-country skier or snowshoer, plan your time generously to allow for extra stops and slowness in the rugged terrain. You won't want to be caught out in the elements after the sun goes down when the temperature begins to drop sharply, so plan your time wisely. Even though winter trekking comes with some dangers, it is well worth it if you are willing to put the work in that it takes to be safe.
backpacking in january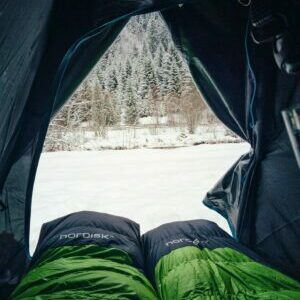 Traditional backpacking in January is not possible due to the enormous amount of snow, but for those daring and skilled enough, winter camping is an option. With the use of cross-country skis or snowshoes, traveling in Yellowstone's backcountry is possible, although not without additional risks. There are many different options for itineraries for backcountry trips as well as guided tours, but you should always keep in mind which trails will be accessible by car and which will require over-snow travel on snowmobiles or snow coaches. You should always check online and with a ranger to make sure that the trail you are planning on taking is available and open as some areas of the park are periodically closed for bear/wildlife management, avalanche dangers, or risks of some other kind.
Backcountry winter camping and hiking is a very rewarding experience for those willing to put in the work to make it safe and enjoyable. This activity should not be attempted by those who do not have experience or do not have the gear to make such a trip safely. The National Park Service has put together a fantastic video and page on their website that goes over many of the regulations for camping in the backcountry as well as tips on how to make your trip more enjoyable. Winter camping and backpacking come with all the same dangers as day hiking in the backcountry in the winter, so make sure to read the section above about hiking if you're interested in this. Those in the backcountry should also be aware of the dangers that they might encounter and how to deal with them if they do crop up. Test out your gear in winter conditions before relying on it in the backcountry. Yellowstone has designated backcountry campsites, many of which have poles to hang your food (though you will need to bring your own rope). Practice proper food storage as many animals would love to get into your lunch such as mountain lions, bobcats, lynx, badgers, birds of prey, coyotes, and wolves. Subzero temperatures, whiteouts, whipping winds, snow storms, active geothermal areas, deep snow, and avalanches are some of the dangers that you might encounter. Dress appropriately to avoid hypothermia, frostbite, and overheating as all of these are real threats in Yellowstone's backcountry. Make sure to leave your itinerary with someone who is not going on your trip so that if something goes wrong, rescue teams will know to look for you. While this kind of activity in January comes with some serious risk, it is very rewarding and an experience that very few people ever get the chance to enjoy.
Wildlife in january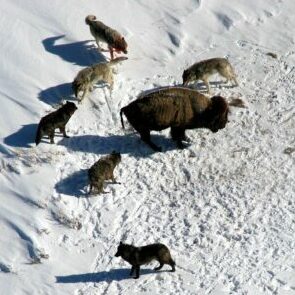 January is a great time to see wildlife in Yellowstone. Because of the colder temperatures at higher elevations, many of the animals have congregated in the lowlands and valleys, making them easily visible to guests in the park. Lamar Valley is one of the best places to view wildlife and also happens to have the only winter-open road running through it. Huge herds of bison come to this valley in winter and often stand still for hours, conserving energy and heat. Be prepared to share the road with these animals as they too see the advantage of walking along the paved road instead of trudging through deep snow.
This valley is also one of the best places in the country to see wolves, as they too have come down from the high country for the abundance of food. The snow is often to wildlife viewers' advantage as half of the park's wolves have dark coats that are easier to see against the snow from long distances. Many other ungulates such as big horn sheep, mountain goats, pronghorn, elk, and moose all also inhabit the park and can be seen easier by visitors in winter. While bears are typically hibernating in winter, there are many other predators that are still out and about.
Patient visitors might be to catch a glimpse of– or at least see the footprints of— some of the park's more elusive predators such as mountain lions, lynx, or wolverines. Smaller predators are also seen on occasion in the park such as a bobcat chasing a snowshoe hare across the snow or a coyote or red fox plunging head first into the snow hunting voles.
The rivers are also a great place to begin to look for wildlife, as waterfowl and many mammals of the weasel family such as beavers, river otters, martens, and badgers all call these areas home. Otters in particular are fun to watch as many times they can be seen "sledding" down hills on their bellies toward the icy water. Yellowstone is home to the largest concentration of mammals in the lower 48 states, so there is no lack of animals to see in this winter wonderland.
Weather in January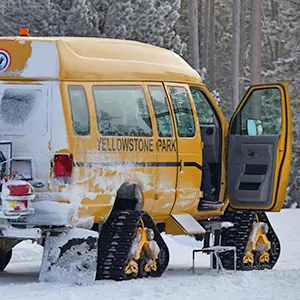 Yellowstone is a very large park with elevations ranging from 6,000 to 11,000 feet, so the weather you experience will depend greatly on where you are and what elevation you are at. January is smack in the middle of winter, so you should expect at times extreme cold and lots of snow. Even in the low country, the weather in January is typically cold and snowy. Average temperatures for Mammoth Hot Springs are a high of 30 degrees Fahrenheit, and a low of 11 degrees Fahrenheit (-1/ -11 degrees Celsius). At Old Faithful, average temperatures are a high of 28 degrees Fahrenheit, and a low of 0 degrees Fahrenheit (-2/ -17 degrees Celsius). On average there are 9 days of snow in Yellowstone in January. Visitors should keep in mind the park can experience much warmer and much colder weather than this. For those hiking in the backcountry, it is not uncommon to experience temperatures of -20 or colder.
These extreme temperatures along with unpredictable weather systems make the park more cumbersome to visit as it requires more gear and greater expertise to navigate. Only one road, from the north entrance to the northeast entrance, is open to private vehicles and even this road is subject to unexpected closures due to ice, snow, or whiteout conditions. If you drive this road, it is important to drive slowly as ice can make the road treacherous and you will be sharing it with wildlife who see the benefits of walking along a paved road instead of trudging through deep snow. All the other roads in the park are accessible only by over-snow vehicles such as snowmobiles and snow coaches.
All visitors should be prepared for the worst weather they might encounter and for facing risks of hypothermia, frostbite, and overheating. Yes, overheating is a real risk in Yellowstone in January due to visitors dressing too warmly and without layering. If you only bring your ski jacket, you will be too warm most of the time but too cold without it. It is important to dress with a good base layer next to the skin, a warm fleece or down jacket, and an outer shell or rain jacket to keep the wind and snow off you. To avoid hypothermia, even if the temperature is not below freezing, make sure to put on your warm layers before you start shivering and your rain/snow gear before you get wet.
Guests should also be aware that traveling to Yellowstone in January comes with some risk of potential whiteout conditions. These blizzards prevent visibility almost entirely, so make sure to bring a good book, a deck of cards, or some board games to keep yourself busy at the lodge or hotel if you find yourself stuck indoors. Also be aware of thin ice over rivers, lakes, and hydrothermal areas. Never walk off the trail near the park's thermal areas, and it is not advised to walk, skate, or ski on lakes or rivers. Make sure you read up on the forecast before you embark on your adventure and be prepared to be flexible and change plans if the weather demands it.
Recommended Wildland trips in january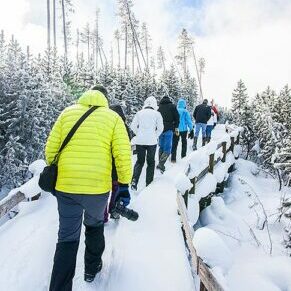 Planning a trip to Yellowstone in January can be overwhelming as you try to keep up with the weather, current conditions, closures, and everything else that goes into a trip in winter. But you can bypass the headaches by booking a trip with Wildland Trekking, letting us worry about logistics and details, and allowing one of our expert guides to show you around the park. We offer many trips to Yellowstone in a variety of styles that include backpacking, basecamp tours, inn-based tours, llama treks, and day hikes.
Say goodbye to wondering which trail is safe or best for your skill level as we'll take care of the entire itinerary on our Yellowstone Snowshoe Traverse so you can relax and enjoy the park. You'll get to experience 4 or 5-day hikes (or more like snowshoe treks) in distinct areas of the park before returning to comfortable accommodations to wait out the cold of the night for the next day. As is true of all of Wildland's trips, this trip is all-inclusive so you don't have to worry about meals, accommodations, local transportation, or much of your gear (including your snowshoes) as we will take care of all of this for you. If you're looking for a way to experience Yellowstone in winter without the hassle, this is the trip for you.
Join a Guided Hiking Adventure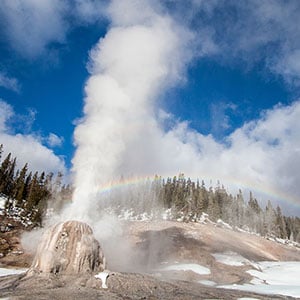 Yellowstone National Park is home to some of the most epic and amazing hiking vacations in the world. Wildland Trekking offers trips with the best of Yellowstone: geysers, waterfalls, views, wildlife, solitude, adventure, and fascinating natural and cultural interpretation.
Guided Yellowstone treks are all-inclusive which covers permits; local transportation (excluded on certain tours); meals; equipment; safety systems and professional hiking/wilderness guides; all of which allow visitors to maximize their time in Yellowstone and focus entirely on enjoying the Park.
YELLOWSTONE ADVENTURE TOURS