All About Visiting Yellowstone in June
The benefits, drawbacks, activities and other features of visiting Yellowstone in June.
Updated: 10/26/22
June is an incredible time of year to visit Yellowstone National Park. The park is full of life, with newborn bison and elk calves, and blooming wildflowers. There are many benefits to visiting Yellowstone in June, and some drawbacks as well. Below, we've broken up the most common "when to go" questions into categories to make it easy to determine if June is the best time for you to visit.
Benefits of Visiting in June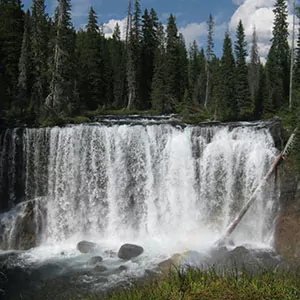 The biggest benefit of visiting Yellowstone in June is the abundance of wildlife. Bison are calving in Lamar Valley and elk are calving in Mammoth Hot Springs. It is a spectacular time of year to watch new life in the meadows surrounded by wildflowers. These impressive animals are incredibly abundant in Yellowstone in the summer as many of them travel from lower elevations where it is too warm for them and food is scarce. You don't even usually have to get out of your car to see these animals as they are often on the side of the road or on the road itself.
Another benefit to visiting in June is that typically most of the trails are accessible as the snow has begun to melt even at higher elevations. This means it's a great time for hiking, and especially backpacking, in Yellowstone as you will have access to all the amazing trails in the park and an escape from the high volume of crowds. It is a wonderful experience to be walking through a meadow or up a mountain and to see the snow-covered peaks of the high ranges. In addition to the trails opening, the streams, rivers, and waterfalls will be flowing tremendously because of the snowmelt and it is prime fishing season. Many other backcountry activities will also be open by this point in the season.
Another benefit of visiting Yellowstone in June is the warmer and more predictable weather. Summer is usually the driest season despite some rain, and while it can still snow in June, you can usually count on not having to bring snow gear or chains. This gives many more visitors access to the park that don't have the winter equipment to visit during other seasons. While it can still be chilly at night, the warmth during the day as well as the longer days of sunlight provide perfect conditions for visitors to be out all day enjoying the fantastic scenery.
Drawbacks of Visiting in June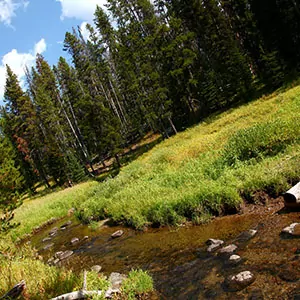 The biggest drawback of visiting in June is the arrival of the busy summer season. June marks the official start of summer tourism, and you will see crowds flocking to the park at the end of the month. This means long lines at eateries, crowded views of geysers and wildlife, as well as long lines of traffic. The traffic at the entrance to the park as well as within the park itself can be a headache and severely alter your plans with delays. At some of the more popular sights, visitors will most likely have to circle around parking lots like vultures trying to snag a spot or park on the road a long walk from what you are trying to see. Unlike some of the other national parks like Yosemite where you can get by on a bike and see many of the famous sights, Yellowstone is too big to get around on a bike or by walking and be able to see any significant part of the park.
Another drawback of June is that the weather is still fairly unpredictable. While much better than earlier times in the year, it still snows in June an average of one day. This can cause visitors problems if you packed for summer and happen to visit on the one day in June when it snows and isn't prepared for the weather. Accommodations are also suffering this time of the year from peak season availability and prices. Accommodations in and around the park can book up to a year in advance, so planning a last-minute trip to Yellowstone in the summer will be at best an expensive headache and at worst a non-existent trip.
Overall, however, June is one of the best times to visit the park and the main con is that everyone else knows it is one of the best times to visit the park. If you can only make it to Yellowstone in the summer, here are some tips to avoid the crowds:
1. Go on a hike: taking just one step on a trail eliminates a lot of the crowds, and Yellowstone has over 1,000 miles of trails to choose from.
2. Get an early start: the earlier you start, the more of the park you'll have to yourself.
3. Have a plan, but also be flexible: know where you want to go before you begin driving, but also enjoy the scenery if you get stuck in a bison jam.
4. Avoid the busy eateries at mealtimes: there are plenty of beautiful places in the park that make perfect picnic spots.
5. Find an off-the-beaten-path hike: read our list of favorite trails in Yellowstone National Park.
Things To Do In June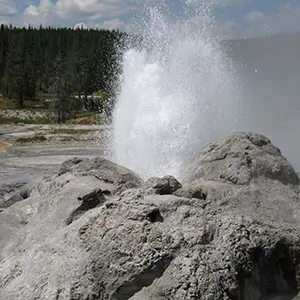 There are nearly endless things to do in Yellowstone in June. Hiking is one of the best options as there are over 1,000 miles of hiking trails available to choose from and many that will get you away from the roads and crowds and into the backcountry. Most of the trails are accessible throughout the month, and you can even go on long hikes or backpacking trips. Options like the Grand Prismatic Overlook Trail and the Observations Point loop for Old Faithful are great options for seeing the famous sights while escaping at least some of the crowds by doing a hike.
Backpacking is also a fantastic option in June as you have many choices from extended weekend trips to longer thru hikes where you can enjoy the scenery. Wildland Trekking also offers llama treks in Yellowstone, an alternative to backpacking that leaves you with less weight on your back and an animal you are sure to bond with while on the trail. If you want to experience more of Yellowstone but want to make sure you still have the amenities you need, you can camp at one of the various campgrounds in the park and still experience the wilderness in a way that is different from staying in a hotel.
Fishing season begins at the end of May, and the West side of the park is where you want to go until the end of June. The Madison, Gibbon, and Firehole Rivers are flowing very well and are stocked with trout from late May through late June. Permits are required for any fishing in the park and can be purchased at any visitor center or fly stores outside Yellowstone.
Wildlife viewing and photography are also popular activities, visitors are likely to get stopped by animals so having a point-and-shoot near is recommended. The Yellowstone grizzly bears are a treat to see along with the iconic bison and elk that roam the park. Stargazing and night sky photography are also great options if you're willing to put on some layers and venture out at night. The brilliant stars and milky way makes for excellent photography and getting some of the geysers in the foreground lit up with painted light gives you unique pictures.
Bus tours of the park are offered in June and provide a great way to see a lot of the park in a relatively short amount of time. You can check out our list of best tours in Yellowstone to find the tour that fits your interests. White water rafting and kayaking tours are also available this time of year and are great options for seeing different parts of the park that you wouldn't otherwise.
There are two spots to legally take a dip in the rivers and hot springs in Yellowstone in certain sections of Boiling River and Firehole River. These are the only two hot spring bathing areas for a reason; many people have been severely burned and scalded to death by coming in contact with many of the hot springs that Yellowstone is famous for. Never swim in a river or hot spring without specifically knowing it is legal and safe.
Things to see in yellowstone in june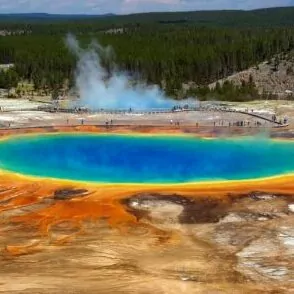 There are almost as many things to see in Yellowstone in June as there are to do as sightseeing is one of the most popular activities in the park from the shooting geysers to wildlife to colorful hot springs. But during this time of year, many of the famous sights will be swamped with crowds. Below, we've created two lists based on whether you want to see the famous sights or go off the beaten path to avoid the crowds at some lesser-known but no less impressive sites. Neither list is exhaustive so check out our list to see what piques your interests.
The crowded– but classic– sights
Old Faithful Geyser: This Yellowstone icon is a must-see, even if you've already been to the park and seen it before. Most geysers erupt unpredictably and it is difficult to know when to be at a particular site to see the eruption. But Old Faithful has lived up to its name and consistently erupts about every 30 minutes, spewing thousands of gallons of boiling water hundreds of feet in the air. Once you get to the parking lot for the visitor center near the geyser, you'll be able to see the exact predictions for each geyser in the area so that you can get a good seat for Old Faithful or other geysers that are predicted to erupt. The most visited site in the park, so arrive early to explore the surrounding geyser basin.
Grand Prismatic Spring: Another Yellowstone staple, Grand Prismatic Spring is well known for its brilliant colors of blue, green, orange, and yellow. In one of the most acidic Springs in the entire park, many visitors choose to take off their eyeglasses while walking on the boardwalk as the steam from the acidic water can etch marks in the glass. The boardwalk takes you around the edge of the spring while you can also hike the short trek up to the Grand Prismatic Overlook which gives you a better look at the colors from above.
Mammoth Hot Springs: The first big sight you come to when you come into the park from the north entrance, Mammoth Hot Springs provides a unique boardwalk stroll around some of the most bizarre and unique formations in the park. Full of strange shapes and shades of white with mineral-rich water that gives it a burnt orange hue and steam rising from them all, these springs are not to be missed on a trip to Yellowstone in June
Hayden Valley:  This gorgeous valley is situated centrally in Yellowstone National Park and is the first place that visitors go to see wildlife. Bison herds roam around, grazing on the vegetation and elk are interspersed among them. Guests can even see the occasional grizzly bear here. The Yellowstone River cuts through the valley and makes for excellent panorama views as well as birding in the river and wetlands.
THE Road less traveled options
Lamar Valley: This much more out-of-the-way valley in the northeastern section of the park gives visitors a chance to see wildlife with fewer crowds than in Hayden Valley. The bison are calving in June and while there aren't as many elk, Lamar Valley is your best bet for seeing one of Yellowstone's wolf packs. Try to go in the early morning or near evening to see these elusive hunters and bring a good pair of binoculars as they might be as far away as across the valley.
Artists Paint Pots: Near the Gibbon geyser basin is a little-known trail called the Artists Paint Pots. This group of geysers and hot springs isn't as colorful or large as some of the other areas, but it does offer a unique view that can't be found elsewhere in the park. Instead of colorful waters and scolding volcanoes shooting into the air, the paint pops are bubbling springs of mud that are often described as mesmerizing to watch. Depending on how much water is in the area, they either bubble with the consistency of thick paint or sputter and pop into the dryer areas.
Sheepeater Cliff: This little-known feature of Yellowstone is a picnic area as well as a remnant of volcanic times. Much like Devil's Postpile National Monument in the Sierra Nevada mountains, this cliff of basalt formed hexagonal rows when it cooled after a volcanic eruption formed it. A great place to escape the crowds to have your picnic lunch as well as do some rock scrambling up the cliff for this hidden gem.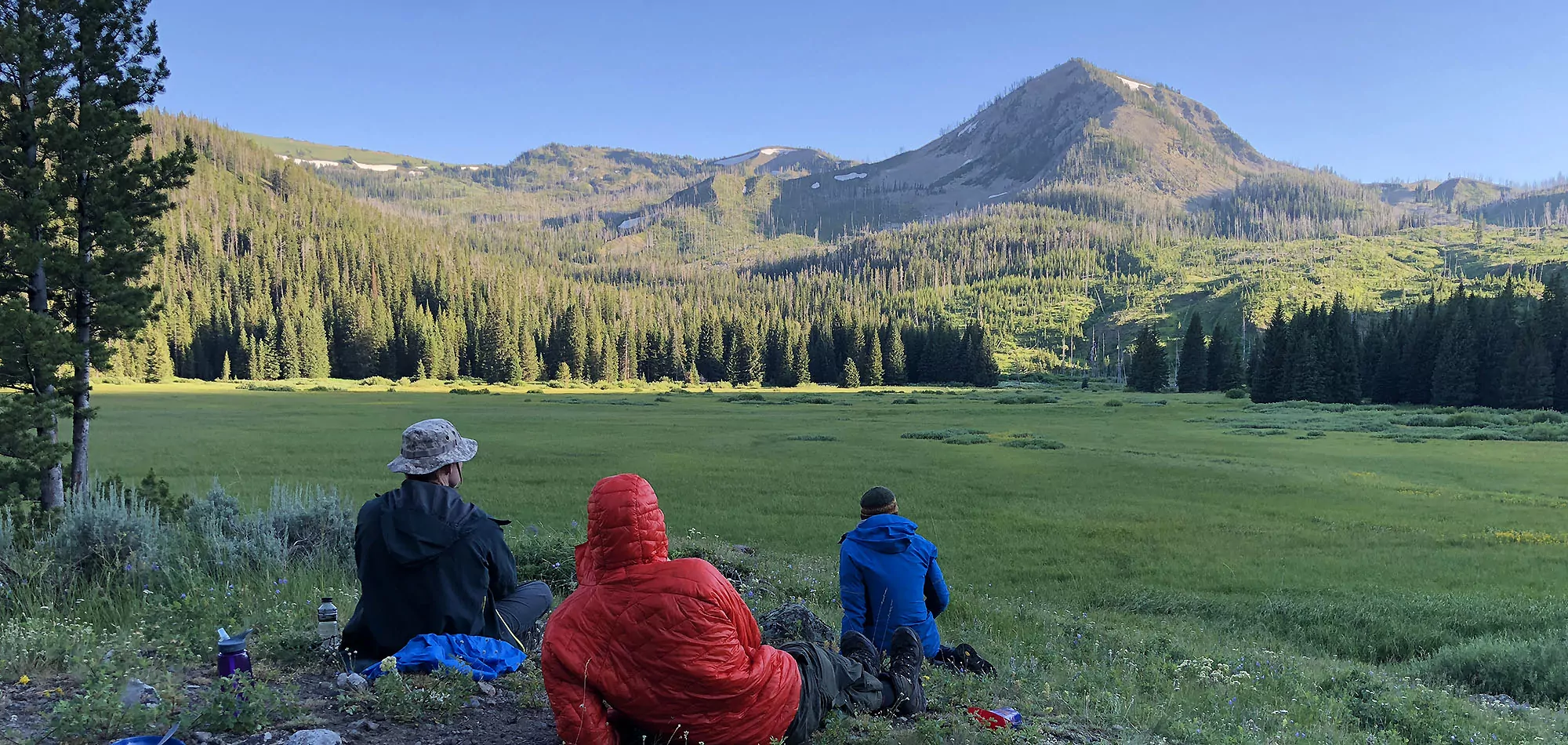 Hiking in June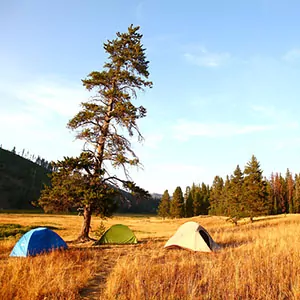 Hiking is wonderful in June, as all areas of the park have opened. There may still be snow at higher elevations at the beginning of the month, but trails at lower elevations provide many miles of hiking enjoyment. And as the snow begins to melt, trails at higher elevations become accessible. Before hitting the trail, you can look into the trail conditions, so you know how to prepare. Consider going with a guiding company—the company takes care of all the logistics and permits, so all you have to worry about is enjoying the scenery around you.
There are many trails to choose from with a variety of difficulties so you are sure to find something that is right for you. Hiking around the famous sights like the geysers basin Old Faithful lies in and the overlook of Grand Prismatic Spring are great options. Continue on from the Grand Prismatic overlook to a hike up Fairy Falls to make a longer trip.
The Grand Canyon of Yellowstone offers some spectacular hiking opportunities to get away from the crowds as most visitors only look over at the view and then depart for the next stop. The North Rim trail which ends at Inspiration Point gives you excellent views as well as chances to descend into the canyon on short detours such as the trail to Brink of the Lower Falls and Red Rock Point. Or if you're looking for something more on the adventurous side, you can hike to the bottom of the canyon on the Seven Mile Hole Trail which leads you passed wonderful views and unique geothermal features.
Farther south in the park, you can hike all around Yellowstone Lake on the Storm Point trail for an easy, family-friendly option as a 2.5-mile hike along the shores of the lake. If you're up in the northwest area of the park, the Beaver Ponds Loop Trail is a great option for a moderate hike coming in around 6 miles and beginning at Mammoth Springs. Living up to its name, this trail is an excellent one to see wildlife as it winds through both forest and sagebrush and finally brings you to ponds that usually have beaver habitats.
Because Yellowstone is so large and there is so much to see, many visitors do more sightseeing than hiking. Because of this, hiking gives you a unique perspective to escape the crowds and see some amazing geothermal features without having to take an especially long or strenuous hike. Of course, there are a few reasons worth considering why people don't hike as much in Yellowstone. The weather, even in June, can be unpredictable and change quickly. It usually snows once in June and rain is not uncommon. This forces visitors who are going to take a trek away from their car to bring rain gear and to dress in layers in case the weather turns bad. In addition, some visitors are fearful of the abundance of wildlife in the park, many of which are large and can be dangerous. While the presence of grizzly bears, bison, elk, and cougars can be intimidating, it is by no means a reason to keep you from hiking. This animal do not actively seek the harm of humans and will only turn aggressive if provoked or fed. In the last 50 years, there have been only two bear-related injuries in populated areas in Yellowstone and an average of one injury per year in the backcountry. Bison and elk can also be dangerous if approached especially during calving season. Bison have injured more people in the park than any other animal, but usually at the fault of the person being irresponsible and getting too close to the animals. The wildlife in the park are wild animals and Yellowstone is not the zoo, but they are no reason to keep from exploring the areas away from the visitor centers and popular sights. Visitors can carry bear spray in the park and if precautions are taken such as hiking in a group and responsibly giving animals space, these areas can be enjoyed safely.
Bakcpacking in june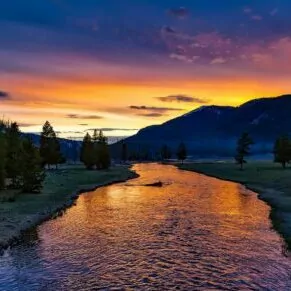 Backpacking is ideal in June as the snow has melted and you can get into the high country. Backcountry permits may be a little harder to obtain as the month progresses because the summer crowds start to arrive, but as long as you are flexible with your itinerary and plan in advance, you should be able to get the route you desire.
Backpacking in Yellowstone is a great option because there are almost infinite possibilities for which trails to take. You can make your trip anything from a single-night weekend trip to an extended week in the back country where you might see wildlife and sights that those in the populated areas would never dream of. A rather popular trip that can be four or five days long is a backpacking trip from Heart Lake to Snake River that includes geothermal vents without the boardwalk or the crowds, gorgeous lakeside camping, great opportunities to see wildlife, and of course the majestic snake river. Shoshone Lake is another great option to see a back country lake and a backcountry geyser basin on the same trip. The trail can be done either as a through hike or as a loop in around 5 to 6 days beginning at Lonestar Geyser Trailhead. The lake is excellent fishing and swimming (if you don't mind cold water) and you can take a layover day without hiking anywhere to enjoy its pristine waters and amazing views.
An alternative to traditional backpacking in Yellowstone is to go on a llama trek, an assisted hike with llamas so that you have less weight on your back. While you don't ride them like horses, llamas have some great benefits including less impact on the environment, less easily spooked, and less risk of kicking compared to horses, as well as being a form of camp guards. Elk and deer won't associate llamas with humans as they will horses, so they make great stock animals for being able to see wildlife. On the other hand, llamas also provide some level of protection from wildlife in bear country. Besides sensing danger long before humans do and giving a warning call, most bears and other large predators like cougars will want nothing to do with a herd of large unfamiliar animals and will generally leave them alone. There are all kinds of possibilities for llama treks in Yellowstone, though they must be done with a guiding company and guide who knows how to handle the stock. Dunanda Falls is a great backcountry trail to do with llamas and also gives guests the opportunity to soak in hot springs and see stunning waterfalls.
Backpacking in Yellowstone in June poses some risks that day hiking and sightseeing do not and they are worth considering before you trek out on your own. The weather in June, while more predictable than earlier in the spring, can still change quickly. It typically rains about 9 days in the month of June and on average snows one of those days. Backpackers would be wise to bring layers as well as some three-season equipment to be sure you are prepared for the weather. It is always best to prepare for the worst weather conditions you might face, even in June when the park is coming up in summer. The mosquitoes and other biting bugs can also be a nuisance in June, especially around the lakes, so hikers would be wise to bring bug spray and long-sleeve shirts to prevent an excess of bug bites.
One of the biggest dangers that come with being in the backcountry and Yellowstone is the wildlife. Grizzly bears, bison, elk, and many other animals called this habitat home and people are but visitors in it. Bear attacks happen in the backcountry about once a year, in comparison to about once in 20 years in populated areas. Is very important to hike, cook, camp, and store your food in bear-safe manners. If you're not familiar with how to travel safely in a bear country, it is recommended that you take your first backpacking trip in Yellowstone with a guiding company to understand more about the safety practices.
Stream crossings, hypothermia, and geothermal features all also pose risks to everyone visiting Yellowstone but especially to those in the backcountry who won't have the interpretive signs and rangers around to give advice. It is very important to do advanced research and to learn how to stay safe in the backcountry in Yellowstone as this place is the wilderness and is not to be trifled with. Having said that, however, Yellowstone is an amazing place to backpack and can be done safely with the right precautions. Don't let the dangers dissuade you from this amazing experience.
Weather in June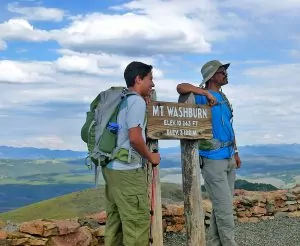 Yellowstone is a large park with elevations ranging from around 6000 ft to over 11,000 ft and encompassing 3,471 square miles. As a result of this, the weather in the park can change drastically from one area to another. Make sure to check the weather at the specific location that you are planning on visiting to see what gear and clothing you should pack. While the winter requires much more specific gear depending which area you will be visiting, the summer is generally rather similar throughout the park. The weather in Yellowstone during the month of June is warm during the day and gradually becomes very summer-like while still remaining chilly at night. The average temperature for Mammoth Hot Springs is a high of 70, and a low of 42 degrees Fahrenheit (21/ 5 degrees Celsius). At Yellowstone Lake, the average temperature is a high of 62, and a low of 34 degrees Fahrenheit (16/ 1 degrees Celsius). On average, there are 9 days of rain in June. Snow is also not unheard of in June and it typically snows once in the month.
While the weather in June in Yellowstone is moving toward summer, it can still be wet and very cold at night. Those planning on camping should still bring low rated sleeping bags as the nights can be under the freezing point. Hypothermia, especially among backpackers, is a very real threat and usually happens when the temperature is between 30 and 50 degrees Fahrenheit. Visitors can avoid this by staying out of the wind and rain and putting on rain equipment and warm clothes before they become wet or start shivering. June can still be cold and rainy so it it best to bring rain gear and warm layers that you can remove if you get too hot. The day time temperatures in the 70s and 80s may feel hotter to many guests that are used to more humid climates such as the American south or coastal areas. The dryness of the mountain air may also cause dry and cracking skin on the hands and feet which can be very painful if not treated with lotion or other moisturizer.
As the month of the year with the longest days, visitors should also be aware that long exposure to sunlight may make the daytime feel warmer than it is and increase the chance of sunburn due to the increased UV index.
Wildlife in June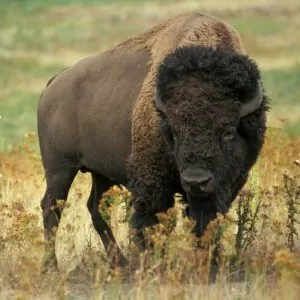 Yellowstone is home to the largest concentration of mammals in the lower 48 states. This massive congregation of mammals gives visitors an excellent opportunity to view a variety of animals, whether they are mammals, birds, fish, reptiles, or amphibians. It is nearly impossible to go through the park and not see some of the wildlife that is so abundant. Bison are common causes of traffic jams on the roads as large herds or even just a few animals see fit to walk along the road and stop traffic. While this can be annoying, it is amazing to be able to be within the safety of your car and see one of these massive animals, the males of which weigh up to 2000 pounds and the females up to 1000. In June these animals will be calving in Lamar Valley, an amazing site for visitors even if you're not into wildlife. Elk are also a common sight in Yellowstone though they don't congregate in large herds nearly as often as bison do. June is at the end of their calving season, but mother elk with young can be very aggressive and dangerous, so it is always wise to keep a large distance between yourself and these animals.
The grizzly bears are, of course, one of the most sought-after wildlife sightings in the park. Much larger than the more prevalent black bears in North America, grizzly bears can be very dangerous, but are still a treat to see and can be viewed safely. Aside from the most famous animals, however, there are many other species that call Yellowstone home. Bighorn sheep, mountain goats, pronghorns, moose, and mule deer are some of the other ungulates that live in the park. There's also a fair share of predators, such as black bears, bobcats, coyotes, the very elusive lynx, cougars, and wolverines.
Yellowstone is also the best place in the country to see wolves as they were recently re-introduced to the park. The Lamar Valley is your best chance to see these predators, though they probably will be fairly far away. The rivers are a great place to start if you're looking to see some of the lesser-known animals such as otters, weasels, martens, and waterfowl as well as the high country where some of the more elusive animals won't be afraid of the crowds that come in the summer. It's nearly impossible not to see wildlife while visiting the park, so keep your camera ready and take your time admiring these majestic animals.
Recommended wildland trips in june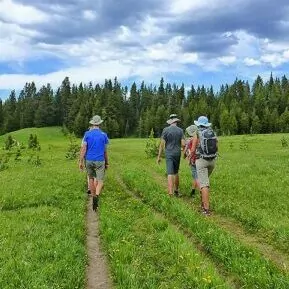 Planning a trip to Yellowstone can be overwhelming as you try to decide where in the park you want to go, keep up with the weather, and pack all the gear you need for your different activities. But you can avoid the headache of planning your own trip by booking a trip with Wildland Trekking and being shown around by one of our expert guides. We offer trips for all experience levels and preferences from backpacking treks and base camp tours, to inn-based tours and day hikes. Feel free to explore all the different tours that we offer in June, but here are a few that we especially recommend for this month.
Yellowstone River Fly Fishing Trek: The Black Canyon of the Yosemite River is full of wonders both living and non-living, and you won't be disappointed by this trek that takes you to see them all. Explore the wonders of this valley and get to see elk and bison calving and raising their young, all the while spending time fly fishing and trying your hand at catching wild trout. All-inclusive, with meals, much of your backcountry gear, and an expert guide included, you won't want to miss this amazing Yellowstone adventure.
Yellowstone Camping Tour: If you want to explore Yellowstone in all of its fullness but make sure you have some cozy amenities to go with your outdoor experience, then this is the trip for you. Pitch your tent at a base camp with warm showers and nice sleeping amenities and then set out each day of this five-day trip to experience a hike in a different area of the park that showcases its wonders from its mountainous terrain to its wildlife to its geothermal features. Don't worry about any of the details of this all-inclusive trip, just gear up for an amazing year Yellowstone experience.
Private Mystic Falls Loop: Enjoy both the famous Yellowstone wonders and a little-known backcountry gem on this day hike to Mystic Falls. Experience Old Faithful geyser and the basin that surrounds it along with Fairy Creek trail and a trek along the Continental Divide Trail (CDT) up to Mystic Falls where the crowds will thin out. With an included day pack, tracking poles, and trail snacks, and a picnic lunch, this is a great option for a day hike in Yosemite's wonders without the logistics headache.
Join a Guided Hiking Adventure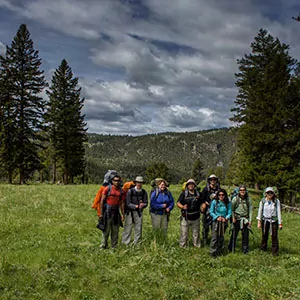 Yellowstone National Park is home to some of the most epic and amazing hiking vacations in the world. Wildland Trekking offers trips with the best of Yellowstone: geysers, waterfalls, views, wildlife, solitude, adventure, and fascinating natural and cultural interpretation.
Guided Yellowstone treks are all-inclusive which covers permits; local transportation (excluded on certain tours); meals; equipment; safety systems and professional hiking/wilderness guides; all of which allow visitors to maximize their time in Yellowstone and focus entirely on enjoying the Park.
YELLOWSTONE ADVENTURE TOURS