All About Visiting Yellowstone in November
The benefits, drawbacks, activities and other features of visiting Yellowstone in November
Updated: 10/28/22
November is a great time to visit Yellowstone National Park. The summer and fall crowds have all but disappeared, and you have great chances for solitude. There are many benefits to visiting in November and some drawbacks. Peruse the information below to determine if November is the best time for you to visit Yellowstone.
Benefits of Visiting in November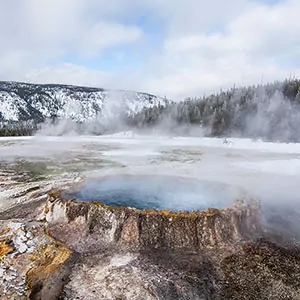 The biggest benefit to visiting in November is the lack of crowds. With fewer people, your chances for solitude grow exponentially. This means no waiting in long lines of traffic or inching through a crowd to see the famous sights. Many trails in the north are open, giving you the opportunity to explore Yellowstone on foot. And with so few crowds, you may have the trail all to yourself besides, of course, the many resident animals in the park. Wildlife viewing is one of the main draws in November. Herds of bison and elk congregate in Lamar Valley for the relatively warmer temperatures and more readily available food. While bears will probably already be in hibernation for the winter, many other predators such as wolves, cougars, bobcats, and coyotes will be about hunting the other mammals.  There are few things like watching a bobcat chase a pure white snowshoe hare across the snow or seeing a coyote plunge head first into the powder-hunting voles.
Another benefit that comes with visiting Yellowstone in November is the availability and lower prices of accommodations. The accommodation that remains open in the park, Mammoth Hot Spring Hotel and Cabins, as well as other popular lodging in the park are likely to have availability just a few weeks before your stay. You also might find that prices on accommodations are more reasonable than they are during peak season.
While the road closures that limit your access to much of the park can be annoying, they are a mixed blessing as they force visitors to take time to truly explore the areas that are open. Many visitors in the summer spend just as much– if not more– of their time driving than they do exploring the park; there is always something in the next area that we have to see before dark. This leaves little time for slow hikes or extended sessions of wildlife viewing as you feel like you are missing out on something elsewhere. But an extended stay in the park in November will allow guests to wait for wolves in Lamar Valley or hike to the little-known Undine Falls near Mammoth Hot Springs. Yellowstone has so many amazing areas that when visitors are limited to only a portion of the park, they discover things they never knew were there.
Drawbacks of Visiting in November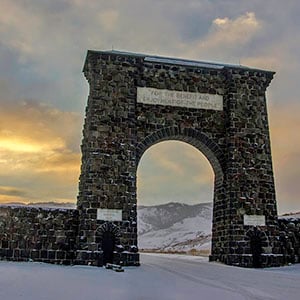 The biggest drawback to visiting Yellowstone in November is that most of the roads close at the beginning of the month. You can read the fall and winter road closure dates for year-to-year information. From November 1st to April 15, all roads except the north entrance to the northeast entrance are closed to private vehicles. Snow coach transportation does not typically begin until mid-December after the accumulation of snow, so for the entire month of November, you are limited to this single road through the northeastern section of the park passed Mammoth Hot Springs, Lamar Valley, and the tower area. This means that many of the famous sights such as Old Faithful, Yellowstone Lake, the Grand Canyon of Yellowstone, and many geyser basins, hot springs, and other geothermal features are completely out of reach and inaccessible to all visitors. This is a real downside to November as to some people many of these iconic sights are what make Yellowstone, Yellowstone.
The weather in November can be unpredictable, but usually very cold with lows in the teens and highs in the thirties. This leaves the possibility of snow, which would further restrict activities in the park. Be prepared for the worst weather like exceedingly cold temperatures, whipping winds, and even snowstorms. Visitors who underestimate Yellowstone's November will be at best cold and miserable and at worst in danger of frostbite and hypothermia.
The unpredictable weather can also disrupt your trip itinerary and restrict what activities are available. Even if it hasn't yet snowed and you can access the hiking trails, backpacking is not recommended due to weather and knowing what gear to bring. Backpackers that went out with fall gear would quickly be in a survival situation if a snow storm can in, but those same hikers can't use snowshoes or skis on bare ground or bring their winter gear and clothing "just in case." Even day hiking comes with increased risk as weather and cold present additional challenges. While some of the trails are still accessible, hikers should always be aware of the weather and be prepared to turn back. Becoming trapped in a Yellowstone snowstorm or even rainstorm without being prepared with winter gear and clothing will make you quickly realize how brutal winter here can be.
Things To Do In November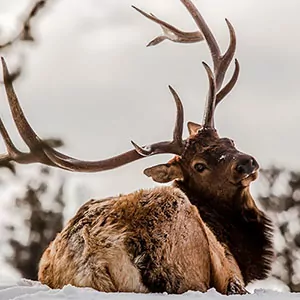 Although most of the roads are closed in November, the road from Gardiner to Cooke City is arguably the most scenic road in the park, so there is still plenty to see. Driving and hiking through Lamar Valley will reward you with herds of bison, and possibly chances to see wolves and bears. Wildlife viewing in this valley is excellent throughout the year, but in late fall and winter, many of the ungulates such as bison, elk, and pronghorn congregate here for the relatively warmer temperatures and the more readily available food. This means that their predators such as wolves and bears will also be congregating here. Depending on the weather, Yellowstone bears usually go into their dens for winter around late November, so you may still be able to see some of these amazing creatures out and about. Wolves, however, are not hibernators and are a treat to see in winter. Light snowfall can even be an asset to guests looking to spot wolves as the dark black coats that about 50% of the park's population have been easier to pick out from long distances against the bright snow.
Hiking (or snowshoeing and skiing depending on conditions) is a great option in November, as most of the trails in the Mammoth Hot Springs area and Lamar Valley are open. These trails provide opportunities for wildlife viewing as well as solitude. If you brought your hiking boots but there is snow on the ground, you can rent snowshoes or skis from the lodge or outside the park in Gardiner. Hiking with only hiking boots after snow should only be attempted on trails at lower elevations when the snow is less then 6 inches deep. Anything deeper than this may cause danger to the hiker from post-holing in snow that was deeper than you thought or exposure to the elements.
The Albright Visitor Center remains open year-round and is a great resource for information about the park. There is a great museum on the lower level of the Visitor Center, and rangers are available to answer any questions about closures that you may have. The lodge and visitor center at Mammoth Hot Springs also occasionally put on programs from photography walks to jewelry making to cocktail classes, so make sure to check their websites and see if anything will be going on during your visit.
Things to see in November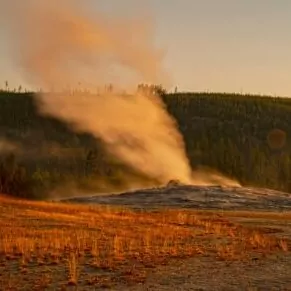 Even though much of the park is inaccessible in November due to road closures, there is still an abundance of things to see and the scenery is spectacular when covered in a light dusting of snow. We've gathered together a list of some of the must-see sights in Yellowstone in November, but make sure to do your own research to see what piques your interest.
Lamar Valley: This valley lies along the only road that will be open to wheeled vehicles in November, and you are lucky that it does. One of the most famous areas of the park for wildlife viewing, Lamar Valley will not disappoint as many of the animals in the park will already be congregated in this lower elevation valley for winter for the relatively warmer temperatures and more readily available food. Bison, elk, and pronghorn, along with bears and wolves will come here and there are few things like seeing all these animals gathered in this valley.
Lost Falls: The trail to these falls beginning at Roosevelt Lodge is great for families. A little less than a mile in length, this trail will bring you to a gorgeous waterfall and through meadows and canyons. Receiving little human traffic, you are likely to have it mostly to yourself besides the resident wildlife which you are likely to see. Always keep your distance from these creatures and enjoy them in their own habitat where you are just a visitor.
Mammoth Hot Springs: One of the most unique hydrothermal features in the park, Mammoth Hot Springs has been wowing visitors for decades. Instead of brilliant-colored hot springs or hot water volcanos, Mammoth is built of terraces of limestone that have been formed from years of mineral-rich water bubbling up from beneath the earth's crust. Tinged with burnt orange and white, these features are a must-see for any visitor to the park.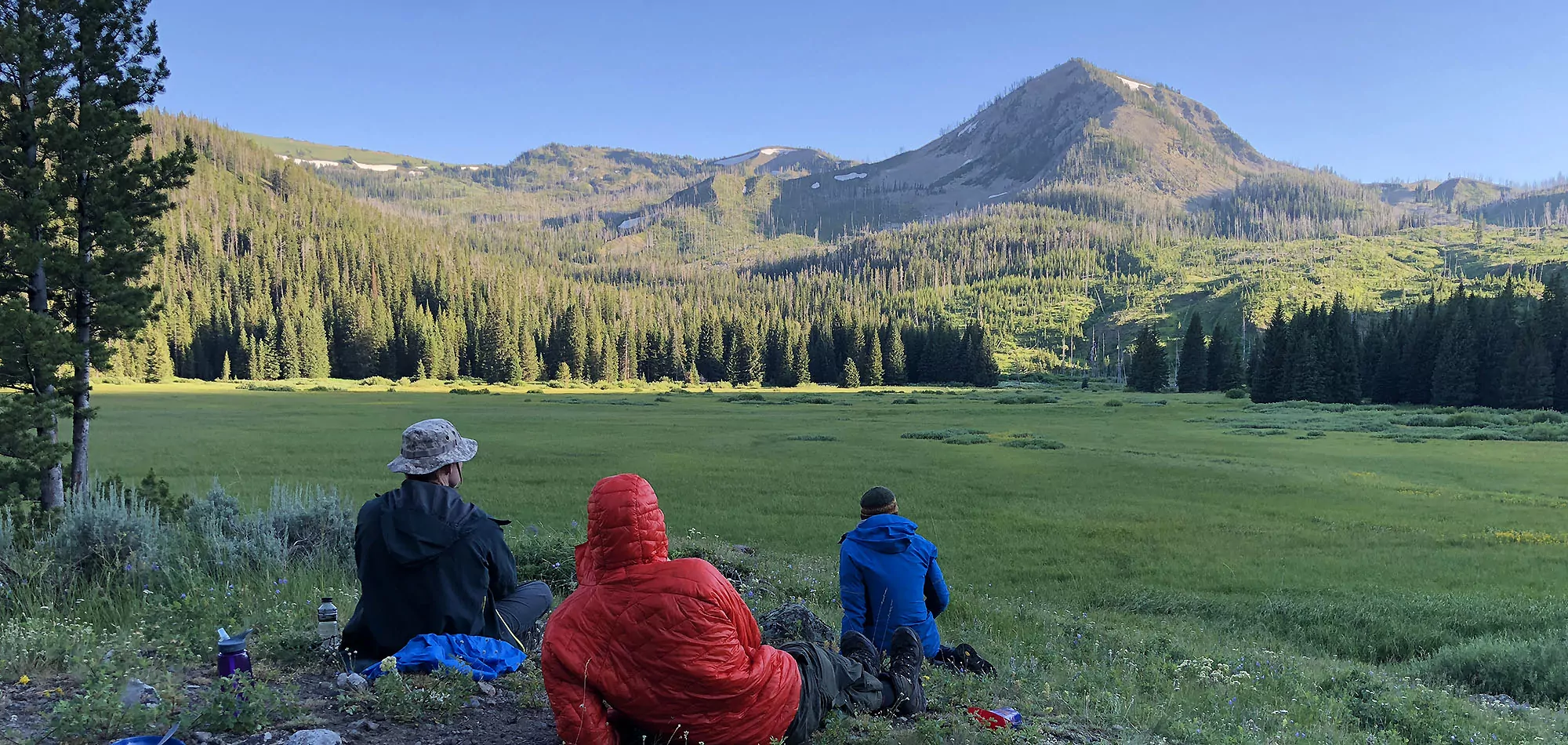 Hiking in November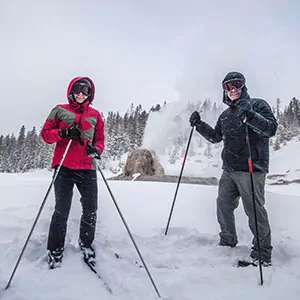 Much of Yellowstone is closed in November, but there is still a ton to see and do in the areas that are open. There are many wonderful day hiking trails in the Mammoth area, as well as Lamar Valley. You can check the Backcountry Situation Report for all pertinent information about the backcountry. Hiking is fantastic this time of year because the crowds have thinned and you may have the trail entirely to yourself. Many of the hikes in the Mammoth area are on boardwalks, so even if it is snowy, hiking will be an option.
Lost Falls, the trail which begins behind the Mammoth Lodge, is a great option for hiking as well as Undine Falls. At a little less than 9 miles, Undine Falls is not for the faint of heart but boasts some gorgeous scenery around Lava Creek and Mount Everts. Wraith Falls is another great option, located just outside the park. Coming in at just about a mile in length, this out-and-back trail is suitable for almost everyone.
Walking and hiking around the Mammoth Hot Springs gives visitors a chance to see one of the park's most unique hydrothermal features. Be careful to stay on the boardwalks however, as many have been seriously injured or died from coming into contact with the park's hydrothermal features. It is never safe to leave the boardwalks in these areas especially in winter when what may appear to be solid ground may only be a thin layer of ice over boiling water.
There are a multitude of hiking trails in Lamar Valley and the Northern range such as Lost Lake Trail, a 2.8 miles moderate hike that begins behind Roosevelt Lodge, or the easy 1.2 mile easy Trout Lake loop that should be accessible year-round. While snowshoeing and cross-country skiing are typically good alternatives for hiking in winter, the warm temperatures during the day coupled with the freezing temperatures at night will produce slushy, icy snow that isn't good for backcountry winter sports. November poses some challenges to these activities due to the transition between fall and winter, but many trails can still be enjoyed and the scenery is no less spectacular.
Backpacking in November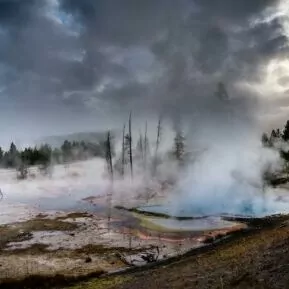 Backpacking in Yellowstone in November is very difficult, if not impossible, due to adverse weather and unpredictable conditions. The park's transition between fall and winter poses problems for those in the backcountry that the onset of complete winter does not. November in Yellowstone can be anywhere from chilly without snow to a complete winter with thick snow drifts and whiteouts. This leaves backpackers in a tough situation. Backpackers cannot bring both as winter gear in Yellowstone involves skis or snowshoes, four-season tents, avalanche equipment, and clothing that you would overheat in if you wore them in the fall. On the other hand, however, those wanting to go into the backcountry cannot bring only fall gear as an unexpected snowstorm could cause a survival situation due to cold temperatures and the inability to traverse the snow. For these reasons, backpacking is not recommended in November. If you have the equipment and the expertise to camp in the winter, it is best to do so when you are sure there will be snow on the ground and your skis or snowshoes will not be useless. If you do not have the knowledge to camp in the backcountry in winter, you will probably want to plan a trip in the summer or book a trip with a guiding company that will take care of all the details for you.
Weather in November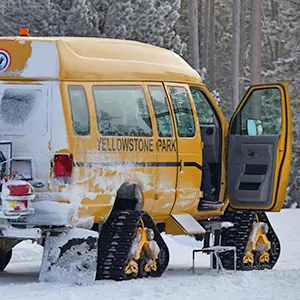 Yellowstone is a large park with elevations ranging from 6,000 to over 11,000 ft. Thus the weather you experience will depend greatly on where you are and what elevation you are at. However, in November the southern sections of the park are closed to all traffic, so much of your time will be spent in the northern range at lower elevations and in the meadows and valleys like Lamar Valley. This does not mean, however, that there won't be snow or that it won't be cold. Generally, the weather in November in Yellowstone is cold, with the possibility of snow. Average temperatures for Mammoth Hot Springs are a high of 39, and a low of 20 degrees Fahrenheit (4/ -6 degrees Celsius). On average, it snows or rains 8 days in November. These numbers are just averages, i.e. the middle of all the temperatures that it could be, so it is possible that it will be much warmer– or much colder– than these temperatures.
November weather is unpredictable in the park and visitors will be forced to bring a larger amount of gear and clothing so that they will be prepared for the worst weather they might face. It is also a good idea to bring layers and a variety of clothing. Dressing too warmly– say in a ski jacket– can cause overheating as you will be too warm with it on, but too cold without it. Most cases of hypothermia in the park occur when the temperature is between 30°F and 50°F, so it is very important to put on your warm layers before you start shivering and to break out your rain gear before you get wet to keep yourself from getting chilled. Visitors should check the forecast daily before setting out and talk to a ranger if need be about what conditions they expect in a specific area. Although the hot springs can look tempting on cold days, many people have been severely burned and scaled to death by coming in contact with the park's geothermal features where there are safety boardwalks. Never leave the boardwalks in these areas even in winter as what appears to be solid ground may only be a thin layer of ice over boiling water. While some of the lakes may be starting to freeze it is not recommended to walk, skate, or ski on frozen lakes or rivers as ice can be thin and frigid waters pose serious risks to health, even if you are removed from the water quickly.
Wildlife in November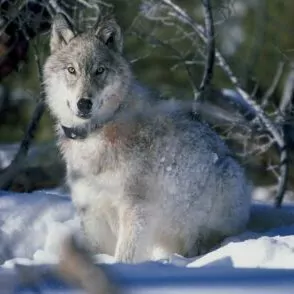 November is a great time to view wildlife in Yellowstone and, even though much of the park is inaccessible to visitors, the road in the northern range that is open is one of the best for viewing wildlife in the entire park. Cutting straight through Lamar Valley, this scenic drive is almost guaranteed to bring you sightings of some of the park's majestic creatures. As the temperature begins to drop, many of the ungulates such as bison and elk (in large herds) along with pronghorn, big horn sheep, and moose (in small numbers and groups) gather in this valley for the relatively warmer temperatures, and the more readily available food. Huge herds of bison foraging on the grasses are truly a staple of Yellowstone's sights. The gathering of these animals to the area also means that their predators, mainly wolves, also come to this valley for the– you guessed it– the more readily available food.
Lamar Valley is one of the best places to see one of the resident wolf packs in the park and the snow can actually be to the advantage of those seeking out wildlife as the dark coats of many animals stand out against the snow. Both bison and elk see the benefits of walking along the road instead of trudging through deep snow to save energy, so if there's been a snowstorm, expect to be sharing the road. Bears, on the other hand, will probably be preparing to enter or have already entered their winter dens. While it is not impossible to see a bear in November, especially if the weather has been fair and there is no snow, it's not very likely.
Many of the park's more elusive creatures also come down from the high country starting in late fall to chase smaller prey that has ventured toward the warmer areas of the park. Coyotes can be seen plunging head first– almost diving– into the snow hunting voles and other rodents that dig tunnels beneath the surface. Bobcats and lynx, although seldom seen, also hunt rodents, especially snowshoe hares, and lucky visitors might catch a glimpse of these creatures. The park is also home to many waterfowl and smaller animals that are a joy to watch. Beavers don't hibernate in winter, but you may have to be patient at sunrise or sunset to see these creatures in winter. They live in pools too deep to freeze and by diving under the ice to the underwater entrances to their lodges, they can easily escape detection. North American river otters become more diurnal in the winter and can be seen sliding on their bellies on the snow toward the icy waters in which they live. Badgers, martens, long-tailed weasels, and wolverines all also call the park home and patient visitors might get a chance to see one of these creatures in the more forested areas of the park.
Join a Guided Hiking Adventure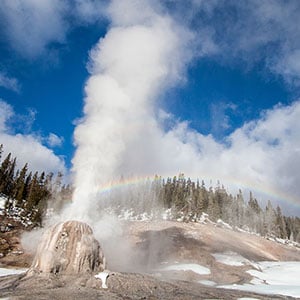 Yellowstone National Park is home to some of the most epic and amazing hiking vacations in the world. Wildland Trekking offers trips with the best of Yellowstone: geysers, waterfalls, views, wildlife, solitude, adventure, and fascinating natural and cultural interpretation.
Guided Yellowstone treks are all-inclusive which covers permits; local transportation (excluded on certain tours); meals; equipment; safety systems and professional hiking/wilderness guides; all of which allow visitors to maximize their time in Yellowstone and focus entirely on enjoying the Park.
YELLOWSTONE ADVENTURE TOURS