All you need to know about Visiting Yellowstone
Find out what to do and see in Yellowstone National Park depending on when you want to visit.
Updated: 09/02/22
Yellowstone is the first-ever National Park, setting the stage for all parks around the world. It is a must-visit destination for all lovers of nature, wildlife, hiking, and other-worldly geothermal features. Each area of the park is so distinct; Yellowstone Lake is the largest alpine lake in the North America and has over 140 miles of shoreline; the park boasts more geothermal features than any other place in the world; herds of bison roam in Hayden and Lamar Valley. Whether you want to stick to the boardwalks, or you want to go backpacking, do it on your own or go with a tour company, there is something for every age group and level of experience in Yellowstone National Park.
What Makes Yellowstone So Unique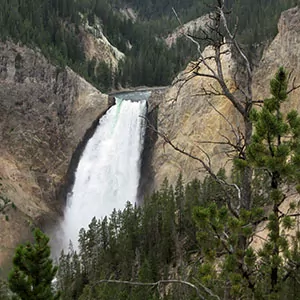 There is so much to see and do in Yellowstone; waterfalls, geysers, hot springs, rivers, lakes, wildlife, mountains… a little bit of everything in this huge park. Yellowstone is America's– and the world's– first national park. Established in 1872 by U.S. president Grant, Yellowstone was designated to preserve this area and its amazing natural and ecological resources. The park has the highest concentration of hydrothermal features in the world. It has the high concentration of mammals in the lower 48 states. Its glacial history and dynamic geological past have made this place literally unlike any other on earth. Sitting atop a super volcano– which many scientist believe could cover the entire United States with 1-3 meters or more of ash if it erupted– the park's remarkable activity beneath the earth's crust makes for some shows above it as well.
Each area of the park is very distinct and unique and it is remarkable that these areas are all so close together. The main areas include Yellowstone Lake, Grand Canyon of Yellowstone, Old Faithful and surrounding geyser basins, Mammoth Hot Springs, and Hayden and Lamar Valleys.
Yellowstone Lake has over 140 miles of shoreline, and is located in the middle of the park. It is the largest alpine lake in North America, and has the largest population of native cutthroat trout in North America. There are many hiking trails, recreational activities, and fishing opportunities in this area.
Grand Canyon of Yellowstone is approximately 20 miles long, ranging from Upper Falls to Tower Fall. There are two tremendously flowing waterfalls in Canyon Village, contrasted against the yellow-tinted rhyolite rock. There are great viewpoints of the waterfalls, as well as wonderful and scenic trails in the surrounding area.
Old Faithful and the nearby geyser basins are world-famous for a reason. Yellowstone National Park contains 60 percent of the world's geysers. Old Faithful is located in Upper Geyser Basin, which is less than one square mile, but hosts over 150 geysers. Between Upper Geyser Basin and the Madison junction are Biscuit Basin, Midway Geyser Basin— where Grand Prismatic resides– and Fountain Paint Pots.
Mammoth Hot Springs is located at the north entrance of the park, and is surrounded by mountains and features a steaming travertine terrace. It is truly out-of-this-world. The Boiling River is just north of the hot springs, where you can soak in the perfect mixture of boiling hot water and chilly Gardner River water.
Hayden and Lamar Valley are where you want to go if you want to see wildlife. They both host herds of bison, packs of wolves, and sleuths of bears. The best time for wildlife viewing is early in the morning, and it is definitely worth getting up early for.
How to Get There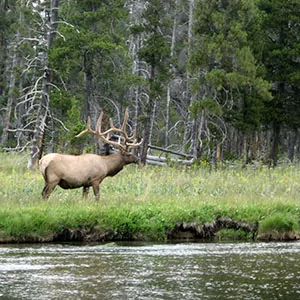 There are five entrances to Yellowstone National Park. At the North entrance, you will enter through Gardiner, Montana; the Northeast entrance, through Cooke City, Montana; the East entrance, through Cody, Wyoming; the West entrance, through West Yellowstone, Wyoming; and the South entrance, through Grand Teton National Park.
The closest airports are Bozeman, Montana from the north, Jackson, Wyoming from the south, Cody, Wyoming from the east or West Yellowstone, Wyoming from the west. Yellowstone is a huge park—both Delaware and Rhode Island could fit inside, and there is no shuttle bus system in the park. It is best to either go with a tour company from one of the surrounding towns or rent your own car, so you can explore the park as you wish. Your options for airports are all small compared to the gateway airports for many of the other famous national parks, so if you are within (even a long) driving distance, it is typically more cost effective to drive instead of having to purchase plane tickets and rent a car. Due to the nature of the park, access requires some effort, but the park is well worth it. If you are traveling in winter, early spring, or late fall, be prepared for adverse weather conditions on the drive to the park as much of the surrounding area are small towns at high elevations. Bring snow chains if you have them, just in case. Always check the conditions and weather before starting your journey to the park so that you will know exactly what to expect.
What To Do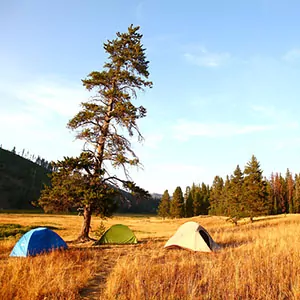 There is something for everyone in Yellowstone. The primary activities in the park are sightseeing, hiking, backpacking, fishing, and wildlife viewing. There are many areas of the park that will blow your mind with erupting geysers, rainbow-colored hot springs, gushing waterfalls, herds of bison and pronghorn, and much more.
Sightseeing is huge in the park because of the remarkable sights and beauty everywhere you turn. From the scalding hot springs to water-volcano geysers, majestic mountain peaks to expensive lakes, massive bison to soaring eagles, there truly is something spectacular everywhere you look. Make sure to take a look at a park map and ask a ranger about what all there is to see and how much time you have to spend. You very well may not be able to see everything you want to if you have a day or two, so prioritize your time to see the sights that interest you the most.
Hiking and backpacking in Yellowstone is incredible in the spring, summer and fall. Yellowstone also has many day hikes that will spark your interest; you can check out our list of best hiking trails for more information. Trails in the park range from easy boardwalks, to strenuous, multi-day backpacking trips. There are over 1,000 miles of trail, and while Yellowstone may be a very busy park, simply taking one step on a trail eliminates much of the crowd.
Another popular activity is fishing, and there are many rivers and lakes to choose from in Yellowstone. Yellowstone Lake, Lewis Lake, Madison River, Lamar River, Yellowstone River, and Gallatin River are just some of the excellent fishing in the park. Yellowstone National Park does require a fishing permit, which may be purchased inside or outside the park. There are numerous certified tour companies that offer day trips and backcountry fishing trips. Wildlife viewing is a very popular and exciting activity. Lamar Valley and Hayden Valley are known for their herds of bison and packs of wolves. Black bears and grizzly bears are often seen in these areas too, and along certain areas of the road. Yellowstone has the highest concentration of mammals in the lower 48 states, so there are a multitude of creatures to observe here. If you want to see some of the more elusive animals, however, you will have to journey into the back country and be patient. Ask a ranger about what animals have been caught on remote camera traps and where the best areas are to see your particular animal. Wildlife photography is a very popular option as well, as the animals are so abundant. But make sure to stay 100 yards away from bears and wolves and at least 25 yards from all other animals.
In the winter, cross country skiing, snowshoeing, snowmobiling, and winter backpacking are all popular options. Winter in Yellowstone can be brutal, but for those who have the gear and expertise, this season can be very fun. Even if you don't have all the gear you need, you can go with a guiding company that will provide a lot of the gear for you or still go on your own and stay at the lodges and use the rental snow coaches for over snow transportation. There are multiple visitor centers and museums in the park, so make sure you take the time to visit some of these places and learn about the area, especially if you are there in winter or a shoulder season and the weather prevents you from spending time outside. While there is no official park shuttle bus service, there are bus tours that will take you throughout the park if you'd like to enjoy it from the comfort of a heated or air-conditioned bus. There are also a variety of things to do in the local towns outside the entrances to the park which are rather touristy and geared towards visitors.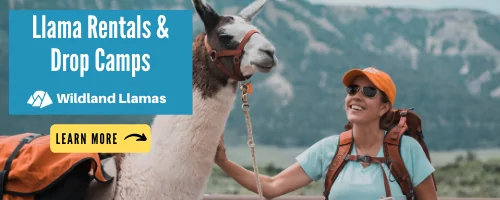 When To Go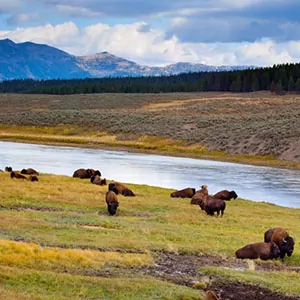 On average, Yellowstone has 4.3 million visitors each year. July alone sees 1 million of those visitors while the whole winter season receives only .3 million. How much you can tolerate the crowds and what activities you want to enjoy will determine which time of the year is best for you to visit.
The park is open year-round, although, in winter, only the road from the north entrance to the northeast entrance is able to be driven with your own car. Yellowstone National Park Lodges operates snow coaches that take you from Mammoth Hot Springs to Old Faithful—where snowshoeing and cross country skiing is available. Due to the snowy conditions in the winter, the park has a rather complicated road opening and closing schedule. All roads are typically open to private vehicles during the summer and early fall, but on 1 November all roads except the road from the north entrance to the north east entrance close to private vehicles. These roads don't open again for over snow travel usually until the middle of December. This leaves about a month and a half when the only road accessible at all in the park is the one from the north entrance to the north east entrance that goest through Mammoth Hot Springs, Lamar Valley, and the tower area. Over snow travel on the rest of the roads is open through mid March when the roads again close to both over snow travel and personal vehicles. The roads do not open for private vehicles until mid April, again leaving the vast majority of the park closed for about a month. Typically in mid April, the roads will open up again when they are clear of snow. The schedule varies year to year based on snow pack and seasons, so make sure to check the local road closures in the park so that you'll know what will be open.
There are many other factors to take into consideration when choosing went to visit Yellowstone, but you can read more about information for each month in our monthly pages about the park. Below is a table of the average temperatures and days of precipitation at Yellowstone Lake and Mammoth Hot Springs for each month.
Month
Yellowstone Lake
Mammoth Hot Springs
Days of Precip
Avg Hi
Avg Lo
Avg Hi
Avg Lo
January
22°F (-5°C)
2°F (-16°C)
30°F (-1°C)
11°F (-11°C)
9 Days
February
26°F (-3°C)
2°F (-16°C)
34°F (1°C)
13°F (-10°C)
8 Days
March
34°F (1°C)
9°F (-13°C)
41°F (5°C)
19°F (-7°C)
8 Days
April
41°F (5°C)
18°F (-8°C)
50°F (10°C)
27°F (-2°C)
10 Days
May
51°F (10°C)
27°F (-3°C)
60°F (15°C)
35°F (2°C)
9 Days
June
62°F (16°C)
34°F (1°C)
70°F (21°C)
42°F (5°C)
8 Days
July
72°F (22°C)
40°F (4°C)
81°F (27°C)
49°F (9°C)
5 Days
August
70°F (21°C)
38°F (3°C)
79°F (26°C)
47°F (8°C)
5 Days
September
61°F (16°C)
31°F (-1°C)
68°F (20°C)
39°F (4°C)
5 Days
October
46°F (8°C)
24°F (-4°C)
55°F (13°C)
30°F (-1°C)
8 Days
November
32°F (0°C)
13°F (-11°C)
39°F (4°C)
20°F (-6°C)
8 Days
December
22°F (-5°C)
4°F (-15°C)
30°F (-1°C)
12°F (-10°C)
10 Days
What to expect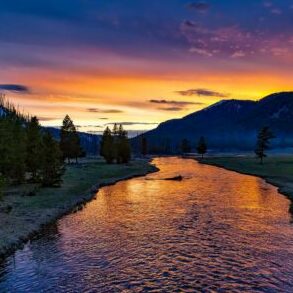 Yellowstone is an incredibly famous park and millions of people visit every year, but there are aspects of the park that many people do not know to expect when visiting. It's very important to be aware of what you might encounter in the park so that you can be prepared and enjoy your trip. Below, we've listed just a few of the things that you might not know if you've never been to Yellowstone before and that you should take into account when planning a trip there.
Elevation and Mountainous Terrain:  Yellowstone is very much in the mountains with its lowest elevation being around 6,000 feet and its highest above 11,000 feet. This is far above what most people are used to living at, so you should expect to experience some differences based on your elevation. The air will be very dry, so guests that are accustomed to humidity should bring lotion and expect the heat to feel hotter. These visitors may also experience dry or cracking skin on their hands and feet because of the lack of humidity. Most visitors will experience differences in breathing and stamina based on the elevation. You will probably find yourself out of breath quicker than you would at home and after doing less strenuous activities. This is due to the smaller amount of oxygen in the air compared to sea level. If you're planning on summitting any of the peaks in the park or spending time in the southern section where the elevation is higher, you should be prepared for these effects to a greater extent. Take it slow and make sure you don't over exert yourself. If you're in the park more than a couple days, you should acclimate to the elevation and probably won't feel it in your breathing as much. If you start to develop the symptoms of altitude sickness, ask a ranger about what you can do, take altitude sickness medicine if you have it, but ultimately if you have to, leave the park and go to a lower altitude as soon as you can. This condition is very serious and can be fatal if not treated. Make sure you know what the symptoms are and what to do if you or someone in your party starts experiencing them.
Crowds:  Yellowstone is huge and rather remote even for a national park, but it still receives millions of visitors a year. This makes the park very crowded, especially in summer. Long lines of traffic form when entering the park and within the park around famous sites or because of unexpected events like a bear on the side of the road or a car accident. These kind of incidents can back up traffic for hours, so it's best to leave your plan flexible and allow for these traffic jams. The crowds also mean that the famous sites of the park will be very, very busy in summer. You will most likely find yourself circling around parking lots to get a spot and inching your way through a crowd to see things like Old Faithful or Grand Prismatic Spring. The crowds don't make the sites not worth going to but they can make it a little bit less enjoyable. Try early in the morning or late in the evening to avoid the crowds and make sure to go to some less famous but still stunning sites to escape the masses. You can also go to the park in one of the shoulder seasons of spring and fall, or even in winter, to escape some of the crowds
Inherent Risks:  Yellowstone, as is the case with all national parks, is the wilderness, not the zoo. However, there are some inherent risks that come with visiting Yellowstone that don't come with other national parks that visitors should know about before coming. Wildlife is one of the main draws to Yellowstone, but these large animals can be dangerous and aggressive if approached or if they have gained access to human food. While bear maulings are infrequent, a grizzly bear is very capable of killing a human, and these animals need to be given proper spacing and respect. Bison have injured more people in the park than any other animal, usually caused by a visitor approaching the animal to get a picture and the bison turning and goring or tossing them into the air after feeling threatened. In addition to dangers from the wildlife, the hydrothermal features in Yellowstone pose inherent risk to visitors. While these features can be viewed safely by staying on the boardwalk and obeying all rangers and signs, many people have been severely burned and scalded to death by coming in contact with these features, some of which are over 200°F. Someone who trips and falls off a boardwalk, an oblivious child who wanders away, or a reckless person wanting to get a better picture can all fall victim to these features. Yellowstone requires some extra safety measures compared other parks. Even though the main attractions to this park are the wildlife and the volcanic features, these things are dangerous and need to be treated with respect.
Driving:  All the cool things together in one place? Well, not exactly. Yellowstone is a huge park; both the states of Rhode Island and Delaware could fit inside its borders. Thus, you should expect to be doing a fair bit of driving. Most of the famous sites are not in the same area of the park, and you should expect hour or more drive time between these areas depending on traffic. Make sure to get a map when you first enter the park and plan out your route for the day or your entire trip to maximize your time and not waste time driving from one end of the park to the other.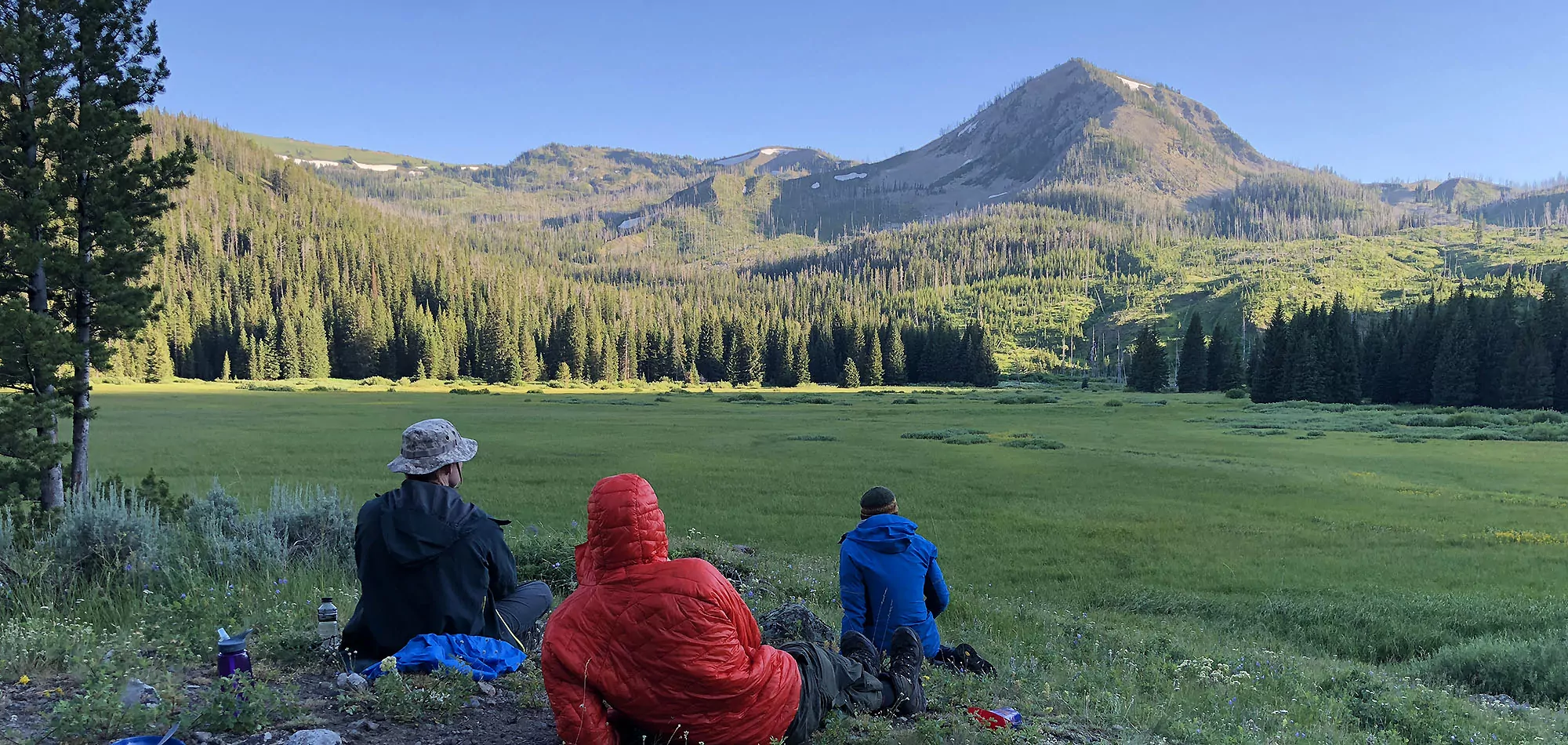 Visit On Your Own or With a Tour Company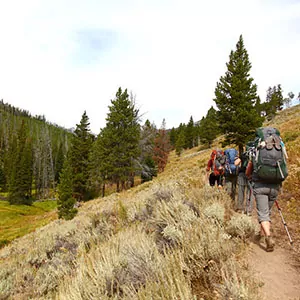 Some visitors decide to explore Yellowstone on their own and some decide to go with a guiding company; both are fantastic options. If you are interested in experiencing the park off-the-beaten path, learning as much as possible about the history and ecology, and avoiding the stress of planning a National Park adventure by yourself, then going on a guided tour is the best option for you. Truly getting to relax and enjoy your trip without the headache of planning itineraries and dealing with details of the conditions, weather, safety, and many other things is truly a treat, and the guiding company will take care of all of that for you. Wildland Trekking offers trips of various styles that are suitable to everyone, from backpacking trips and llama treks, to basecamp camping and inn based tours, and even single day hikes and winter tours. There is truly something from everyone, and you won't be sorry you chose these all inclusive trips that take care of your local transportation, meals, much of your gear, and provide you with an expert guide to show you around the area.
If you like the thrill of planning your own trip, want stay within a budget, like the idea of being on your own watch, and want  to research the best trails, then visiting on your own may be the best for you. Planning a trip to Yellowstone on your own can be overwhelming with all of the conditions, weather, road closures, and inherent risks that you need to take into account, but it can be very rewarding for those who enjoy planning. Having a flexible itinerary and schedule is a mixed blessing as you are able to have complete control over what you want to do but may miss out on some of the activities while you spend your time deciding or simply not know about some of the cool places to see that you didn't come across in your research. Ultimately, it's up to you which way you want to experience the park and both are great options. But we encourage you to try out a trip with us, even if it's just a day hike, to get the feel for what a guided hiking adventure is like with Wildland Trekking.
Join a Guided Hiking Adventure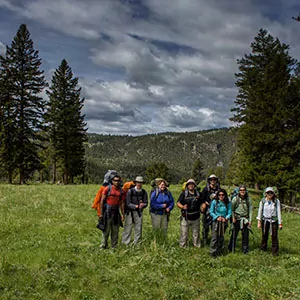 Yellowstone National Park is home to some of the most epic and amazing hiking vacations in the world. Wildland Trekking offers trips with the best of Yellowstone: geysers, waterfalls, views, wildlife, solitude, adventure and fascinating natural and cultural interpretation.
Guided Yellowstone treks are all-inclusive which covers permits; local transportation (excluded on certain tours); meals; equipment; safety systems and professional hiking/wilderness guides; all of which allows visitors to maximize their time in Yellowstone and focus entirely on enjoying the Park.
YELLOWSTONE ADVENTURE TOURS