All you need to know about Visiting Yellowstone
Find out what to do and see in Yellowstone National Park depending on when you want to visit.
Yellowstone is the first-ever National Park, setting the stage for all parks around the world. It is a must-visit destination for all lovers of nature, wildlife, hiking and other-worldly geothermal features. Each area of the park is so distinct; Yellowstone Lake is the largest alpine lake in the North America and has over 140 miles of shoreline; the park boasts more geothermal features than any other place in the world; herds of bison roam in Hayden and Lamar Valley. Whether you want to stick to the boardwalks, or you want to go backpacking, do it on your own or go with a tour company, there is something for every age group and level of experience in Yellowstone National Park.
What Makes Yellowstone So Unique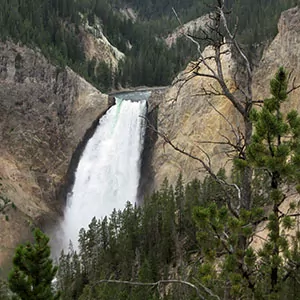 There is so much to see and do in Yellowstone; waterfalls, geysers, hot springs, rivers, lakes, wildlife, mountains… a little bit of everything in this huge park. Each area of the park is so different and unique. The main areas include Yellowstone Lake, Grand Canyon of Yellowstone, Old Faithful and surrounding geyser basins, Mammoth Hot Springs, and Hayden and Lamar Valley.
Yellowstone Lake has over 140 miles of shoreline, and is located in the middle of the park. It is the largest alpine lake in North America, and has the largest population of native cutthroat trout in North America. There are many hiking trails, recreational activities and fishing opportunities in this area.
Grand Canyon of Yellowstone is approximately 20 miles long, ranging from Upper Falls to Tower Fall. There are two tremendously flowing waterfalls in Canyon Village, contrasted against the yellow-tinted rhyolite rock. There are great viewpoints of the waterfalls, as well as wonderful and scenic trails in the surrounding area.
Old Faithful and the nearby geyser basins are world-famous for a reason. Yellowstone National Park contains 60 percent of the world's geysers. Old Faithful is located in Upper Geyser Basin, which is less than one square mile, but hosts over 150 geysers. Between Upper Geyser Basin and the Madison junction are Biscuit Basin, Midway Geyser Basin— where Grand Prismatic resides, and Fountain Paint Pots.
Mammoth Hot Springs is located at the north entrance of the park, it is surrounded by mountains and features a steaming travertine terrace. It is truly out-of-this-world. The Boiling River is just north of the hot springs, where you can soak in the perfect mixture of boiling hot water and chilly Gardner River water.
Hayden and Lamar Valley are where you want to go if you want to see wildlife. They both host herds of bison, packs of wolves and sleuths of bears. The best time for wildlife viewing is early in the morning, and it is definitely worth getting up early for.
How to Get There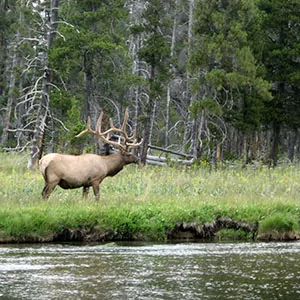 There are five entrances to Yellowstone National Park. At the North entrance, you will enter through Gardiner, Montana; the Northeast entrance, through Cooke City, Montana; the East entrance, through Cody, Wyoming; the West entrance, through West Yellowstone, Wyoming; and the South entrance, through Grand Teton National Park.
The closest airports are Bozeman, Montana from the north, Jackson, Wyoming from the south, Cody, Wyoming from the east or West Yellowstone, Wyoming from the west. Yellowstone is a huge park—both Delaware and Rhode Island could fit inside, and there is no shuttle bus system in the park. It is best to either go with a tour company from one of the surrounding towns; or rent your own car, so you can explore the park as you wish.
What To Do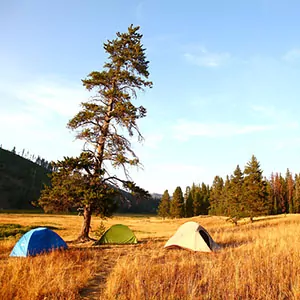 There is something for every person in Yellowstone. The primary activities in the park are sightseeing, hiking, backpacking, fishing, and wildlife viewing. There are many areas of the park that will blow your mind with erupting geysers, rainbow-colored hot springs, gushing waterfalls, herds of bison and pronghorn, etc.
Hiking and backpacking in Yellowstone is incredible in the spring, summer and fall. Yellowstone also has many day hikes that will spark your interest; you can check out our list of best hiking trails for more information. Trails in the park range from easy boardwalks, to strenuous, multi-day backpacking trips. There are over 1,000 miles of trail, and while Yellowstone may be a very busy park, simply taking one step on a trail eliminates much of the crowd.
Another popular activity is fishing, and there are many rivers and lakes to choose from in Yellowstone. Yellowstone Lake, Lewis Lake, Madison River, Lamar River, Yellowstone River, Gallatin River are just some of the excellent fishing in the park. Yellowstone National Park does require a fishing permit, and may be purchased in and outside the park. There are numerous certified tour companies that offer day trips and backcountry fishing trips.
Lastly, wildlife viewing is a very popular and exciting activity. Lamar Valley and Hayden Valley are known for their herds of bison and packs of wolves. Black bears and grizzly bears are often seen in these areas too, and along certain areas of the road.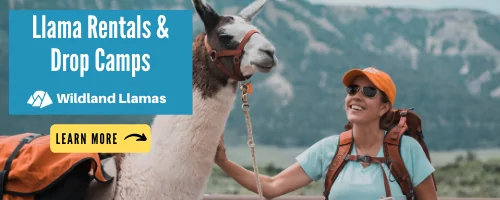 When To Go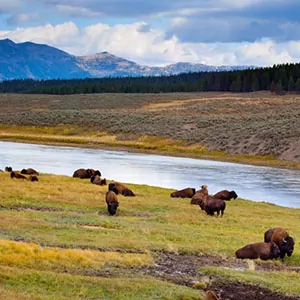 On average, Yellowstone has 4.3 million visitors each year. July alone sees 1 million of those visitors, and the .3 million is during the whole season of winter. Depending on how much you can tolerate the crowds, and what activities you want to enjoy will determine which time of the year is best for you to visit.
The park is open year-round, although, in winter, only the road from the north entrance to the northeast entrance is able to be driven with your own car. Yellowstone National Park Lodges operates snowcoaches that take you from Mammoth Hot Springs to Old Faithful—where snowshoeing and cross country skiing is available.
Below is a table of the average temperatures and days of precipitation at Yellowstone Lake and Mammoth Hot Springs for each month.
Month
Yellowstone Lake
Mammoth Hot Springs
Days of Precip
Avg Hi
Avg Lo
Avg Hi
Avg Lo
January
22°F (-5°C)
2°F (-16°C)
30°F (-1°C)
11°F (-11°C)
9 Days
February
26°F (-3°C)
2°F (-16°C)
34°F (1°C)
13°F (-10°C)
8 Days
March
34°F (1°C)
9°F (-13°C)
41°F (5°C)
19°F (-7°C)
8 Days
April
41°F (5°C)
18°F (-8°C)
50°F (10°C)
27°F (-2°C)
10 Days
May
51°F (10°C)
27°F (-3°C)
60°F (15°C)
35°F (2°C)
9 Days
June
62°F (16°C)
34°F (1°C)
70°F (21°C)
42°F (5°C)
8 Days
July
72°F (22°C)
40°F (4°C)
81°F (27°C)
49°F (9°C)
5 Days
August
70°F (21°C)
38°F (3°C)
79°F (26°C)
47°F (8°C)
5 Days
September
61°F (16°C)
31°F (-1°C)
68°F (20°C)
39°F (4°C)
5 Days
October
46°F (8°C)
24°F (-4°C)
55°F (13°C)
30°F (-1°C)
8 Days
November
32°F (0°C)
13°F (-11°C)
39°F (4°C)
20°F (-6°C)
8 Days
December
22°F (-5°C)
4°F (-15°C)
30°F (-1°C)
12°F (-10°C)
10 Days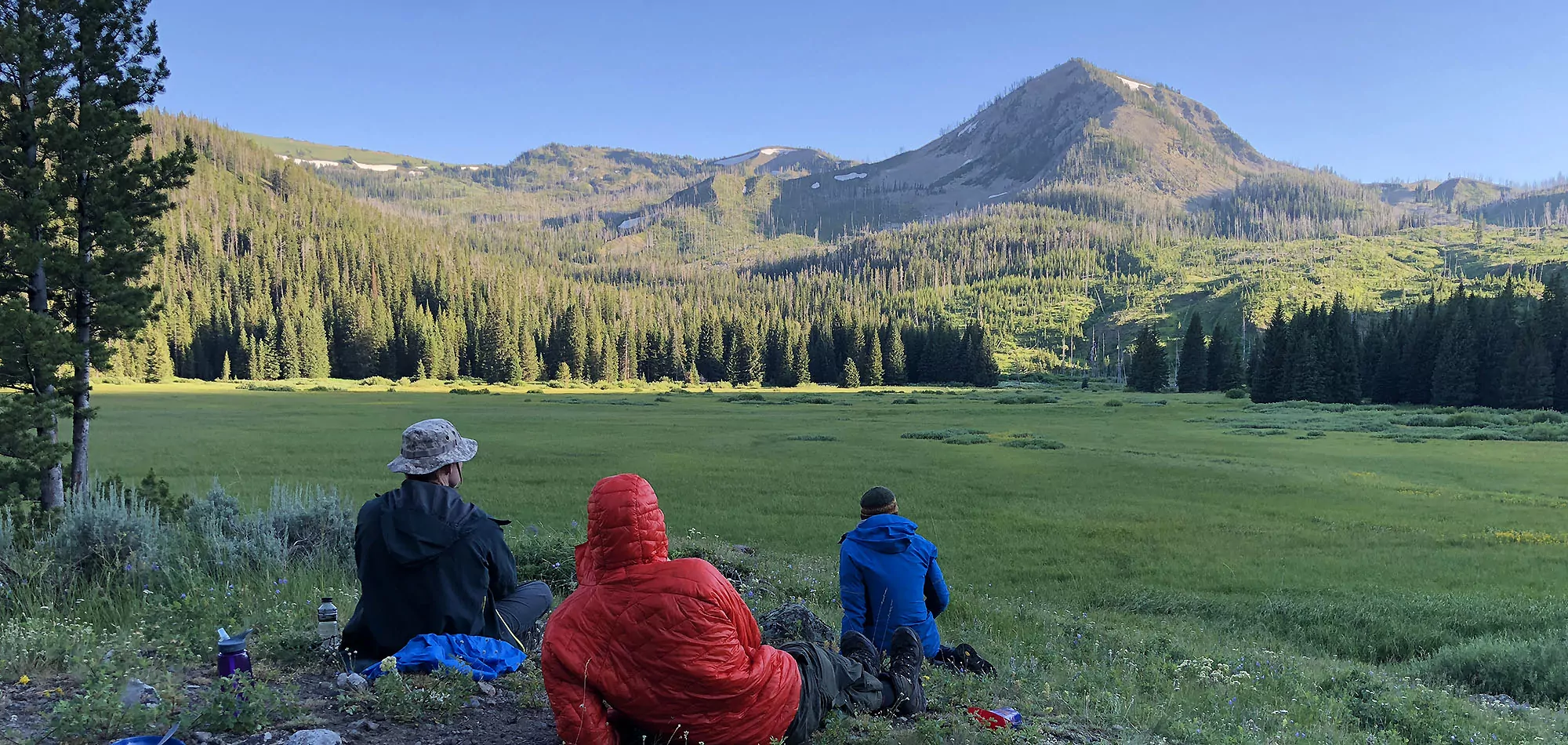 Visit On Your Own or With a Tour Company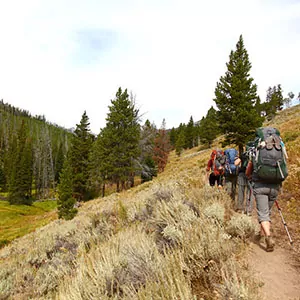 Many visitors decide to explore Yellowstone on their own, and many decide to go with a guiding company; both are fantastic options. If you are interested in experiencing the park on a more off-the-beaten path, learning as much as possible about the history and ecology, and avoiding the stress of planning a National Park adventure by yourself, then going on a guided tours is the best option for you. If you like the thrill of planning your own trip, being on your own watch, and researching the best trails, then visiting on your own may be the best for you.
Join a Guided Hiking Adventure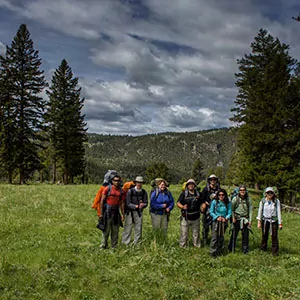 Yellowstone National Park is home to some of the most epic and amazing hiking vacations in the world. Wildland Trekking offers trips with the best of Yellowstone: geysers, waterfalls, views, wildlife, solitude, adventure and fascinating natural and cultural interpretation.
Guided Yellowstone treks are all-inclusive which covers permits; local transportation (excluded on certain tours); meals; equipment; safety systems and professional hiking/wilderness guides; all of which allows visitors to maximize their time in Yellowstone and focus entirely on enjoying the Park.
YELLOWSTONE ADVENTURE TOURS