All About Hiking with Llamas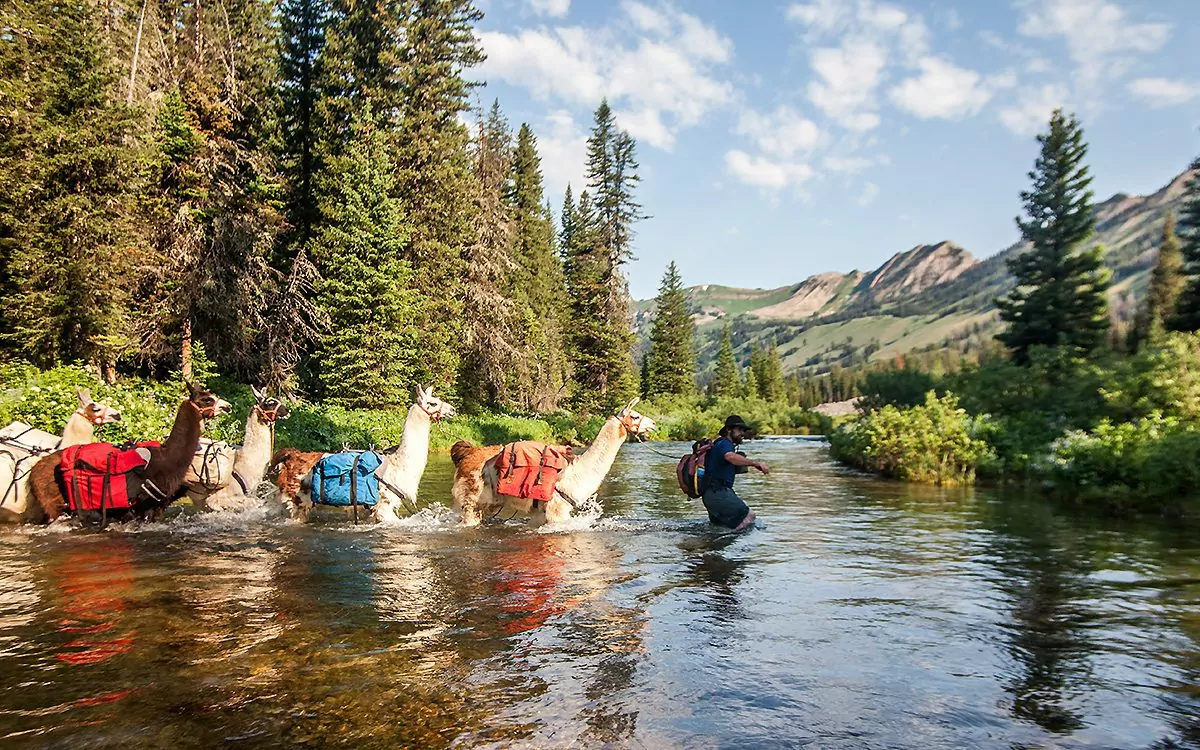 It's not every day that you run into a string of llamas out on the trail. Horses and mules? Sure. But llamas? Not so much. These seemingly out-of-place creatures are pretty new to the packing scene. However, their popularity as pack animals is growing, and for a good reason.
In this article, we dive deep into the subject of hiking with llamas and explain why it is a wonderful, fast-growing way to explore the backcountry. Bringing this information to you are the folks from North America's largest llama breeding organization, Wilderness Ridge Trail Llamas (WRTL). WRTL supplies llamas for all Wildland Trekking llama trips, and they are also part owners of Wildland Llamas (the affiliated company that runs Wildland llama treks in Yellowstone, the Tetons, Utah, and Colorado.)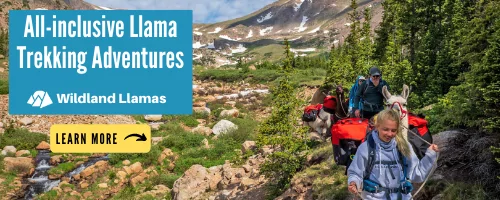 Why Hike with Llamas?
The Ccara Llama (yes that's actually how you spell it!) is the ideal companion for packing in the mountains. Native to the Andes Mountains and selectively bred for centuries by the Incas, these beasts of burden have been packing for over 5,000 years. So what makes them so special? Let's dive right in.
Trail Impact
Rather than having hooves like horses or mules, a llama's foot has soft pads that are similar to that of a dog. The benefits of a soft-footed pack animal particularly shine in off-trail scenarios, where tour operators should minimize their impact as much as possible and on muddy trails that are susceptible to erosion.
It's no fun to hike on torn up trails. Often, when trails are worn down by overuse, trail users skirt around particularly bad sections, widening the trail corridor even further. With llamas, all of these impacts are minimal when compared to other types of stock animals.
Feed
Llamas are considered "browsers" and will munch on natural forage throughout the day. These guys aren't picky, and you will often catch them eating anything from sagebrush to tree bark. Llamas require far less feed than horses or mules. In fact, in particularly lush areas, your herd can subsist on natural forage. However, we recommend bringing along some supplementary pellets just in case. One pound of pellets per llama per day typically suffices, which is quite manageable. As an added bonus, a llama's digestive system breaks down most seeds, preventing the spread of invasive species. Plus, it's low-odor (and a great fertilizer!)
Ability
This is where the Ccara Llama — "working llama" — really shines. These guys were born in the rugged mountains of the Andes, so they have an evolutionary edge to handle a wide variety of terrain. Their soft, two-toed feet give them grip and stability, while their athletic build gives them strength and stamina. Weighing 350-420 pounds, these mighty animals can carry 20-25% of their body weight through tough mountainous terrain. Mountain pass? Bring it on. Uneven, off-trail terrain? No problem. Snow? Show us the way!
With the proper breaks, a healthy, conditioned llama can do it all. Of course, they must be bred for work. Pack llamas should have proper training and conditioning, and be provided with enough feed, care, and the right pack equipment.
Temperament
Llamas are EASY. Never been around livestock? This is the same for most of our guides when they start working for us. On their first day of "llama training," our guides are so hesitant about llama packing, and their faces tell all. But by the end of the first day of llama training, they feel comfortable managing a string out on the trail. Most well-trained llamas don't kick, don't spook easily, and they follow on lead instinctually. Therefore, they are great companions for novice packers and families with young children. Their colorful personalities add a special element to any backcountry adventure – I can't recall anyone not bonding with their llama during our time in the field.
As an added bonus, they offer some peace of mind for camping in bear country. They often sense danger well before humans do, and will alert you to it with a very unique "alarm call." Most animals (bears included) want nothing to do with a herd of large, unfamiliar animals, and they will generally leave them alone. Some llama packers even pitch their tents amongst their llamas as a form of bear protection!
But don't they spit??
Well, technically yes. BUT llamas spit at llamas, not people. A well-trained llama may spit at his fellow llama buddies, so just make sure to not get caught in the crossfire. If you get a llama to spit directly at you, you've likely asked for it and have ignored some pretty obvious warning signs!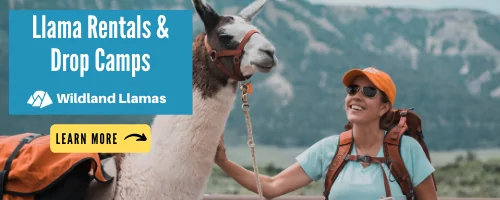 Llamas vs. Horses

Since llamas are fairly new to the packing scene, the question of horses vs. llamas is raised pretty often within the packing world. There are certainly pros and cons associated with both animals, so let's break it down:
Llamas
Pros with using llamas:
Less impact to trails and vegetation
Lower feed and water needs
Naturally weed-free manure
Sure-footed in technical terrain (if you can travel through without using your hands, so can your llama)
Less susceptible to spooking
Quick and easy to saddle and throw panniers
User-friendly for those new to stock
Low maintenance and inexpensive
Kicking is rare, and if it does happen, it typically doesn't result in serious injury due to their soft-padded feet
Elk and deer typically won't associate them with humans like they would horses, making llamas more "stealthy" when it comes to choosing a pack animal to use for hunting or wildlife tours
Great camp guards
Cons with using llamas:
You're walking instead of riding (some may also consider this a pro!)
Can't carry quite as much (max is ~80lbs per llama)
They can spit (but typically only at fellow llamas!) A llama will generally only spit at you if it was raised incorrectly or provoked.
Horses
Pros with using horses:
You can ride them, which allows you to save energy while covering distance, plus it's a lot of fun!
They can carry a lot of weight
Riding horseback makes for easier (drier) river crossings
Horses undoubtedly reflect the spirit of the American West. You just can't quite feel like a cowboy while walking a llama, so if that's what you're after then horses are for you!
Cons with using horses:
Can spook easily
Being able to ride them means having to bring horses for both riding and packing
Tear up trails and vegetation
Limited ability in technical terrain
Manure can spread invasive weeds
Higher feed and water needs
Trickier to saddle and throw panniers
Kicking is more of a worry and could cause serious injury
Experience with horses is necessary
Expensive to own
Llamas vs. Horses Conclusion
Though they may not be right for everyone, llamas are pretty much a no-brainer — particularly for those new to packing or owning stock, hunters, and families. They are easy, low maintenance, hardy, and nimble. Personal preferences aside, there are just too many good reasons to go llama when thinking about using a pack animal. There's a reason they're catching on quickly!
Llamas vs. Backpacking

Don't get me wrong – backpacking trips are great. They're simple, affordable, and freeing. But what happens when you want to head into an area for over a week? What if your body can't handle what it used to? Maybe you love spending days out on the trail but just need a little more comfort. Whatever your grievance is, some llama buddies can take care of it.
Food
Personally, I'm a sucker for food. So naturally, to me, one of most attractive aspects of llama packing is the ability to stay out for extended periods of time without having to live on dehydrated meals. Imagine setting up camp 20 miles into the wilderness and breaking out a cooler full of fresh veggies, real meat, and cold beverages. Not to mention a table, 2-burner stove, and a dutch oven! After years paring down meals to save my back, it's safe to say I was sold after my first llama trip.
Gear
In addition to better food, you can also bring better gear. Tents and sleeping pads have certainly come a long way, but a roomier shelter and cozier pads never hurt, especially after a hard day of hiking. The extra gear capacity also comes in handy for shoulder season trips, when more layers and warmer, heavier gear is essential. It's also great for lugging in specialty gear, such as fishing or climbing equipment.
Backpack Weights
Lighter loads are huge plus when you bring llamas along. Carrying 40+ pounds for days in a row is fine, but there's no doubt that it can be unpleasant and rough on the body. I have a very distinct memory of hiking up a trail with half my body weight on my back. While noticing the sets of llama tracks that had come before me, I couldn't help but curse my giant pack while longing for my llama buddies. Lighter loads are hard to beat, particularly for older folks who want to continue recreating, those looking to get back into longer hikes and overnight after injuries, or small-framed individuals. Also, for families with kids, llamas offer the ability to get far into the backcountry without the parents having to carry ridiculous amounts of weight.
Llamas and Children

Seeing families out on the trail with small children is pretty awesome. In a time where kids seem to gravitate towards smartphones and tablets more than trees and dirt, exposing your kids to the outdoors is becoming all the more important. But as crucial as it is, getting outside with your children comes with challenges. How do you transport their gear if they're too small to carry their pack? What if they're picky about food? What if they get fussy about the sleeping gear? Well, as you might've guessed, llamas are once again the answer.
Are Llamas Safe for Kids?
You may be nervous to bring your kids along with a bunch of 400 pound animals, but you shouldn't be. There is just something about young children that llamas can sense. In the beginning of my llama journey, every time I saw a llama interact with kids I was surprised at how well they interact. Even one of our more "colorful" llamas seems to show his best side when kids are around. I once ran a trip in Yellowstone National Park where a 7-year-old girl, barely 4-feet-tall, walked her new best friend for all three days of the trip, no experience needed! Seriously, there is a reason we let families with young kids book guided llama treks. If we had any doubts, we wouldn't be doing it!
Make Their First Experience Great!
Having the ability to get your kids into the backcountry comfortably may make or break their introduction to the outdoors (and we wouldn't complain if the parents got some creature comforts as well.) The ability to bring cozy gear and better food certainly makes things easier for everyone. With all of that extra gear capacity, you can even manage to bring your littlest ones if you so wish! I ran into a family who had rented some of our llamas for a DIY excursion. They were — believe it or not — carrying their baby on their back in a child carrier backpack. That'd be a hard one to pull off on a backpacking trip! With llamas, you can start em' young.
Kids Love Llamas
Not only do llamas enjoy the company of children, but kids love them right back. How could you not? What better way to lure a reluctant kid into hiking than with a loveable furry hiking buddy. Hiking with their very own llama offers a distraction from tiring trails, a sense of responsibility, and the opportunity to form a very special bond. It is truly an experience that they will never forget.
Llama-Supported Fishing Trips in Yellowstone
Guided Llama Treks

At Wildland we offer guided llama treks in multiple locations, including the Greater Yellowstone Area, Colorado and southern Utah! Our trips are all-inclusive. No need to worry about the gear, food, or transportation. Just show up with your personal items and the rest is on us! Our guides are all medically trained and extremely knowledgeable about the local flora, fauna, geology, and, or course, llamas. All of the meals are made with fresh ingredients, and are catered to your dietary needs. Make sure to let us know if you have any special interests or celebrations so that we can personalize your adventure for you!
Yellowstone National Park
Between the abundant wildlife, rich history, and landscapes shaped by fire and ice, this park has got it all. Whether your passion is photography, fishing, or wildlife viewing, one of our nine itineraries has got you covered. Join us for an opportunity to soak in secluded backcountry hot springs, walk through meadows filled with wildflowers, and if you're lucky, spot bears or wolves! Make your reservation early though, as spots on these trips go quick!
Capitol Reef
Experience the beauty of America's desert landscapes by joining us on one of our Capitol Reef adventures. Our Capitol Reef Mesa trip is ideal for photographers, rock hounds, or archaeology enthusiasts. You and your llama buddies can hike up a mesa for sweeping views of the famous Waterpocket Fold, Grand Staircase Escalante, and the Henry Mountains. If trees and water are more your style, you can't go wrong with our Twin Lakes or Boulder Rim trips, which offer lakeside camping with plenty of opportunities to fish or swim! We'll even bring along some packrafts because, hey, we've got llamas!
Wind River Range
Ask any of our Greater Yellowstone Area guides what their favorite area is and they'll probably tell you "the Winds," and for a good reason. The glacially-sculpted towers, lake-ridden cirques, and wildflower-filled alpine meadows are like something out of a dream. With so many gorgeous sites to see, you'll want to stay for as long as you can. With the help of llamas, you can head in for up to seven days with fresh food and nothing but a day pack. Book any one of our three llama treks into this area for the trip of a lifetime!
---
Jackson Hole Area and the Tetons
Around Jackson Hole are several stunning mountain ranges, including the Gros Ventre, the Wyoming Range, and — of course — the Tetons. At Wildland, we offer llama treks to all of these incredible places. Our Tetons trips are on the west (Idaho) side of the Tetons instead of in Grand Teton National Park. Imagine sleeping below the towering rock buttress of the Grand Teton in a sea of wilderness teeming with wildlife, crystal clear creeks and rivers, and alpine lakes.
---
Grand Staircase-Escalante
This incredible national monument is chock full of wavy sandstone features, slot canyons, lush cottonwood-filled creek bottoms, and archaeological ruins. With some llamas to provide comfort and company, you can explore all the many wonders that this unique area holds. After a long day of exploring, enjoy a hearty meal and a sky full of stars!
Rocky Mountain National Park
Rocky Mountain National Park is in many ways the heart of the Colorado Rockies. With its signature 14er – Longs Peak – towering above the Front Range and the beginning of the Great Plains, Rocky is truly unique. With abundant waterfalls, wildlife, river, creeks, alpine lakes, and even glaciers, this national park has it all! A Rocky Mountain Llama Trek allows you to explore farther into the Rockies, see more and escape the crowds.
Yellowstone Llama Drop Camps

If you're more of a DIY type person, and you like the idea of cushier camping but don't want to deal with having to look after the animals, drop camps are a great option. With this option, we pack in the gear and set up camp for you ahead of time so that you can enjoy some amenities in the backcountry without the need to look after stock animals.
You can rent llamas to set up camp by yourself, or you can give us a call and we will drop a camp for your group. Whether you do it yourself or we give you a hand, it's a great option for hunters, peak baggers, families, and expedition groups.
We offer this service exclusively in Yellowstone National Park.
Renting Llamas

Renting llamas is another excellent option. Whether it's for hunting, fishing, or just plain exploring, renting is a great solution for anyone looking to do some packing – no experience necessary.
Renting llamas implies you will be planning your entire trip, and you should be aware of some considerations. When beginning to plan a llama packing trip, we recommend keeping the following points in mind:
Picking Your Itinerary
First off, let's think about trip itineraries. When planning a llama trek, you'll first want to take a look at any restrictions regarding stock for the area where you're traveling. Make sure that llamas are allowed (most places allow them,) and that you are familiar with any restrictions on grazing and animal retention (i.e. how you'll restrain them when you're at camp or breaking on trail.) Things can vary between forests, so don't assume! Being a good steward is important to us as a company. It sets a good example for others and ensures that we'll be able to enjoy packing with llamas for years to come.
Planning Campsites
In addition to looking into rules and regulations, you'll also want to have an idea of where you may be setting up camp. Each llama will get staked out on a 20 foot lead at the campsite, so you'll want to seek out camp spots that will have enough space for your llamas. Try to choose spots with good forage and nearby water. Watch out for toxic plants (you'll need to be aware of a few, which we go over during our Llama Rental Clinics,) and make sure there aren't a bunch of things for your llamas' leads to get snagged on. Familiarize yourself with Leave No Trace ethics and local restrictions if you haven't already so that you know how far from streams, lakes, and trails you need to be. If you'll be traveling in bear country, make sure you have a good understanding of food storage and kitchen/sleeping arrangements!
Length of Days
Having a clear idea of where your camps will be is essential part of figuring out how long your travel days will be. Try to plan it out so that your days are shorter than 12-14 miles. Your llamas and your fellow group members will appreciate this! If you do have to do a long day, try your best to make the following day a bit shorter. Our llamas are capable of multiple long days in a row, but it's always better to reduce the strain on them if you can help it. Also keep in mind that the longer the trip, the more food you'll need to bring, which either means simplifying your menus or renting additional llamas.
How Many Llamas Will I Need?
The purpose of your trip will, of course, impact your llama logistics. Generally speaking, one llama per person does the trick. As group sizes increase, you may not need quite as many llamas. If you'll be packing in for over a week, however, you may need an extra llama to carry more food. Hunters should factor in the gear they'll need to bring in, along with the meat they'll (hopefully) need to pack out in order to figure out how many llamas they'll need. It really depends on what gear you'll need, how long you're going for, and how many people are coming along. Luckily, we are here for you and will help you figure out just what your needs are.
Moving from Backpacking to Llamas?
If your backcountry experience is limited to backpacking, you're in for a treat. You can leave the Whisperlite behind and bring along some heftier kitchen equipment. We typically bring along a 2-burner stove, roll-a-table, and camp chairs, along with a good set of pots and pans (or even an aluminum dutch oven by GSI!). For food storage, 30-gallon coolers work great in our panniers, and our llama buckets are great for packing dry food (and can double as a trash can once they're empty!) If you've ever car-camped or been on a river trip, the gear for llama packing is fairly similar. Again, we are here to help and are happy to go through the planning process with you. We've also got gear to rent if you are in need of anything.
Next Steps
Once you have a plan in mind, give us a call and we will get you set up. Any first-time renters are required to attend one of our four-hour Llama Clinics, even if you have previous llama experience. You can book these clinics any time of the year: they will cover all of the basics from llama behavior and handling to how to saddle and throw panniers. We'll go through all of the llama gear included in your rental and how to use it. We can also discuss how to transport your llamas to and from the trailhead. If you have any questions about anything at all, the clinic is the perfect time to ask them!
Llamas-Supported Hunting Trips by Wilderness Ridge Trail Llamas

For me, hunting was the catalyst that got me into llamas. There's a reason the Wilderness Ridge Trail Llamas motto is "Go Farther, Stay Longer, and Hike Harder". Though some purists out there prefer the simplicity that backpack hunting offers, using stock for hunting comes with a lot of benefits. You can hunt hard to reach areas for longer periods of time, and easily pack out game without having to leave anything behind. After hunting with horses, mules, and goats, we decided that llamas are, once again, the answer.
How Much Can They Carry?
Llamas can certainly pack more weight than a goat, and although they can't carry as much weight as a horse, a well-conditioned llama can still haul out a 100+ pound load on a one-off day back to the truck. Generally speaking, it takes about three strong llamas to pack out an elk, or one llama to pack out a deer. Some might worry about them being bothered by the smell of dead game, but we have had them pack out just about every western game species with no issues.
Game Reactions to Llamas
Because hunters have been using horses for centuries, game typically associates horses with humans. This is not the case with llamas, and, in fact, can be quite the opposite. Most animals have never seen a llama, and are oftentimes curious about the strange-looking creatures. If anything, these guys are an attractant. I've even heard stories of hunters hiding behind a llama to get in close to an elk!
Llamas in Rugged Terrain
One of the biggest advantages llamas have over other types of stock is their ability to handle rugged terrain and varying weather conditions. This allows you to access areas that other stock simply can't get to, which opens up opportunities to hunt low-pressure areas. Having come from the rugged Andes Mountains, llamas are specifically adapted to handle rough terrain and extreme weather. We have taken our llamas up and over rocky passes, in knee-deep snow, and through deadfall-ridden forests. They've accompanied us on anything from -20-degree elk hunts to 100-degree antelope hunts. You need to take careful consideration when reaching the extremes on each end. Though doable, it takes planning and proper mitigation methods.
Low Maintenance Animals
So what happens when you get to camp, or when you head out to hunt for the day? Well, not much to be honest. Llamas are low-maintenance animals. Once at camp, all they need is a place with forage to be staked out in, a bucket of water, and maybe a scoop of llama pellets. Just check on them once in the morning and once at night and you are good to leave them in camp while you hunt. Often, we will bring the llamas with us while we hunt. After a few days in camp, they get bored. And let's be honest, we miss them.
If pack llamas sound like the perfect addition to your next hunt, then you are in luck. These user-friendly animals are easily rentable, no guide needed, and no experience required. Plus, if you come to find yourself hooked upon returning from your first trip with llamas, you'll be happy to learn that they are pretty easy and affordable to own as far as owning stock goes! We sell a few of our llamas each spring and fall.
Premier USA Llama Treks
Wildland LlamaS Trekking Adventures
As the world's premier hiking and trekking company, Wildland believes in connecting people to fantastic environments in amazing ways. Wildland Trekking Company offers an array of incredible hiking and trekking experiences in 9 states and 11 countries. Read more about our world-class destinations.
To learn more about our guided llama treks and all of our award-winning hiking vacations, please visit our website or connect with one of our Adventure Consultants: 800-715-HIKE.