All About Visiting Yellowstone in September
The benefits, drawbacks, activities and other features of visiting Yellowstone in September.
Updated: 09/02/22
September is a spectacular time to visit Yellowstone National Park. The summer crowds begin to disappear, and you have a real chance for solitude and phenomenal wildlife viewing. There are many benefits to visiting in September, as well as some drawbacks. Read through the categories below to determine if September is the best time for you to visit the park!
Benefits of Visiting in September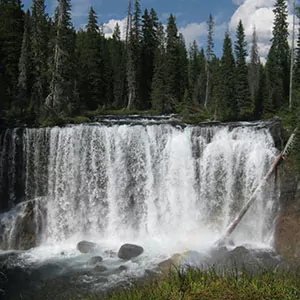 The biggest benefit to visiting in September is the lack of crowds. September marks the official end of summer tourism, so there are a lot fewer people in the park. While the park will not be as empty as it will be later in fall, the lines of traffic with be substantially lessened, especially after kids have gone back to school for the fall. Accommodations will probably be more readily available and less expensive than at peak season, making visiting and staying inside the park both less stressful and more affordable. Without the longs lines of traffics and incredibly crowded famous sights, the park is much more enjoyable in September and is a great shoulder season to visit Yellowstone. Additionally, the fall colors are abundant at end of the month. Most of the park is made up of lodgepole pines, which don't change colors with the season, but there are many pockets of aspen trees throughout the park. Their bright yellow leaves shimmer in the sunlight and are a treat for visitors in autumn.
Another benefit of September is the wildlife viewing as it is mating season for many species of wildlife in the park. Elk move north to areas like Mammoth Hot Springs and the Madison River for their mating, called the rut. Bull elk are often seen defending and fighting for their harem, and their bugling can be heard echoing off the mountainsides. This iconic elk call– varying from a high pitch whistle to a low, almost growling kind of sound– is quite a wonder to hear in the park. Many visitors see the bull elk clashing against one another, fighting for harems of females, their antlers interlocked as they but against each other. It is also the mating season for Bison in the Hayden and Lamar Valleys. Instead of forming harems, both male and female bison all remain in a large herd with the bulls clashing with their horns and the winner taking a female aside to mate before returning to the herd. These massive groups of animals are remarkable to see, but make sure to stay at 25 yards away all animals you see to not be perceived as a threat, especially during this time of year.
September is also a phenomenal month for hiking and backpacking Yellowstone! The bugs are gone, the crowds are mostly gone, temperatures are still fall-like, and the backcountry is ripe for exploring. With permits easier to get ahold of with the fewer crowds, the backcountry is remarkable in September as the fall colors are gorgeous, the wildlife is abundant and the solitude is refreshing and peaceful. Fishing season is still open during this month and the trout are beginning to bite again as the weather cools, so grab a fishing license and your rod before heading out to try your hand in one of the many rivers and lakes.
Drawbacks of Visiting in September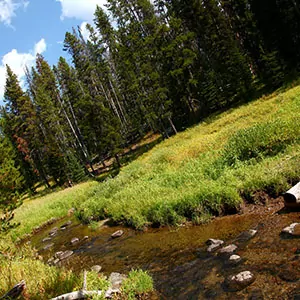 The biggest drawback to visiting the park in September is that some facilities, including campgrounds and lodging begin to close throughout the month. There are many that remain open, but Lake Lodge and Roosevelt cabins close at the beginning of September, and Old Faithful Lodge and Grant Village close at the end of the month. Boating on Yellowstone Lake also closes near the beginning of the month. You can read Yellowstone Lodging's closing dates before planning your accommodations. So while the crowds are lessened in September, the closure of additional accommodations has the potential to make the ones that are still open closer to capacity than they might be otherwise.
The weather is September can be either a benefit or a drawback to the month depending on the year. Snow over labor day weekend is not unheard of, but neither are temperatures in the high 70s. This leaves visitors that plan months in advance in a sticky situation as you are not sure what weather to pack and prepare for. Many guests enjoy the cooler weather that fall brings as a relief from the warm summer, but September is not to be underestimated, even if adverse weather is uncommon. Visitors should bring warm layers, at least for the evenings so that you will be able to enjoy some of the after dark activities without being cold. It is also important to keep in mind that while all the roads are scheduled to remain open during September, an unexpected snowstorm or other adverse weather such as flooding can cause unexpected road closures. Another drawback is that the days are getting shorter and if you only have a few days, you may have to get up early to be able to see everything that you want to see. Yellowstone is a large park with long drives between locations even if there isn't any traffic so make sure to put your routes into the GPS beforehand or ask a ranger than long it will take to drive to a certain location before getting in the car and heading that way.
Things To Do In September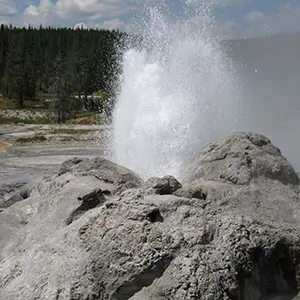 September is a great month for sightseeing in Yellowstone. The activity of the  hydrothermal features does not vary throughout the seasons, but the lessened crowds will make seeing these features even more magical. Sit back at Old Faithful or wander around the sparely populated boardwalk to see these vents, geysers, and springs steaming, spewing, and bubbling. Wildlife viewing is also very popular in the park in September. Both bison and elk are mating this time of year, which provides excellent opportunities to see them in most areas of the park. The elk gather near Mammoth Hot Springs while the bison are generally in the Lamar and Hayden Valleys. Bears are still out and about for the season and can be seen beginning to put on fat stores for the coming winter. September is also the time of the year that wolves return to lower elevations as the temperature drops as the low country becomes comfortable for them and their prey has moved to the valleys to mate. Yellowstone is the best place in the United States to see wolves and the best time is between dawn and dusk in Lamar Valley.
Both hiking and backpacking are world-class in September and most of the trails are still available even at higher elevations were there is not yet snow. Since the aspen trees are glistening gold in the autumn light, it turns even a short hike into something special. There are a variety of trails in the park– over 1,000 miles worth in fact– so there is something for every experience level. From short strolls along a board walk or the shores of Yellowstone Lake to mountain treks up to one of the many peaks or into the backcountry, you won't regret getting out on the trails. While hiking offers solitude of its own, backpacking in the high country is like nothing else. Hoisting everything you need to live on your back and venturing into the wilderness gives visitors the opportunity to immerse themselves in Yellowstone and experience the ecosystem as few get to.
Fishing is also great in many of the rivers in September; as the water cools, the trout are beginning to bite again. The Madison River as well as Gardner and Yellowstone rivers are great options for fishing when it's cooler. Night and star photography are very popular options, as the nights are not quite as cold yet as later in the fall. There are also plenty of options if the weather prevents you from being outside, even if it's just a heavy rain storm. There are many bus tours that go around the park even though the park has no official shuttle bus service. These tours will take you to many of the different parts of the park from the comfort of a heated bus. The park also has many visitor centers in the different villages, many of which have museums as well, that provide excellent interpretive information about the park and the surrounding region as well as historical information about its indigenous and volcanic past. Outside the west entrance of the park lies the Grizzly and Wolf Discovery Center, an accredited, nonprofit zoo that houses grizzly bears and wolves and lets you see these amazing creatures that live in the park up close.
Things to see in September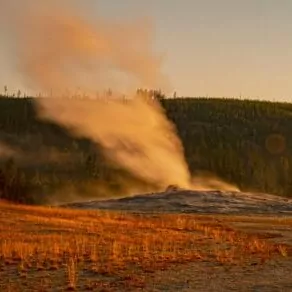 Yellowstone is full of sights to see in September and unless you have a good amount of time in the park, you probably won't be able to get to see all of them. Take a look at the list below to see what piques your interest, but make sure to do your own research on what you want to see in the park.
Old Faithful: No matter how many times you've seen it, you have to stop and see Old Faithful on a visit to Yellowstone, the most famous geyser in the world. While many geysers are unpredictable and not do erupt frequently, Old Faithful has lived up to its name and has only varied in eruption time 30 min in the last 30 years. You are sure to be wowed at this iconic Yellowstone geyser that spews hundred of gallons of boiling water 130 ft in the air.
Grand Prismatic Spring: Know for its vast size and rainbow colored water, Grand Prismatic Spring is Yellowstone's largest and one of the most acidic hot springs. Filled with billions of micro organisms that gives the waters their color, this springs provides guests a boardwalk area and an overlook trail. Hold onto your hats though, as this area is always windy.
Norris Geyser Basin: The oldest, hottest, and driest of the geyser basin in the park, Norris Geyser Basin should definitely be on your list of must-sees. This basin is full of many, many geysers and is home to the tallest geyser in the world: Steamboat Geyser that spews water 300-400 ft in the air. With fewer crowds and an extensive boardwalk system, you won't want to miss this amazing collection of hydrothermal features.
Fall Colors: While Yellowstone has many evergreen trees such as the lodgepole pine that blankets many of the mountains in the park, there are some trees that change color with the season and are a treat for the visitors to see. Golden aspens, red-brown shrubs, and bright yellow grasses in the valleys all gives the park those signature, warm fall colors that are so characteristic of this season.
Mammoth Hot Springs: This area is a must see in September for more than one reason. First, the hot springs themselves are unlike any other in the park, built on terraces of white and burnt orange that have been described as more beautiful than any fountain man could design. In addition, however, the Mammoth area is where many of the elk congregate for the rut, their mating season. Visitors will hear the classic bull elk bugle in this area and may even catch a glimpse of elk head butting with interlocked antlers, fighting for females.
Llama Treks in setpember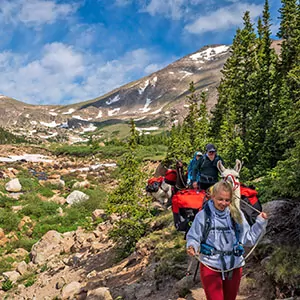 Llama treks are fantastic in September and offer the ability to explore the backcountry of Yellowstone with minimal impact and maximum comfort. Each llama can carry 70 pounds of gear and supplies, so guests get to hike with light day packs. Options range from 3-day trips to 6-day trips and feature waterfalls, wildlife, vast meadows and stunning scenery. If you'd like to enjoy the benefits of a llama trek but aren't interested in a fully guided adventure, you can also rent llamas or hire Wildland Llamas to provide a drop camp for you, which is a service where the outfitter carries in your supplies and helps set up your camp but do not provide a guided trip.
Some people wonder why Wildland Trekking uses llamas instead of horses on our all inclusive trips and offers llama rentals. Llamas are fantastic stock animals for a multitude of reasons and many people believe that they are better than even horses. The largest difference is that you are leading a llama instead of riding a horse. Some people see this as a benefit and some see it as a drawback. But llamas have other benefits such as being able to handle more technical terrain, having a lesser impact on the environment, having an easy temperaments that is less prone to spooking, and serving as a camp guards. This last item is especially useful in bear country. Llamas will sense danger and give a warning call long before humans do, but more importantly llamas are not native to North America in thus the native wildlife do not associate them with human activity as they would horses. Even larger predators– like grizzly bears and mountain lions– are likely to leave a herd of large, unfamiliar animals alone, so much so that some backpackers pitch the tent among their llama herd as a form of bear deterrent. Plus, many guests have found that llama's quirky personalities provide enjoyable company to hikers. On Wildland llama treks, you can either choose to lead a llama or to hike without one. These animals allow for longer trips into the back country as you get to hike with a lighter day pack and have more creature comforts around camp that your llama can carry for you. You can read all about hiking with llamas and what your experience will be with these animals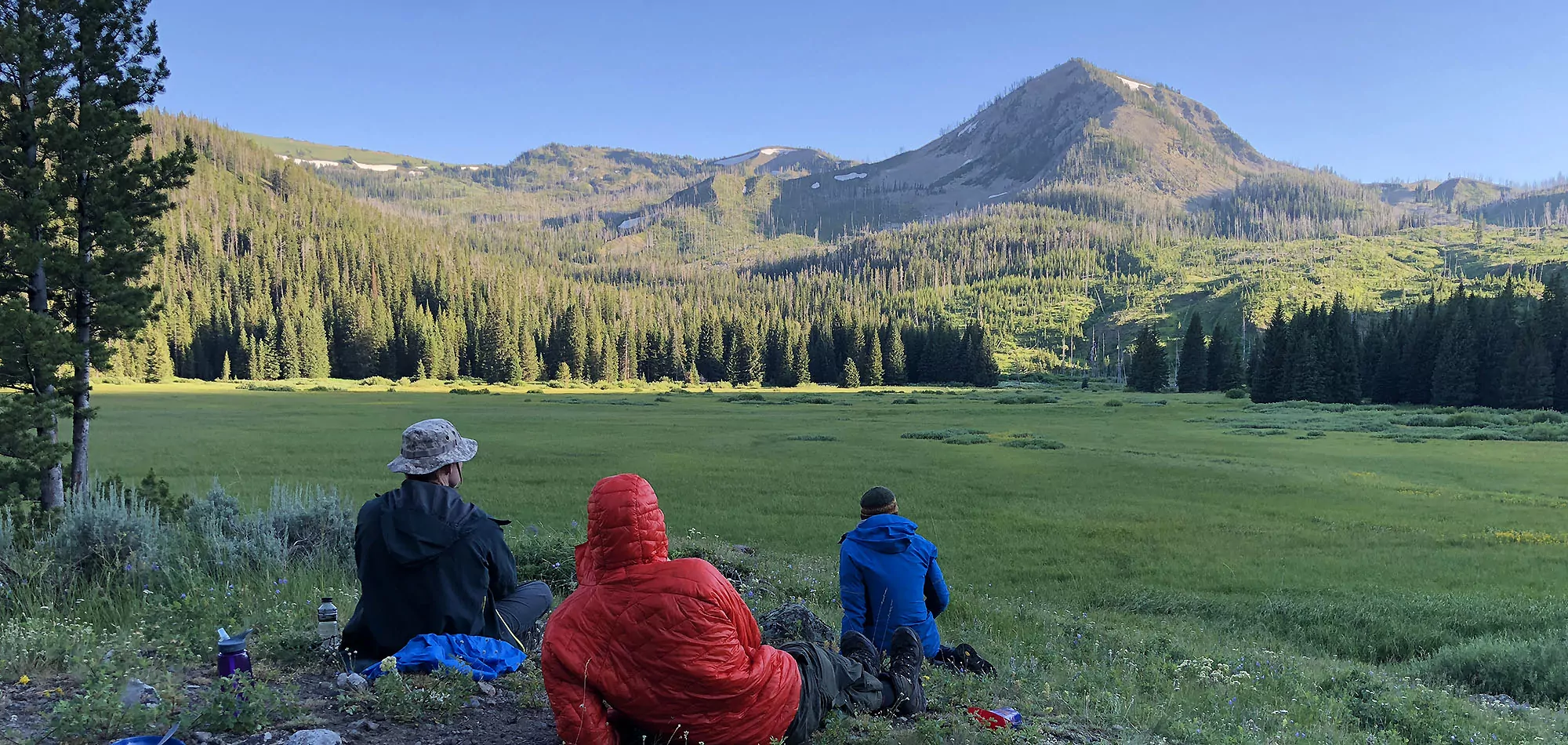 Hiking in September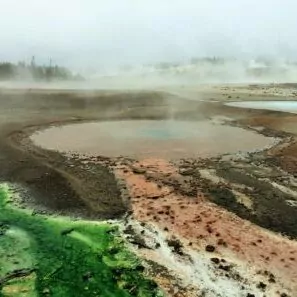 Hiking is ideal in September with the abundant autumn foliage, the bison and elk rutting, and the cooler temperatures. You can read about the best locations to see wildlife before setting out on the trail. There are less people in the park this time of year, so you could experience solitude on your hike. Even in the more populated areas, you are likely to find fewer crowds and more enjoyable walking in September than you would earlier in the year. Most of the geyser basins have boardwalks within the 1 to 2 mile range that are entirely flat and perfect for those who want a leisurely stroll around some of the parks most astonishing features. Norris Geyser Basin and Upper Geyser Basin where Old Faithful lies are great options for short walks among these astonishing hydrothermal features. The shores of Yellowstone lake are also a great option if you are looking for a flat walk that you can make as long or as short as you want. If you're looking for something a little bit more challenging, the hiking around the Grand Canyon of Yellowstone is a great choice with the Seven Mile Hole Trail and the trail to Red Rock Point both being great options. There is also walking along the rim of the canyon that will bring you to many of the viewpoints that give you views of Yellowstone falls. There are many trails that branch off from famous sights up to overlooks where you can see these areas from a different angle. Old Faithful has a fantastic short hike that leads you up to an overlook where you can see many of the geysers in the basin including Old Faithful. Grand Prismatic Spring also has an overlook trail which can be continued on a hike up to Fairy Falls, a stunning sight. There is also lots of hiking in the Lamar Valley, where you can see wildlife and stunning scenery in this low land paradise. Wildlife such as big horn sheep, mountain goats, and pronghorn along with bison and elk can be seen in this valley. Patient visitors may also get a glimpse of one of Yellowstone's resident wolf packs.
Hikers anywhere Yellowstone should be cautious and be aware of any dangers that they might encounter. Wildlife and hydrothermal features pose threats to those even out on day hikes, so it is best to give both of these a wide berth as animals may be aggressive if approached and hydrothermal areas may not have boardwalks that make walking among the features safe. The biggest danger to hikers, however, is weather. As the park moves toward late fall and winter, the weather can change quickly and violently. Afternoon thundershowers are not uncommon and the temperature drops quickly after the sun goes down. Hypothermia is a very real danger even if the temperature is not below freezing. Most cases of the hypothermia in the park occur the when the temperature is between 30° and 50°F. Carry rain gear and warmer layers and make sure to put on those layers before you get wet and/or begin shivering. Also be aware of ice on the trails/roads if it has rained in the passed day as below freezing temperatures overnight may have frozen the rainwater and created slippery conditions.
Backpacking in September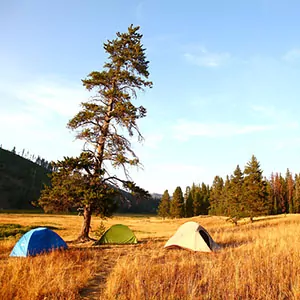 Backpacking is incredible in September, and permits are easier to obtain in the fall as the crowds thin. Spending the night under the golden aspens and brilliant stars in Yellowstone National Park is unbeatable. Few visitors to the park have the time or ability to venture into the backcountry to immerse themselves in the wilderness, so take advantage of this opportunity if you have it. Even though the park is moving toward fall and winter, the chance of snow in September is significantly less than it is in October or November, so backpacking trips are still very much like they are in the summer. The nights will be a little on the chilly side, but you don't need to worry about severe weather except what you might encounter in summer: heavy rain storms and high winds.
With literally hundreds of miles of trail to chose from, there is sure to be a backpacking itinerary that fits your desires. Whether you are looking for fishing and pristine lakes and rivers, wildlife viewing and low lying meadows, or mountain peaks and deep canyons, Yellowstone has everything you could want out of a backpacking trip. A rather popular option is a backpacking trip from Heart Lake to Snake River that that includes geothermal vents without the boardwalk or the crowds, gorgeous lakeside camping, great opportunities to see wildlife, and of course the majestic Snake River. This trip is at minimum 4 days, but can be made longer if you want. A trek around Shoshone Lake also allows you to see a backcountry lake and a backcountry geyser basin in the same trip. The trail can be done either as a through hike or as a loop in around 5 to 6 days beginning at Lonestar Geyser Trailhead. This trip also provides excellent fishing and swimming (if you can stand the cold water), and many chose to spend a day or two at this location to relax.
Of course, backpacking in Yellowstone, even at the most optimal season, does come with some inherent risks. Bear country requires that visitors hang their food or bring approved bear resistant containers in order to keep bears away from human food. Follow good bear country safety guidelines and if you aren't familiar with how to camp, hike, and cook in bear country, read up on it or consider going with a guiding company that will brief you on procedures and provide appropriate gear. Also keep an eye out for backcountry hydrothermal features as these are not always marked and do not have the characteristic boardwalks. Many people have been severely burned and scalded to death by coming in contact with these waters so make sure to give them a wide berth.
Weather in September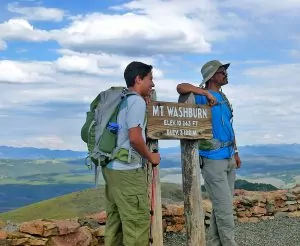 Yellowstone is a very large park with a wide range of elevations, so the weather you experience will depend greatly on where you are and what elevation you are at. Generally, however, the weather in September in Yellowstone is variable with warm days and chilly nights. The average temperature for Mammoth Hot Springs is a high of 68, and a low of 39 degrees Fahrenheit (20/ 4 degrees Celsius). At Yellowstone Lake, the average temperature is a high of 61, and a low of 31 degrees Fahrenheit (16/ -1 degrees Celsius). On average, it rains 5 days in September. Please note that these numbers are only averages and the park can receive much warmer or colder temperatures than this in September. Visitors should always check the weather in the specific area of the park that you are planning on visiting each morning. If you cannot find a weather page for that area, you can check the forecast at the nearest visitor center or ask a ranger about what weather they expect.
While September is usually warm and is typically closer to summer in weather than it is to fall or winter, the weather can still be variable and change quickly. Afternoon thundershowers and high velocity wind storms are not uncommon and visitors should be prepared with the appropriate clothing and gear. Snow is not out of the question in September, although it is very unlikely and guests should not have to prepare for snow conditions. If it does snow, most likely it is ruin one day of your itinerary and then melt the next, leaving the roads and the trails clear. September can be chilly during the evenings and the temperature drops rapidly after the sun goes down, so make sure you bring warm layers and rain gear, especially if you are camping or planning on doing any outdoor activities after dark. Be aware of the risk of hypothermia, as most cases of this in the park occur when the temperature is between 30° and 50°. Put on your warm clothing before you start shivering and break out your rain gear before you get wet, as this will help you to keep from getting chilled which is the first stage of hypothermia. Also be mindful of the elevation of the park and the extreme dryness of the mountain air. Many guests will feel that their breathing is heavier and will be out of breath sooner than they would at home after doing the same kind of physical exertion. Know the symptoms of altitude sickness if you are above 8,000 ft and understand what to do if you or one of your party starts showing symptoms. It is always best to be prepared for the worst weather you might encounter, so make sure to bring everything you might need to ensure that you enjoy your trip.
Wildlife in september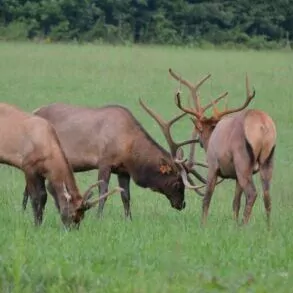 September is a great time for viewing wildlife in Yellowstone as both the elk and bison are in the middle of the rut, their mating season. This brings vitality and action to the wildlife scene and drives many naturalists and photographers from all over to witness this amazing season. Elk typically gather in the area around Mammoth Hot Springs where bull elk form their harems of 10 to 30 females. The smaller herds are separated from others, and male elk can be seen interlocking antlers with other males fighting over mates. The characteristic elk bugling during this time can be heard from miles away and often echoes off the mountains. Bison are also in their meeting season, but these animals often gather in the Lamar and Hayden Valleys. Instead of forming small herds like elk do, bison remain in large herds with the bulls fighting each other nearby and the winner taking a female away from the group to mate before returning. These large groups are wonderful to see and tussles between males of both species are impressive. Make sure to give these animals some extra distance during this time of the year, as the meeting season can make them more aggressive and territorial than usual. Both black bears and grizzly bears are still out for the season, foraging like mad to build up their fat reserves for the winter. September is also the season that the wolves return to the low country where their prey has gathered and because the cooler temperatures make the lower elevations comfortable for them. Lamar Valley is the best place to see wolves in Yellowstone, and Yellowstone is the best place to see wolves in the country. Make sure you take some time to search for these creatures from the road, even if they are far across the valley. Yellowstone is home to many animals that are elusive and are rarely seen by visitors. Mountain lions, bobcats, wolverines, badgers, red foxes, Canadian lynx, beavers, and river otters all live in the park, but take more patience see compared to the iconic elk and bison. If you're interested in seeing some of these animals, talk to a ranger about where the best place and the best time is to see other species and do some research online to see where you might encounter your particular animal.
RECOMMENDED Wildland trips in september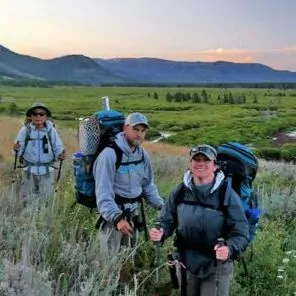 Planning a trip to Yellowstone in September can be a headache as you try to keep up with what accommodations are open and available, what the conditions will be, and what weather you need to pack for. But you can bypass all that headache by booking a trip with Wildland Trekking and letting one of our expert guides show you around the park. September is an excellent time for backpacking and llama treks, but we offer a variety of trips from the comfort of inn based tours to base camp trips and day hikes. And as a bonus, all of our trips are all inclusive so you don't have to worry about meals, local transportation, much of your gear, or any logistics as we'll take care of all of that for you. There is truly something for everyone here, so feel free to explore all the trips we offer in Yellowstone. But here are a few we especially recommend for September.
The Thorofare: If you're looking for a long distance backpacking trip in the heart of Yellowstone's wilderness, then this is the trip for you. Venture into the headwater basin of the Yellowstone River, the US's longest undammed river, and experience the heart of the backcountry like never before on this 7 day/6 night adventure. With opportunities for wildlife viewing, fishing, pristine wilderness, an amazing views, this is an adventure you won't want to miss out on.
Heart Lake Llama Trek: Llama tracks are a great way to venture farther into the wilderness with a lighter pack on your back, and this trip is no exception. Enjoy this six day adventure in Yellowstone's back country with a summit of Mount Sheridan, spectacular solitude, and a traverse down Snake River to Heart Lake, all the while accompanied by your amazing animal companions and an expert guide.
Best of Yellowstone Inn Based Tour: The perfect mix of luxury and rustic, this inn based trip is your way to see all the distinct places of Yellowstone national park without the headache of planning your own itinerary. Each day the group will set out on a day hike in a different area of the park, distinct from the previous day before settling down in your cozy national park lodge accommodations for the evening. With fewer crowds in September, this tour is a great way to see the best parts of the park.
Yellowstone Basecamp Tour: If you're looking to hike and camp, but not sure you want to get into the back country where there are no amenities, this base camp tour is a great option for you. This 5 day tour will it allow you to explore great swaths of the park on numerous day hikes, all the while knowing you have a cozy camp, comfortable sleeping accommodations, and a warm fire to come back to you in the evening. Experience the spectacular sites and sleep under the stars on this remarkable basecamp tour.
Join a Guided Hiking Adventure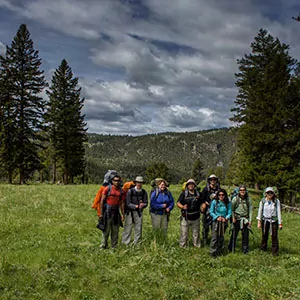 Yellowstone National Park is home to some of the most epic and amazing hiking vacations in the world. Wildland Trekking offers trips with the best of Yellowstone: geysers, waterfalls, views, wildlife, solitude, adventure and fascinating natural and cultural interpretation.
Guided Yellowstone treks are all-inclusive which covers permits; local transportation (excluded on certain tours); meals; equipment; safety systems and professional hiking/wilderness guides; all of which allows visitors to maximize their time in Yellowstone and focus entirely on enjoying the Park.
YELLOWSTONE ADVENTURE TOURS