All About Visiting Yellowstone in December
The benefits, drawbacks, activities and other features of visiting Yellowstone in December
December in Yellowstone National Park is a winter wonderland— it is absolutely magical. Nothing beats the snowy meadows, hot steam rising from a geyser to meet with the bitterly cold air, or an icicle-covered bison trudging through a white plain. There are many benefits to visiting in February, as well as some drawbacks. If you can make it to Yellowstone in December, you will have a great trip, and leave with an appreciation for the snow and solitude of winter in the park.
Benefits of Visiting in December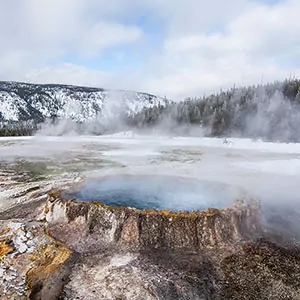 The biggest benefit of visiting in December is the wildlife viewing. Most animals make their way to the meadows and valleys because the high country is too cold in the winter. The high concentration of animals at lower elevation make it so much easier to view them—bison, bighorn sheep, wolves and elk are plentiful in the valleys.
Another benefit to visiting in December is the lack of crowds. The month of July sees 4 million visitors, while the entire season of winter only sees .3 million. Because there are so many less people, your chances for solitude grow exponentially. Visiting Yellowstone in the winter is an extremely different experience than visiting any other time of year; you will see the park in a way that very few people do.
Drawbacks of Visiting in December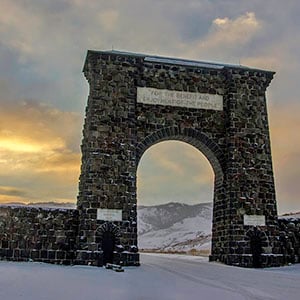 One of the biggest drawbacks to visiting the park in December is that most of the roads are closed to private vehicles. The only road that is open for visitors to drive themselves is the road from the north entrance, at Gardiner, to the northeast entrance, at Cooke City. Snow coach transportation is available if you want to get deeper in to the park.
Things To Do In December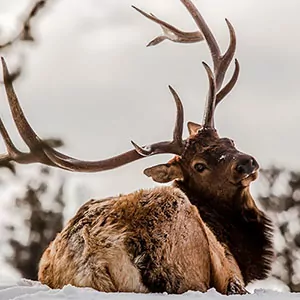 Many trails at lower elevation are open in the winter, giving you the chance to explore via snowshoe or cross country ski. Snowshoes and skis are available for rental at Mammoth Hot Springs and Old Faithful. Snowshoe tours and cross country ski tours are also available, and give you a unique perspective of the park—highlighting geysers, frozen waterfalls and abundant wildlife in snow-covered meadows; with the logistics taken care of, and with the knowledge from a Yellowstone expert.
Many companies offer snow coach transportation from any entrance of the park to Old Faithful or Grand Canyon of Yellowstone. Some companies also offer snowmobile tours, or the National Park Service has a lottery system for a Non-Commercially Guided Snowmobile Access Program —where visitors over the age of 18 can snowmobile through the park without a commercial guide. These are wonderful ways to explore the park further, since you can't drive the road yourself.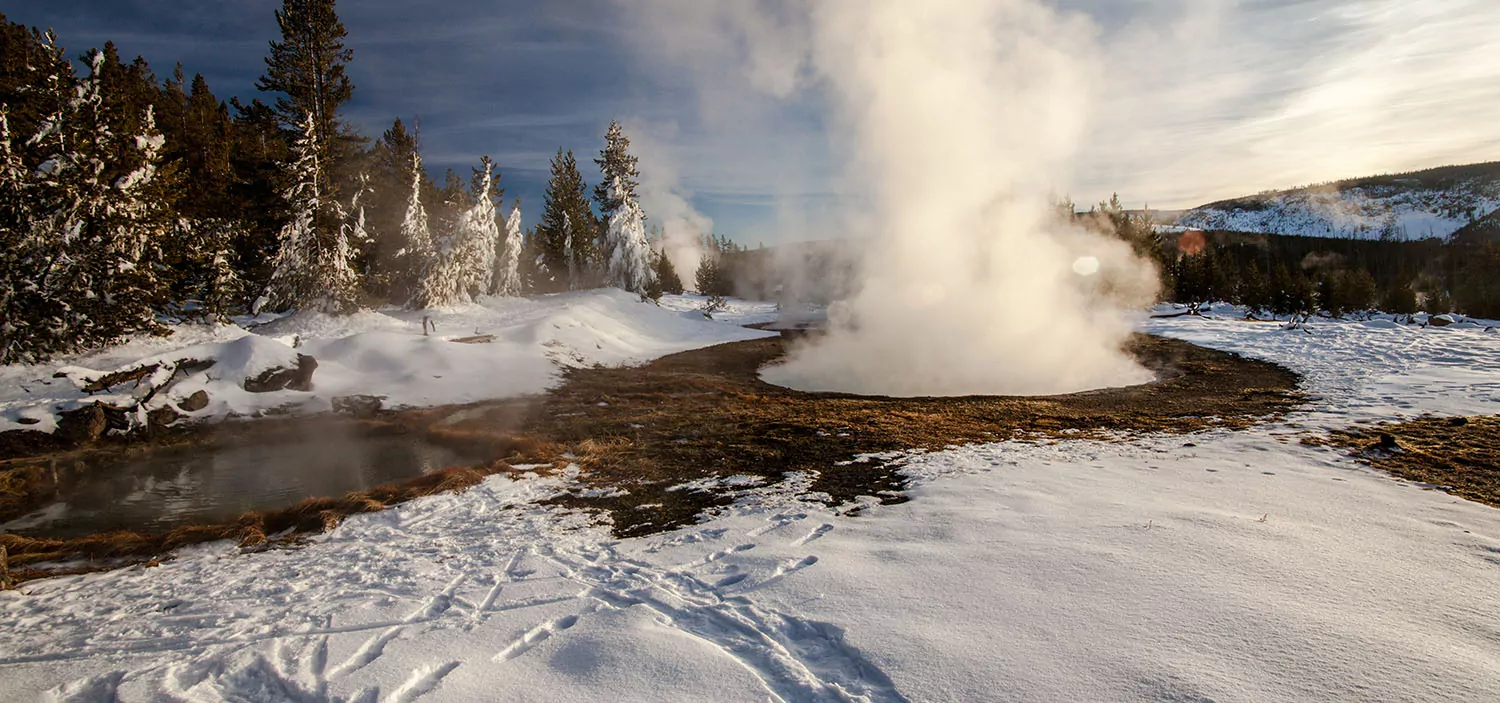 Hiking in December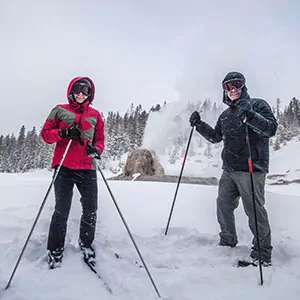 Typically, there is a lot of snow in Yellowstone in December, so you'll probably be hiking in more than just your hiking boots and trekking poles. Snowshoeing and cross country skiing are incredible ways to experience the backcountry of Yellowstone in the winter. Many trails are open for these activities in Mammoth Hot Springs, Old Faithful and Grand Canyon of Yellowstone. Winter guided tours are a great way to experience the park—with gear provided, and lodging and transportation included, you can relax and enjoy Yellowstone in a way that not many others do.
Weather in December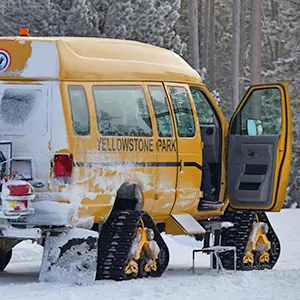 Weather in December in Yellowstone is typically cold and snowy. Average temperatures for Mammoth Hot Springs are a high of 30, and a low of 12 degrees Fahrenheit (-1/ -10 degrees Celsius). At Old Faithful, average temperatures are a high of 27, and a low of 0 degrees Fahrenheit (-3/ -17 degrees Celsius). On average there are 10 days of snow in Yellowstone in December.
Join a Guided Hiking Adventure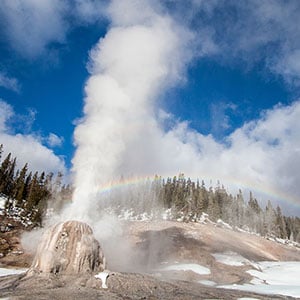 Yellowstone National Park is home to some of the most epic and amazing hiking vacations in the world. Wildland Trekking offers trips with the best of Yellowstone: geysers, waterfalls, views, wildlife, solitude, adventure and fascinating natural and cultural interpretation.
Guided Yellowstone treks are all-inclusive which covers permits; local transportation (excluded on certain tours); meals; equipment; safety systems and professional hiking/wilderness guides; all of which allows visitors to maximize their time in Yellowstone and focus entirely on enjoying the Park.
YELLOWSTONE ADVENTURE TOURS