All About Visiting Yellowstone in October
The benefits, drawbacks, activities and other features of visiting Yellowstone in October.
Updated 10/27/22
October is a phenomenal time to visit Yellowstone National Park. The summer crowds have all but disappeared, and you have a real chance for solitude. There are many benefits to visiting in October and some drawbacks. If you are able to make it to Yellowstone in October, you are sure to have a fantastic trip! Browse the categories below to determine if October is the best time for you to visit the park.
Benefits of Visiting in October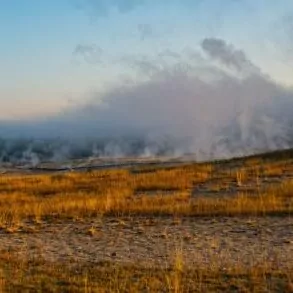 The biggest benefit to visiting in October is the lack of crowds. With fewer people, your chances for solitude grow exponentially. This means no sitting in long lines of traffic, no waiting in long lines for services or food, and no inching through a crowd of people to see the famous sights. Of course, the park won't be deserted, but you will have a much better chance of feeling immersed in the wilderness than in the summer months. Another benefit is that all the park roads remain open through October, except Dunraven Pass—the road from Tower Fall to Canyon Village- which closes in the middle of October. In contrast to winter months and even later in the fall during November, this means that you can access the entire park in your private vehicle without worrying about snow travel or closed roads. You can read the fall road closure information for year-to-year details.
While Yellowstone is in the mountains and many of the park's trees are evergreen, the fall colors are abundant at the beginning of October. Among the long stretches of lodgepole pines that don't change colors, many pockets of aspen trees are throughout the park. Their bright yellow leaves shimmer in the autumn sunlight and are a treat for visitors in October, especially at sunrise or sunset when the warm colors are already giving the park an orangey glow. It is also mating season for many species of wildlife in October. The elk move north to areas like Mammoth Hot Springs and the Madison River for their mating, called the rut. Bull elk are seen defending and fighting for their harem, and their bugling can be heard echoing off the mountainsides. Bull bison can be seen in Hayden and Lamar Valleys doing the same.
October also provides a respite from the peak season accommodation rates and availability. Summer comes with accommodations booked solid months in advance, along with peak season prices, but in October, things have begun to slow down, and you are more likely to be able to find something within a few weeks of your travel date. Most, if not all, of the trails, remain open this time of year. While temperatures drop rapidly after the sun goes down and the days get shorter as winter nears, hiking is still a great option in the cooler weather. Backpacking can still be done with a few additional precautions because of the weather.
Drawbacks of Visiting in October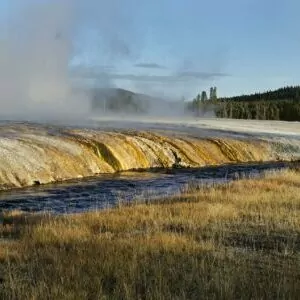 The biggest drawback to visiting Yellowstone in October is many campgrounds and facilities begin to close now. By mid-month, many summer lodges, campgrounds, and other accommodations are closed for the season and won't open again until winter when over-snow travel is available. This means that even though places like Old Faithful may have refreshingly few visitors, there may not be services at the visitor center or the eateries in the town. There are multiple village areas in the park, so check online to see when these areas close for fall if you are planning on eating or staying there. The Mammoth Hot Springs campground is open year-round, and you can also get backcountry permits all year. The road from Tower Fall to Canyon Village closes in the middle of October, but you can still take the longer route to get there.
Another drawback to Yellowstone in October is that the weather can pose some additional restrictions for visitors and is rather unpredictable. With highs in the high 40s, lows in the high 20s, and usually around ten days of rain, October can get some icy conditions on the roads and trails as the rainwater freezes overnight when the temperature drops below freezing. This can not only cause some changes to your itinerary if a road is unexpectedly closed but can also make for dangerous conditions on the roads and trails that remain open, forcing guests to be prepared for much colder and harsher conditions than those visiting in summer.
Things To Do In October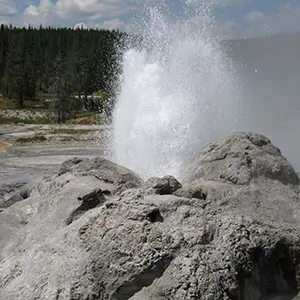 October is a great month for sightseeing in Yellowstone. The wildlife is out and about as mating season for elk and bison tapers, and they begin to prepare for winter. The huge amounts of food these creatures eat during October before the snow gives visitors an excellent opportunity to see large herds of ungulates grazing together.
Fall is a great time to view larger predators in the park. Bears are foraging and feeding like mad to gain enough fat reserves to sleep for the next six months. Conversely, wolves are not hibernators and have come down to lower elevations such as Lamar Valley as the high country becomes colder and the prey has moved down. While they may be far away across the valley, seeing a pack of wolves is one of the signature Yellowstone experiences, and many guests wait for hours with their cameras and tripods along the side of the road to get a glimpse of these creatures.
Winter sports aren't yet in season, but hiking in October is world-class. The aspen trees are glistening gold in the autumn light, making any hike magical. There are many options throughout the park, but some of the higher peaks at elevation may be inaccessible due to snow. Since the roads are open to the southern section of the park, but many of the facilitates in this area are not open, you are likely to find relative solitude even around the big sights like Old Faithful or Norris Geyser Basin. Viewing hydrothermal features in the park is a wonderful activity in October, not because they vary in activity throughout the year, but because there are so few people that you are more likely to get a better look.
Fishing is ideal in October; as the water cools, the trout begin to bite again and are willing to chase your lure. The Madison River and the Gardner and Yellowstone Rivers are great options for fishing when it's cooler. The fall colors and warm lighting in October make Yellowstone every photographer's dream, shooting everything from landscapes to wildlife. Night and star photography are also popular options if you are brave enough to face the cold autumn nights in the park.
Although many of the visitor centers close early in the month, there are still plenty of things in an indoor setting to do if the weather prevents you from being outside or if the higher action activities aren't your thing. Many bus tours will take you all around the park from the comfort of a heated bus, and a few museums and visitor centers are still open. The Albright visitor center is open year-round and is a great resource for current and interpretive information about the park. There is a museum on the lower level and rangers available to answer all your questions.
The Grizzly and Wolf Discovery Center is just outside the park's west entrance and is also open year-round. An AZA-accredited, non-profit wildlife park and educational facility, this zoo is a great option for getting to see the big animals of the park up close. Many of the bears have gained access to human food in the park and had to be removed from the wild. And plus, they don't hibernate, so that you can see them all year. The wolves and other animals at the facility, such as otters, are also a treat to see as you can get a closer look at these creatures safely. There is plenty to do in Yellowstone in October to make your trip memorable.
Things to see in october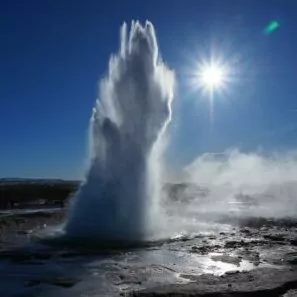 Yellowstone is full of sights to see, and October is no exception. With such a large variety of ecosystems and landscapes, the park boasts some of the most unique sights in the entire country. We've created a list of some of the must-see sights in October, but make sure to do your own research to see what specifically piques your interest in the park.
Old Faithful: This Yellowstone icon is a must-see, no matter how often you've seen it. While many geysers are unpredictable and erupt infrequently, Old Faithful has lived up to its name and wowed visitors with its consistent eruptions for decades. And plus, in October, there won't be nearly as many people at this famous site, in you'll be able to enjoy it without the crowds.
Norris Geyser Basin: Yellowstone's oldest, hottest, and most dynamic geyser basin, Norris Geyser Basin, is a ca n't-miss. With extensive boardwalks that allow you to walk among these amazing hydrothermal features, this basin boasts the tallest geyser in the world, Steamboat Geyser, which sprays water 300-400 feet in the air when it erupts. With fewer crowds in October, you will surely find this basin one of the highlights of your trip.
Grand Prismatic Spring: Known for its technicolor waters and massive size, the grand prismatic spring is probably the most famous hot spring in the park. With brilliant hues of blue, green, orange, and yellow, guests have been wowed by the sheer brilliance of these colors created by microscopic organisms numbering in the billions that live in very specific water temperatures. The area offers a boardwalk along the spring's side and a short hike up to an overlook where you can get a better look at the colors.
Mammoth Hot Springs: Perhaps one of the unique features in the park, Mammoth Hot Springs is built upon limestone terraces, unlike other hot springs in the park that have formed from years of mineral-rich water flowing up from beneath the earth's crust. Often described as more beautiful than any fountain man could have designed, these white and burnt orange terraces are indeed a sight to behold.
Lamar and Hayden Valleys: Probably the two best areas for viewing wildlife in the park, Lamar and Hayden Valleys are very popular destinations for photographers and for those just wanting to see the wildlife. Large herds of bison and elk gather in these areas in late fall and winter for the relatively warmer weather at low elevations and the more readily available food. Many pull-outs along the roads run through each of them, so you can get out of your car and enjoy the majestic scenery.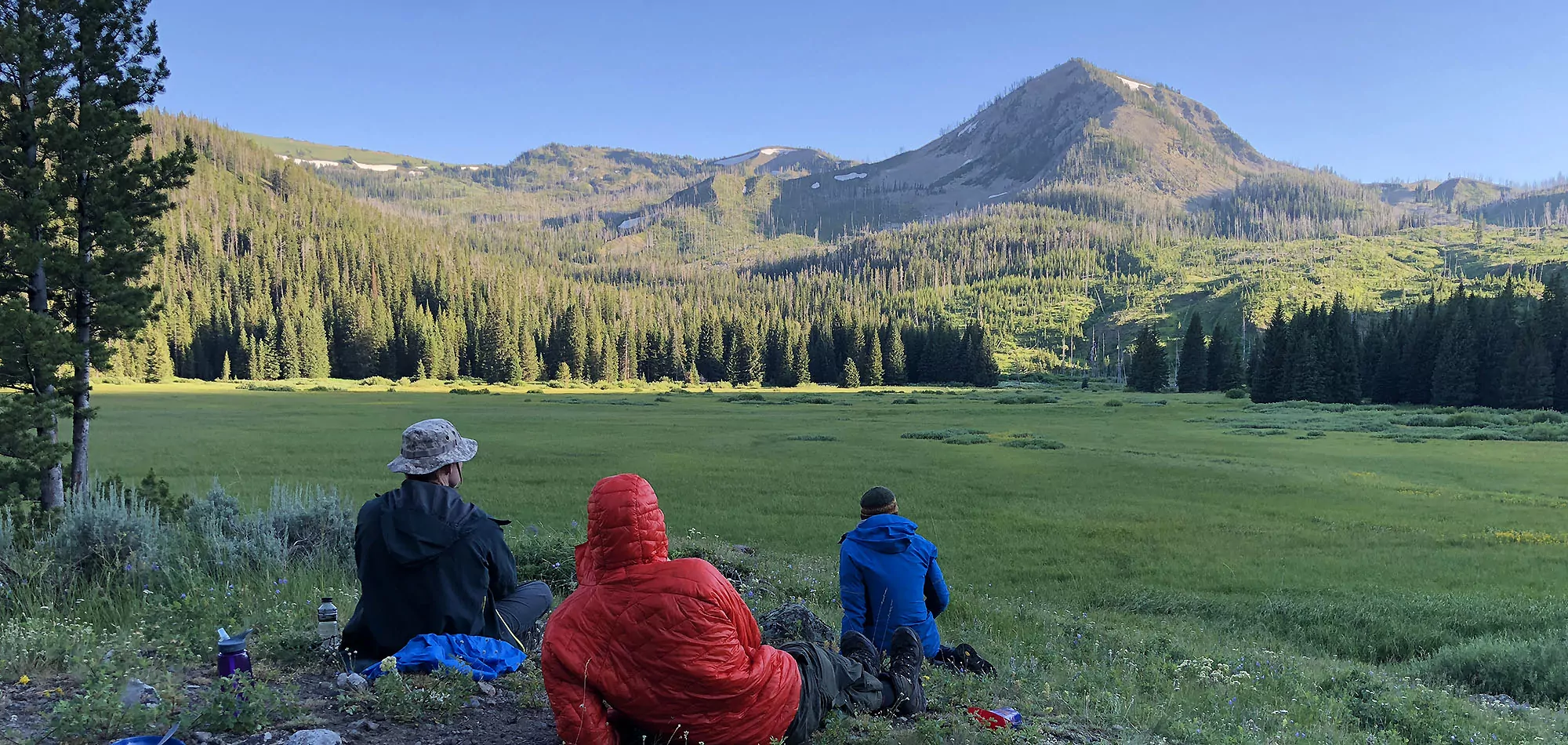 Hiking in October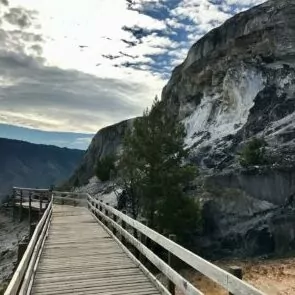 With cooler temps and fall colors putting on a show, hiking is ideal in October. Before setting out on the trail, you can read about the best locations to see wildlife. With fewer people in the park in the fall, you have a high chance of not seeing anyone else while on the trail. Yellowstone being so vast, hiking options exist for everyone of every skill level. Most of the geyser basins have boardwalks within the 1 to 2-mile range that are flat and perfect for those who want a leisurely stroll around some of the park's most astonishing features. Norris Geyser Basin and Upper Geyser Basin, where Old Faithful lies, are great options for short walks among these astonishing hydrothermal features.
October is late enough for there to be snow on the higher peaks, so some of the summits may not be available during this time of year. But the hiking around the Grand Canyon of Yellowstone is still accessible, with the Seven Mile Hole Trail and the trail to Red Rock Point both being great options. Walking along the rim of the canyon brings visitors to many viewpoints that give you views of Yellowstone Falls. Hiking trails also abound in Lamar Valley and the Northern range, such as Lost Lake Trail, a 2.8 miles moderate hike that begins behind Roosevelt Lodge, or the easy 1.2-mile Trout Lake loop that should be accessible year-round.
The hiking around the Lamar River in the valley itself is also stunning and often affords views of wildlife. Hikers should be cautious when hiking anywhere in the backcountry in October, as the weather can change quickly and cause unfavorable conditions. If it has rained within the last few days, keep an eye out for ice on the trail, as below-freezing temperatures at night might have frozen the rainwater from the previous days. Make sure to stay on the boardwalks in the populated areas with hydrothermal features and give them plenty of space if you see them in the backcountry, as many people have been severely burned and died from coming in contact with the scalding water.
backpacking in October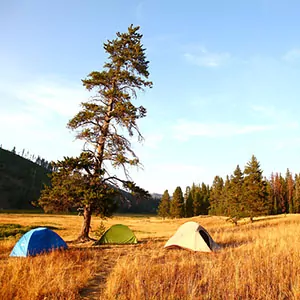 October is the last month of the year, and snow is not likely, so backpacking is still an option if you have the appropriate gear for chilly nights. Permits are easier to obtain in the fall when the crowds have thinned, and spending the night under the golden aspens and brilliant stars in Yellowstone National Park is unbeatable. Backpackers should be advised, but this is the very end of the backpacking season until full snow coverage and winter camping can begin. Backpacking in October is much like backpacking in mid to late spring, with very cold nights and the possibility of snow. While it can certainly be done safely, backpacking in October does require some additional gear and expertise compared to backpacking in the summer.
It is probably best to stay in the northern part of the park, where the elevation is lower, and the chance of snow is less likely. Many of the summits that bring you up to higher elevations may be inaccessible due to snow or the dangers of storms in the afternoon. Wildlife always needs to be considered when in the high country in Yellowstone. The bison and elk have all but finished mating season and are stocking up on food for the winter. The bears also prepare their dens and fat reserves to sleep for the next six months. Give all animals a wide berth and the respect they deserve.
Backpackers should be aware of the weather and be prepared to turn back if it turns bad. An early snowstorm can very quickly cause a survival situation for backpackers who expected late fall conditions that were cold but snow free. Make sure to check the backcountry situation report and talk to a ranger if you get a chance about the conditions in the backcountry, the weather, and what you might run into before setting out on your trip.
To make backpacking a little easier in October, do a llama trek. Many guiding companies offer llamas-assisted backpacking trips, and you can also rent llamas for your own use if you want to get out on your own. Hiking with llamas is a great opportunity to take the weight off your back, have a mild-tempered and strong animal companion that will guard your camp, and enjoy the novelty of hiking with an unusual stock animal. Especially in bear country, llamas are great companions as they will sense danger before humans do, and large predators such as bears and cougars are more likely to leave a herd of large, strange animals alone. Some hikers even pitch their tents among the llamas as a form of bear deterrent.
Weather in October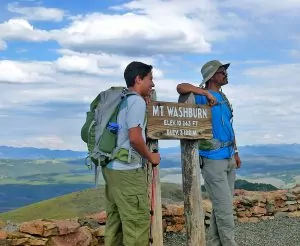 Yellowstone is a large park with elevations ranging from 6,000 to 11,000 feet. Therefore the weather you experience highly depends on where you are and what elevation you're at. Many of the higher peaks in Yellowstone in October might have snow on them, but most of the lower elevations should be snow free as the roads will still be open.
Generally, the weather in October is variable, most likely with warmer days and chilly nights. The average temperature for Mammoth Hot Springs is a high of 55 and a low of 30 degrees Fahrenheit (13/ -1 degrees Celsius). At Yellowstone Lake, the average temperature is a high of 46 and a low of 24 degrees Fahrenheit (8/ -4 degrees Celsius). On average, there are eight days of precipitation in October. These numbers are just averages, and the park can be much warmer- or colder- than these temperatures. Guests should also remember that the mid-50s or mid-40s are not very warm during the day, and you will have to dress in layers even during the warmest weather on your trip.
Because the weather in October is somewhat variable, visitors will need to bring a variety of gear and clothing to face the worst weather they might encounter. It is always best to bring layers that you can put on or take off throughout the day as you get warmer or colder. Both hypothermia and overheating are very real threats in Yellowstone, especially if you haven't taken precautions with how you dress. Most cases of hypothermia in the park occur when the temperature is between 30°F and 50°F, so make sure you remove your rain jacket before you get wet and put on your warm clothing before you start shivering. This will help keep you from getting chilled, even if the temperature is not below freezing. Check the daily forecast to stay prepared for your trip.
Although the hot springs can look tempting on cold days, many of these hydrothermal features are often more than 200°F. Many people have been severely burned and scaled to death by coming in contact with these features. Never leave the boardwalk in areas with geysers, hot springs, or steam vents. Be especially careful after a rain, and the temperatures fall below freezing at night, as thin layers of ice can form over boiling water resembling solid ground. The weather in October can be intimidating and unpredictable, but it is by no means a reason not to visit the park this month. Your visit will take a little extra planning and equipment to make sure it is enjoyable and safe for everyone.
wildlie in october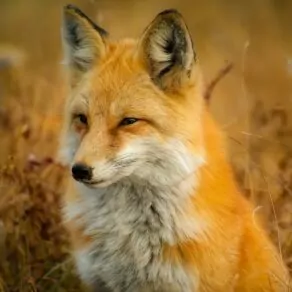 October is a great time to view wildlife in Yellowstone. The rutting season for elk and bison is tapering off by the beginning of the month, and many of these creatures are gathering in the lowlands and valleys to stock up on fat reserves for the winter. Huge herds of bison and many elk as well can be seen in the Lamar and Hayden valleys. First-time visitors much seek after Yellowstone's iconic, big animals and are often seen walking beside or even along many of the roads. Neither the grizzly bears nor black bears that live in the park are in hibernation yet for the winter, so you are still likely to see these animals foraging on the hillsides and preparing for winter.
Yellowstone has the largest concentration of mammals in the lower 48 states and is known for its predator-prey complex. Besides bison, elk, and bears, there are six other species of ungulates (bighorn sheep, mountain goats, moose, pronghorn, white-tailed deer, mule deer) and five other species of large predators (Canada lynx, wolves, coyotes, wolverines, mountain lions). Outside of these large predators, the park has many smaller predators, such as bobcats, red foxes, badgers, martens, and long and short-tailed weasels, not including the diverse populations of rodents, birds, reptiles, and amphibians. Yellowstone is truly a hotbed for wildlife which is why so many photographers and naturalists flock here to see these creatures. In October, many of these creatures are out and about during dawn and dusk: beavers can be seen diving under icy waters, otters play on the banks of the rivers, coyotes slink through the campgrounds, bobcats hunt voles and mice, bears forage on berries and plants in the low country, bison and elk graze with their maturing calves, mountain goats and bighorn sheep scale the rocky heights, and eagles fly overhead looking for something scavenge. While you might need to be patient to see some of these animals that aren't the famous ones that proliferate the park, you won't regret taking extra time to view any of these amazing creatures.
RECOMMENDED WILDLAND TRIPS IN OCTOBER
Planning a trip to Yellowstone in October can be intimidating as you try to decide what style of trip you want and have to keep up with the weather and current conditions. Bypass the headaches by booking a trip with Wildland Trekking and allowing one of our expert guides to show you around. As October is on the edge of backpacking season, we offer a variety of trips, from backpacking trips and llama treks to day hikes and inn-based tours. There is something for everyone at Wildland Trekking, and as all of our trips are all-inclusive, meals, location transportation, accommodations, and much more are included in your price. Feel free to browse all the trips we offer in Yellowstone, but here are a few we especially recommend for October.
Best of Yellowstone Tour: This 5-day, inn-based tour will take you on a journey you will never forget. Each day, the group will set out on a different day hike in distinct areas of the park before settling down for the evening in your comfortable lodge accommodations. With the perfect balance of rustic and luxury, this trip is a must for those looking to enjoy the sights and wonders of Yellowstone without the headache or worries of planning the trip themselves.
Yellowstone Spring Trekking Adventure: We know it's called a spring trip, but we also offer this trip in the mid-fall as it's the other shoulder season in Yellowstone for backpacking. With the wildlife out and about and the crowds far away, this three or 4-day backpacking trip takes you into the heart of Yellowstone to experience the park's most stunning scenery. Camping every night near the waters of a river or stream and including a traverse of Black Canyon, this trip gives you the best of the shoulder seasons without the hassle of planning the trip yourself.
Lamar Pelican Loop Llama Trek: Llama treks are a great option in October in Yellowstone. Wildland Trekking offers a variety of them, but this one is especially perfect for October. With moderate hiking with only a light pack, thanks to your llama companions, you'll experience the park's northern range at the lower elevations, where the wildlife will be abundant and the temperatures warmer. With time to throw a line into one of the rivers for the last of the fishing season on this 5-day trip, you won't want to miss this awesome adventure.
Join a Guided Hiking Adventure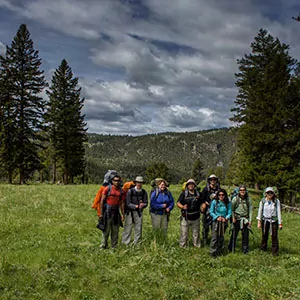 Yellowstone National Park is home to some of the world's most epic and fantastic hiking vacations. Wildland Trekking offers trips for the best of Yellowstone: geysers, waterfalls, views, wildlife, solitude, adventure, and fascinating natural and cultural interpretation.
Guided Yellowstone treks are all-inclusive, covering permits; local transportation (excluded on specific tours); meals; equipment; safety systems, and professional hiking/wilderness guides, allowing visitors to maximize their time in Yellowstone and focus entirely on enjoying the Park.
YELLOWSTONE ADVENTURE TOURS