All About Visiting Yellowstone in April
The benefits, drawbacks, activities and other features of visiting Yellowstone in April.
April is a fantastic time of year to visit Yellowstone National Park. You can witness bison births in Lamar Valley, and bears emerging from their dens. There are many benefits to visiting Yellowstone in April, and some drawbacks as well. Below, we've broken up the most common "when to go" questions into categories to make it easy to determine if April is the best time for you to visit.
Benefits of Visiting in April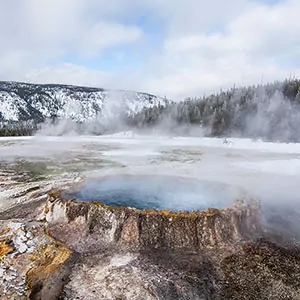 The biggest benefit of visiting in April is the wildlife viewing. Bison are calving in Lamar Valley and black bears can be seen emerging from their dens in Lamar Valley.
Another benefit to visiting in April is the absence of crowds. The temperature is warm during the day, giving you hope for summer, but the lack of crowds let you enjoy the park without congestion. Also, some roads open in the middle of the month, giving you the opportunity to explore areas of the park that were closed over the winter. The roads from Mammoth the Old Faithful, from Madison to West Entrance and from Norris to Canyon open mid-April (you can read NPS' website about road opening dates here).
Drawbacks of Visiting in April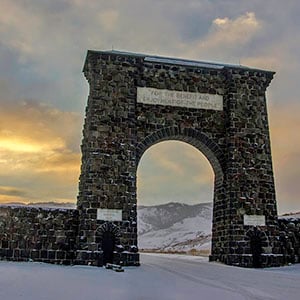 The only drawback to visiting in April is that the park is still transitioning to spring in the beginning of the month. Many accommodations and campgrounds in the park don't open until the middle of April, so be sure to check the opening dates before booking your trip.
Things To Do In April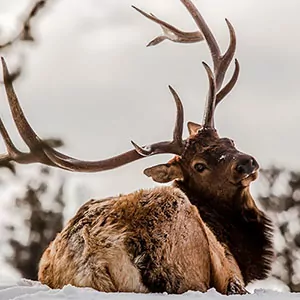 As the park starts to reopen in the middle of April, many of the trails at lower elevation are open. April is a great month to go hiking or backpacking, since it may be warm during the day, and chilly in the evening. Trails at higher elevations are probably still covered in snow, so a long distance backpacking trip is not practical.
This is also a wonderful time of the year for wildlife viewing. With the higher elevations cold and snowy, high concentrations are gathered in the meadows and valleys. The bison a birthing calves during April, and it is quite a sight to see herds of bison, with little calves—also called red dogs, learning to walk and keep up with the herd.
Hiking in April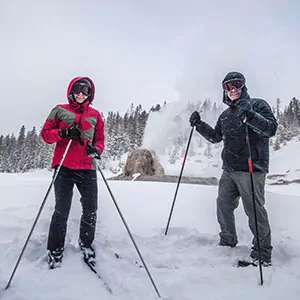 Research the current trail conditions before heading out on any hike. Many trails will still be snow-covered at high elevations, so you want to know what you are getting yourself into. You can also read the Backcountry Situation Report beforehand. Most trails through Lamar Valley and other meadows are great for day hiking in April, and will also provide the best chances to see wildlife.
Weather in April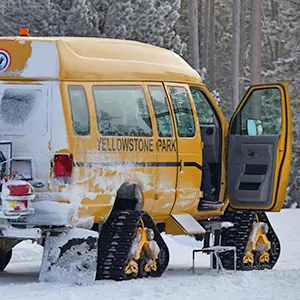 The weather in Yellowstone during the month of April begins to warm up and become more spring-like. The average temperature for Mammoth Hot Springs is a high of 50, and a low of 27 degrees Fahrenheit (10/ -2 degrees Celsius). At Old Faithful, average temperature is a high of 39, and a low of 18 degrees Fahrenheit (4/ -7 degrees Celsius). On average there are 10 days of rain or snow in Yellowstone in April.
Join a Guided Hiking Adventure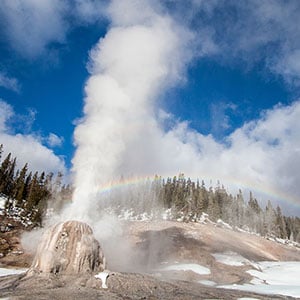 Yellowstone National Park is home to some of the most epic and amazing hiking vacations in the world. Wildland Trekking offers trips with the best of Yellowstone: geysers, waterfalls, views, wildlife, solitude, adventure and fascinating natural and cultural interpretation.
Guided Yellowstone treks are all-inclusive which covers permits; local transportation (excluded on certain tours); meals; equipment; safety systems and professional hiking/wilderness guides; all of which allows visitors to maximize their time in Yellowstone and focus entirely on enjoying the Park.
YELLOWSTONE ADVENTURE TOURS