All About Visiting Yellowstone in April
The benefits, drawbacks, activities and other features of visiting Yellowstone in April.
Updated: 8/24/22
April is a fantastic time of year to visit Yellowstone National Park. You can witness bison births in Lamar Valley and bears emerging from their dens. There are many benefits to visiting Yellowstone in April, and some drawbacks as well. Below, we've broken up the most common "when to go" questions into categories to make it easy to determine if April is the best time for you to visit.
Benefits of Visiting in April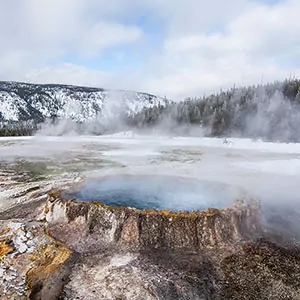 The biggest benefit of visiting Yellowstone in April is the wildlife viewing. Bison are calving in Lamar Valley and black bears can be seen emerging from their dens. Many other animals will be more lively because of the (relatively) warmer weather and visitors will still be able to see their tracks perfectly preserved in the snow.
Another benefit to visiting in April is the absence of crowds. The temperature is warm during the day, giving you hope for summer, but the lack of crowds lets you enjoy the park without congestion. This means that you will rarely encounter traffic within the park and you won't have to circle around parking lots looking for a spot. Some roads open in the middle of the month, giving you the opportunity to explore areas of the park that were closed to private vehicles over the winter. The roads from Mammoth to Old Faithful, from Madison to West Entrance, and from Norris to Canyon open in mid-April (you can read NPS' website about road opening dates here).
Another benefit of visiting Yellowstone in April is the absolutely gorgeous scenery. There will still be a lot of snow on the ground which will give your pictures an ethereal look as your lens captures boiling steam vents and erupting geysers with snow abound. Park accommodations are both available and affordable this time of year and visitors are more likely to find accommodations inside the park within a few weeks of your visit compared to summer when last-minute visitors have to shell out peak season prices for accommodations that are sometimes hours away from the park. In April, visitors will have their choice of accommodations inside and outside the park. Hiking is also an option in April. Although many trails are covered in snow and April is not as good for hiking as May, this month affords visitors more options than in the deep winter months when everything requires snowshoes or cross-country skis. Exactly which trails will be open and when they will be open will depend on the snow the previous winter.
Drawbacks of Visiting in April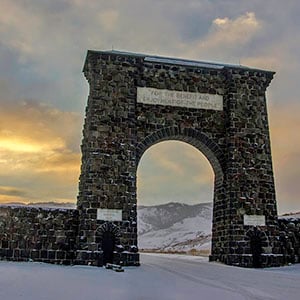 The major drawback to visiting in April is that the park is still transitioning to spring at the beginning of the month. Many accommodations and campgrounds in the park don't open until the middle of April, so be sure to check the opening dates before booking your trip. Most of the roads beside Highway 212 through the Lamar Valley don't usually open until April 21 while all roads close to over snow traffic (such as snowmobiles) on March 15. This puts most of April in a transition period, not only in weather but also in accessibility as the roads are closed to both winter and summer traffic due to efforts by the NSP to clear roads of snow.
The southern and eastern park entrances will be closed through April while the western entrance does not open until April 21. The only options for exploring the park before this date in April are the north and northeastern entrances through the northern section of the park. While the sights in Lamar Valley, especially the wildlife, are very much worth seeing, this leaves many of the famous sights such as Old Faithful, Grand Prismatic Spring, the Grand Canyon of Yellowstone, Yellowstone Lake, and many of the geyser basins inaccessible to both winter travel and wheeled traffic.
Another drawback to visiting in April is it is very cold and snow is almost guaranteed. With highs in the 40s, maybe the 50s if you're lucky, and lows in the teens, the park this time of year is for those who are prepared for winter weather. The fluctuations between day and night can also make traveling in the area dangerous as the snow melts during the day and refreezes overnight to ice, making trails and roads potential hazards. There are typically 10 days of snow or rain in April and rain during the warmer hours may very well turn to ice on the roads overnight. Visitors planning on visiting the park in April should be aware that they need winter gear. Those who come unprepared will at best be cold and miserable and at worst in danger of hypothermia or frostbite. Visitors need to dress appropriately in layers to prevent hypothermia as well as overheating. Dehydration, eye damage from the sun, avalanches, unpredictable hydrothermal areas, and threats from wildlife are all very real dangers in Yellowstone this time of year. Visitors must be prepared for these dangers, and thus have additional gear and knowledge than visiting in summer.
Things To Do In April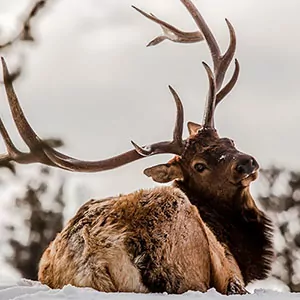 As the park starts to reopen in the middle of April, many of the trails at lower elevations are open. April is a great month to go hiking since it may be warm during the day and chilly in the evening. When exactly day hiking trails will be clear of snow will depend on the amount of snow and how warm the spring has been. Trails at lower elevations will clear sooner, though they may be muddy so make sure to bring waterproof boots. Trails at higher elevations are probably still covered in snow, so a long-distance backpacking trip is not practical as you will most likely run into snow fields.
This is also a wonderful time of the year for wildlife viewing. With the higher elevations cold and snowy, higher concentrations of animals are gathered in the meadows and valleys. The bison are birthing calves during April, and it is quite a sight to see herds of bison, with little calves—sometimes called red dogs– learning to walk and keep up with the herd. If you come to the park before the road openings on April 21, wildlife viewing in the Lamar Valley will be one of the main attractions of the park. Besides the elk and bison herds, wolves are often seen in Lamar Valley at dawn and dusk. If there is still snow, these elusive predators are easier to spot even when far away with about half of the resident wolves having dark coats that stand out against the snow. Some bears might be out of their dens by April, though the females with new cubs will probably not yet be out of their dens. Photography of these animals is also a popular activity during this time of year, as visitors can set up tripods along the roads near their cars and wait for the animals to come by. If you're visiting after the April 21 opening of some of the roads south into the park and the west entrance, many of the famous sights such as the Old Faithful geyser basin and Grand Prismatic Spring are available for sightseeing. There are also bus tours available of different sections of the park if you only have a short time to spend. You can check out our list of best tours in Yellowstone to find the tour that fits your interests.
While some of the winter sports like cross-country skiing and snowshoeing may still be available depending on snow levels, most of them will be finished for the season as the warmer daytime temperatures will turn the snow to slush before it freezes again overnight. This makes the snow unsuitable for winter sports. But if the weather prevents you from spending time outside, there are multiple visitor centers and museums that will be open in April that provide visitors with interpretive information and often films and artifacts that give insight into the area's past and future.
Things to see in April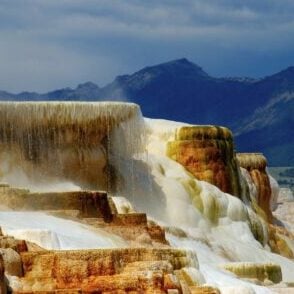 What there is to see in Yellowstone in April will depend on when you go: before or after many of the roads open on April 21. While the park is still certainly worth visiting in early April, it is in a transition period where neither winter nor summer activities are fully available. Below is a list of must-sees in April in Yellowstone along with an indication if you will be able to view them before the road openings later in the month.
Old Faithful: This Yellowstone icon has been amazing guests for decades. While many geysers in the park erupt unpredictably and infrequently, Old Faithful has lived up to its name and consistently erupts around every half hour, spewing hundreds of gallons of boiling water 200 feet into the air. No matter how many times you've seen it before, Old Faithful is a must-see as it is your guaranteed to see a geyser erupt in Yellowstone. —Not accessible until after April 21
Lamar Valley: Whether covered in snow or green with the sprouts of wildflowers, Lamar Valley in April is a must-see. Bison will be calving in this valley and the herds with young bison just learning to walk are magnificent to see. Elk, bears, and wolves are also often seen in this valley and are sometimes easier to spot from long distances if there is still snow as their dark coats will stand out against the white. This is also the only road that is accessible in the winter months in Yellowstone, so get out your camera and get ready for some wildlife viewing. — Accessible throughout winter
Grand Prismatic Spring: Known for its neon colors of blue, green, orange, and yellow, this is the largest and most acidic spring in the park. The area offers walking trails on the boardwalk along the edge of this spring as well as a longer hiking trail that brings you to an overlook to get a better look at the colors. If there is still snow on the ground, the colors will appear even brighter and your pictures will stand out among the rest as the snow gives the spring an ethereal look.– Not accessible until after April 21
Mammoth Hot Springs:  This vast network of Hot Springs with their intriguing geometrical shapes and bright orange color is a must-see on any trip to Yellowstone. Accessible throughout the year, you may see bison around this area warming themselves in the steam from the cold air around them. With an extensive boardwalk and some hiking, this area of hydrothermal features is unique at the park. —Accessible throughout winter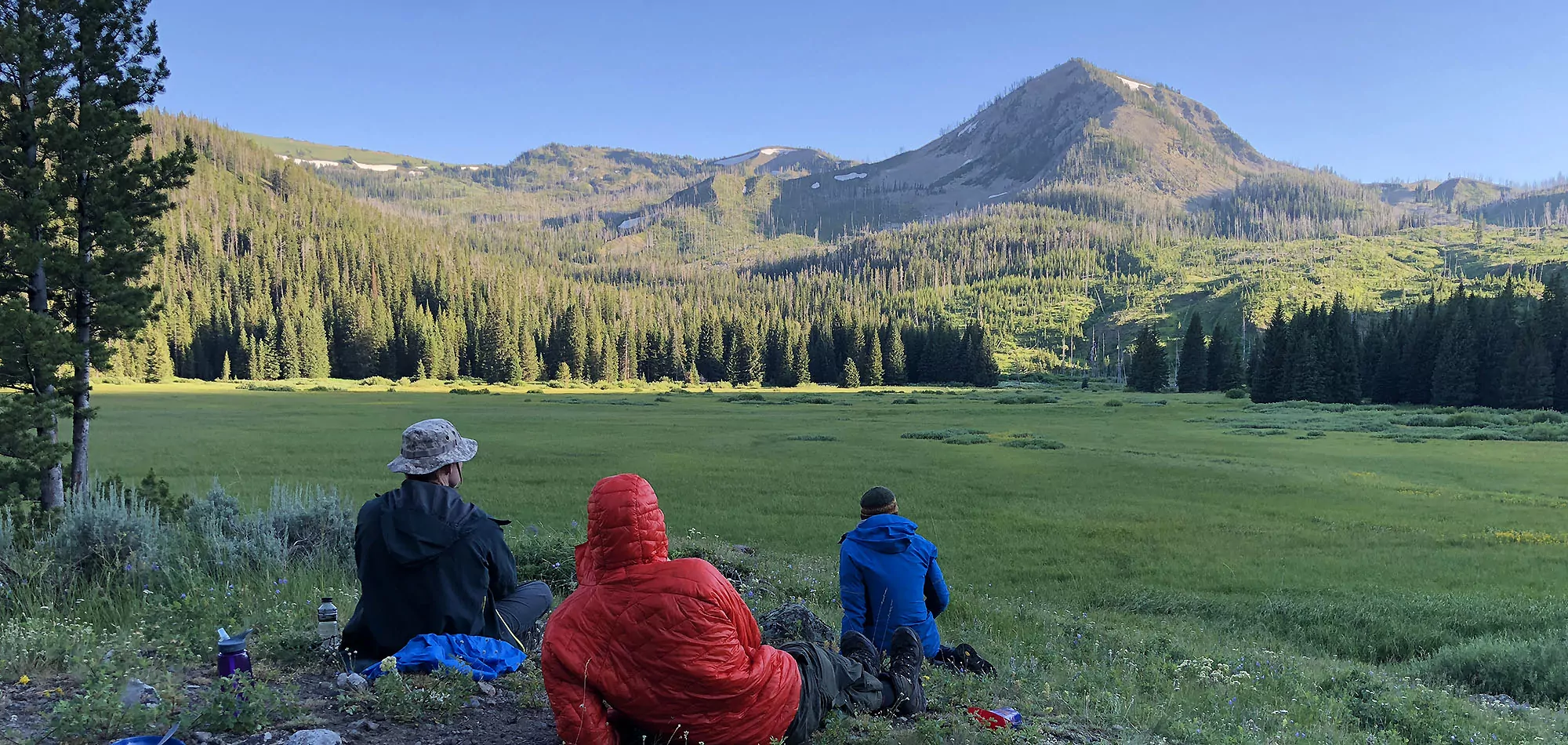 Hiking in April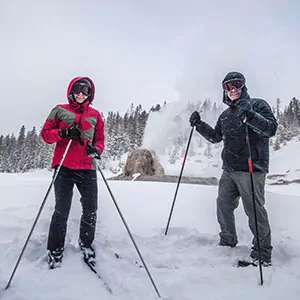 Research the current trail conditions before heading out on any hike. Many trails will still be snow-covered at high elevations, so you want to know what you are getting yourself into. You can also read the Backcountry Situation Report beforehand. If you visit the park after the April 21 opening of many of the roads, the conditions of the trails in these areas will be dependent on snow levels. The boardwalks around the geothermal features will most likely be clear of snow and available for foot traffic. Visitors should still be warned that going off the boardwalks in these areas is very dangerous even when there is still snow on the ground. What may appear to be solid ground may be only a thin layer of ice over boiling water. The hiking trails that stem off of the boardwalks such as the overlooks near Grand Prismatic Spring and Old Faithful may or may not be clear of snow for hikers to enjoy.
Most trails through Lamar Valley and other meadows are great for day hiking in April, and will also provide the best chances to see wildlife. There are many great hiking trails in this area such as Last Lake Trail, a 2.8 miles moderate hike that begins behind Roosevelt Lodge, or the easy 1.2-mile easy Trout Lake loop that should be accessible year-round. Talk to a range or check the current conditions to see what trails are currently open and snow free. While snowshoeing and cross-country skiing are typically good alternatives for hiking in winter, the warm temperatures during the day coupled with the freezing temperatures at night will produce slushy, icy snow that isn't good for backcountry winter sports. As has been the case with many other activities, hiking in April is prone to difficulty because of the transition between winter and spring where neither season's activities are fully available.
Backpacking in April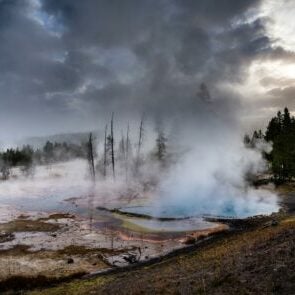 Backpacking in Yellowstone in April is extremely difficult because of unpredictable weather and the absence of total winter. While winter camping, often accomplished with cross-country skis or snowshoes takes advantage of the snow that blankets the entire landscape, April doesn't afford visitors the option of using these methods. You might encounter a region where there is no snow and where your skis will have to be carried and your snowshoes will be clunky, awkward, and trample emerging vegetation. Then again, traditional backpacking is not feasible either because you almost certainly will encounter areas where there will be snow too deep to camp in or traverse through without snowshoes. In addition, avalanche areas, dangerous creek crossings, snow bridges, and active geothermal areas all also pose dangers that are heightened in April as the park changes seasons and signs of danger are more difficult to read. Visitors planning on doing any excursion into the backcountry in April should make sure they have the proper gear and understand the risks of doing so.
Weather in April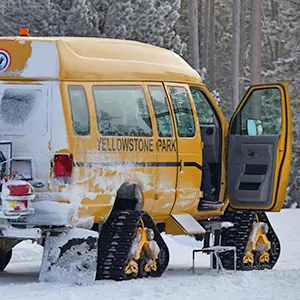 The weather in Yellowstone during the month of April can begin to warm up and become more spring-like but is often still very much like a warmer winter. Yellowstone is a very large park with elevations ranging from 6,000 to over 11,000 ft and thus the weather can vary dramatically from place to place. Lamar and Hayden valleys may have some snow but will have much less than locations at higher elevations. Yellowstone Lake will most likely still be completely frozen over. The average temperature for Mammoth Hot Springs is a high of 50, and a low of 27 degrees Fahrenheit (10/ -2 degrees Celsius). At Old Faithful, the average temperature is a high of 39, and a low of 18 degrees Fahrenheit (4/ -7 degrees Celsius). On average there are 10 days of rain or snow in Yellowstone in April.
These temperatures that fluctuate between above and below freezing from day to night can present additional issues to those traveling to the park as the snow will melt during the day when the sun is warm and then refreeze overnight creating icy and slushy conditions. Visitors should check the forecast before setting out each day and be sure that they are equipped for whatever weather is coming.
April can also bring fairly unpredictable weather in the afternoon thundershowers or snow storms rolling in when the morning skies were clear. Visitors should be aware of this and should bring rain gear and warm clothing on hikes and excursions even if the forecast does not appear to call for it. Dress in layers and make sure to carry a day pack where you can put any layers that you're taken off as the day warms. Most cases of hypothermia in the park occur when the temperature is between 30 and 50 degrees, so make sure to put on your rain gear before you get wet and layer your clothing before you are chilled. Overheating, especially when doing aerobic activities such as cross-country skiing or fast hiking, is a real threat in Yellowstone despite the cold for those who do not adequately layer and cannot take off their outer layers to cool down. If you only bring your ski jacket, you're going to be too hot most of the time but too cold if you take it off.
While many of the lakes will be frozen over, it is not recommended to ski, skate, or walk on these lakes as the ice can be thin. Areas of geothermal activity can also have ice over certain parts of the springs, which can appear to be solid ground. But do not be fooled this ice is only a thin layer over boiling water, and it is never safe to walk off of boardwalks in geothermal areas.
Wildlife in april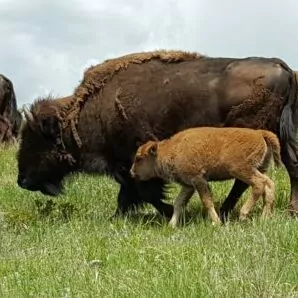 Spring is one of the best times to see wildlife in Yellowstone as many of the animals are giving birth to their young and the mammals are in higher densities at lower elevation areas where the snow is melting and food is more readily available. Bison and elk will both be calving at this time of year in the Lamar and Hayden Valleys, where huge herds of both animals gather to give birth to their young and to find food. But the snow that remains in April is often to the advantage of those wanting to view wildlife for two reasons. The first is that many of the larger animals such as bears, wolves, moose, bison, and other ungulates in the park have dark coats that will stand out against the white snow. The snow also serves as an excellent tracking mechanism for some of the more elusive animals like cougars, wolverines, bobcats, and lynx that all live in the park but are rarely seen by visitors. The snow preserves the animal's tracks much more clearly than mud or dirt and allows visitors the chance to see the evidence of these animals if not the animals themselves. Some of the bears will be out of hibernation by mid-April, but female bears with young will probably not yet be out of their dens. Snowshoe hairs can still be seen bounding across the snow in their park with their pure white winter coats and otters and beavers are sometimes observed in the icy waters of the rivers that are flowing tremendously this time of year.
One of the best places to see these types of animals is in Lamar Valley. The only road open in the winter months and at the beginning of April, this highway weaves through the valley which gives visitors the chance to see an amazing amount of wildlife, which sometimes even stops the traffic on the road. The best time to view wolves is dawn and dusk, and taking a trail up on a ridge or in different parts of this valley can give you the opportunity to see many creatures that you wouldn't otherwise. Yellowstone has the largest concentration of mammals in the lower 48 states, so get your camera ready to get out there to look for these remarkable creatures.
Join a Guided Hiking Adventure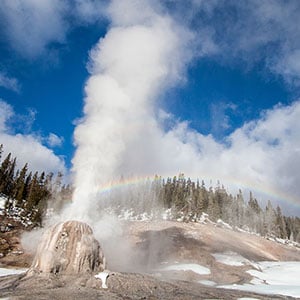 Yellowstone National Park is home to some of the most epic and amazing hiking vacations in the world. Wildland Trekking offers trips with the best of Yellowstone: geysers, waterfalls, views, wildlife, solitude, adventure, and fascinating natural and cultural interpretation.
Guided Yellowstone treks are all-inclusive which covers permits; local transportation (excluded on certain tours); meals; equipment; safety systems and professional hiking/wilderness guides; all of which allow visitors to maximize their time in Yellowstone and focus entirely on enjoying the Park.
YELLOWSTONE ADVENTURE TOURS