All About Visiting Yellowstone in May
The benefits, drawbacks, activities and other features of visiting Yellowstone in May.
Updated: 8/23/22
May is a fantastic time of year to visit Yellowstone National Park. The park is full of life, with newborn bison and elk calves, and blooming wildflowers. There are many benefits to visiting Yellowstone in May, and some drawbacks as well. Below, we've broken up the most common "when to go" questions into categories to make it easy to determine if May is the best time for you to visit.
BENEFITS OF VISITING IN MAY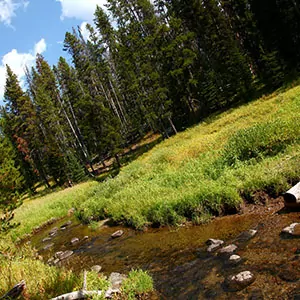 The biggest benefit of visiting Yellowstone in May is the abundance of wildlife. Bison are calving in Lamar Valley and elk are calving in Mammoth Hot Springs. It is a spectacular time of year to watch new life in the meadows surrounded by the new wildflowers. The animals are very abundant in Yellowstone and it is nearly impossible to even drive through the park without seeing some of this wildlife on the side of the road or even on the road itself. As the temperature warms in spring, many of these animals will follow yearly migration routes within the park to the higher elevations where the snow is beginning to melt and food is more readily available. The majestic bison and elk are staples of Yellowstone and are impressive to see, but many other creatures including predators like bears, bobcats, and badgers, and those in the weasel family such as beavers, martens, river otters, and long-tailed weasels will be about as well.
Another benefit to visiting in May is all of the roads typically open during this month. Depending on when you visit in May, some of the roads may still be closed, the continent on the weather and the amount of snow they received in the previous winter. The east entrance to Lake Village via Sylvan Pass usually opens on May 5 and the Southern Entrance to West Thumb usually opens on May 12. But Tower Fall to Canyon Junction via Dunraven Pass usually doesn't open until May 26. While these dates are typical, the exact opening dates are dependent on the yearly snowfall. You can check the spring road opening for year-to-year information. With all the roads open at some point this month, you can explore the entire park on your own without needing the snow vehicles like snowmobiles.
Many of the hiking trails also open up during this month, allowing hikers to access much more of the park, especially trails at lower elevations. While there will be more visitors in May than in winter, there are significantly fewer visitors than in the summer months which will make for a much quieter and more peaceful visit. The rivers and waterfalls also will be flowing tremendously this time of year as the snow at the higher elevations is melting with the longer days and warmer temperatures. And while the weather in May won't be as predictable and warm as the summer, May is very spring-like with little snow and generally warm temperatures that allow guests without winter gear to be able to visit the park, especially toward the end of the month.
 DRAWBACKS OF VISITING IN MAY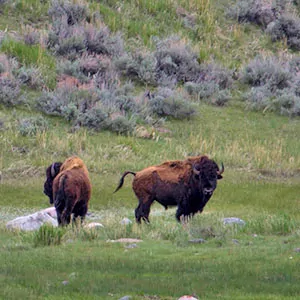 The biggest drawback to visiting in May is the weather can be somewhat unpredictable. It could be clear and sunny; or cloudy and cold with snow. Visitors need to be prepared for any type of weather with layers and rain gear. Those planning on camping will need to bring winter gear in case of late snows in addition to very warm layers as even if the days are sunny, the nights will be cold. Know that it will be chilly in the morning, so start your day with gloves, a hat, and a jacket that you can take off as it warms up throughout the day. Most cases of hypothermia in the park occur when the temperature is between 30 and 50 degrees, so it is very important to stay dry and out of the wind if the weather turns bad. Put on warm layers before you are shivering and break out your rain gear before you get wet to prevent this condition which can be life-threatening.
In addition, the weather can cause issues for those traveling early into the backcountry as the streams are rushing and sometimes impassable until July depending on the snow. It is recommended that those wanting to go into the backcountry in the early season go with a guiding company whose guides know the area and the correct precautions to take.
The wildlife, while always a pro of Yellowstone, can pose some risks this time of the year when they can become more aggressive in the calving season. Cow elk in particular can charge visitors unpredictably if you come upon them and/or their calf suddenly. Elk can bed their calves near buildings or under cars, so visitors should look around blind corners and under cars before making sudden movements. May is the season for bear cubs and while the units are unlikely to willingly come around people, encountering a mother bear with cubs can be more dangerous than seeing bears alone and visitors should take extra caution this time of the year.
 THINGS TO DO IN MAY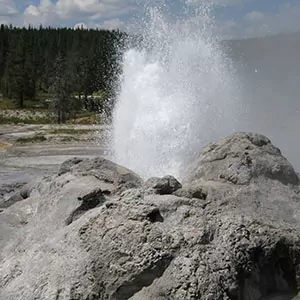 All of the roads in the park open during the month of May, giving you access to all areas of the park. Most hiking trails at lower elevations are cleared of snow by the middle to end of the month, so you have many options for hiking. Both the famous trails such as the Grand Prismatic Overlook trail and the geyser basin that Old Faithful lies in and lesser known options such as the hiking around the Grand Canyon of Yellowstone all offer great options for hiking that should be snow free by this time of year. Backpacking may be a little more difficult, as higher elevations are typically snow-covered until the end of May or June, but there is base camp camping throughout the park where you can try out your backcountry gear with all the amenities of a campground.
This is also a wonderful time of the year for wildlife viewing. It is the elk calving season in Mammoth Hot Springs, and bison calving season in Lamar Valley. Be very careful around the elk at this time. Female elk (called cows) are very protective of their calves and can become aggressive. It is nearly impossible to drive through the park and not see some of these majestic animals as they often are on the side of the road or on the road itself. There is also an abundance of waterfowl and animals in the weasel family such as beavers, martens, long-tailed weasels, and river otters that can be seen by patient visitors throughout the park. Photography of these animals, of course, is a popular pastime, as well as photography of the landscape and the iconic geothermal features that Yellowstone is famous for. If you're daring enough, try out some night sky photography in the park's starry skies or with a geyser or hot spring in the foreground. These unique features make for stunning photos.
Fishing season begins Memorial Day weekend, and the West side of the park is where you want to go this time of year. The Madison, Gibbon, and Firehole Rivers are flowing very well and are stocked with trout from late May through late June. Permits are required for any fishing in the park and can be purchased at any visitor center or fly stores outside Yellowstone. There are also bus tours available of different sections of the park if you only have a short time to spend. You can check out our list of best tours in Yellowstone to find the tour that fits your interests.
Two spots to legally take a dip in the rivers and hot springs in Yellowstone in certain sections of Boiling River and Firehole River. These are the only two hot spring bathing areas for a reason; many people have been severely burned or scalded to death by coming in contact with many of the hot springs that Yellowstone is famous for. Never swim in a river or hot spring without specifically knowing it is legal and safe. If the weather prevents you from being outside or if the more adventurous options aren't your thing, there are many visitor centers and museums throughout the park that provide visitors with an excellent look into Yellowstone's past, present, and future. Many also provide films and interpretive information on the park's features.
THings to see in may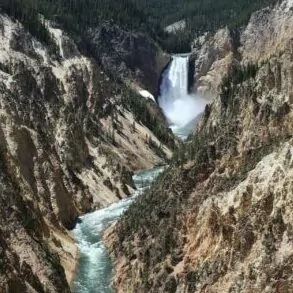 Sightseeing is one of the most popular activities in Yellowstone and there is no shortage spectacular things to see in May. Whether you're after active geothermal features or stunning wildlife and landscapes, you won't be disappointed with what Yellowstone has to offer. With fewer visitors in the park than in the summer months, you'll be able to enjoy the most famous sites of Yellowstone without nearly as many crowds. We've put together a list of some of the must-see sites in May for this park, but make sure you do your own research to see what piques your interest as this list is nowhere near exhaustive.
Old Faithful Geyser: This iconic Yellowstone feature is a geyser that predictively erupts about every half an hour. While most geysers are somewhat unpredictable and infrequent in eruptions, Old Faithful has lived up to its name and wows guests by spewing thousands of gallons of boiling water 200 feet in the air consistently for decades. This area also has a geyser basin with many other geysers that frequently erupt, a boardwalk and hiking trails, and a stunning visitor center and museum.
Grand Canyon of Yellowstone: While not nearly as famous as the Grand Canyon in Arizona, the Grand Canyon of Yellowstone is nonetheless a sight to behold (see left). The Yellowstone River makes its way through this majestic gorge and visitors can stand at the rim or hike down into the canyon in multiple places to get closer to the river and better appreciate the canyon's size. Geothermal vents send puffs of steam up from the canyon walls and the upper and lower Falls of the Yellowstone River give grandeur to this already magnificent area.
Yellowstone Lake: The main feature of the southern half of the park, Yellowstone Lake comes with a surplus of hiking trails, hot springs, and geothermal features to appreciate. In May, some of the surfaces might still be frozen with winter ice. Yellowstone Lake is the largest high-elevation in North America at 20 miles long and 14 miles wide sitting above 7,500 feet in elevation. One of the lake's most interesting pieces of history is the presence of the native cutthroat trout which is native to the Pacific Ocean despite Yellowstone Lake being on the eastern side of the continental divide and draining to the Atlantic. Scientists now believe that the fish swim up a now-dry waterway that drained to the Pacific Ocean and crossed the continental divide to the lake. Neat!
Lamar Valley: In the northeastern section of the park lies the Lamar Valley, much more out-of-the-way than the very popular Hayden Valley where guests usually go to view the wildlife. While Hayden Valley is a great option for wildlife viewing, Lamar Valley offers a much quieter experience with bison and the northern herd of elk inhabiting this area of the park. This valley is also your best chance to see Yellowstone's native wolf population as these elusive predators hunt and live in this valley and can often be seen around dawn and dusk.
Grand Prismatic Spring: Known for its neon colors of blue, green, orange, and yellow, the grand prismatic spring is a must-see for anyone traveling to Yellowstone. The area offers boardwalk viewing along the massive spring as well as the overlook trail, which will bring visitors up away from the spring in order to get a better view of the colors. Many guests choose to take off their eyeglasses while at this attraction because the extremely acidic water rising in the steam from the spring can etch marks in the glass.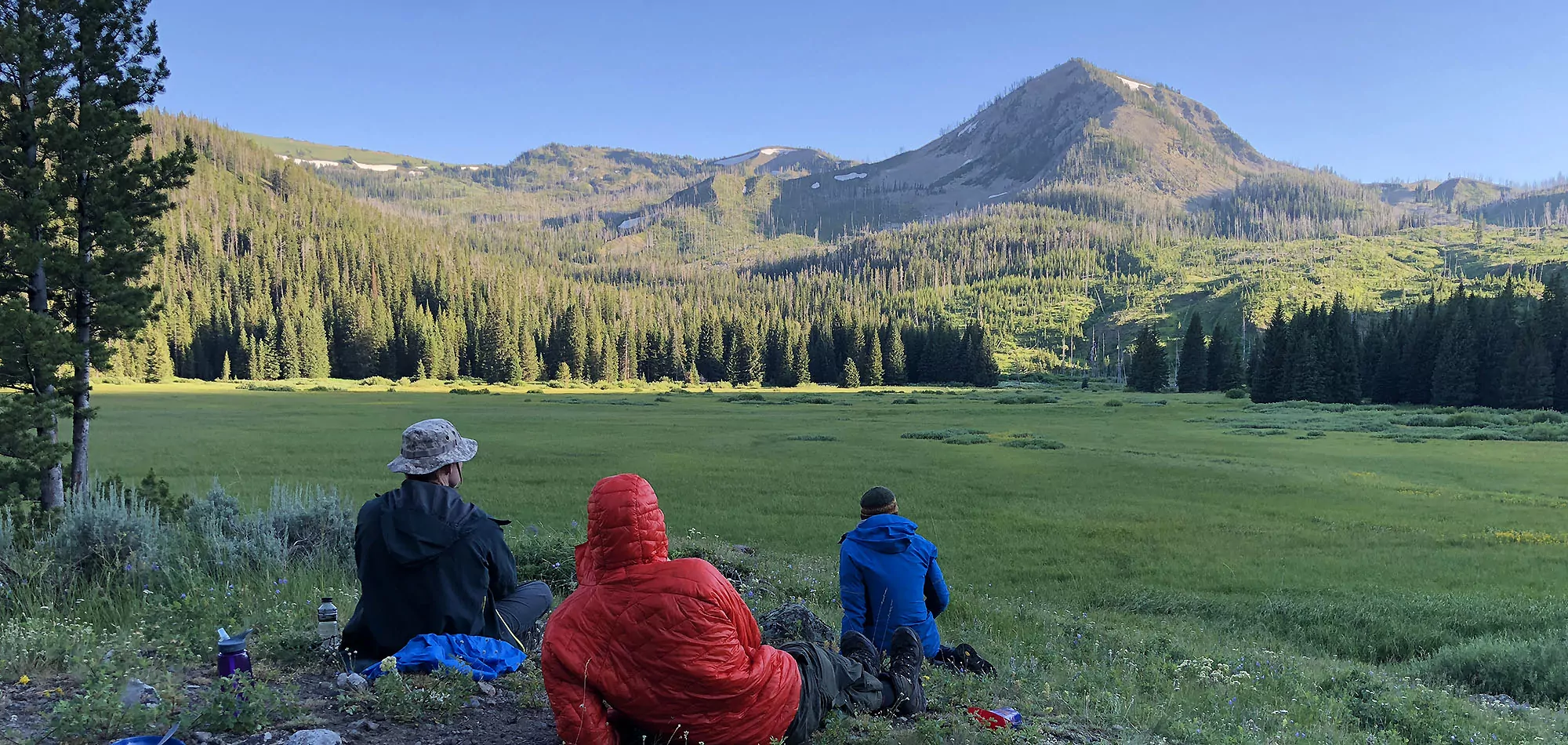 HIKING IN MAY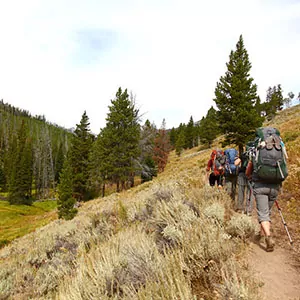 Hiking is wonderful in May, as all areas of the park have opened. There may still be a considerable amount of snow at higher elevations throughout the month, but trails at lower elevations provide many miles of hiking enjoyment. Consider going with a guiding company—the company takes care of all the logistics and permits, so all you have to worry about is enjoying the scenery around you. There are many easy walking and hiking trails all throughout the park, especially on the boardwalks around the many hydrothermal features.
Fairly Falls is a great option if you want to extend the hike to the grand prismatic overlook to include a waterfall and take you a little bit further away from the crowds into the backcountry. The Grand Canyon of Yellowstone also provides great options ranging from easy to moderate to strenuous if you want to stroll to the different viewpoints, hike along the north rim, or hike down into the canyon to Red Rock Point or down the Seven Mile Hole Trail to the bottom of the canyon itself.
Farther south in the park, you can hike around Yellowstone Lake on the Storm Point trail for an easy, family-friendly option as a 2.5-mile easy hike along the shores of the lake. If you're up in the northwest area of the park, the Beaver Ponds Loop Trail is a great option for a moderate hike coming in around 6 miles and beginning at Mammoth Springs. Living up to its name, this trail is an excellent one to see wildlife as it winds through both forest and sagebrush and finally brings you to ponds that usually have beaver habitats.
Before hitting the trail, you can look into the trail conditions so you know how to prepare. Snow and very cold weather are still real possibilities in Yellowstone in May, and guests should be prepared for the worst weather they might encounter. Bring layers, along with hats and gloves that you can take off during the day if it gets warm. Hikers should also be aware that it rains often in the spring and rain gear is a necessity when hiking. Put on your rain gear before it starts raining to avoid getting a chill that may turn into hypothermia. The mornings and evenings will be much cooler than midday so plan your activities in the early afternoon if you are sure you can finish them before nightfall.
Hikers should also be aware of the wildlife in the area and that they are guests in the animals' habitats. Bison, elk, and bears can be dangerous to humans if they are provoked or approached. It is always a good idea to carry bear spray even when not venturing far into the backcountry. Grizzly bear-related injuries in populated areas usually only occur about once in 20 years while injuries in the backcountry occur about once every year. Guests should hike in groups and should not attempt to sneak up on or approach any animals that they see. All visitors should keep in mind that Yellowstone is not a zoo, and the animals are wild and should not be fed. But the presence of wildlife should not dissuade you from going on a hike, as these creatures are some of the most amazing things you will see along the way.
backpacking in may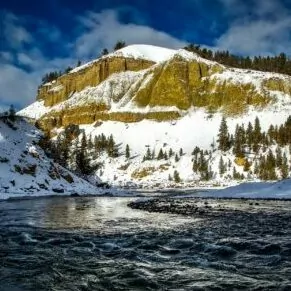 May is just on the brink of the backpacking season in Yellowstone and sometimes in tumbles right off the backpacking season cliff. The weather in May is unpredictable and visitors will be unable to know how much snow there will be a certain winter and what trails will be available by May. Anyone planning on doing back-country hiking and camping in May should be aware that they probably will encounter snowfields if not weather that is actively snowing. Of course, you can try out your backpacking gear in one of the established campgrounds that will be snow free or book an early season tour with the guiding company to be sure that all the logistics of the weather are taken care of. Those without the winter gear and expertise to hike in possibly winter-like conditions should not attempt to backpack in Yellowstone in May.
However, if you are going to backpack in Yellowstone in May, be aware that the risks and dangers of day hiking are increased when backpacking. Proper food storage in bear country is essential for bear safety as well as carrying bear spray and knowing what to do if you encounter a bear. Elk and bison can also be aggressive at this time of year due to the calving season, so give these animals space as well.
The weather is unpredictable in May and is one of the main reasons backpacking is not recommended. You will need four-season tents as well as winter gear and a low degree sleeping bags to ensure that your early-season adventure is safe. Of course, you may not encounter any snow if it was a small snow year and is unusually warm, but there is simply no way to know when you have to acquire your permits months in advance. Unlike during the winter months when snowshoeing and cross-country skiing are available to explore the backcountry, there is not enough snow in May for these activities and yet usually too much for longer trips of traditional backpacking.
 WEATHER IN MAY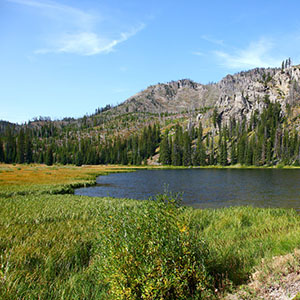 Yellowstone is a massive park encompassing 3471 mi.² and with elevations ranging from 6000 to over 11,000 feet. Because of this, weather can change drastically from one area of the park to the next. Especially in a shoulder season like spring, the temperature from day to night or from a low elevation to a higher elevation may mean the difference between it feeling like summer and it feeling like winter. It is very important to check the weather specifically in the area of the park where you want to go. You can always look up the weather at the nearest visitor center or contact the visitor center for the forecast if you cannot find it online. The weather in Yellowstone during the month of May becomes warm during the day and very spring-like. The average temperature for Mammoth Hot Springs is a high of 60, and a low of 35 degrees Fahrenheit (15/ 2 degrees Celsius). At Yellowstone Lake, the average temperature is a high of 51, and a low of 27 degrees Fahrenheit (10/ -3 degrees Celsius). On average there are 9 days of rain in May.
As has been said previously, the weather in May in Yellowstone is rather unpredictable which can make planning activities and locations to visit difficult for visitors. It is always best to prepare for the worst weather you may encounter so bringing warmer layers and winter gear is a good idea even if you don't have to use them. The best way to accommodate for the weather is the dress in layers, so that you have options to regulate your body temperature as the temperature around you changes.
Guests should be advised that Yellowstone is it high elevation in the mountains and that it has a very dry climate. Those visiting from areas that have humidity along with heat such as the American south or coastal areas may feel as though the warm days are warmer and also may experience dry and cracking skin on their hands and feet. All visitors that don't live that elevation will feel the lesser amount of oxygen in the air with heavier breathing, try to pace yourself as you explore this park.
Wildlife in may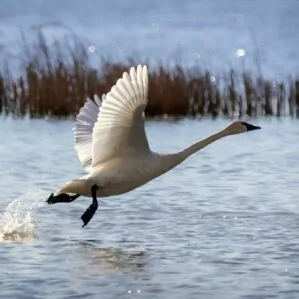 Yellowstone is bursting with wildlife in May. It is the season of new life as bison and elk are calving and many of the female bears have brought their cubs out of their winter dens. Many of these creatures can be more aggressive in this season as they defend their young, but they can be viewed safely with the right precautions and from an appropriate distance away. Many times bison will stop traffic as a few individuals and sometimes entire herds see fit to walk across or along the roads. While this at times can be annoying if you are stuck at the end of the line of traffic, it is truly amazing to see these massive animals from the safety of your car with males that can weigh up to 2000 pounds.
Both grizzly bears and black bears inhabit the park and are often seen on the side of the road. Another predator that many visitors want to see are Yellowstone gray wolves. As the best place in the lower 48 states to see wolves, guests set up tripods and long lenses in the Lamar Valley at dawn and dusk to catch glimpses of these elusive predators moving in packs across the valley. Yellowstone is also home to other big predators such as cougars, bobcats, and even the Canada lynx, but these cats are rarely seen by visitors.
There are also many members of the weasel family in Yellowstone including long-tailed weasels that turn pure white in the winter, river otters that frolic in the streams, beavers that dam up waterways and create essential environments for willows and other species to thrive, skittish martens that live and hunt in the trees, and the very rarely seen predatory wolverine that resembles a small bear more than a weasel. Birds are another draw to Yellowstone for photographers and wildlife viewers. Over 300 species have been documented in the park including bald and golden eagles, trumpeter swans, loons, and white pelicans in the summer.
Much of the wildlife in the park is unknown to visitors because of the more famous animals like bison and bears. Moose, pronghorn, big horn sheep, and mountain goats all inhabit the park, but visitors seldom see or notice these creatures. The high country is usually a great place to see these more unusual animals, though it will take more patience than bison or elk that have no problem being around people. Yellowstone has the highest concentration of mammals in the lower 48 states so get your camera ready and start exploring.
Recommended wildland trips in may
Planning a trip to Yellowstone in May can be intimidating as you try to keep up with weather, road closures, and conditions. But you can bypass all the headache of planning your own trip by booking a tour with Wildland Trekking and being shown around the park by on of our expert guides. We offer a variety of trips from backpacking treks to inn based tours and everything in between so you're sure to find something that suites you and the party you are traveling with. Feel free to explore all the tours that we offer in Yellowstone in May, but here are a couple that we especially recommend for this month.
Yellowstone Spring Trekking Adventure:  This early-season backpacking trek means that the crowds will be much thiner and the wildlife much more active. A 3 to 4 day trek along the Yellowstone River, this tour gives you fantastic vistas and glimpses of hydrothermal features that you can't see unless you walk to them. All inclusive with meals, much of your back country gear, and an expert guide included, you won't want to miss this early season Yellowstone adventure.
Best of Yellowstone Tour: This 5-day, all inclusive, inn-based tour truly is the best of Yellowstone. Experience the park's most stunning features on day hikes each in unique and distinct areas of the park only to come back to your comfortable lodging for a relaxing evening during the colder, dark hours. With the perfect balance between hiking in the wilderness and the comforts of home, this tour is a must for those who want to experience all the the different ares of this majestic national park.
 JOIN A GUIDED HIKING ADVENTURE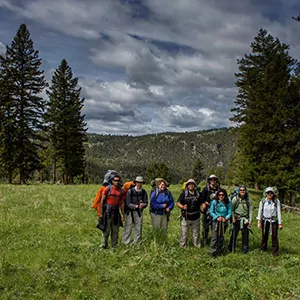 Yellowstone National Park is home to some of the most epic and amazing hiking vacations in the world. Wildland Trekking offers trips with the best of Yellowstone: geysers, waterfalls, views, wildlife, solitude, adventure and fascinating natural and cultural interpretation.
Guided Yellowstone treks are all-inclusive which covers permits; local transportation (excluded on certain tours); meals; equipment; safety systems and professional hiking/wilderness guides; all of which allows visitors to maximize their time in Yellowstone and focus entirely on enjoying the Park.
YELLOWSTONE ADVENTURE TOURS