September in the Grand Canyon
Learn all about what it means to visit Grand Canyon National Park in September
Updated: 10/27/22
September in Grand Canyon, and in fact at many of America's western national parks is one of the best months to be there. Inside the Grand Canyon, the hot summer temperatures will overlap into September but begin tapering by mid-September. The summer crowds have thinned out, and the backcountry is entering its prime season for hiking, backpacking, and rafting. September is still a very popular month for the Canyon and deservedly so.
Benefits of Visiting in September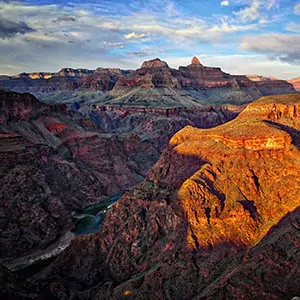 There are so many benefits to experiencing Grand Canyon in September, it's difficult to know where to begin. September still has most of the summer benefits. Temperatures in the mountainous environment on the rim remain wonderful for camping with warm, long days, and cool nights perfect for around the fire or crawling into your sleeping bag. Both the North Rim and the South Rim are prime camping, though the North Rim will probably be a little cooler. Sightseeing is still spectacular from the rims as the temperatures are nice and the days are still long. Inside the canyon, it is still hot enough to enjoy getting soaked in the frigid waters of the Colorado on a whitewater rafting trip as September is one of the most popular months for rafting trips. September still retains some of the monsoon seasons, so afternoon thundershowers that make excellent photography with the canyon as a foreground and lightning as a background still often come in this month.
All of these summer benefits still stick around in September, but the month also has some of the benefits of fall. Many schools have gone back into session and the weather is getting cooler, and crowds will be much thinner than in the summer months. While it won't be entirely deserted, the park will not suffer from long lines for services, congested roads with traffic, or fully booked accommodations. September is a blessed relief from the crowded summer months with empty viewpoints, museums, and parking lots. The North Rim in particular will be very quiet, perfect for adventuring.
Another benefit of September that it borrows from its fall neighbors is cooler temperatures in the canyon. While the temps in the canyon are still good for white water rafting and can often be over 100°F, it is less likely to be in the triple digits from morning until night and is less likely to get above 110°F. This makes remote hiking and backpacking opportunities more reasonable as the period of time in the middle of the day when it is too hot to hike grows shorter. While the heat can still be dangerous, it is much better than summer.
Drawbacks of Visiting in September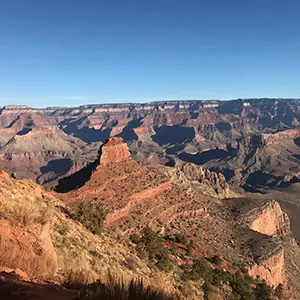 There aren't many drawbacks to visiting Grand Canyon in September. A few of the drawbacks from summer stick around though. While the crowds are significantly lessened from the summer months, it can still be busy, especially in early September, if you were expecting late fall or winter crowd levels. Visitors should also still be aware of the dangers that heat can pose in the canyon. Even though the average high is in the mid-90s, it can still break triple digits and be over 100° in the shade, feeling much warmer in the sun. The dry air and elevation will also make the air feel warmer than it really is. The tail end of the monsoon season can also be seen as a drawback. Although these storms are fantastic to watch from a safe distance, lightning strike injuries occur almost every year and rock falls can be dangerous to hikers. Perhaps the biggest danger from the afternoon thundershowers comes from the flash floods. These floods can pose a serious threat to those in the canyon, especially backpackers and rafters, as they can block exit routes, make rapids or stream crossings more treacherous than you expected, and possibly wash aware gear or your camp. However, as we get into mid and late September, these factors become less and less relevant because temperatures cool and the monsoons taper off.
Things to Do in September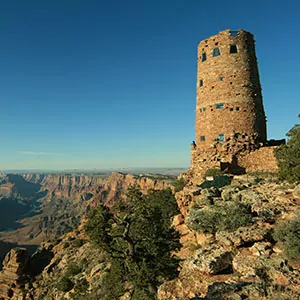 Everything is fabulous in the Grand Canyon in Se[ptember. As a company that offers hiking tours, we are most excited about the falling temperatures that make hiking and backpacking more accessible. While early September backpacking trips off the Corridor trails can still require managing high midday temperatures, most of the month poses less of a threat to backpackers and an easier time dealing with the heat. Backpacking in the Corridor (South Kaibab, North Kaibab, and Bright Angel trails), are great options as these are the most popular and safe trails and Bright Angel has lots of shade and water every 1.5 miles. You can still hike rim to rim in September as the North Rim is still open to private vehicles and this trip is simply stunning. You should still begin your hike very early in the morning and plan on sitting out the midday heat if it's reached into the triple digits.
No matter the change in temperatures, dangers still exist in the desert. Heat exhaustion, heat stroke, water poisoning, flash floods, lightning strikes, wildlife danger, and many other risks come with being in the Grand Canyon, especially in the backcountry, so all visitors should be prepared with some knowledge of the dangers that come with activities. Hiking to Phantom Ranch is also a great option and can be combined with your rim-to-rim hike. As the only accommodation at the bottom of the canyon besides camping, the ranch is much sought after and books up quickly. Rafting is also very popular with 6-21 day Colorado River rafting tours and single-day rafting tours are available. You can do either still water rafting to get a different perspective on the canyon or white water for the thrill of your life. Many other tours are also available such as cycling, helicopter and plane rides, and van tours.
September is great for camping and sightseeing on both rims because of the continued pleasant temperatures and long days for exploring. If you're a photographer, check the forecast and set up your camera on one of the rims to catch the amazing scenes of thunderstorms rolling in over the canyon in the afternoons. Be aware of lightning danger while you are out there, but don't miss the chance to capture these phenomenal light shows. If you want some activities sheltered from the elements during midday heat or a thunderstorm, the Yavapai Geology Museum, which has fantastic exhibits on the fossils and geology in the park, or the Kolb Studio and photo gallery are great options. Both visitor centers in the park have great exhibits and a 22-minute park film about the history of the area.
If you have a whole extra day to spend, consider a trip on the Grand Canyon Railway from the nearby town of Williams that will take you back in time to the land of rail travel and outlaws. Native American and early settler history is also available to see in the park at the Tusayan Museum and Ruin, Eagle Point Native American village on the west rim, or the Desert View Watchtower to the east. There are nearly endless possibilities for activities in the park, so gear up for the adventure of your choice.
Things to see in September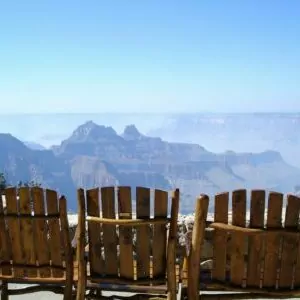 There are nearly as many things to see in August as there are to do, and if you read the last section, you know that's a lot. Sightseeing is one of the most popular things to do because of the pleasant temperatures on the rims. So if sightseeing is the main item on your to-do list, rest assured you won't be bored. We've compiled a list of some of the must-see sights in August, but make sure to do your own research on what piques your interest in the park, as this list is by no means exhaustive.
North Rim: For much of the year, the North Rim is only accessible via hiking from the South Rim. But in the summer you can drive your private vehicle to this remote and wild section of the park. Stroll along any of the rim trails, hike down into the canyon, or look for wildlife such as bison and elk that are much more plentiful here than on the south rim.
Thunderstorms:  September is your last chance of the year to view some of Arizona's famous monsoon season when thunderstorms are not uncommon in the afternoons. While they can be dangerous and need to be treated with respect, these storms are spectacular to see descending over the canyon. Flashes of lightning, sheets of rain, and dark dramatic clouds make for excellent photography and simply stunning views to just watch.
Desert View Watchtower:  located near the east entrance of the park, this watchtower is many visitors' first opportunity to see glimpses of the canyon and peekaboo views of the Colorado River. Designed by famous park architect Mary Coulter, the tower seems to rise out of the very canyon walls itself and features a recreation of a Native American Kiva on the first level. The upper levels feature windows out for views of the canyon, so make sure to stop and climb the tower if you're entering from the east.
Wildlife: August, September, and some of October is the rutting season in the Grand Canyon, mating season for elk and bison. While elk can be found on both rims, bison can only be found on the North Rim. The males of both of these species head butt and fight throughout these months for the right to mate. Make sure to keep your distance from these animals during this time as they can become more aggressive and territorial than normal, but don't miss these fantastic displays of power during the rut.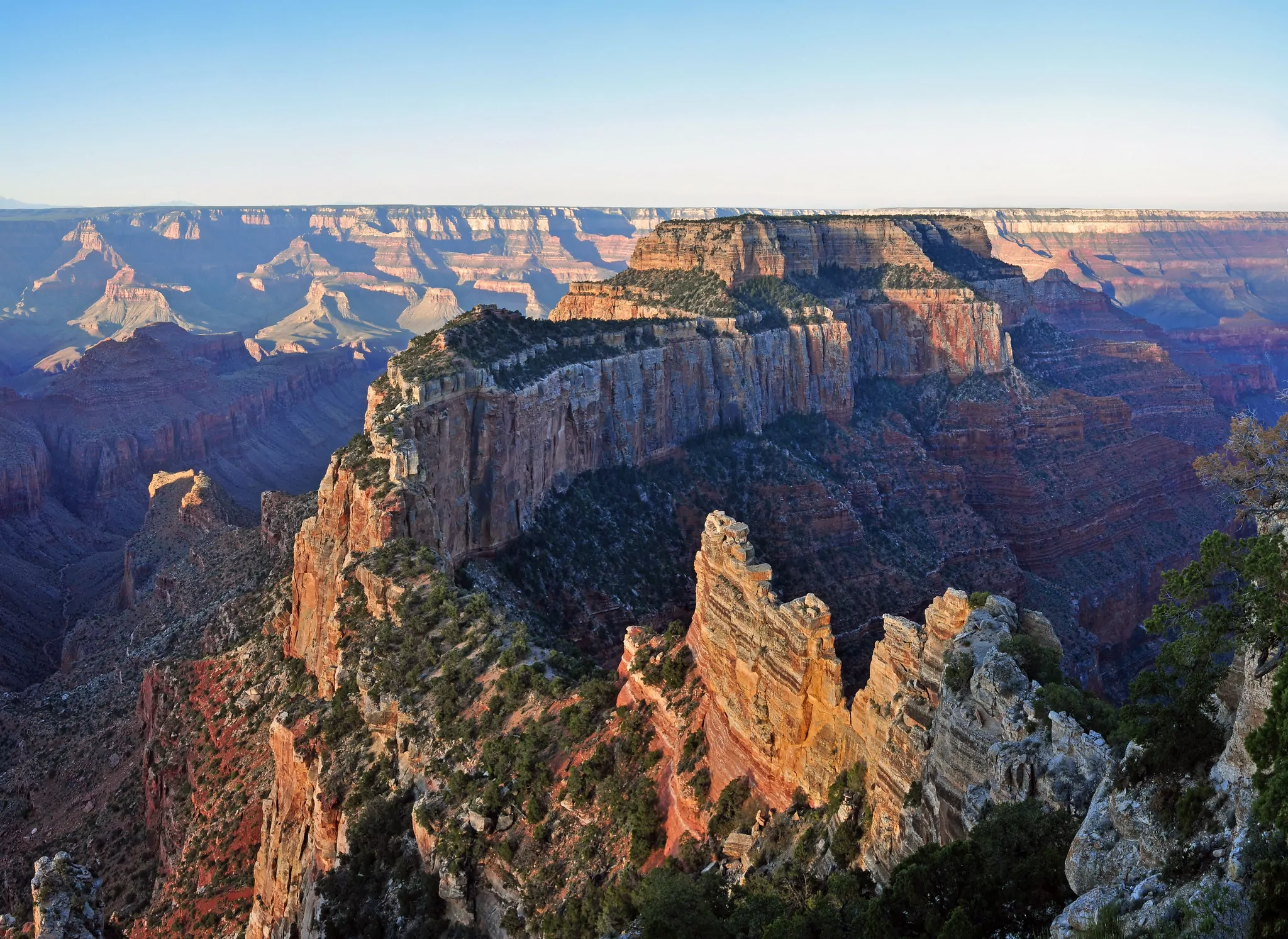 Hiking in September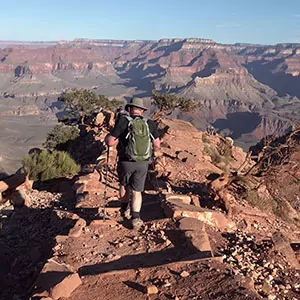 The best month for hiking the Grand Canyon is October, but a close second is September. With the temperatures at the rim very pleasant and the heat beginning to subside in the canyon, September is a great time to go on those fun day hikes. However, hikers still need to be prepared for the possible dangers they may encounter. Some inexperienced visitors may assume that because it is no longer summer, it is entirely safe to hike in the canyon. But with temperatures still reaching triple digits at times, it's important to still be prepared. Day hikes that go 3 miles or less should be done with at least 3 liters of water per person and plenty of snacks and food.
If you're looking to do a shorter day hike, Bright Angel Trail and South Kaibab Trail both offer overlooks and waypoints where you can turn around and hike back out of the canyon. This is a great way to experience the inside of the canyon without the extended steep grade and intense heat as you will head back up in elevation before the heat becomes too intense. You can still do a rim-to-rim hiking trip in September, but the NPS does not recommend doing this hike in one day and you should only attempt it if you're an experienced desert hiker. You can turn it into a backpacking trip, however, if you'd like to stay the night at the bottom of the canyon, which many visitors find to be much more enjoyable as you are not rushing to beat the heat back up. You can choose to hike down and back up the same side of the canyon, either north or south or decide to do it thru hike, hiking from one rim to the other where hopefully you've left your car or have a friend waiting to pick you up.
Day hikes are great in and out of the Corridor, although early starts (at or before sunup) should still be the rule, especially in early September. Consider joining a hiking tour to make the most of your time at the canyon. Expert guides on these trips will make sure you aren't missing any essential safety information and will know what to do if a dangerous situation arises. Heat stroke and heat exhaustion are your most eminent threats, even on day hikes. Make sure you know the differences between these two conditions as heat stroke is a life-threatening emergency while heat exhaustion (though it can lead to heat stroke and thus is still dangerous) can be dealt with without emergency medical assistance. Many visitors are fooled into thinking that canyon hiking is easy by the initial downhill hiking and the cooler temperatures of the rim, so don't be the person that is not prepared.
The park has also seen an increase in water poisoning in recent years, and the National Park's Service now recommends hiking with both water and food. Water poisoning, also called water intoxication, is a condition when a visitor is overzealous and drinks too much water, causing an imbalance of sodium in their bloodstream. The lack of sodium makes their cells swell through osmosis, and if this happens in your brain it can be life-threatening. Prevent this condition by eating as well as drinking while you're hiking and not forcing fluids if you are not thirsty.
Even day hikers should also be aware of the dangers of the tail end of the monsoon season in the park. Rock falls and lightning strikes pose dangers and flash floods can also be dangerous if you're at the bottom of the canyon as they can block exit routes, sweep away gear, and make mild stream crossings impassible. September is a great time to hike in the park, but much like the other months, it comes with its own set of dangers that you should be aware of in order to make the trip safe and fun.
backpacking in September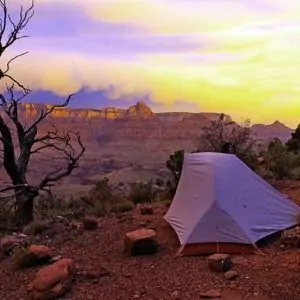 Much like hiking, September is a great month for backpacking as the heat begins to subside and the crowds are leaving the rims. While we recommend sticking with the Corridor Trails (South Kaibab, North Kaibab, and Bright Angel Trails) for backpacking in the summer months, September is when we lift that recommendation. The more remote trails – Hermit, Grandview, Tanner, New Hance, Boucher, Bass, and others – are much safer in September than in June, July, and August. A rim-to-rim backpacking trip in September is a great option, especially if you only have a weekend to spend in the park.
Trekking from rim to rim is a famous hike that is simply spectacular. You can choose to do an out-and-back with a night spent on the canyon floor or at Phantom Ranch or a thru-hike from one rim to the other where you parked your car or have a friend waiting to pick you up.
If you have a few days to spend at the bottom of the canyon, Havasupai Garden and Bright Angel Creek offer great chances to see a part of the canyon that isn't entirely desert. Hiking on the Corridor trails, especially in early September should start early in the morning, at or before sun up. If you find that the temperature is increasing just before you're about to start hiking out of the canyon, wait. It is worth waiting a few extra hours to avoid struggling up the steep grade of the canyon with a backpack in the heat of the day.
There are many itineraries to choose from in the park and guiding companies offer guided trips on many of the trails. You can check out what guided trips are offered to see if you want to take a guided tour or just want to look at some sample itineraries for your own trip.
Early September can still be quite hot, so remote trips should be done with caution or on guided trips. Temperatures in midday can break triple digits and can feel warmer in the sun or while exerting yourself. Desert backpacking is much different from backpacking in the mountains of the western United States where water is plentiful, so it is important to bring plenty of water with you as well as salty snacks to head off dehydration, water poisoning, heat exhaustion, and heat stroke.
Being in the backcountry amplifies the risks of day hiking, so make sure to read the section above if you're interested in this activity. Backpackers should also keep in mind the elevation of the canyon and how dry the air is, as this can make traveling longer distances difficult for visitors that live at or under sea level or in humid climates. Check with a ranger before you set out and talk to them about the trail you had in mind to make sure it is appropriate for your fitness level and for what you want to see in the park.
September is a popular month for backpacking, so backcountry camping permits and Phantom Ranch reservations can be very competitive. September is a great option if you're wanting to go backpacking, but like many other months, it comes with some dangers that you need to be aware of to make sure your trip is fun and safe.
Weather in September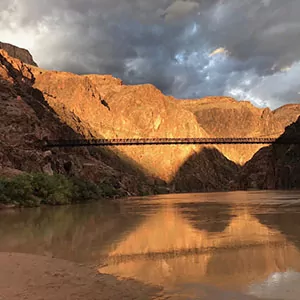 The Grand Canyon is a large park and the main feature, the canyon itself, creates unusual weather patterns. As we've said before, there are two distinct environments in the park. The first is the mountainous, Alpine environment on the rims that stays pleasant in the summer and receives many feet of snow in the winter. In September, the average high at the South Rim is 76 degrees Fahrenheit, and the average low is 43 degrees Fahrenheit (high of 24 degrees Celsius, low 6 degrees Celsius.) However, inside the canyon is a desert environment– despite the Colorado River running through it– which remains pleasant in the winter, but has intense heat in the summer. At Phantom Ranch at the bottom of the Canyon, the average high temperature in September is 96 degrees Fahrenheit, and the low of 69 degrees Fahrenheit (35H/21L degrees Celsius.) Visitors should keep in mind that these numbers are averages, and thus not the hottest or the coldest temps you might encounter. September can often break triple digits inside the canyon in absolute temperature and it often feels that way when hiking or backpacking.
The average number of days of rain in September is 4. September is the tail end of the monsoon season in Arizona which peaks in July and August, so visitors should expect occasional afternoon thundershowers that come in quickly over the canyon. These storms are magnificent to watch if you're a safe distance away. But they can also cause some of the more dangerous weather conditions in the park. Lightning strike injuries happen on the rim almost every summer, so it is important to know basic lightning safety and how to tell if you're too close. Monsoonal thunderstorms can also cause rock falls, which can endanger hikers. If you find yourself hiking in a thunderstorm, follow lightning safety procedures and beware of falling rocks. While strong winds and lightning are the more common elements of these storms accompanied by only light rain, heavy rain and subsequent flash floods are possible. Flash floods can pose various dangers, especially to those in the canyon like rafters and backpackers. These floods can block exit routes, make rapids or stream crossings more treacherous than you counted on, or wash away your camp or yourself. You can read more about these events and the safety of dealing with them on the National Park Service's safety page.
Despite the rain, September heat inside the canyon can reach dangerous levels and guests need to be aware of the dangers that they might encounter in the canyon. Heat exhaustion and heat stroke are the most eminent threats from heat while in the canyon. Some inexperienced visitors might think that because summer is over, it is entirely safe to hike the canyon. This is not the case. Do not be fooled by the cool temperatures on the rim and the initial downhill hiking; the heat intensifies with every step you take farther into the canyon. While the heat is not at summer levels, hikes still need to start early in the morning and finish late morning or have a break at midday. Dehydration can contribute to both heat exhaustion and heat stroke, so make sure you're staying hydrated while on your hike.
The park has also seen an increase in cases of water poisoning, in which a visitor has drank too much water without eating as much as they should maintain the correct sodium level in their bloodstream. If sodium drops too low, cells will swell, and if this happens in your brain it can be life-threatening. Make sure you're eating salty snacks as well as drinking and not forcing fluids if you're not thirsty. The elevation of the canyon can also play a role in heat-induced conditions and general exhaustion, as visitors who are accustomed to living at or around sea level will find themselves out of breath and energy quicker. If you are staying on the rims, particularly if you are camping, be aware of the dangers of hypothermia at night and bring layers to keep warm. Always be sure to check the forecast before you set out for the day, especially keeping your eye out for afternoon thundershowers. With so many different options, you are sure to find a place in this park where the weather suits what you'd like to do, whether it be bundled up around the campfire at night or getting drenched with freezing river water to cool down in the 100+ degree air.
wildlife in september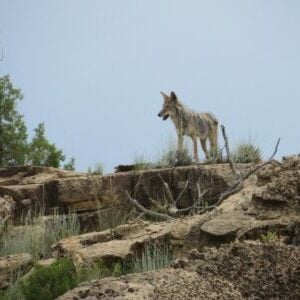 September is a great time to view wildlife in the park, as the animals are beginning to become more active as the heat subsides and elk and bison are in the rut. The rut is elk and bison mating season which happens from early September to early winter every year. While elk can be found on both rims, bison are only found on the North Rim, but you can see spectacular shows of their behavior on either side. During this time, males of both species gain weight and scuffle and fight with each other for the right to mate. Bull elk also give out their characteristic bugle, which ranges from a whistle to a low growling and huffing sound. It is important to keep extra distance from these animals during this time of year, as they can become aggressive and territorial if you get too close. Many of the other animals in the park will also be out and about in September, including mule deer, bighorn sheep, ravens, and the park's famous squirrels. If you venture down into the canyon, many reptiles and amphibians will still be out for you to see, probably sunbathing on the trail or in the creeks and rivers. Keep an eye out for rattlesnakes and gila monsters both of which are venomous. While a gila monster bite is not fatal to humans, it can be very painful and land you in the hospital. Rattlesnake bites require anti-venom and need to be treated immediately. Some of the park's larger predators are coyotes, bobcats, and mountain lions. Coyotes are rather common in the park and you have a good chance of seeing one near dusk or dawn, but the feline members of the predator family are shyer and less likely to be seen.
One of the park's most famous wildlife residents is the California condor, brought back from the brink of extinction by captive breeding programs. This majestic bird can often be seen riding the updrafts of warm air from the canyon on its massive wings. The largest bird native to North America, the California condor can have a wingspan of up to 9 1/2 feet but only weighs up to 24 pounds. Grand Canyon has a small but stable population of these birds that are still endangered and are the subject of conservation efforts.
The pig-like javelina is another peculiar park resident, found all over Arizona and New Mexico. They are known for their tough diet which sometimes even includes cactus. These animals are slightly more elusive, however, so you're not as likely to see them on your everyday adventures in the Grand Canyon. Ringtails, often called ring-tailed cats, are also on the elusive side being strictly nocturnal. But if you're staying at Phantom Ranch or at the bottom of the canyon, it is well worth staying up a little later into the night to try to see one of these adorable animals. If you're interested in seeing something specific, talk to a ranger about the best place to find one or ask what has been caught lately on remote camera traps.
recommended wildland trips in september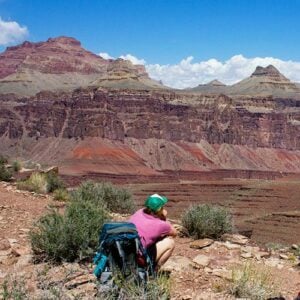 As we've said before, September is one of the best times for hiking and backpacking in the canyon, but it is still rather hot and you will need to take some precautions. If you've never hiked in the Grand Canyon before, don't have a desert hiking experience, or just feel like taking a more relaxed approach so you don't have to plan out the logistics, consider booking a trip with us on one of our many guided hiking tours. We offer trips in a variety of styles from backpacking and camping tours to inn-based trips and day hikes. Feel free to browse all the trips we offer in the Grand Canyon, but here are a few we especially recommend for September.
New Hance Loop: This 4 or 5-day adventure on the spectacular Grandview Trail is one of the most challenging backpacking trips that we offer in the canyon, but the solitude you experience is well worth it. Escape any leftover crowds from summer on the rims and journey deep into the canyon where you will have much of it to yourself. Camp along the Colorado River, see desert oases and springs and experience the gorgeous Red Rock Canyon on this wonderful, all-inclusive trip.
Kanab Creek Adventure: Similar difficulty level but more remote than the New Hance Loop, our backpacking trip along Kanab Creek is one of the most remote we offer in the park. Hike deep into a side canyon on this seven-day adventure and explore ancient pictographs, the mighty Colorado River, and desert oases with water and shade. You'll even spend some time at Whispering Falls and hike through Jump Up Slot Canyon on this trip, so if you were looking to experience part of the canyon few others do, this is the trip for you.
Grand Canyon Basecamp Tour: If you're looking to enjoy hiking and camping in the Grand Canyon but are not sure you want to get into the backcountry, this base camp trip on the rim is for you. Enjoy 4 days of camping in the pleasant temperatures on the rim and embark on distinct hikes each day of your trip. With meals, local transportation, and much of your gear included, this all-inclusive adventure is not to be missed in September.
Best of Northern Arizona Tour: Experience the best northern Arizona has to offer on this 6-day inn-based tour that will take you to the South Rim, the North Rim, and Sedona. Enjoy the comforts of national park lodges and premier dining each night, while exploring the scenery on handpicked hikes each day. All-inclusive with a maximum group size of nine, you won't want to miss out on this fantastic hiking tour.
Join a Guided Hiking Adventure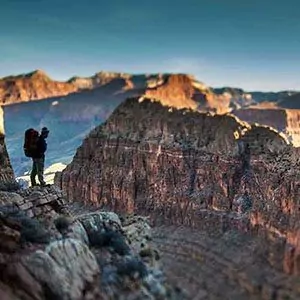 Grand Canyon National Park is home to some of the most unique and spectacular hiking vacations in the world. Wildland Trekking offers trips with stunning views, geologic history, and incredible hiking and backpacking for visitors who want to have an active, adventurous experience.
Guided Grand Canyon treks include permits, local transportation (excluded on certain tours), meals, gear, risk management systems, and professional guides, allowing guests to make the most of their visit to the Canyon, focus 100% on enjoying their experience, and do it all with an increased level of safety and comfort.
GRAND CANYON ADVENTURE TOURS