November in the Grand Canyon
Learn all about what it means to visit Grand Canyon National Park in November
Updated: 10/28/22
November is probably the #1 most underrated month for visiting Grand Canyon. November is when winter often begins to show up at the rims, the North Rim closes (flexible date based on first snowfall), the crowds all but disappear, commercial rafting on the Colorado River closes, and backcountry hiking is still at its prime. It's a great month for families, couples, solo travelers – anyone who can make time to visit before the holidays get underway.
Benefits of Visiting in November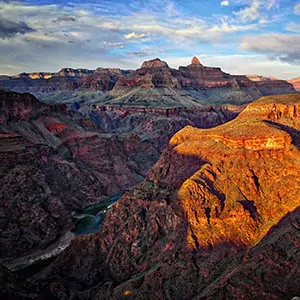 November is a great month to visit the Grand Canyon; it is probably the most underrated of all months in the year. The biggest and most obvious benefit of this month is a lack of crowds. With winter looming, if it hasn't already arrived, crowds will have subsided to almost wintertime lows and you will have much of the park to yourself. This means no more long lines of traffic, crowded museums, high accommodation costs, and low availability. Lodging within the park becomes significantly less expensive in November even compared to October and it's easier to get on a last-minute basis. While you shouldn't expect the lodges to be ghost towns, you won't encounter the large crowds and large lines that you would in summer. The much sought-after Phantom Ranch at the bottom of the canyon is much easier to get reservations for and you might even be able to eat at the historic El Tovar restaurant on short notice.
November also boasts nearly perfect temperatures in the canyon for hiking and backpacking. While the rims are getting colder, warmth still remains inside the canyon and you will find daytime temperatures to usually be in the high 60s, absolutely perfect for hiking. In contrast to the broiling heat of late Spring and summer and the threat of afternoon monsoons in late summer, these temperatures are a blessed relief. In addition, because of the worsening weather at the rims, fewer backpackers and hikers come to the Grand Canyon in November so you will have less competition for backpacking permits. While in October permits can be very difficult to obtain, November makes it much easier and less stressful to plan a trip.
If you're lucky (or unlucky, depending on how you look at it), November will bring you the first snow of winter. While this can lead to some problems in road closures and conditions, seeing fresh snow dust on each ledge of copper and crimson rock in the canyon is truly a sight to behold. If you were looking to get winter photography of the canyon but don't want to come when the weather is coldest in the true winter season, November is a great option as your chances of snow are fairly good. Great wildlife viewing is also another perk of November, as some of the park's larger animals will still be out and about and you are more likely to catch a glimpse of one of the more elusive predators like a bobcat or a mountain lion when there are less people and the temperatures are colder.
Drawbacks of Visiting in November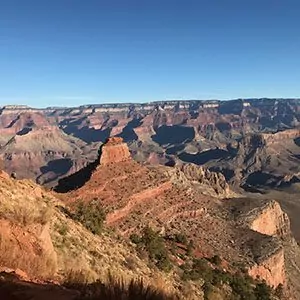 Despite November being a great time to visit, there are some drawbacks to this month that visitors should be aware of. First is that the North Rim may or may not be open based on when you go in the month. It closes on the first heavy snowfall after October 15, which usually doesn't happen until November. This makes planning a visit to the North Rim tricky. If you want to see it truly deserted, you can plan a trip to camp in November and take the risk that the road will still be open. This much more remote and wild section of the park is definitely worth a visit, and many visitors feel as though they have missed out if they don't get to see it. But November brings uncertainty with whether or not the road will be open.
November also brings the possibility of unpleasant winter weather at the rims. While the floor of the canyon is a desert environment that is very much like Death Valley or Joshua Tree National Park, the rims are mountainous, alpine environments. Sitting between 7000 to 8000 feet, visiting the rims of the Grand Canyon in winter is much like visiting Sequoia or Yosemite National Park in the winter. A heavy snowstorm could close roads and halt hiking activities but can also create white-out conditions where sightseeing is impossible. Inclement weather can cause a loss of time spent outdoors during this season.
This is also a concern for hikers and backpackers wanting to go into the canyon. While the temperatures inside the canyon are perfect for hiking, snow storms, ice, and whiteouts can make hiking into it impossible. Hiking is the only way into the canyon this time of year as white water rafting and still water rafting have closed for the season due to the cold. While backcountry permits and lodge accommodations in the park are easier to get in November than they are earlier in the season, they can still be competitive, especially if the weather is nice. Rim-to-rim permits early in the month when the North Rim is likely to still be open are very difficult to get along with reservations at Phantom Ranch at the bottom of the canyon. With these drawbacks in mind, November is an excellent time of year to visit the canyon. By joining a backpacking or hiking tour with a guiding company, you'll be able to avoid the headache that comes with securing permits and planning out a safe itinerary. These trips are great options if you've never backpacked before, never winter camped before, or even if you were a seasoned hiker but want a more relaxed trip with a solid itinerary.
Things to Do in November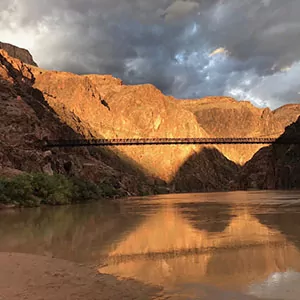 The best activity at Grand Canyon in November is hiking and backpacking. While the rims are getting colder, inside the Canyon the temperatures are fantastic for hiking, backpacking, and camping. Because you are no longer dealing with the intense heat of summer, many of the remote trails of the Corridor are available to hike. Rim-to-Rim is still possible early in the month, but we recommend not planning on Rim-to-Rim after November 15 because the North Rim roads close with the first big snow after October 15. The variable date makes it difficult to plan a trip and ensure that someone will be able to come to pick you up or that you can leave the car on the North Rim to drive back. While it is possible to do a rim to rim to rim backpacking trip, you will need winter experience and gear for this kind of hike.
Day hiking is also fantastic on both sides of the Canyon, as long as the North Rim is still open. The Corridor trails of Bright Angel, North Kaibab, and South Kaibab are great for a day of hiking and have waypoints where you can turn around and head back up to the rim. If you are lucky and go early in the month, the trails shouldn't yet have ice and will be clear for regular hiking.
At the South Rim all activities, hikes, and tours are great in November. While commercial rafting is closed for the season, helicopter, van, and airplane tours are all available and are wonderful options. Sightseeing along the rim is another popular activity in November, although less popular than it is in the summer when rim temperatures are warmer. November is likely to bring frigid temperatures and often snow later in the month on the rims, so if you plan on sightseeing bring warm layers. Hermits Rest Scenic Drive is closed to private vehicles in November, but you can take the shuttle to avoid walking or biking in the cold.
Wildlife viewing is another great activity on the rim. Many of the more elusive animals are more often seen in the colder, less crowded months. Keep your eye out for elk, mule deer, bobcats, coyotes, and many other creatures that called the park home. If the weather is good and you'd like to do something besides hiking, a bicycle tour with Bright Angel Bikes is a great option. If the weather takes a turn for the worse, great indoor activities are at the Yavapai Geology Museum or dinner (any meal really) at El Tovar's Historic Hotel and Restaurant. The Kolb Studio and photo gallery is an option to take cover inside and the visitor center on the South Rim has great interpretive information and a 22-minute film about the park.
The Grand Canyon also boasts an iconic, old western-style railroad, called the Grand Canyon Railway that brings visitors from the nearby city of Williams on a wonderful trip to the park, often accompanied by western outlaws and bandits. In November and December, however, the railway is transformed into the magical polar express complete with visits from Santa, hot cocoa, and cookies. Take your little ones on this fantastic re-creation of the classic Christmas movie and you might be surprised how much you even enjoy it.
Things to see in november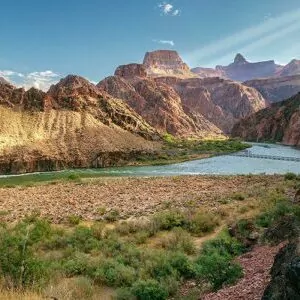 November is a great time for sightseeing in the park, and while you may run into colder temperatures or more adverse weather, you won't be disappointed if sightseeing is the main item on your agenda. While the canyon is the main feature and each of the overlooks provides a unique and stunning view, there are also many other things to see this time of year that are sure to keep you busy. We've created a short list of some of the must-see sights in November, but make sure to do your own research to see what specifically piques your interest in the park.
Yavapai Point: Lying northwest of the visitor center on the South Rim, Yavapai Point is well known for being a "can't miss" overlook. One of the best places in the park for sunrise or sunset, this vista is incredibly panoramic and easy to get to as you don't have to take the shuttle as you would to any of the viewpoints that lie along Hermit's Rest Road.
Desert View Watchtower: Located just inside the park's east entrance, this watchtower seems to rise out of the very canyon walls itself. Despite being visitors coming from the east first opportunity to see views of the canyon and peekaboo views of the Colorado River, the tower doesn't get climbed as often as you might think. Make sure to stop here, take a look at the re-creation of the Native American Kiva on the first level, and then take in the views out of the windows on the upper levels.
Fossils: Grand Canyon National Park is full of fossils, both prehistoric and modern. Perhaps the most famous, which can be found on Hermit Loop Trail, are the tracks of an extinct reptile preserved in a sand dune that turned to stone. If you find a fossil in the park, take a picture or make a sketch and show a ranger to see if you can identify what it is. Many of the fossils are marine in origin. If you want to find fossils, ask a ranger or look online for where you can find famous ones that are marked or good areas to search for them in smaller rocks.
Phantom Ranch: The only of the national park lodges that lie below the rim of the canyon, Phantom Ranch is worth seeing even if you can't get reservations. Another work of the famous park architect Mary Colter, the small dormitory and cabins are nestled snuggly beneath the trees near Bright Angel Creek and make for a great stopover during a rim-to-rim hike or just for lunch.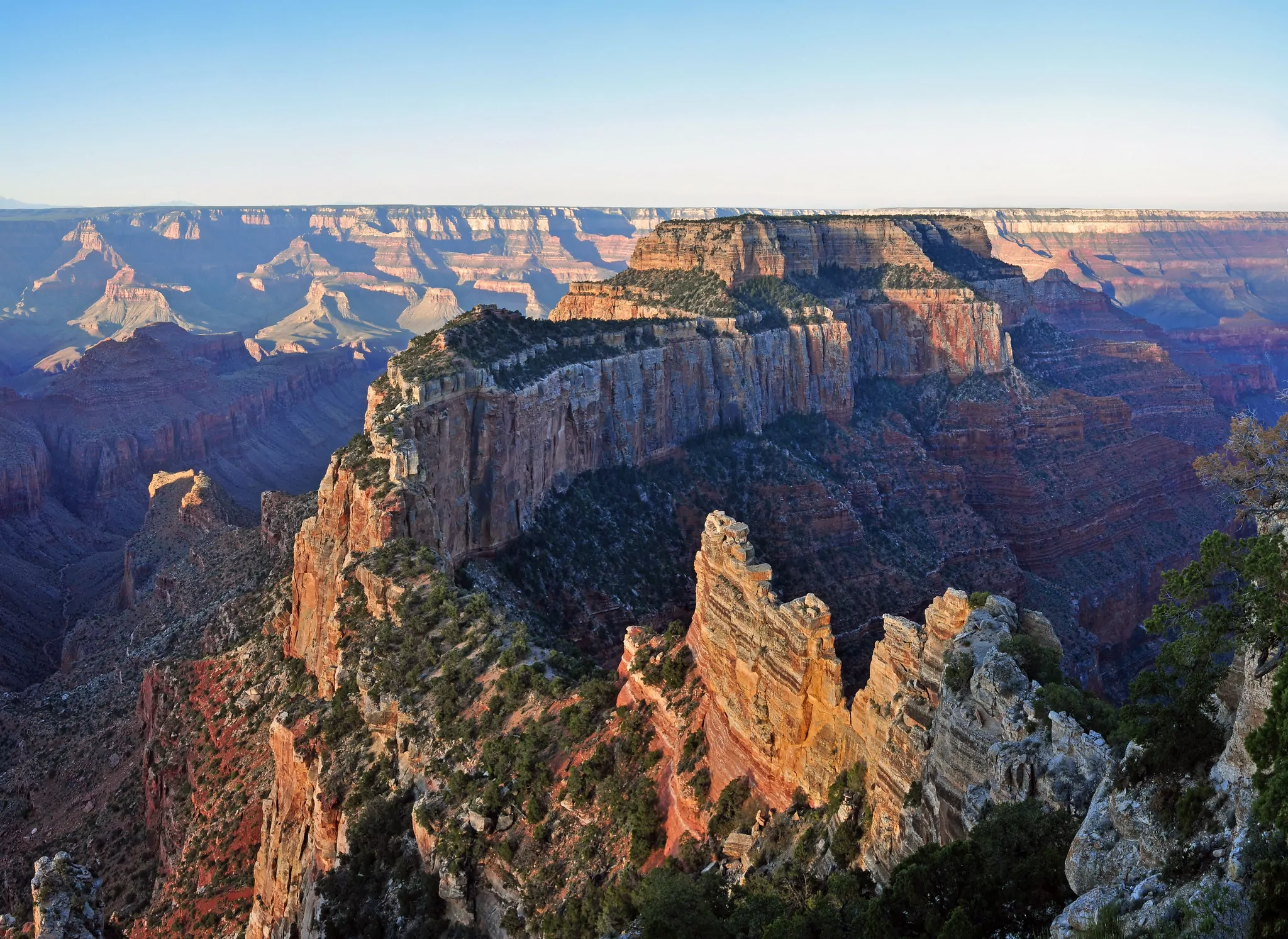 Hiking in November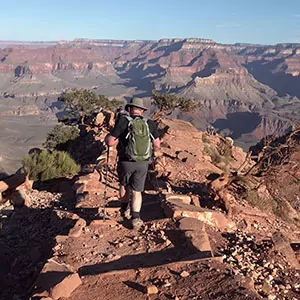 November is great for hiking and backpacking the Grand Canyon. All areas of the Canyon and all types of hikes are great in November. Backpacking trips and day hikes in the Corridor Trails (South Kaibab, North Kaibab, Bright Angel) are great for single-day or extended weekend trips. These are also the most frequented trails in the park, so if you're not keen on being completely alone out there, these are the trails for you. Bright Angel Trail has water every 1.5 miles and the spectacular Plateau Point about halfway down which can serve as your marker to turn around. South Kaibab trail is a bit more sun exposed and without water, but is a great option.
Day hikes outside the Corridor on trails like Hermit, Grandview, Tanner, and others, are also great this time of year, as the pleasant temperatures in the canyon make a longer hike feasible. It is only during the shoulder season that these more remote trails are available as today's hikes, so make sure to take advantage of them if you're up for a longer trek. Always check with a ranger to see what the trail conditions are and if the trail aligns with your fitness level.
Day hiking in the Canyon does not require permits, so you won't have to worry about securing them beforehand. It is important to keep in mind some essential safety information to ensure your hike is fun and safe. Your biggest hurdle will be the change in temperature from the rim to the bottom of the canyon. While the rims can be snowy and very cold during the day, the bottom of the canyon is likely to be in the high 60s. Your solution to this should be to dress in layers that you can take off or put on depending on the temperature around you.
Hypothermia is a real risk in the canyon when hiking and it can happen when the temperature is high as 40°F. It occurs when the body loses its ability to keep itself warm from long exposure to cold or wet conditions. Look for the symptoms of the "umbles"– grumbling, stumbling, mumbling, and fumbling. To avoid this, make sure to break out your warm layers before you start shivering and put on your rain jacket before you get wet. This might require you to carry a few extra layers in your backpack, but it is well worth it. It is also very important to hike in groups, as hypothermia and other conditions that can cause illness often also cause confusion and recklessness and thus are difficult to recognize in yourself. As the days are getting shorter and the temperature drop sharply after dark, make sure to begin your hike early enough so that you are off the trail before the onset of night. Make sure you have enough water and food for your hike.
Dehydration and water intoxication are both risks when hiking in the Grand Canyon, the one from not drinking enough water and the other from drinking too much without eating enough. Many day hikers can be fooled into thinking that canyon hiking will be easy based on the initial downhill hiking. Be aware that it can take twice as long to hike out of the canyon as it took you to hike down, so make sure you have the supplies you need and know how to handle emergency situations, should they arise.
Backpacking In november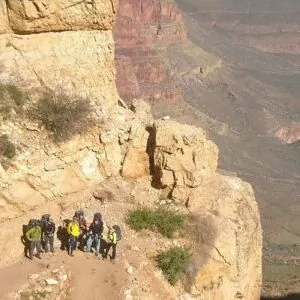 Backpacking is excellent in November as the canyon temperatures are perfect for long-distance hiking. You can choose anything from a weekend trip on the corridor trails to an extended track deep into the backcountry. The Corridor trails (Bright Angel, South Kaibab, North Kaibab) are by far the more popular and you will also see many day hikers on these trails. It's also on these trails that you can do a rim-to-rim hike. However, we don't recommend planning this hike after November 15 as the North Rim closes with the first major snowstorm after October 15. While it doesn't normally close until the middle of November, you would not want to be in a situation in which you had to hike back to the South Rim, possibly with depleted food and water, because the North Rim had closed and no one could come to pick you up.
If you want to plan a corridor backpacking trip in late November, you can do a rim-to-rim-to-rim hike even when the North Rim is closed. This spectacular hike will allow you to visit a part of the park that is closed to vehicles and you almost surely will have it all to yourself. This is a much more strenuous trek and will require winter gear and experience, so we don't recommend it unless you're an experienced winter hiker or are with a guiding company. Another option is to do a longer trek on one of the more remote trails in the canyon such as Hermit, Grandview, Tanner, and others. These more remote hikes often offer greater solitude than the Corridor trails and more unique features such as red rock canyons, slot canyons, desert oases, and waterfalls. These trails will also be easier to get permits for as they are less popular than the rim-to-rim trails. Another option for hiking in the canyon is a trip to Phantom Ranch on one of the Corridor trails. While reservations can be very competitive this time of year, this rustic and basic inn is a treat to stay at nestled among the trees near Bright Angel Creek, an oasis in the middle of the desert.
Backpacking permits can be difficult to secure in November, especially for Rim to Rim, as this hike is so popular in November with its ideal temperatures. This is one of the biggest benefits of going with a guiding company, which will take care of the reservations, permits, and itineraries for the entire group so all you have to do is relax and enjoy your trip. Backpackers should be aware of impending winter weather, the temperature that results in the risk of hypothermia, and the elevation of the canyon and steepness of the trails that can considerably slow down your hiking speed. The Grand Canyon is still desert, despite the snow and winter weather on the rims, so you will need to know where you can find water and how you will need to filter it. Backpacking only amplifies all the dangers that he might come across all day hiking, so make sure to read the section above if you're interested in this activity. Backpacking in the Grand Canyon can be very fun and rewarding as long as you make sure to gather all essential safety information and put in the work to make sure your trip is safe.
Weather in November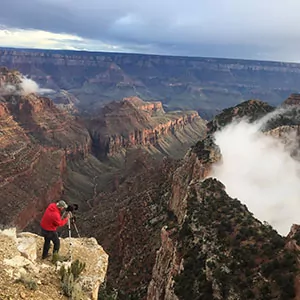 Grand Canyon is a large park and the main feature, the canyon itself, makes weather patterns vary significantly. The canyon rims are at 7000 to 8000 feet of elevation and are mountainous environments. Visiting the rims in November will be a milder version of visiting Yosemite or Sequoia National Park in November; you are likely to find some snow on the ground and temperatures below freezing at night, if not during the day. The average high at the South Rim in November is 52 degrees Fahrenheit, and the average low is 24 degrees Fahrenheit (high of 11 degrees Celsius, low -4 degrees Celsius).
However, within the canyon is a desert environment at only 2000 feet of elevation. Its climate is rather like Joshua Tree National Park or Death Valley in the winter; dry and cool with bigger swings between night and day, but not freezing temperatures. At Phantom Ranch at the bottom of the Canyon, the average high temperature in November is 68 degrees Fahrenheit, and the low of 46 degrees Fahrenheit (20H/8L degrees Celsius). The average number of days of rain/snow in November is 3. Visitors are advised to keep in mind that these numbers are only averages and that the park's actual weather can vary significantly in either direction during November.
November weather is rather unpredictable at the Grand Canyon. You can count on the rims being cold but when the first snowstorm will hit– closing the North Rim and ushering in the beginning of winter– varies from year to year. Sometimes it is as early as late October and other times as late as late November. Mid-November is a good estimation, however, and we don't recommend planning a rim-to-rim backpacking trip after November 15. However, all visitors that come to the park during November should be prepared for the worst weather they might encounter, i.e. winter weather. Heavy snow can close the roads and effectively halt all activities on the rims until the roads are plowed or the sun melts the snow. Unlike northern mountainous national parks, the snow at the Grand Canyon doesn't stick around all winter but usually melts in a few days.
Visitors should also be prepared for potential icy conditions. If it rains during the warmer part of the day, it's possible the water will freeze overnight and create icy roads and trails. Hiking is not recommended on icy trails unless you have microspikes or crampons, which are devices to put over your boots much like tire chains to give you extra traction.
Hypothermia can be a real threat in the Grand Canyon in November, especially if you are camping. Bring warm layers and put them on before you start shivering in order to prevent becoming chilled, which is often the first step in contracting hypothermia. You can also expect the park to be very dry. If you're used to living in a humid climate, you should bring some hand lotion and be prepared to feel colder than usual. While it is not likely in November, it is possible that you may find yourself in a situation where the weather prevents you from being outside at all. Whiteout conditions and snow storms can make it impossible to drive and leave you disappointed as you will not be able to see the canyon from the overlooks. However, if you wait out the storm, the snow clinging to the edges of the canyon will be well worth the wait as winter boasts some of the most gorgeous views in the park.
Wildlife in november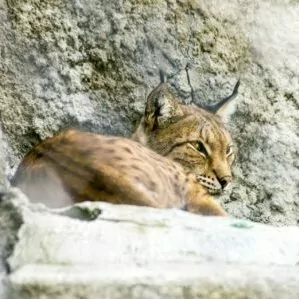 Grand Canyon National Park is home to a huge amount of biodiversity in animal species. Encompassing different habitats at different elevations, the park is adaptable for many animals that live in. What you will see depends on where you are and what the weather is. Most of the reptiles and amphibians will be in hibernation by now in the canyon but many of the larger animals will still be active. If you stay at Phantom Ranch, keep an eye out at night for the strictly nocturnal ringtail. This relative of a raccoon which is sometimes called a ringtail cat is sometimes described as "the cutest animal you've never seen" because they are so elusive. Coyotes, ravens, skunks, and many species of rodents all live inside the canyon and will be enjoying the warmer weather compared to the rims. If you're going to stay on the rims for your trip, you can expect to see mule deer and elk. Bison live in the park but only on the North Rim, so keep your eye out for them if you'll be visiting that side of the park. With the lessened crowds, many of the animals will be coming out more than usual. The rather elusive pig-like javelina is more likely to be seen this time of year. They travel in herds and are known for their tough diet which sometimes has been known to include cactus. Mountain lions and bobcats also inhabit the park but are rarely seen by visitors. The Grand Canyon is too warm in the summer for bears, so none of these animals live here.
Perhaps the most famous resident wildlife in the park is the California condor, the largest bird native to North America. With a wingspan that can reach up to 9 1/2 feet in length, this bird is truly majestic and can often be seen riding updrafts of warm air from the canyon up to the rims. Brought back from the brink of extinction through captive breeding programs, the condor is a great story of conservation success, but it isn't over yet. These birds are still critically endangered and the park has a small but stable population. Both scavengers, and condors are often confused with vultures, but condors are much larger, have white splotches on the underside of their wings, and have a very smooth flight path while vultures appear to "wobble" when they fly. Ask a ranger about the best place or time of day to see these birds or any animal that you're interested in. The weather, the time of day, and the number of visitors will all have an impact on what wildlife you will see, so make sure to do your research and talk to a ranger if you're interested in seeing something specific.
Recommended wildland trips in november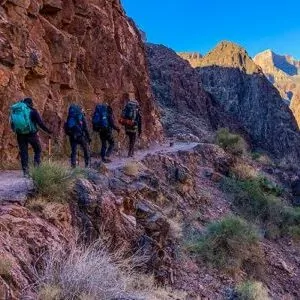 Planning a trip to Grand Canyon in November can be intimidating as you have to keep up with the weather, current conditions, what's open, and where you can stay. While it can be rewarding to plan your own trip, it is sometimes hard to find the time to plan out every last detail during a month with as variable conditions as November. But you can bypass all the extra headaches by booking a trip with Wildland Trekking and letting one of our expert guides show you around the park. We offer a large variety of trips with different styles in the Grand Canyon in November, and we definitely have something that will suit you. From backpacking trips and basecamp tours to inn-based tours and day hikes, there are nearly endless options to explore. Feel free to browse all the trips we offer in the Grand Canyon, but here are a few we recommend especially for November.
Horseshoe Mesa Backpacking Tour: With moderate solitude and moderate difficulty, this backpacking trip is great for families or those looking to experience a different part of the canyon outside the Corridor. Hike out on this extended mesa that stretches into the canyon like the deck of a battleship, and experience desert oases, mining history, and fantastic views on this three-day all-inclusive backpacking trip. With transportation from Flagstaff, much of your backcountry gear, all of your meals, and an expert guide included, you won't want to miss out on this fantastic trip.
Best of Northern Arizona Tour: If you are looking to experience all that Northern Arizona has to offer in a single week that you have to spend, this is the trip for you. A six-day inn-based tour, this trip will take you to the South Rim, the North Rim, and Sedona for you to experience each of these three distinct areas. With premier dining and excellent lodging inside the park, this all-inclusive trip is the perfect mix between roughing it outdoors on hikes and relaxing at the lodge in the evening.
Autumn Rim to Rim in the Grand Canyon: If you want to do a rim-to-rim hike in November, but aren't sure if you have the experience to go on your own or just want a more relaxing time, try out this four-day adventure. With fantastic geology, wonderful views, a desert waterfall, and hiking beside the iconic Colorado River, this trip is a great taste of what the Grand Canyon has to offer. All-inclusive with much of your backcountry gear, all of your meals, local transportation, and your expert guide to keep you safe included, this is a great option for those wanting to do a rim-to-rim trek in November.
Join a Guided Hiking Adventure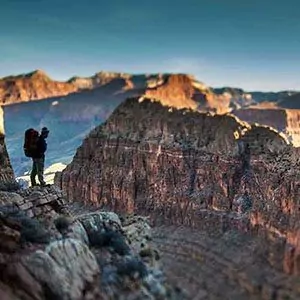 Grand Canyon National Park is home to some of the most unique and spectacular hiking vacations in the world. Wildland Trekking offers trips with stunning views, geologic history, and incredible hiking and backpacking for visitors who want to have an active, adventurous experience.
Guided Grand Canyon treks include permits, local transportation (excluded on certain tours), meals, gear, risk management systems, and professional guides, allowing guests to make the most of their visit to the Canyon, focus 100% on enjoying their experience, and do it all with an increased level of safety and comfort.
GRAND CANYON ADVENTURE TOURS