Best Grand Canyon Tours
Make the best your time at Grand Canyon by finding the right tour for you!
There are many options for tours of Grand Canyon, from hiking to rafting, cycling, helicopters and more. As a company who has been operating in Grand Canyon National Park for over a decade and a half, we have intimate knowledge of the best tours to spend time and money on. Of course the answer will vary depending on your interests, so we have detailed many different options for tours here.
Hiking Tours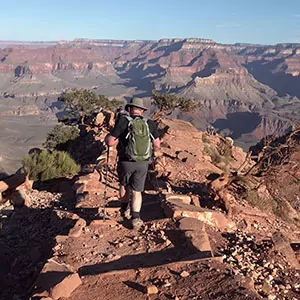 Descending into the Canyon on a hiking tour is a popular choice for making the most of a visit to the Grand Canyon. Hiking guides provide gear, lunch and snacks, increased safety, and an enhanced experience through their knowledge, stories and passion for the Canyon. You can enjoy a hike on any of the major trails, including South Kaibab, Bright Angel, Hermit, Grandview and Tanner. The South Kaibab Trail is the one must-do hike in the Canyon, so if you only join one tour, we recommend that one. Read more about Grand Canyon hiking tours.
Backpacking Tours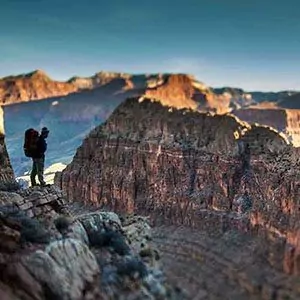 Backpacking is one of the best ways to experience the depth and drama of Grand Canyon. At least 2 days (and normally 3+ days) in length, these tours help visitors discover the Canyon in a way that's literally impossible in any other way. Starting at one of the rims you'll descend and spend the night beneath the stars, soaking up the serenity and solitude of mornings and evenings deep in the Canyon. Discover hidden oases, cultural history, intense geology, and incredible natural beauty. Read more about Grand Canyon backpacking tours.
Bicycle Tours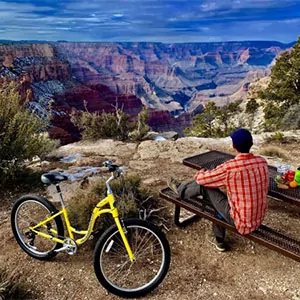 Bright Angel Bikes offers bicycle tours on the South Rim of the Grand Canyon. These are a fun, exciting way to experience the Canyon. Like hiking tours, the guides will share their knowledge, stories and passion to enrich your experience and help the Canyon come to life in a way that's difficult to do on your own. Most of these tours go out the Hermit Road, which is closed to all traffic except shuttle buses, park staff, backpackers, and the bicycle tours.
White Water Rafting Tours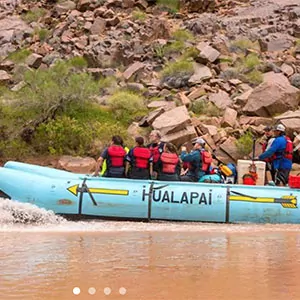 There are many multi-day rafting companies, but there is only one single day rafting tour in the Grand Canyon, which is operated by the Hualapai River Runners at Grand Canyon West. The tour includes a shuttle to the Canyon from Peach Springs, helicopter ride, rafting tour on the Colorado River, and return to Peach Springs.
Peach Springs is a 2.5 hour drive west of Flagstaff, AZ and roughly 2 hours east of Las Vegas, on Route 66. Read more the Hualapai River Runners.
HELICOPTER Tours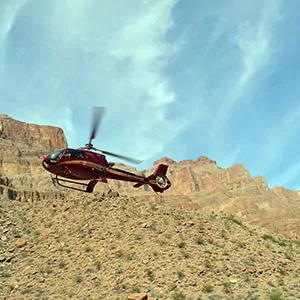 Many people visiting the Grand Canyon enjoy helicopter tours over the Canyon. While not an intimate experience of the Grand Canyon, it is a novel and exciting experience to soar above the Canyon's walls. The tours depart from Las Vegas or from the South Rim and range from 30 minutes to 4 or 5 hours. Read more about Grand Canyon helicopter tours.
Fixed Wing Tours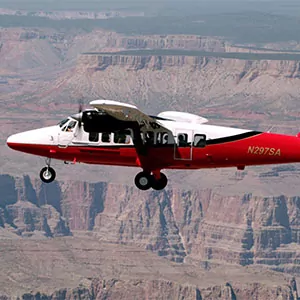 Fixed wing tours are in small airplanes and fly higher than helicopters but give a provide bird's eye experience of the Canyon. Tours are in the 45 minute range and cover a broad expanse of the Canyon including the South Rim, North Rim, the confluence of the Little Colorado River and the Colorado River, and more. Read more about Grand Canyon airplane tours.
Road Based Tours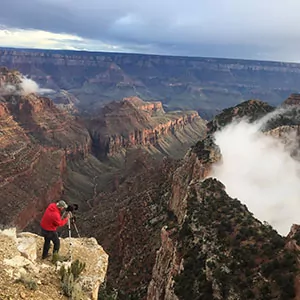 Some companies offer road-based tours of the South Rim in jeeps, buses, vans..etc. These tours go to viewpoints, may include short hikes to viewpoints along trails like Ooh Aah Point, and often include meals and entertaining natural and cultural history intepretation. There are many reputable companies that provide road-based tours and can be found with a simple Google search. We also recommend double-checking Trip Advisor to make sure the tour company you go with is one of the best.
Grand Canyon Railway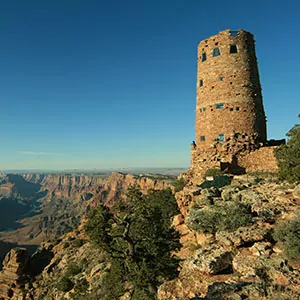 The Grand Canyon Railway is a historic train ride from Williams, Arizona to the South Rim of the Grand Canyon. It is a 3-hour ride that has meals and drinks available as well as story-tellers and other entertainers. It drops passengers off at the South Rim Village with 3 hours to enjoy the Canyon before heading back. The Grand Canyon Railway is a great choice for people who want a historic experience but who are not interested in spending a lot of time at the South Rim itself, as the train leaves little time for enjoying the Canyon.
Join a Guided Hiking Adventure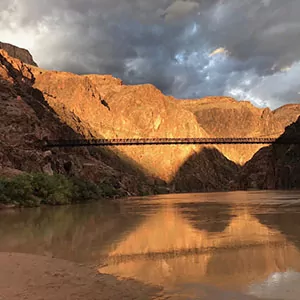 Grand Canyon National Park is home to some of the most unique and spectacular hiking vacations in the world. Wildland Trekking offers trips with stunning views, geologic history, and incredible hiking and backpacking for visitors who want to have an active, adventurous experience.
Guided Grand Canyon treks include permits, local transportation (excluded on certain tours), meals, gear, risk management systems and professional guides, allowing guests to make the most of their visit to the Canyon, focus 100% on enjoying their experience, and do it all with an increased level of safety and comfort.
GRAND CANYON ADVENTURE TOURS