Grand Canyon Guided Backpacking Trips
Our Grand Canyon guided backpacking tours take you into depths of the wild and scenic beauty of America's deepest canyon.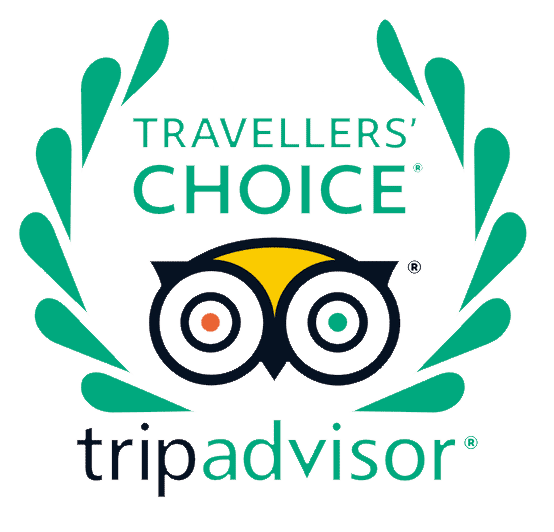 Enjoy solitude and adventure as you embark on a self-sufficient journey deep into America's most stunning wild areas. You'll be carrying everything you need for the trip in a top-of-the-line, fitted backpack we provide. Pack weights vary between 25 and 45 pounds, depending on the area, the duration of the trip, the time of year, and your height and weight.
We provide everything except clothing, footwear, rain gear, personal items, and a couple small gear items. All the gear we provide (backpacks, tents, sleeping pads, sleeping bags, trekking poles, cooking gear) is top-of-the-line. Also, you can request to share a tent with others in your party or have one to yourself. All meals are included from breakfast the first day through lunch the last day, and your guide will prepare all meals.
Note: if you'd like to do a standard backpacking trip but prefer not to carry the gear, we offer porter services for $400 per porter per day. The porters can carry up to 30 lbs of guest gear and do not hike with the groups.
Grand Canyon Backpacking Trips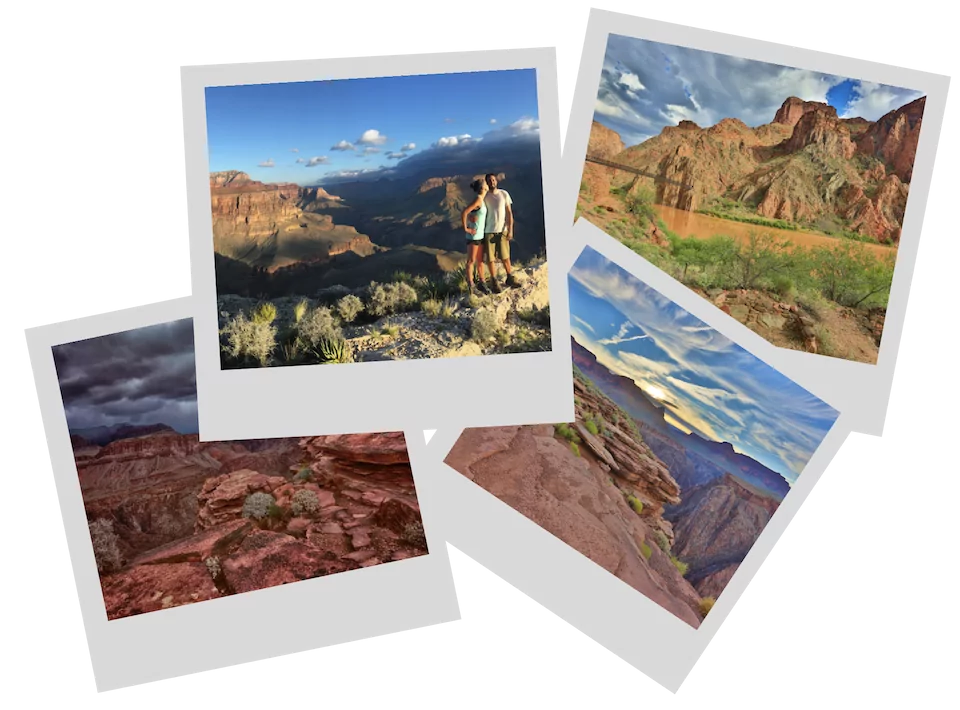 "While anyone can 'hike' the backcountry of the Grand Canyon, Wildland Trekking made this a bucket list backcountry experience not to be missed. Our guide was a host, leader, and navigator through the 'Wonders of the Grand Canyon.' He was considerate of all hikers capabilities and was truly a servant leader in meeting our needs. I give this trip two thumbs up and 5 stars!"
– Albert Wallace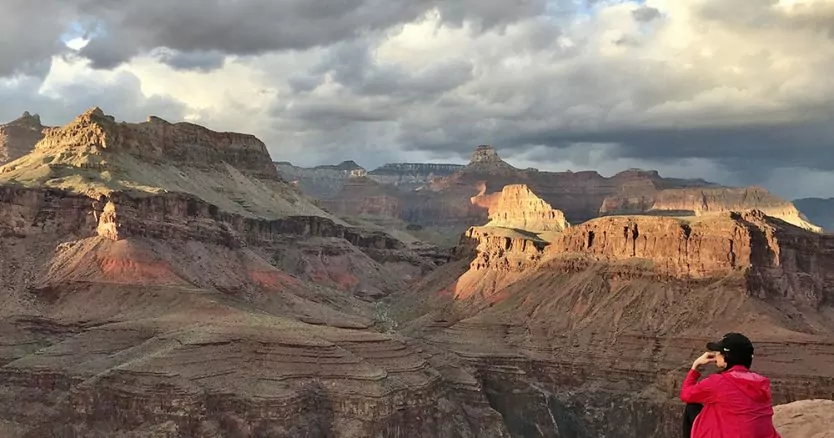 Grand Canyon Basecamp Tours
Our Grand Canyon camping tours are adventurous, outdoor trips that take you deep into the Grand Canyon on challenging day hikes and return you to the rim each afternoon for shade, showers and exceptional meals around a campfire! These trips are excellent summer options because of the cooler temperatures on the rims. Trips include local transportation, camping gear, meals, park entrance fees, and a professional Grand Canyon hiking guide.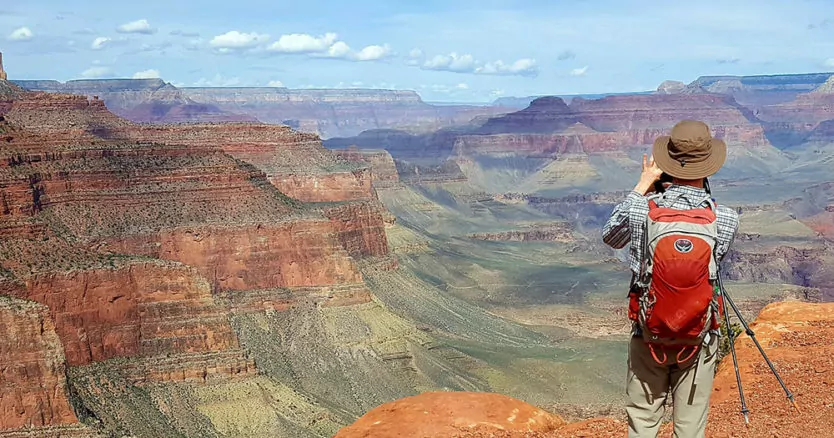 Grand Canyon Inn-based Tours
Hike the Grand Canyon in style! Join us for a Phantom Ranch hiking tour to the bottom of the Grand Canyon or one of our inn-based tours that include wonderful day hikes by day and rim-top accommodations, showers, shade, and dining each evening! Trips include local transportation, lodging, meals, park entrance fees and a professional Grand Canyon guide.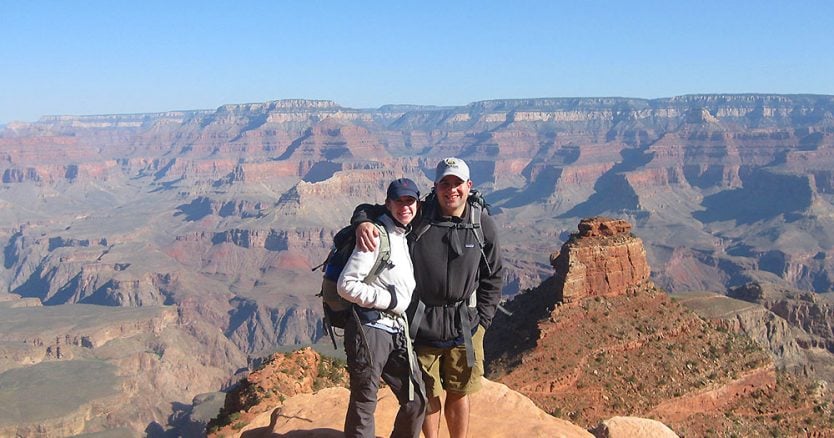 Grand Canyon Day Hike Tours
Make the most of your day on a guided Grand Canyon day hike below the rim! Learn about the amazing natural and cultural history of the Canyon, enjoy the peace of mind that results from hiking with a local expert, let us take care of the gear and food, and hear amazing stories that have taken place in the Canyon. All hikes include use of a backpack, trekking poles and crampons (when necessary); snacks and lunch; and a professional Grand Canyon hiking guide.
MORE ABOUT GRAND CANYON BACKPACKING
IMPORTANT THINGS TO KNOW ABOUT BACKPACKING THE GRAND CANYON
The Grand Canyon offers willing adventurers some of the best hiking and trekking experiences in the world. It's an extremely unique environment for many reasons. First you're hiking down into the Canyon, as opposed to up in the mountains (which people more accustomed to.) Second, the Grand Canyon is an arid desert where water is a precious and scarce resource, and temperatures in the summer can be 110+ degrees in the shade (see information on Grand Canyon heat). In winter the trails can be icy requiring hiking crampons. Finally, the canyon walls are sheer and staying on route is critical. Bottom line if you're going to join a guided backpacking trip, the Grand Canyon is an excellent place to do it.
THE WILDLAND BACKPACKING EXPERIENCE
Our Grand Canyon backpacking trips are top-notch experiences that have earned the #1 spot on Trip Advisor's "Outdoor Activities in Grand Canyon." When you join one of our trips you can expect to have a knowledgeable, professional guide who is passionate about the Canyon and about backpacking. You can expect wonderful outdoor cuisine, excellent gear, and dialed-in logistics with the help of our incredible support staff. You will learn about the amazing natural and cultural history of the Canyon and leave knowing you've had an experience that would have been difficult to match hiking on your own.
JOINING THE RIGHT TRIP
We offer many trips in Grand Canyon, which can seem daunting. The first question to ask is how difficult of a trip you'd like to tackle. Our backpacking tours in the Canyon start at level 3, which is appropriate for fit, active people with good health. Level 4 requires a higher level of fitness but is ok for novices. Level 5 is for very fit people looking to have a serious, demanding adventure. The next question is whether you'd like to hike a famous trail like the South Kaibab, North Kaibab, or Bright Angel, which make up the iconic Rim to Rim route (also Grand Canyon Classic and Havasupai Garden treks). Or would you like to venture off the famous trails into true Grand Canyon wilderness on the Hermit Loop, Horseshoe Mesa Trek, Grandview Trek, or others? And of course the number of days is something to take into account. You can always call us at 800-715-HIKE (4453) and we'll help you pick the right trip!
THE FAMOUS RIM TO RIM
Without a doubt, the famous Rim to Rim hike is the most popular backpacking trip in the Grand Canyon. We run it as a 4-day trip, but it can be done as a 2-day or 3-day trip as well, and it can be done South to North, or North to South. The primary campsites used on this tour are (North to South) Cottonwood Campground, Bright Angel Campground, and Havasupai Garden. The trails are North Kaibab down to the Colorado River, and then Bright Angel Trail up to the South Rim.
MORE CORRIDOR BACKPACKING TRIPS
The "Corridor" is the central part of the Canyon that stretches from the South Rim Village across the Canyon to the North Rim park facilities and hotel. It is comprised of the South Kaibab Trail, Bright Angel Trail, and the North Kaibab Trail. Aside from being home to the Rim to Rim, it also includes Havasupai Garden Campground, Bright Angel Campground, Phantom Ranch, and Cottonwood Campground. Our Corridor trips are the Grand Canyon Classic (South Kaibab – Bright Angel Loop), and the Havasupai Garden Trek (up and down Bright Angel Trail, with 2 nights at Havasupai Garden Campground.) Finally, the Hermit Loop begins in the Corridor on the Bright Angel Trail, but then heads west on the Tonto Trail through wilder and more remote country, ascending out the Hermit Trail.
WILDER AND MORE REMOTE TRIPS
As one heads outside of the Corridor, the Grand Canyon instantly morphs into a dramatically wilder and more remote wilderness. We offer several backpacking trips outside the Corridor. The most adventurous are our Wonders of the Grand Canyon Tour, Packrafting Rim to Rim, and Colorado River Traverse, all Level 5, 6-day trips with intensely beautiful scenery and incredible natural features of the Canyon. The Packrafting Rim to Rim, as the name suggests, crosses the Colorado River in packrafts. Shorter trips (3-4 days) on the wilder side include Grandview Trek, New Hance Loop and Horseshoe Mesa Tour.
BEING AWARE OF HYPONATREMIA
One potential condition that must be managed on a Grand Canyon backpacking trip is hyponatremia. This life-threatening condition occurs when someone is sweating profusely and drinking lots of water to the point that there isn't enough sodium in their blood. This is a common condition when hiking in the summer months in Grand Canyon. To avoid this scenario drink plenty of water, but also add electrolytes to your water and/or eat lots of salty, sweet snacks throughout your hike each day. Wildland guides are trained to spot the early signs and symptoms of hyponatremia and prevent it by ensuring guests consume plenty of salt. Read more about hyponatremia.
GRAND CANYON VISITOR INFORMATION
TIPS FOR VISITING GRAND CANYON