Visiting Grand Canyon
Use this resource to plan the perfect trip to Grand Canyon National Park!
Grand Canyon National Park is a place everyone must experience at least once, and for many people it will be a place they return to again and again to breathe the clear air, soak up the endless views, to feel small and humble, to feel in awe of the natural world, to learn about our earth's history, to go on adventures. Roughly 300 miles long and over a mile deep, the Grand Canyon is unarguably the world's most impressive canyon. And it's been beautifully preserved by the National Park Service so current and future generations can revel in its astonishing size and beauty.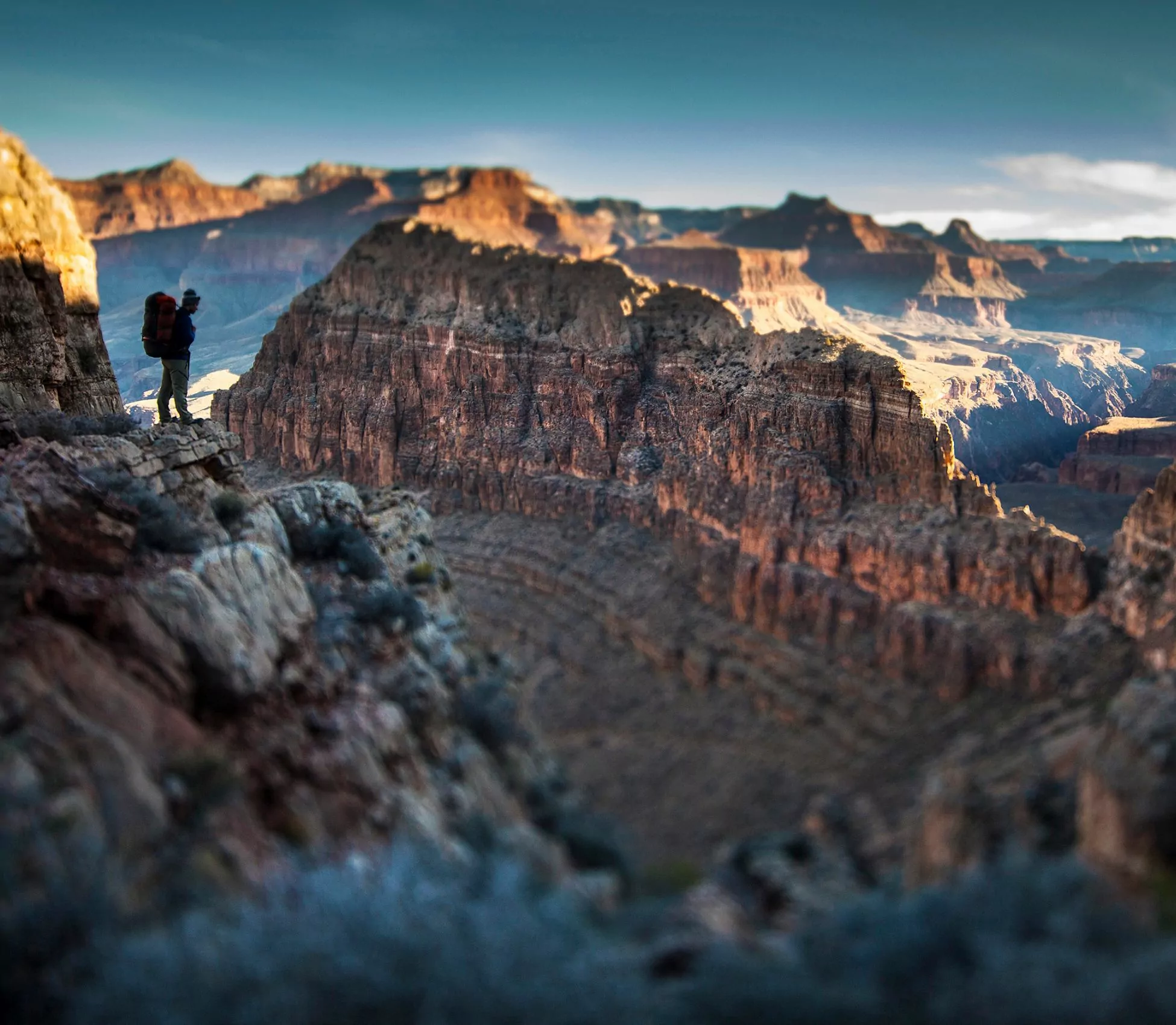 WHAT MAKES The GRAND CANYON SO UNIQUE?
The Grand Canyon is unique in so many ways, it's difficult to know where to begin. It is home to arid deserts, pine forests, a major river, desert oases, unique wildlife, absolutely phenomenal geologic history, wonderful Native American history and remnants, 19th century mining and tourism history, and stunning scenery. There's really no where else like it on Planet Earth.
One of the most dramatic aspects to the Grand Canyon, and one that is extremely visible no matter where you go, is the geology. In Grand Canyon, the Colorado River has carved out a slice of the earth's history that goes back over 2 billion years! In the Inner Gorge, near the Colorado, is some of the oldest exposed rock on the planet, which was formed far before life existed at all here. Above that, ancient oceans, seas, sand dunes, and shifting tectonic plates have layered strata after strata of diverse types of rock from sandstone to shale to limestone and more. Some of the rocks are softer and create plateaus, some are very hard and create sheer cliffs. As you peer down into the Canyon or hike down one of the trails, seeing, understanding and appreciating these layers is one of the most entertaining and exciting aspects of the Grand Canyon.
HOW TO GET THERE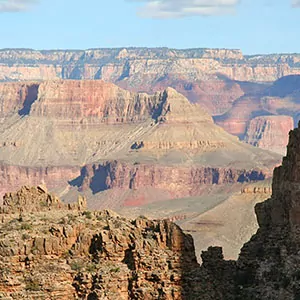 Most Grand Canyon visitors come from Phoenix, Arizona or Las Vegas, Nevada, which are the two closest major cities with international airports. Both are roughly 4 hours from the South Rim Village. If you're coming from Phoenix, the easiest way to get to the South Rim is to rent a vehicle and drive north on I-17 to Flagstaff, then head north in Highway 180 to 64, North on 64 to the South Rim. Coming from Las Vegas you head east on I-40, then north from Williams on Highway 64 to the South Rim.
You can also take a shuttle from Phoenix to the South Rim with Groome Transportation. It takes longer due to stops in Flagstaff, so you can expect a 5-6 hour drive. Once in the Park you can easily get around using national park shuttles.
WHEN TO GO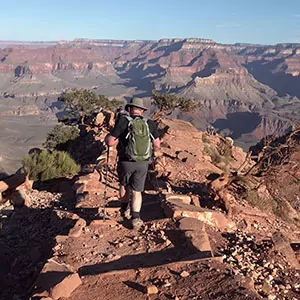 When to visit Grand Canyon depends on what you want to do: hike, backpack, raft, sightsee, helicopter tours, van tours, rim-top walks…etc. Also, because the South and North Rims are over a mile higher than the Colorado River, there is tremendous flucuation of temperatures and climate within the Park, which makes it more complex.
It's a complicated enough question that we've created a special page dedicated just to this topic. Read about when to visit Grand Canyon, and you can see below for a list of average temperatures and precipitation at both the South Rim and the bottom of the Canyon at Phantom Ranch.
SOUTH RIM, PHANTOM RANCH: AVERAGE HIGHS, LOWS AND PRECIP
Month
South Rim
Phantom Ranch
Days of Precip
Avg Hi
Avg Lo
Avg Hi
Avg Lo
January
44°F (7°C)
18°F (-8°C)
58°F (3°C)
38°F (14°C)
5 Days
February
48°F (9°C)
18°F (-8°C)
64°F (18°C)
42°F (6°C)
5 Days
March
55°F (13°C)
22°F (-6°C)
72°F (22°C)
47°F (8°C)
6 Days
April
61°F (16°C)
26°F (-3°C)
82°F (28°C)
54°F (12°C)
3 Days
May
71°F (22°C)
36°F (2°C)
92°F (33°C)
63°F (17°C)
2 Days
June
82°F (28°C)
43°F (6°C)
103°F (39°C)
72°F (22°C)
1 Days
July
85°F (29°C)
50°F (10°C)
106°F (41°C)
77°F (25°C)
5 Days
August
82°F (28°C)
49°F (9°C)
103°F (39°C)
74°F (23°C)
6 Days
September
76°F (24°C)
43°F (6°C)
96°F (35°C)
69°F (21°C)
4 Days
October
65°F (18°C)
33°F (1°C)
83°F (28°C)
58°F (14°C)
3 Days
November
52°F (11°C)
24°F (-4°C)
68°F (20°C)
46°F (8°C)
3 Days
December
45°F (7°C)
18°F (-8°C)
58°F (14°C)
38°F (3°C)
4 Days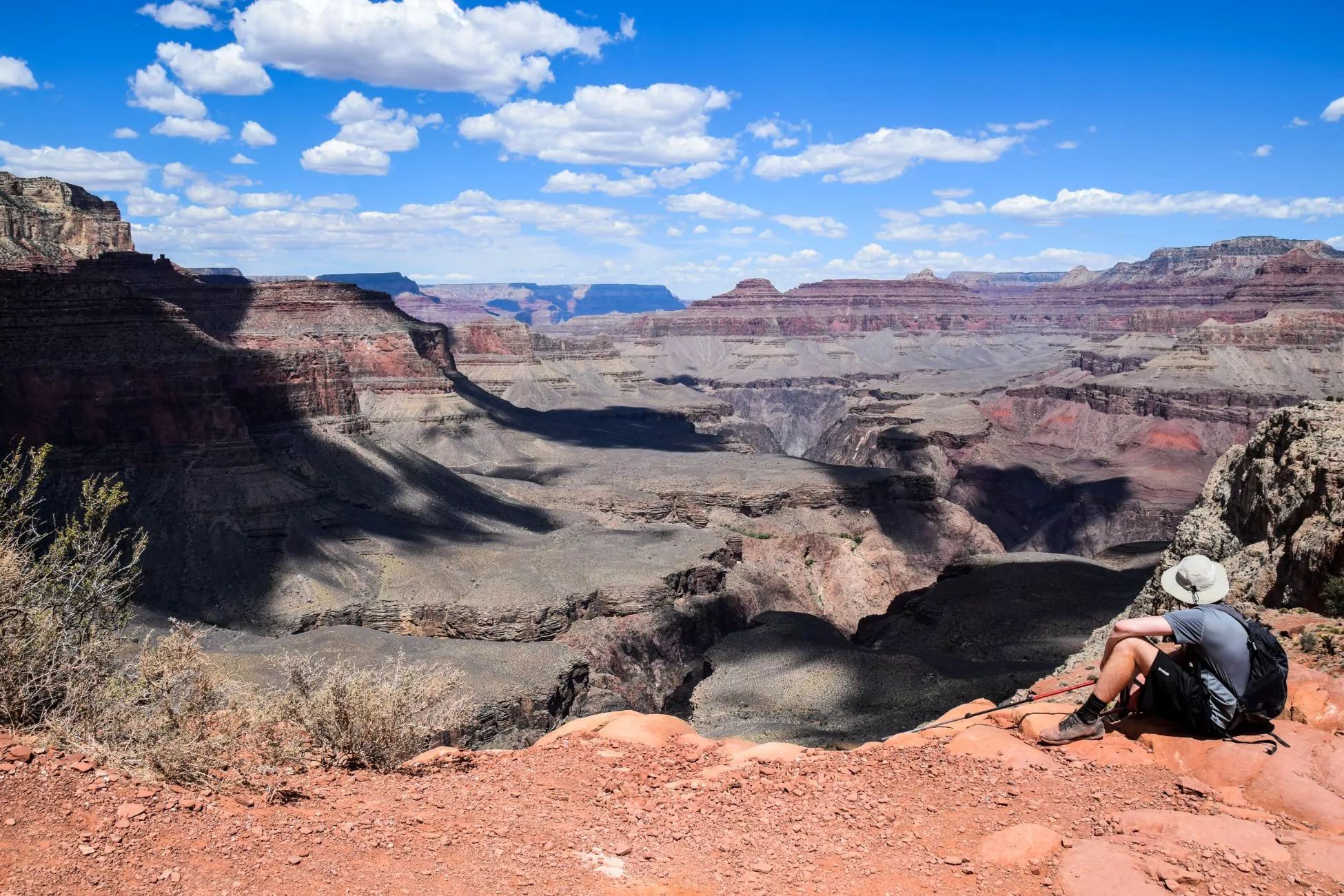 WHAT TO DO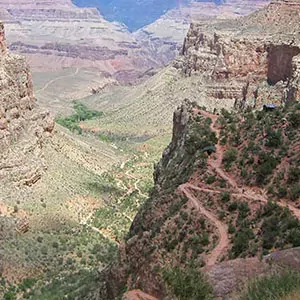 There's a lot to do at Grand Canyon, so we're going to hit a couple highlights here, but the sky's the limit. Peak activities at Grand Canyon are rim-top walks, hikes into the Canyon, wonderful museums, bicycle rides (rentals available), rafting tours (one-day and multi-day tours available), overnight backpacking trips, and helicopter tours. We heartily recommend making sure you do a hike into the Canyon, if you're physically able, to truly experience both the sheer magnitude and the intimate details of the Canyon (hiking tours are available.) The bicycle rentals and tours are well worth doing for great views and a fun ride along the rim. As far as museums, the must-see museum is the Yavapai Geology Museum. One culinary activity that is worth doing is eating dinner at El Tovar Lodge (reservations required!), a famous and historic rim-side hotel.
VISIT GRAND CANYON ON YOUR OWN OR WITH A TOUR COMPANY?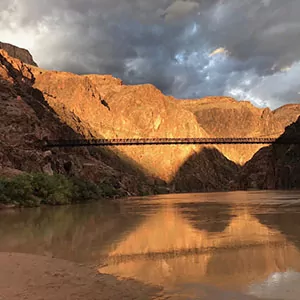 One common question is whether to visit Grand Canyon on your own or to do it as part of a package
tour. Both options are very popular. Going with a Grand Canyon tour company provides many benefits that are worth exploring to make the best decision possible. Tour companies, assuming they are quality, offer a seamless, convenient way to maximize your experience. They take care of pesky planning details like accommodations, permits, meals and transportation. And they can dramatically enhance your experience by providing entertaining knowledge and insights into what you're seeing. If hiking is your thing, you might check out Grand Canyon hiking tours.
JOIN A GUIDED HIKING ADVENTURE
Grand Canyon National Park is home to some of the most unique and spectacular hiking vacations in the world. Wildland Trekking offers trips with stunning views, geologic history, and incredible hiking and backpacking for visitors who want to have an active, adventurous experience.
Guided Grand Canyon treks include permits, local transportation (excluded on certain tours), meals, gear, risk management systems and professional guides, allowing guests to make the most of their visit to the Canyon, focus 100% on enjoying their experience, and do it all with an increased level of safety and comfort.
GRAND CANYON ADVENTURE TOURS