Visiting Grand Canyon
Use this resource to plan the perfect trip to Grand Canyon National Park!
Updated: 9/03/22
Grand Canyon National Park is a place everyone must experience at least once, and for many people it will be a place they return to again and again to breathe the clear air, soak up the endless views, to feel small and humble, to be in awe of the natural world, to learn about our earth's history, to go on adventures. Roughly 300 miles long and over a mile deep, the Grand Canyon is arguably the world's most impressive canyon. And it's been beautifully preserved by the National Park Service so current and future generations can revel in its astonishing size and beauty.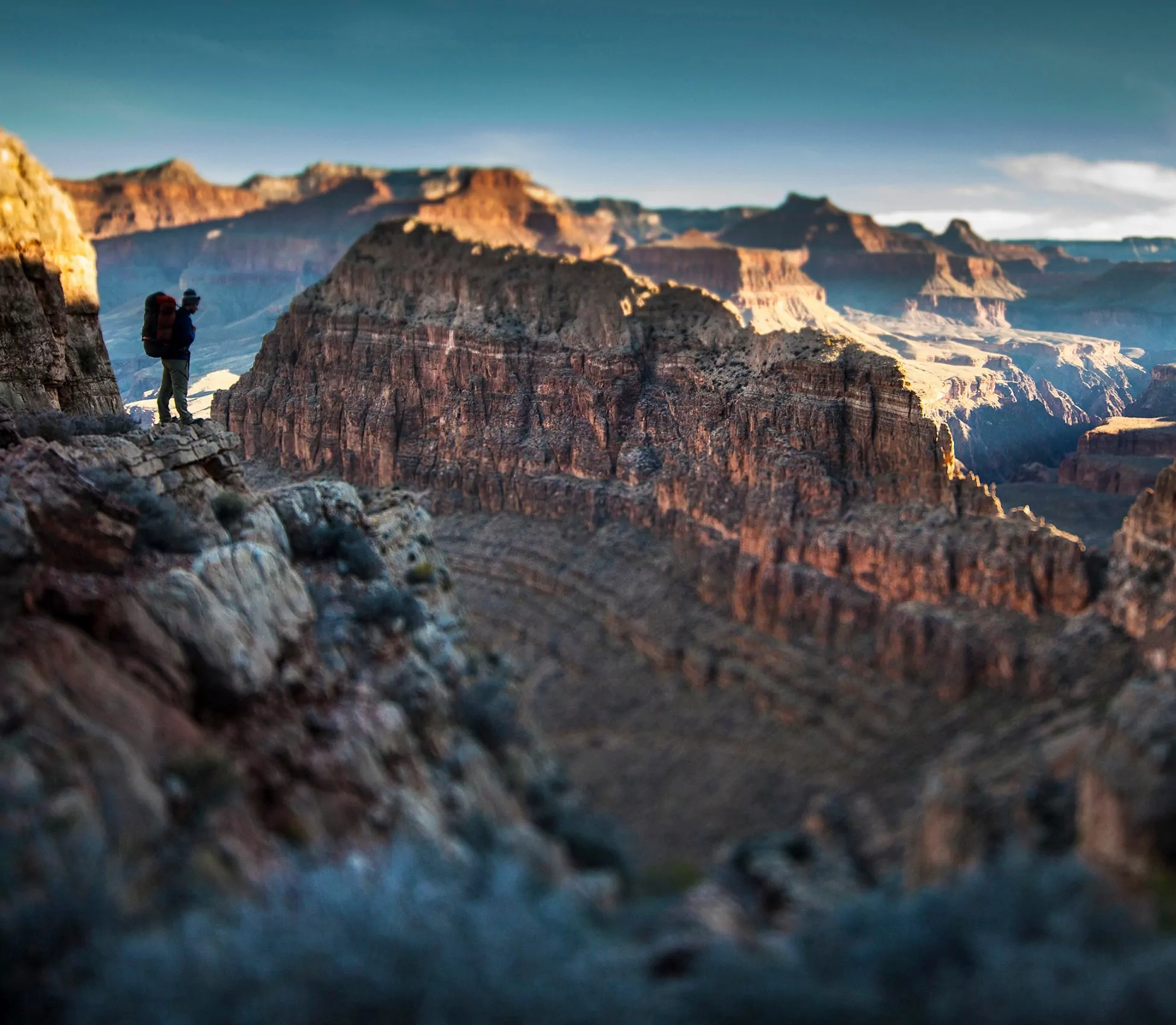 WHAT MAKES The GRAND CANYON SO UNIQUE?
The Grand Canyon is unique in so many ways, it's difficult to know where to begin. It is home to arid deserts, pine forests, a major river, desert oases, unique wildlife, absolutely phenomenal geologic history, wonderful Native American history and remnants, 19th century mining and tourism history, and stunning scenery. There's really no where else like it on Planet Earth.
One of the most dramatic aspects to the Grand Canyon, and one that is extremely visible no matter where you go, is the geology. In Grand Canyon, the Colorado River has carved out a slice of the earth's history that goes back over 2 billion years! In the Inner Gorge, near the Colorado, is some of the oldest exposed rock on the planet, which was formed far before life existed at all here. Above that, ancient oceans, seas, sand dunes, and shifting tectonic plates have layered strata after strata of diverse types of rock from sandstone to shale to limestone and more. Some of the rocks are softer and create plateaus, some are very hard and create sheer cliffs. The park also boasts a large array of fossil history, many of which are marine and reptilian fossils. As you peer down into the Canyon or hike down one of the trails, seeing, understanding, and appreciating these layers is one of the most entertaining and exciting aspects of the Grand Canyon.
Another of Grand Canyon National Park's distinct features is i's double habitat. While many national parks have varying environments, Grand Canyon has polar opposites: desert and mountains. The rims of the canyon are high in elevation, receive many feet of snow in the winter, remain pleasant in the summer, and boast pines, conifers, and mountainous wildlife. Inside the canyon, however, drops down nearly 2,500 ft, remains pleasant in the winter, has intense heat in the summer, and has a full array of desert organisms from cactus to snakes and lizards. To put it in more scientific terms, the park contains five life zones: Lower Sonoran, Upper Sonoran, Transition, Canadian, and Hudsonian. According to the NPS, this is the equivalent of traveling from Canada to Mexico. This allows visitors to experience these entirely different habitats and climates in the same location, a unique feature of this park.
HOW TO GET THERE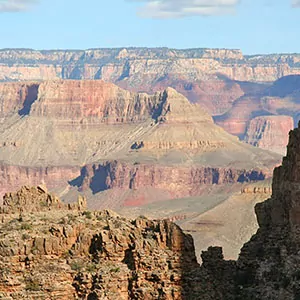 Most Grand Canyon visitors come from Phoenix, Arizona or Las Vegas, Nevada, which are the two closest major cities with international airports. Both are roughly 4 hours from the South Rim Village. If you're coming from Phoenix, the easiest way to get to the South Rim is to rent a vehicle and drive north on I-17 to Flagstaff, then head north in Highway 180 to 64, North on 64 to the South Rim. Be warned, however, that in the summer months and on the weekends, this single road from Phoenix to Flagstaff can be very busy and have lots of traffic due to people trying to escape the Phoenix heat into the northern section of the state where the elevation is higher. Coming from Las Vegas you head east on I-40, then north from Williams on Highway 64 to the South Rim. You can also take a shuttle from Phoenix to the South Rim with Groome Transportation. It takes longer due to stops in Flagstaff, so you can expect a 5-6 hour drive. Once in the Park you can easily get around using national park shuttles.
If you want to travel to the North Rim of the canyon, the entrance is located 30 miles south of Jacob Lake, AZ on Highway 67. This is rather close to the Utah border it is a much more remote area than the South Rim. You can also access the North Rim from inside the park if you are at the South Rim, although it is about a 3 hour drive. The road to the North Rim is only open mid May through mid October each year. This area is still available for visitors to visit if you are willing to do the backpacking trip from the South Rim to the North Rim, which is no easy trek. If you are traveling in winter, late fall, or early spring, be prepared for snow and ice on the roads. Storms can sometimes close roads, so it's a good idea to keep some water and food in your car just in case.
WHEN TO GO
When to visit Grand Canyon depends on what you want to do. Hiking and backpacking your thing? Try the shoulder seasons of mid to late spring and early to mid fall. White water rafting on your bucket list? Summer is the best time to be immersed in the frigid Colorado river. Sightseeing and helicopter tours I feel to you? Summer is also the best time for these activities as the temperatures on the rim are pleasant. Are you into photography? The winter months provide stunning overlooks, and photos during the monsoon season in July, August, and September give phenomenal storm and lightning strike photo ops.
Because the South and North Rims are over a mile higher than the Colorado River, there is tremendous flucuation of temperatures and climate within the Park, which makes this question more complex. Chances are unless you are very active and interested in many things, you were going to want to spend most of your time either on the rims or in the canyon. If you go in the summer the rims are pleasant, but the canyon is almost unbearably hot unless you're white water rafting. But if you want to enjoy the pleasant winter temperatures in the canyon for hiking and backpacking, the rims will be snowy and barely be above freezing for the entire day. Of course, who is coming with you– be it young children or older parents– makes a difference in what activities you can participate in and what season you should go. It's a complicated enough question that we've created a special page dedicated just to this topic. Read about when to visit Grand Canyon, and you can see below for a list of average temperatures and precipitation at both the South Rim and the bottom of the Canyon at Phantom Ranch.
SOUTH RIM, PHANTOM RANCH: AVERAGE HIGHS, LOWS AND PRECIP
Month
South Rim
Phantom Ranch
Days of Precip
Avg Hi
Avg Lo
Avg Hi
Avg Lo
January
44°F (7°C)
18°F (-8°C)
58°F (3°C)
38°F (14°C)
5 Days
February
48°F (9°C)
18°F (-8°C)
64°F (18°C)
42°F (6°C)
5 Days
March
55°F (13°C)
22°F (-6°C)
72°F (22°C)
47°F (8°C)
6 Days
April
61°F (16°C)
26°F (-3°C)
82°F (28°C)
54°F (12°C)
3 Days
May
71°F (22°C)
36°F (2°C)
92°F (33°C)
63°F (17°C)
2 Days
June
82°F (28°C)
43°F (6°C)
103°F (39°C)
72°F (22°C)
1 Days
July
85°F (29°C)
50°F (10°C)
106°F (41°C)
77°F (25°C)
5 Days
August
82°F (28°C)
49°F (9°C)
103°F (39°C)
74°F (23°C)
6 Days
September
76°F (24°C)
43°F (6°C)
96°F (35°C)
69°F (21°C)
4 Days
October
65°F (18°C)
33°F (1°C)
83°F (28°C)
58°F (14°C)
3 Days
November
52°F (11°C)
24°F (-4°C)
68°F (20°C)
46°F (8°C)
3 Days
December
45°F (7°C)
18°F (-8°C)
58°F (14°C)
38°F (3°C)
4 Days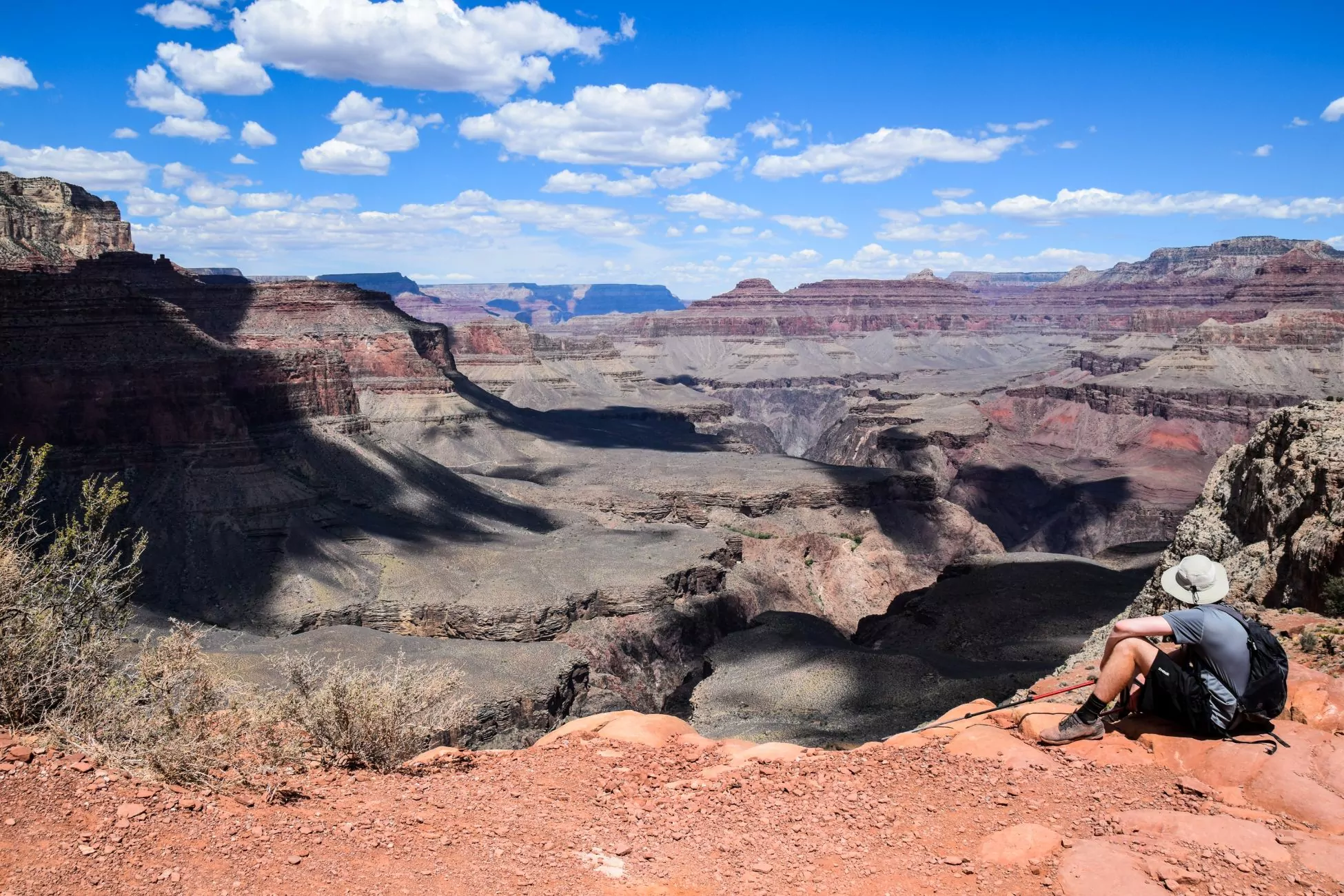 WHAT TO DO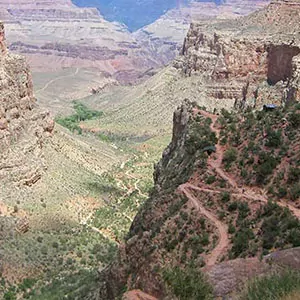 There's a lot to do at Grand Canyon, so we're going to hit a couple highlights here, but the sky's the limit. What you will do will greatly depend on what you are interested in, as the available activities are extremely varied and range from very strenuous hikes in the canyon to leisurely stroll's on the rim and through museums. Sightseeing is one of the number one activities to do in the Grand Canyon, because there is so much to see. Every overlook into the canyon will show you a different view of the crimson and copper rocks and adjoining canyons that merge with the Grand Canyon. You can take a shuttle, walk, bike, or drive your private vehicle (certain times of the year) on Hermit's Rest Road to the west of the visitor center that provides some of the most spectacular sightseeing. Winter brings dustings of snow that give the canyon an ethereal feel. July and August are accompanied by fierce thunderstorms that are awe-inspiring to view, as long as you're a safe distance away. There are hundreds of species of wildlife to see in the park, including the famous and endangered California condor, the adorable but elusive ringtail, majestic elk and bison, and the characteristic snakes and lizards of the desert.
Of course, hiking and backpacking in the Grand Canyon are some of your best options for things to do if you're physically able. Experience both the sheer magnitude and the intimate details of the canyon on your own or on a guided tour with an expert guide to show you around. In the summer and winter, it's best to stick to the corridor trails of Bright Angel, South Kaibab, and North Kaibab. But in the shoulder seasons of spring and fall, many of the more remote trails open up for safe use and can allow you to escape many of the crowds up on the rim in remote slot canyons, gorgeous desert oases, and riverside camping along the Colorado. The famous rim to rim hike can be done in one day, but the national park service does not recommend it and it's much better to do a backpacking trip over a few days. Make sure to take time to get to the North Rim, either via the road or via the trail, to experience this amazing part of the Grand Canyon that only receives 15% of the park's annual visitors.
White water rafting at the bottom of the canyon is a fantastic activity that many people enjoy. Trips range in length from a single day to 18 days on the Colorado, all of which are guided tours. You can also do still water rafting if you're not a high thrill seeker but still want to get on the river. These activities are great for summer when the temperatures in the canyon skyrocket well into the triple digits and the frigid Colorado river feels refreshing. May and September are known as the best months for rafting, as the temperatures aren't as crazy as they are in the middle of the summer. June is the hottest and driest month, and July and August bring with them to monsoon season which can cause problems for rafters as afternoon thunder showers can cause flash floods, wash away camps, and make rapids more treacherous than you counted on. But many visitors still raft during these months and have a great time. The most important thing is to pick a tour company that you are comfortable with and that you know will do a good job. Many other tours in the park, often in the air such as helicopter or airplane tours, are very popular as you can get a birds-eye view of the spectacular Canyon.
If you're looking for a more relaxed trip to the canyon, there is plenty to do on the rims besides sightseeing. The park has a variety of wonderful museums and visitor centers. The Yavapai Geology Museum has has fantastic exhibits on the fossils and geology in the park and the Kolb Studieo and photo gallery is another great option. One culinary activity that is worth doing is eating dinner at El Tovar Lodge (reservations required!), a famous and historic rim-side hotel. Native American and early settler history is also available to see in the park at the Tusayan Museum and Ruin, Eagle Point Native American village on the west rim, or the Desert View Watchtower to the east. Hermit's Rest which marks the end of Hermit's Rest scenic drive is a great representation of a miner's cabin and there are many other mining sites around and in the canyon that guests can visit. A trip on the Grand Canyon Railway from the nearby town of Williams, or stroll on the the Grand Canyon skywalk (a bridge made entirely of glass suspended nearly 4000 feet above the canyon floor) are both fantastic options that the kids will love. Wildlife viewing is also great on the rim, especially if you're there in the spring or fall when the animals will be more active while the temperatures are lower. Mule deer and elk are very often seen, as well as many birds, small mammals like squirrels, and sometimes larger animals like coyotes, bobcats, mountain lions, and javelinas. Check with a ranger about where is the best time of day and place to see a particular animal if you're interested.
Get more ideas for what to do on Kayak's Grand Canyon Village Travel Guide.
What to expect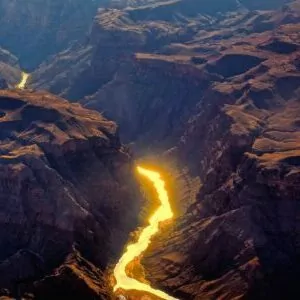 Grand Canyon is an incrediblely famous park with millions of visitors every year but there are aspects of the park that many people do not know to expect when visiting. There are many different variables that you should take into account to make sure that your trip to this park is fun and safe. Below, we've list of just a few of the things that you might not know if you've never been to Grand Canyon before and that will be useful to know when planning a trip there.
Crowds: Grand Canyon is a very popular park and you should expect to see crowds, especially if you go at peak season. Summer is by far the busiest with the accommodations packed and prices very high on the rims. Despite the heat inside the canyon that the park is famous for, the rims remain fairly pleasant in the summer and attract many who want to sightsee and use summer vacation. You can expect long lines of traffic, crowded of public areas like parking lots and visitor centers, and waits for services. Anyone who has tried to plan a trip to Grand Canyon last minute in the summer knows that accommodations book up months in advance and that in order to stay in or anywhere near the park, you will need to plan your trip far in advance. Spring and fall bring fewer crowds, but still can be somewhat busy on the rims especially as the park is a popular destination for spring break. These are also prime times for backpacking, so be prepared for permits to be more difficult to get and for the back country more busy. Winter is by far the slowest season and some think it's the most beautiful. With the winter storms and icy trails, most guests stay away, but for the adventurous visitors winter can be an excellent time to avoid the crowds.
Weather: Grand Canyon is famous for its weather, but not for all of its weather. Most people are aware of the intense heat inside the canyon during the summer that can reach far into the triple digits. Visitors need to be cautious when hiking in the summer and begin hikes before sunrise to avoid the heat. The park has many cases of heat exhaustion and some of heat stroke every year and the heat of the Grand Canyon should not be taken lightly. Summer at the rims, however, is rather pleasant with highs reaching into the 80s. If you travel to the park in spring or fall, you can expect fairly moderate temperatures in the canyon good for hiking and camping, but too cold for white water rafting. On the rims, you might find a late snowstorm or two and the trails down into the canyon will be icy until April and starting in November. In the winter, many visitors aren't aware the inside the canyon remains moderate and is wonderful for hiking and backpacking. Just as the heat is trapped in the canyon in summer, it is also trapped in winter. But the rims in winter are truly a winter wonderland. At high elevation and being mountainous environments, the rims receive many snow storms. While the snow it doesn't stick around as long as it doesn't other parks like Yellowstone or Yosemite, Grand Canyon has a fair share of winter weather that can close roads and halt activities.
Inherent Risks: There are some inherent risks that come with visiting Grand Canyon National Park that visitors should be aware of and know how to avoid. The most obvious are heat induced conditions. Rangers treat many cases of heat exhaustion a day in the canyon, and the park also has some cases of heat stroke. It is very important to know the difference between these two conditions as the first is a "sit down and cool off" situation and the second is a life threatening, medical emergency. The best way to avoid them is to not hike when it's hot. If you're hiking in the summer, start before sunrise and be off the trail before 10 AM. Most visitors that need medical attention due to heat induced conditions were hiking between 10 AM and 4 PM. Both of these conditions can cause confusion and recklessness, so make sure to hike in groups as they are difficult to recognize in yourself. Hypothermia is a very real danger in winter, as visitors over exposed to cold or wet conditions can lose their ability to keep warm. This condition is also difficult to recognizing yourself, so make sure everyone in your group knows the signs to look for, i.e. the "umbles" (grumbling, mumbling, stumbling, fumbling). Hypothermia can also be a risk in the summer if you swim for too long in the frigid temperatures of the Colorado that are usually around 52°F. While the water can feel refreshing, if you stay in for too long you can contract hypothermia. It does not have to be below freezing for you to experience this condition, so make sure to put on your rain gear before you get wet and break out your warm layers before you start shivering. Water intoxication is another health risk that visitors should be aware of. It happens most often in summer when overzealous visitors drink too much water, trying ward off dehydration (which is usually a good thing). If you drink too much water without eating enough salty snacks while you hike, you can cause an imbalance of sodium in your bloodstream. This will cause your cells to swell with water, and if this happens in your brain it can be life-threatening. The NPS recommends plenty of water and snacks on your hike and not forcing fluids if you are not thirsty. Wildlife can also pose a threat to visitors. In the fall, the mating season for elk and bison can make these animals be more aggressive, so make sure to keep your distance. Rattlesnake and gila monster bites need immediate medical attention, so give these reptiles a wide berth. Lastly, the monsoon season that peaks in July and August in Arizona requires visitors to use additional caution. Lightning strikes happen on the rims of the canyon every summer, and visitors should be aware of how close they are to a thunderstorm and when to take shelter. Rock falls can pose a risk to hikers on trails, and flash floods caused by heavy rainfall can be dangerous for backpackers and rafters in the canyon as these floods are strong and can carry away gear and supplies and create impassible rivers. While there are quite a few dangers to keep in mind in the park, if you are aware of them and take proper precautions, you should be able to have a fun and safe visit.
VISIT GRAND CANYON ON YOUR OWN OR WITH A TOUR COMPANY?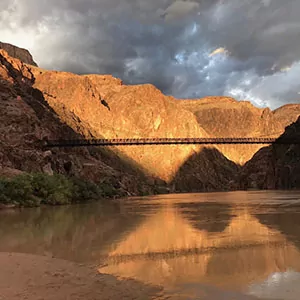 One common question is whether to visit Grand Canyon on your own or to do it as part of a package tour. Both options are very popular and both provide benefits and drawbacks. Going with a Grand Canyon tour company provides many benefits that are worth exploring to make the best decision possible. Tour companies, assuming they are quality, offer a seamless, convenient way to maximize your experience. They take care of pesky planning details like accommodations, permits, meals and transportation. And they can dramatically enhance your experience by providing entertaining knowledge and insights into what you're seeing. Being able to truly immerse yourself in the surroundings without worrying about logistics and details is a wonderful experience that many people don't get to try. Our expert guides at Wildland Trekking will do their best to ensure that you have a safe and enjoyable trip that is relaxed and fun. If hiking is your thing, you might check out Grand Canyon hiking tours. Many of these all inclusive tours, whether they are backpacking trips, camping trips, or inn-based tours, will allow you to see parts of the canyon you wouldn't otherwise and expert guys will know how to escape the crowds in the summer. There is truly something from everyone, and you won't be sorry you chose an all inclusive trip that takes care of your local transportation, meals, much of your gear, and provides you with an expert guide to show you around the area.
Alternatively, if you like the thrill of planning your own trip, want stay within a budget, be on your own watch, and research the best trails, then visiting on your own may be the best for you. Planning your own trip to the Grand Canyon can be overwhelming as you try to keep up with current conditions, weather, and safe activities for you and your family. Having a flexible itinerary can be a mixed blessing as you get to decide what do you want to do and when you want to do it, but might miss out on some secret gems that you didn't come across in your research. But if planning out the nitty-gritty details of a trip is what you enjoy, then it can be very rewarding to go on your own. Just make sure to do your research to ensure a safe and fun trip. But we encourage you to try out a trip with us, even if it's just a day hike, to get the feel for what a guided hiking adventure is like with Wildland Trekking.
JOIN A GUIDED HIKING ADVENTURE
Grand Canyon National Park is home to some of the most unique and spectacular hiking vacations in the world. Wildland Trekking offers trips with stunning views, geologic history, and incredible hiking and backpacking for visitors who want to have an active, adventurous experience.
Guided Grand Canyon treks include permits, local transportation (excluded on certain tours), meals, gear, risk management systems and professional guides, allowing guests to make the most of their visit to the Canyon, focus 100% on enjoying their experience, and do it all with an increased level of safety and comfort.
GRAND CANYON ADVENTURE TOURS