December in the Grand Canyon
Learn all about what it means to visit Grand Canyon National Park in December
December in Grand Canyon is a quiet, peaceful time with surprisingly great hiking weather, little difficulty getting hotel reservations, less competition with Phantom Ranch reservations and backpacking permits, and stunning views of the Canyon as the upper cliffs are dusted with snow. There is the possibility of a winter storm and hiking trails can be icy, but having the Canyon more or less to yourself makes it a phenomenal time to visit.
Benefits of Visiting in December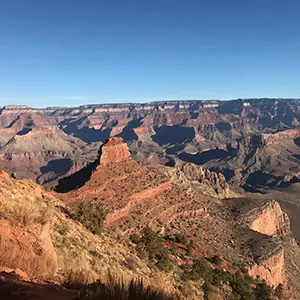 The biggest benefit of visiting Grand Canyon in December is the lack of crowds. As Grand Canyon guides, we're constantly dismayed by the lack of interest in December because it's such a great month to be at the Canyon. The hiking trails are quiet, the weather is often great inside the Canyon, permits are much easier to get than November or October, and it's as safe as it gets for doing backpacking trips in remote areas of the Canyon.
Drawbacks of Visiting in December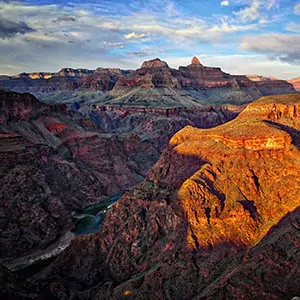 The top downsides of visiting Grand Canyon in December are the fact that the North Rim is closed, so doing Rim to Rim in a day or as a one-way trip, is not possible (it is possible to do Rim to Rim to Rim, which is a fantastic trip); the possibility of a winter storm that could close roads and/or make the trails icy; shorter days that mean less opportunities for evening hiking and sightseeing; and commercial rafting is shut down.
Things to Do in December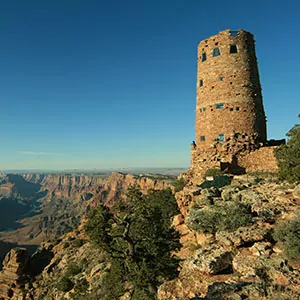 Without a doubt, the best activity in Grand Canyon in December is hiking and backpacking. Hiking to Phantom Ranch is excellent in December (elaborated on below), as are day hikes and Corridor and remote backpacking trips. As mentioned above, rafting is closed in December. South Rim activities like helicopter tours, airplane tours, and van tours are great as long as the weather cooperates. And if the roads are clear, a bicycle tour with Bright Angel Bikes is fantastic out Hermit Road.
If the weather takes a turn for the worse, great indoor activities are the Yavapai Geology Museum and dinner at El Tovar. If the weather is good and you'd like to do something besides hiking, a bicycle tour with Bright Angel Bikes is recommended.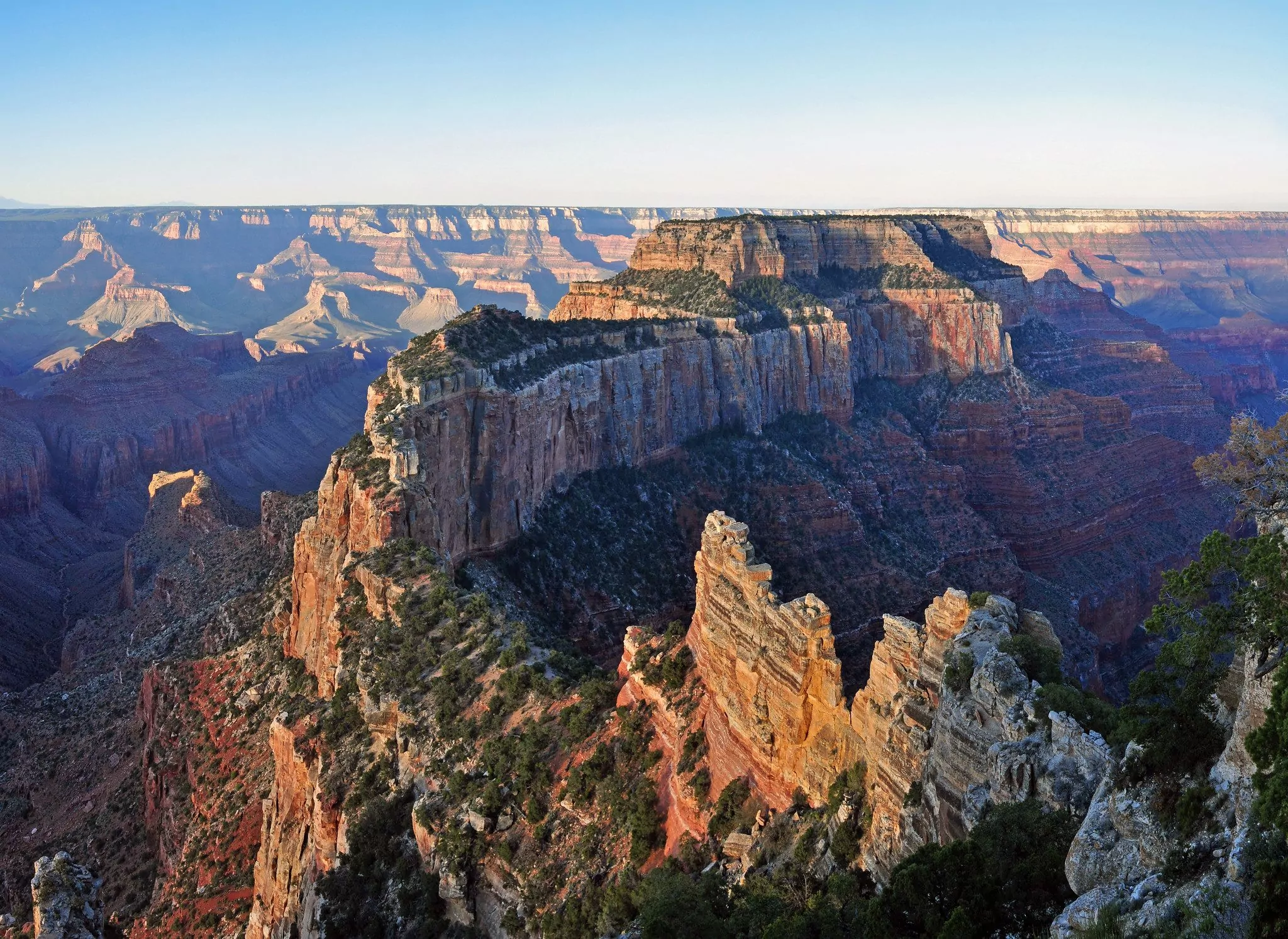 Recommended: Phantom Ranch Hike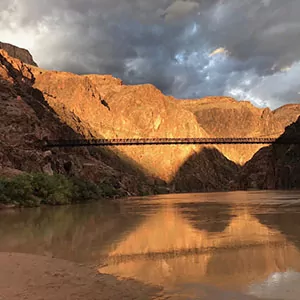 We highly recommend hiking to Phantom Ranch in December for multiple reasons. First, you'll have the most popular and scenic backcountry area in Grand Canyon much to yourself. Phantom Ranch is a short walk from the shores of the Colorado River and can be accessed via the South Kaibab and Bright Angel Trails which make for an amazing loop hike. Second, the temperatures for hiking are wonderful in the inner canyon. December is one of the best months of the year for hiking temperatures inside the Grand Canyon. Third, it can get chilly at night, and the Phantom Ranch cabins are heated. Fourth, Phantom Ranch reservations are easier to secure in the winter, and all-inclusive guided tours are also available.
Hiking in December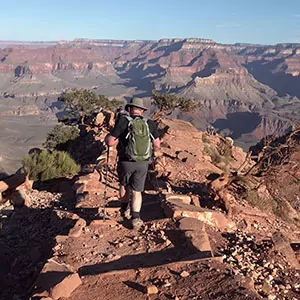 South Rim day hikes are especially recommended in December for multiple reason: 1) you can sleep in and get a later start (compared to many months when you need to be hiking before sunup); 2) temperatures are so great for hiking; and 3) the trails are relatively quiet compared to many months. Hiking to Phantom Ranch is also wonderful in December, and backpacking is great as long as you are prepared for potentially chilly nights (recommended 0 degree sleeping bag.)
When hiking the Grand Canyon in December, it's important to have hiking crampons (included on hiking and backpacking tours) for solid purchase on icy and snow-covered trails.
Weather in December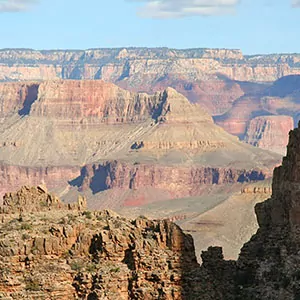 The average high at the South Rim in December is 45 degrees fahrenheit, and the average low is 18 degrees fahrenheit (high of 7 degrees celsius, low -8 degrees celsius.) However, these temperatures are much warmer inside the Canyon (by 10-20 degrees, but feels even warmer in the sun.) Average days of rain/snow in December is 4.
At Phantom Ranch at the bottom of the Canyon, the average high temperature in December is 58 degrees fahrenheit, and low of 38 degrees fahrenheit (14H/3L degrees celsius.)
Join a Guided Hiking Adventure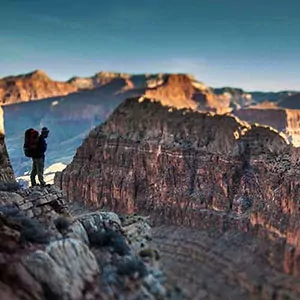 Grand Canyon National Park is home to some of the most unique and spectacular hiking vacations in the world. Wildland Trekking offers trips with stunning views, geologic history, and incredible hiking and backpacking for visitors who want to have an active, adventurous experience.
Guided Grand Canyon treks include permits, local transportation (excluded on certain tours), meals, gear, risk management systems and professional guides, allowing guests to make the most of their visit to the Canyon, focus 100% on enjoying their experience, and do it all with an increased level of safety and comfort.
GRAND CANYON ADVENTURE TOURS