December in the Grand Canyon
Learn all about what it means to visit Grand Canyon National Park in December
Updated: 10/28/22
December in Grand Canyon is a quiet, peaceful time with surprisingly great hiking weather, little difficulty getting hotel reservations, less competition with Phantom Ranch reservations and backpacking permits, and stunning views of the Canyon as the upper cliffs are dusted with snow. There is the possibility of a winter storm and hiking trails can be icy, but having the Canyon more or less to yourself makes it a phenomenal time to visit.
Benefits of Visiting in December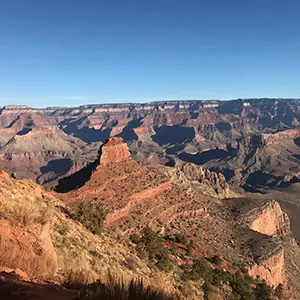 The biggest benefit of visiting the Grand Canyon in December is the lack of crowds. As Grand Canyon guides, we're constantly dismayed by the lack of interest in December because it's a great month to be at the Canyon. Less than 15% of the park's visitors come in December, January, and February, so the trails are quiet, the roads are clear of traffic, and the overlooks aren't swarmed with crowds. This is a blessed relief from the summer months and even earlier in the fall when the park is very busy. The lack of crowds also means that reservations are easier and much less expensive than during peak season. The much sought-after Phantom Ranch at the bottom of the canyon is much easier to get reservations for and you might even be able to eat at the historic El Tovar restaurant on short notice. Rates for accommodations inside the park will also be much more reasonable than the high rates of summer.
Another benefit of December is the weather inside the canyon. While the rims of the canyon are mountainous, alpine environments, inside the canyon is a desert habitat that stays warm throughout the year; even in December, the temperatures are pleasant for backpacking and hiking. With average highs in the high 50s, you'll be able to hike in long sleeves and avoid the dangers of hiking during the summer. Permits are not nearly as much of a headache as earlier in the season as fewer backpackers are on the trails so the spots open up. Backpacking is as safe as it gets in December with no heat and no risk of flash floods from the monsoon season.
December is also stunningly beautiful at the park. The light dusting of snow on the cliffs makes for fantastic photography and some of the larger wildlife such as elk and mule deer are lovely to see in the snow. The entire park has an ethereal look due to the snow and you won't ever forget the hushed feeling of the park on winter nights.
Drawbacks of Visiting in December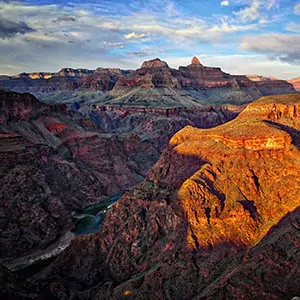 The biggest downside of visiting the Grand Canyon in December is the closure of the North Rim from early November to mid-May, so popular rim-to-rim hikes aren't options. While you can backpack to the North Rim, the inability to drive there makes it inaccessible for many visitors. While the South Rim is by far the more famous and touristy, many guests feel as though they have missed out if they don't get to see the North Rim, which is a wilder and more remote area. However, if you are a seasoned winter backpacker and are up for a challenger, a Rim to Rim to Rim trek is possible and a fantastic trip.
Another big drawback to December is the possibility of a winter storm. While the park is famed for its heat, the mountainous environment on the rims sitting at around 7,000 to 8,000 feet makes winter very cold with large storms bringing in feet of snow. While the snow does not stick around for long as it does in other parks such as Yosemite or Yellowstone, visitors still need to be prepared for the worst weather they might encounter. When a storm does hit, it can close roads and trails, effectively bringing all rim activities to a halt. A winter storm can completely obscure your view of the canyon with white-out conditions, turning overlooks into a sheet of white.
Winter also brings ice to the trails leading down into the canyon. Unlike the snow, this ice stays throughout winter as the sun does not get warm enough to melt it during the day. You will need crampons or microspikes to make hiking on steep trails safe. Slippery ice caused by thin layers of water on top of ice can make hiking even more treacherous. While there is no ice on the canyon floor, you will have to traverse the icy section before descending into the canyon. The shorter days of winter also give you less opportunity to sightsee and commercial rafting is shut down for the season.
Things to Do in December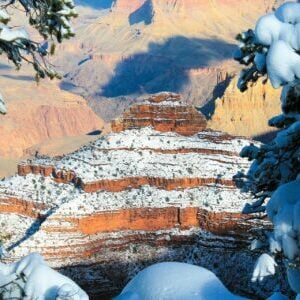 Without a doubt, the best activity in Grand Canyon in December is hiking and backpacking. While the rims of the canyon are bitterly cold and may have snow, inside the canyon is sheltered from the winter environment and remains at pleasant temperatures throughout winter for hiking and backpacking. The bottom of the canyon not only serves as a getaway from the cold of the season into lovely shoulder season temperatures but it also provides a way to truly get off into the wilderness. While there won't be crowds this time of year, even at the rim, the canyon itself provides solitude and a feeling of remoteness in December that few other places ever offer.
Hiking to Phantom Ranch is excellent in December, as are day hikes, Corridor trails, and remote backpacking trips. However, winter hiking does come with some dangers and you will need to be familiar with what could go wrong and aware of what to do if it does. Microspikes or crampons are a must in December as the trails– especially for the first few miles as you descend into the canyon– will be ice and slippery. You can read more about hiking in December below in our sections on hiking and backpacking.
Besides these activities, there are many things to do in December if you are there to escape the busy season but not to hike. As mentioned above, rafting is closed in December, but South Rim activities like helicopter tours, airplane tours, and van tours are great as long as the weather cooperates. And if the roads are clear, a bicycle tour out of Hermit Road with Bright Angel Bikes is fantastic. Hermit Road is closed to private vehicles most of the year, but you can drive it in winter if the roads are clear. This is a great opportunity as many guests feel rushed taking the shuttle bus at peak season to get a good look at the views before getting back on the shuttle.
Wildlife photography and viewing are also great activities in the snow. While the reptiles will be hibernating for the winter and some of the larger animals will have slowed down because of the cold, you will still have opportunities to see some of the park's stunning wildlife. Elk, mule deer, coyote, ravens, javelinas, and maybe even a bobcat can all be spotted in the park. The snow can act as a tracking device for wildlife viewers preserving tracks better than dirt and allowing you to see what has passed by. The canyon itself is worthy of photos any time of year, but winter in particular is magical for photography of the canyon if there has been a recent snow. The crimson and copper rocks with snow hanging on every ledge and edging the steep cliffs give the park an ethereal look, unlike any other time of the year.
If the weather takes a turn for the worse, great indoor activities are at the Yavapai Geology Museum and dinner at El Tovar. The Kolb Studio or visitor center on the South Rim are also great options for being inside a heated building. The 22-min visitor center film has excellent interpretive information about the park and will entertain the kids as well. On the West Rim, which isn't technically in the park, the Grand Canyon skywalk (a bridge made entirely of glass suspended nearly 4000 feet above the canyon floor) or a visit to Eagle Point Native American village is great for less active options. Without a doubt, however, one of the best things to do in December– especially with kids– is a trip on the Grand Canyon Railway that runs from the nearby town of Williams. While the historic train ride is fantastic any time of year often with an outlaw raid reenacted to the thrill of the kids watching horses gallop alongside the train, in December the train is transformed into the magical polar express. This ride into the beloved Christmas movie complete with a visit from Santa, cookies, and hot chocolate is an experience you– and your kids– won't ever forget.
Things to see in December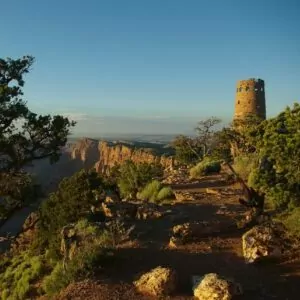 There are almost as many things to see in December as there are to do, so you certainly won't be bored if sightseeing is the main item on your agenda. From Native American history to geology, to early settler and mining ruins, to simply stunning vistas, there is truly something for everyone at the Grand Canyon. Below we've created a list of some of the must-see sights in the park for December, but make sure to do your own research to find out what especially piques your interest as this list is by no means exhaustive.
Desert View Watchtower: Near the east entrance of the park, this watchtower seems to rise out of the very canyon wall itself. The work of famous park architect Mary Colter, the tower can be climbed for fantastic views of the canyon and peak-a-boo views of the Colorado River. The first opportunity for visitors entering from the east to get a chance to see the canyon, the tower has a recreation of a Native American Kiva on the first level, and fantastic overlook windows on the levels above.
Yavapai Point: Located near the visitor center, this overlook provides stunning views of three converging canyons that come together in the Grand Canyon. With sweeping panoramas and wonderful examples of the layers and stripes across the deep red rocks, this overlook is one of the best in the park and is not to be missed.
Fossils: The Grand Canyon is full of fossils both prehistoric and modern, including the famous tracks of an extinct reptile preserved in an ancient sand dune that turned to rock. If you find a fossil, take a picture of it or make a sketch and ask a ranger about identifying it. There are many marine and reptilian fossils, so ask a ranger about where you can see some of them if you're interested.
Hermit's Rest/Scenic Drive: This scenic drive toward the west on the South Rim is closed to private vehicles throughout the summer and shoulder seasons, but cars can drive on it during winter as long as it is clear of snow. With numerous viewpoints and a recreation of an old mining cabin at the end of the road (Hermit's Rest), this is a great drive to make in winter as you can take your time at the viewpoints without the crowds or shuttle bus rush constricting your time.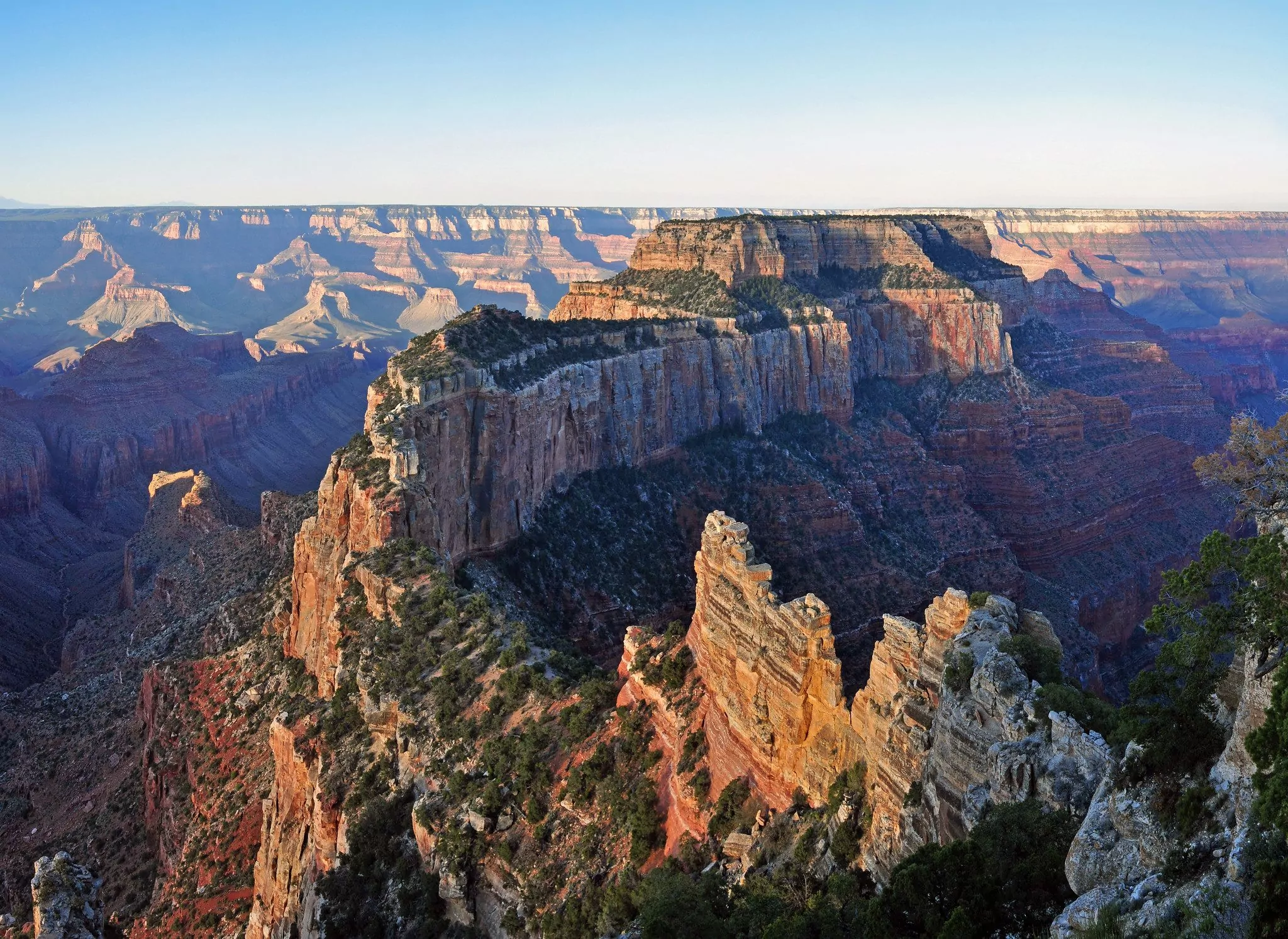 Hiking in December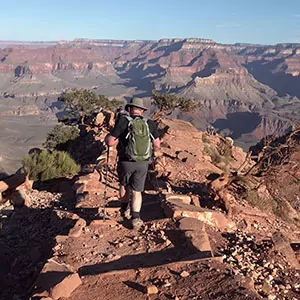 South Rim Day hikes are especially recommended in December for multiple reasons. First, you can sleep in and get a later start compared to many months when you need to be hiking before sunup. While it's great to not have to get up so early, it is important to note that December has the shortest days of the entire year and that you'll need to finish your hike before the temperature drops sharply with the early onset of winter nights.
Another great reason to hike in December is temperatures in the canyon are nearly perfect. While the rims remain cold and snowy for much of the season, inside the canyon is sheltered from the winter weather and remains perfect for hiking in long sleeves. The trails are also very quiet during this season as so few visitors are at the park and the trails are a little bit more treacherous than in other seasons. Of course, the trails can still be hiked safely with the right gear and knowledge. We recommend staying on the corridor trails of South Kaibab and Bright Angel Trail to avoid some of the more dangerous trails that will have more ice. Depending on the year and when you go in December, the trails may be more or less icy. South Kaibab has a good amount of sunlight and little shade so you can expect ice mostly on the first section called the chimney which lasts for about a quarter mile; ice is intermittent below this. Bright Angel Trail, however, has lots of shade (making it popular in summer) and retains ice for the first three miles. You will need to bring microspikes or hiking crampons (included on hiking and backpacking tours)  for the ice to give your shoes extra traction. Much like tire chains for your car, microspikes are made of rubber, small chains, and spikes that snap over the bottom of any hiking boot, giving you extra traction on ice and snow. It only takes a small section of ice on the Grand Canyon's steep trails to make you glad you had these. Crampons are a more heavy-duty version of the same concept.
A hike to Phantom Ranch this time of year is fantastic as reservations are not nearly as competitive and you can have heat and shelter at the bottom of the canyon to explore as long as you want. Backpacking is great as well as long as you are prepared for rather cold nights (recommended 0-degree sleeping bag).
Early mornings can be very chilly at the South Rim, where the trails begin, so be prepared with warm layers– especially insulating layers– wind-proof outer shells, gloves, and a warm hat. It's best to start hiking around 8 or 9 am and keep your hike to 6-8 hours due to the shorter days of winter. The temperature drops sharply after dark, and you will not want to be out once the sun has gone down and any ice that has melted during the day begins to refreeze. Hypothermia is a real danger in the Grand Canyon in winter and it does not have to be below freezing to experience this condition. It is most often a result of long exposure to cold or wet conditions. Because hypothermia causes confusion and carelessness, it is difficult to know if you have it yourself, so make sure you're hiking with a group and that you all know how to prevent this condition. Look for the symptoms of the "umbles"– grumbling, stumbling, mumbling, and fumbling.  The best way to prevent it is to put on your warm layers before you start shivering and break out your rain and snow gear before you get wet. You will need to have layers that you can easily put on or take off as the temperature around you changes. If you only bring your ski jacket, you are going to be too warm most of the time but too cold if you take it off.
Make sure to be drinking plenty of water even though it is cold and consider carrying it in an insulated container so that it doesn't freeze. Also be sure to be eating snacks as you hike to maintain electrolyte and sodium levels, as "water poisoning" -a condition caused by an imbalance of sodium in the body that causes cells to swell with water– can be life-threatening if you have drank too much water without eating.
backpacking in december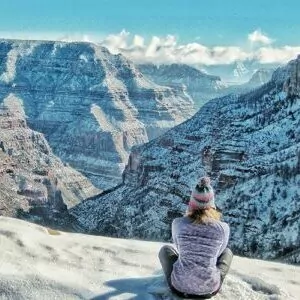 Backpacking in Grand Canyon in December is fantastic as the weather is perfect in the canyon for long-distance hiking and you will have it mostly to yourself. Of course, being in the backcountry comes with some risks that day hiking does not, but it is well worth putting the effort in to make your trip safe and enjoyable. If you've never winter backpacked before or if you've never backpacked in the Grand Canyon, consider going with a guiding company. The expert guides on the trip will make sure you aren't missing any essential safety information and will know what to do if any emergency situation arises. If you want to hike down into the canyon to escape the colder weather and the snow, consider a short trip down the South Kaibab Trail to Bright Angel Campground, one of the most picturesque campgrounds in the park situated near Bright Angel Creek. You can explore the canyon around Garden Creek or Havasupai Garden before hiking back up to the south rim via the Bright Angel Trail or South Kaibab Trail. There are many other options within the canyon, as well as a trail that goes further west called Hermit Loop, which has stunning sites, great history, and spectacular fossils.
It is also possible this time of year to do a rim-to-rim-to-rim trip which is on many backpackers' bucket lists. This trek from the South Rim to the closed-to-vehicles North Rim and then back to the South Rim is truly an amazing trip. If you thought that the South Rim or even the bottom of the canyon was deserted and remote, you'll be amazed by the sheer solitude at the North Rim while it is covered in snow and without anyone else there, except perhaps another backpacker or two. However, this trail is very strenuous with dramatic elevation loss and gain and serious height exposure.
Besides the dangers of the trail, winter brings additional risk with the rims having all the hazards of winter in the mountains besides crevasses and avalanches: whipping winds, freezing temperatures, and wild snow storms that may drop many feet of snow. Backpackers need to be aware of the dangers they might encounter from elk and bison to hypothermia and frostbite. Test out your winter gear before you rely on it in the backcountry and make sure to read the section above about hiking to learn more about the risks associated with being in the wilderness of this park as the dangers of hiking are only amplified in the backcountry. Backpacking in December can be a very rewarding experience and many cherish the memories of their trips, so make sure you have the gear and information you need and then set out on your adventure.
Weather in December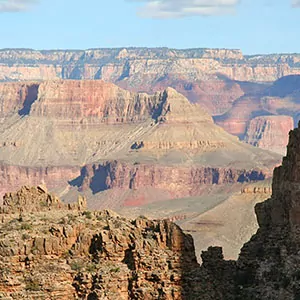 The Grand Canyon is a large park and due to the very nature of the canyon itself, the weather that you will experience depends greatly on your elevation and location. As we've said before, the rims of the canyon are high elevation (7,000 to 8,000 ft), mountainous environments that get multiple snowstorms and many feet of snow each year. Inside the canyon, however, is a desert environment that remains warm (kind of) throughout the winter making it pleasant for hiking and backpacking. The average high at the South Rim in December is 45 degrees Fahrenheit, and the average low is 18 degrees Fahrenheit (high of 7 degrees Celsius, low -8 degrees Celsius.) However, these temperatures are much warmer inside the Canyon (by 10-20 degrees, feeling even warmer in the sun). At Phantom Ranch at the bottom of the Canyon, the average high in December is 58 degrees Fahrenheit, and the low of 38 degrees Fahrenheit (14H/3L degrees Celsius.) The average number of days of rain/snow in December is 4. Visitors should keep in mind that these numbers are only averages, and the park can be much warmer– or much colder– than this depending on the year.
It is always best to prepare for the worst weather you might encounter, so bring your snow clothes and warm layers; you won't regret having them even if it doesn't snow. In the earlier part of the winter in December, you are more likely to run into issues with ice instead of snow. While a big snowstorm can close roads and trails and effectively halt activities on the rim, ice can present an even bigger problem as the kids can't play in it and it is more dangerous. Rainfall during the warmer daytime hours can freeze overnight when the temperature drops, creating treacherous conditions on the roads and trails. You'll need to bring crampons or micro spikes if you are planning on hiking at all to provide extra traction for your feet.
Mornings are often quite chilly and the temperature drops quickly once the sun goes down in the afternoon, so you'll want to plan your activities between 9:00 and 4:00 to avoid being caught out in the elements. Hypothermia is a very real threat in the Grand Canyon and can occur even when the temperature is above 40°F. Since this condition causes recklessness and confusion, it is important to hike in groups and to make sure everyone knows the "umble" symptoms that are the telltale signs of hypothermia (grumbling, mumbling, stumbling, fumbling). The best way to prevent this condition is it put on your warm layers before you start shivering and break out your rain or snow gear before you get wet. This will keep you from becoming chilled: the first step in getting hypothermia. Make sure to be drinking plenty of water as well even though it is cold and carry it in an insulated container so that it doesn't freeze overnight. Dress in layers and carry more water, food, and supplies than you need so that you are not short anything if you encounter a problematic situation. Always check the forecast and current conditions before setting out on a hike and check with a ranger at the visitor center for specific information about different trails and roads.
Wildlife in December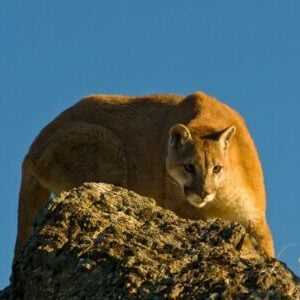 Winter is a great time to see wildlife in the park as many of the animals have slowed down and are easier to see and your photos will be simply stunning with a backdrop of snow. While the park's reptiles and amphibians will be in hibernation for the winter, many of the larger animals will still be out and about for you to see. One of the most common sightings is mule deer foraging along the Ponderosa Pines on the rims of the canyon. Elk also inhabit the park and can often be seen in winter. Some of the park's predators, such as bobcats, coyotes, and mountain lions are all more likely to be seen in winter as the crowds have lessened and the snow preserves perfect tracks of these animals for visitors to see. Bison also live in the park, but only on the north rim so unless you were planning to do a rim to rim to rim hike, you won't see these animals this time of year.
The Grand Canyon is home to some very distinct wildlife and the biodiversity of species here is phenomenal. One of the most famous residents is the California condor, a great story of conservation success. Brought back from the brink of extinction through captive breeding programs, Grand Canyon now has a substantial population of these birds, although they are still in danger of extinction from lead poisoning and loss of habitat. The largest bird native to North America, the California condor can have a wingspan of up to 9 1/2 feet and can travel many miles a day. These birds are often confused with turkey vultures while in flight, but the condors are much larger, have white splotches on the underside of their wings, and have a smooth flight pattern while turkey vultures appear to "wobble" when they fly.
Another of the park's unique animals is the ringtail, sometimes called the ringtail cat, a member of the raccoon family. Often described as "the cutest animal you've never seen," the ringtail is strictly nocturnal and is omnivorous feeding on plants, animals, and sometimes human scraps. They are sometimes spotted near Phantom Ranch, so keep your eyes peeled at night if you're staying at the ranch for these adorable creatures. Big horn sheep, javelinas, ravens, rock squirrels, and many species of migratory birds are just a few of the other animals you might see in the park. If you are looking for a particular species of animal, ask a ranger about where you would have the best chance of seeing one or what has recently been caught on remote cameras.
REcommended WIldland trips in december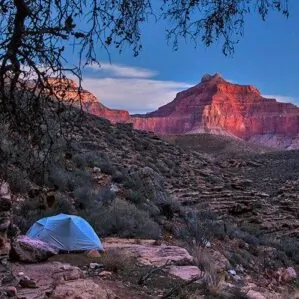 Planning a trip to Grand Canyon national park in December can be overwhelming as you try to figure out where are you going to stay, what you're doing to do, what trails are safe, and what the conditions will be. But you can bypass all that headache by booking a trip with Wildland Trekking and letting our expert guides put you at ease by taking care of all the logistics and details so that you can enjoy your trip. We offer a large variety of trips with different styles in the Grand Canyon in December, and we definitely have something that will suit you. From backpacking trips and basecamp tours to inn-based tours and day hikes, there are nearly endless options to explore for December. Feel free to browse all the trips we offer in the Grand Canyon, but here are a few we recommend especially for December.
Winter Rim to Rim to Rim:  Often on the bucket list for many backpackers, this trip from the South Rim, to the closed-to-vehicles North Rim and then back to the South Rim is one that you will never forget. While the trek is strenuous and comes with some safety concerns, you will feel at ease with the expert guides who have done it all before. All-inclusive with meals, guides, accommodations, and local transportation, don't miss out on this new twist on a classic backpacking trip.
Phantom Ranch Tour: One of the most sought-after accommodations in the peak season, Phantom Ranch lies at the bottom of the canyon and you'll find it much easier to get reservations in December. On this trip, you'll stay at the ranch in heated but primitive rooms with running water, but carry your belongings down the canyon as if you were on a backpacking trip. The perfect mix of luxury and rustic, this all-inclusive tour is not to be missed at a time when you will have most of the canyon to yourself.
Best of Northern Arizona Tour: This inn-based tour gives you a taste of all that North Arizona has to offer from the Grand Canyon to Sedona. Experience hiking in these areas each day in distinct habitats and locations while enjoying premier accommodations, easy local transportation, and excellent meals throughout your trip. With opportunities to hike into the wilderness and relax at the lodge, this inn-based tour gives you a taste of all of the areas here so that you'll know where you want to go back.
Hermit Loop: One of our favorite backpacking tours in the park, Hermit Loop stretches west in the canyon and begins at the end of the iconic Hermit's Rest scenic drive. This loop will give you a chance to get more into the wilderness, away from any tourists who might also be at the rims at the time, and the opportunity to see sweeping views and magnificent fossils. All-inclusive with much of your backcountry gear, all your meals, local transportation, and accommodations included, you won't want to miss out on this four or five-day backpacking trek.
Join a Guided Hiking Adventure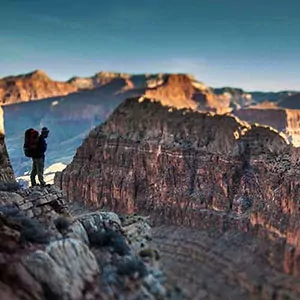 Grand Canyon National Park is home to some of the most unique and spectacular hiking vacations in the world. Wildland Trekking offers trips with stunning views, geologic history, and incredible hiking and backpacking for visitors who want to have an active, adventurous experience.
Guided Grand Canyon treks include permits, local transportation (excluded on certain tours), meals, gear, risk management systems, and professional guides, allowing guests to make the most of their visit to the Canyon, focus 100% on enjoying their experience, and do it all with an increased level of safety and comfort.
GRAND CANYON ADVENTURE TOURS