August in the Grand Canyon
Learn all about what it means to visit Grand Canyon National Park in August
August in Grand Canyon National Park is the height of the monsoon season, with thunderstorms and dramatic skies forming incredible backdrops for evening hikes and walks or dinners at Grand Canyon Lodge. August is still quite busy with peak summer visitation not tapering off until later in the month. The North Rim is open and August is a wonderful time to experience the lesser-visited side of the Canyon.
Benefits of Visiting in August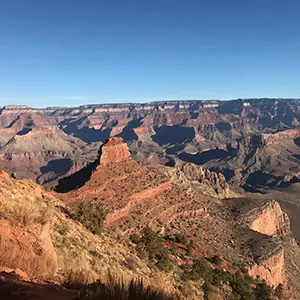 A huge benefit of visiting Grand Canyon in August is, like July, the wonderful temperatures for camping on the South Rim and the North Rim. The North Rim Campground is lovely in August, where visitors can camp in pine and aspen forests a short walk from the edge of the Canyon. South Rim camping is also wonderful, and there are multiple campground options on the south side of the Canyon. See more about Grand Canyon camping or all-inclusive hiking and camping tours.
More upsides of August are hot temperatures for white water rafting, evening photography of monsoon storms over the Canyon, easier-than-normal reservations at Phantom Ranch and robust tour options.
Drawbacks of Visiting in August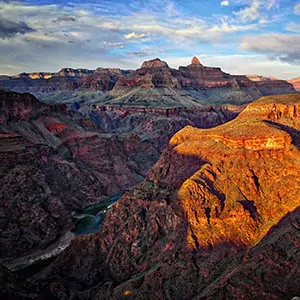 The biggest downsides of visiting Grand Canyon in August are the hot temperatures inside the Canyon, full summer crowds, and the possibility for flash flooding. On the South Rim you can anticipate long lines for NPS shuttles, full hotels and peak summer hotel rates. It should be noted however that by late August the Park does get quieter, as school years start back up and families are no longer visiting.
To maximize your time, not have to worry about reservations and transportation, and to safely hike the Canyon in the summer, consider joining a Grand Canyon hiking tour.
Things to Do in August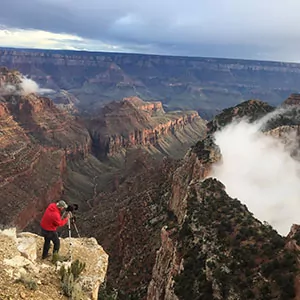 If you can plan enough ahead, a Colorado River rafting trip is a fun activity for August. Being deluged by the chilly water of the Colorado River while crashing through rapids is a refreshing thing in the summer. 6-21 day Colorado River rafting tours and one-day rafting tours are available.
As we said above, tent camping on the South Rim and the North Rim is fantastic in August, as is hiking part way into the Canyon, but it's critical to begin your hike before sunup and be out of the Canyon by mid morning. Backpacking can be a great activity in August, however if you don't have desert hiking experience, especially in the summer, we recommend joining a backpacking tour to more safely negotiate the heat of the Canyon, especially half-way down and lower. Sticking to the Corridor (South Kaibab, North Kaibab, and Bright Angel Trails), is highly recommended in August.
If your passion is photography, we strongly advise checking weather forecasts, and if monsoons are in the forecast, posting yourself and your camera at one of the more dramatic viewpoints (Yaki Point, Hopi Point, Powell Point to name a few) to get dramatic photos of thunderstorms descending on the Canyon. Please note though to be careful of lightning as lightning injuries and deaths at South Rim viewpoints are not uncommon.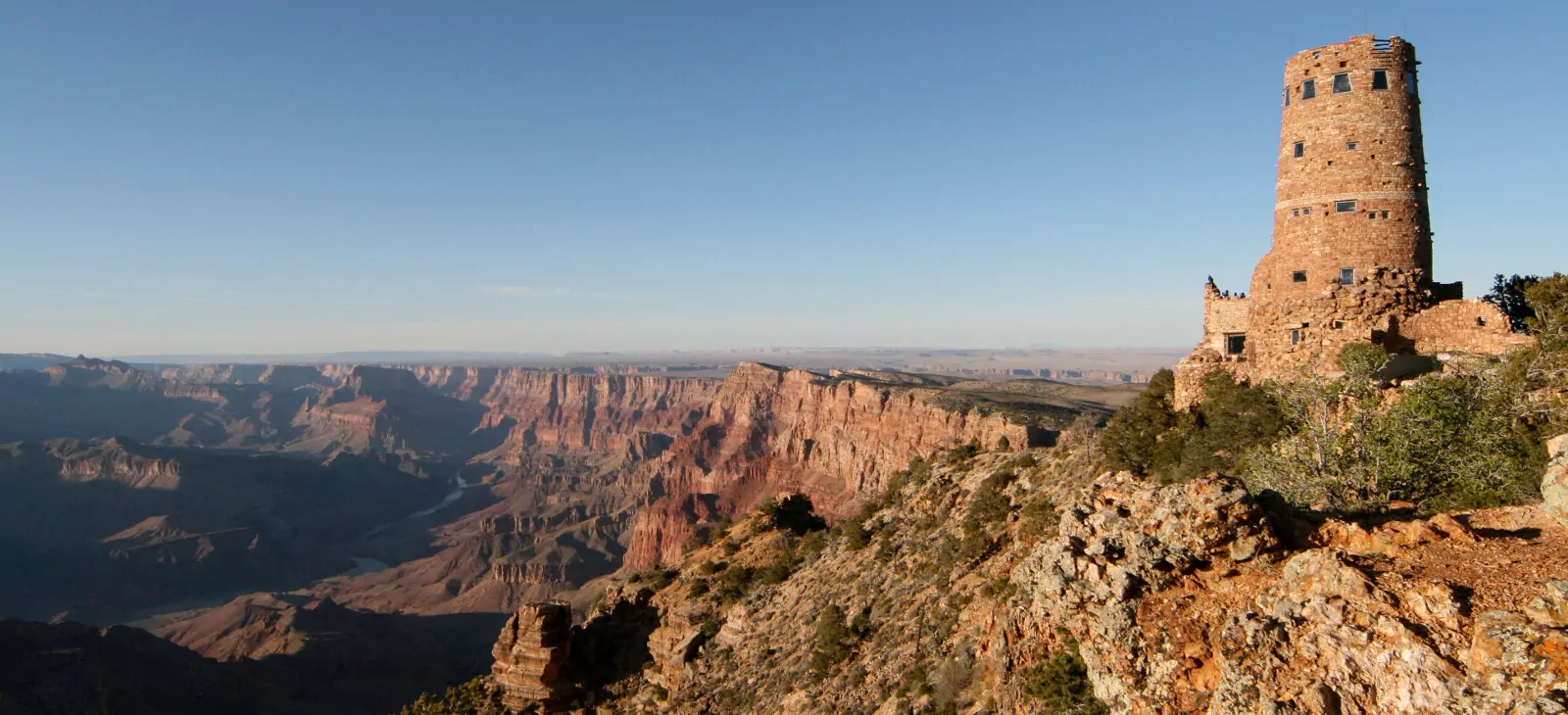 Hiking in August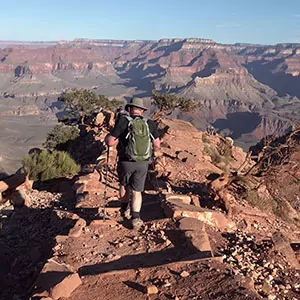 There are several important considerations with hiking in August in the Grand Canyon. The most important one is the summer heat inside the Canyon, which can be well over 100 degrees fahrenheit in the shade. If you're going on a one day hike, it's strongly recommended to begin very early (hiking before sunup) and be back to the South Rim by mid morning. Stay on Corridor Trails: South Kaibab, North Kaibab, and Bright Angel. Bright Angel Trail is the most secure summer trail in the Canyon because it has shade and water every mile and a half. If you're hiking from one rim to the other in one day, begin your hike around 2 or 3 am, rest in the shade and creek water neat Phantom Ranch from 10am to pm (the hottest part of the day), and conclude your hike in the late afternoon/evening. See NPS's Summer Hike Smart Tips.
If you're interested in a backpacking trip, consider joining a guided trip to maximize your safety and comfort.
Weather in August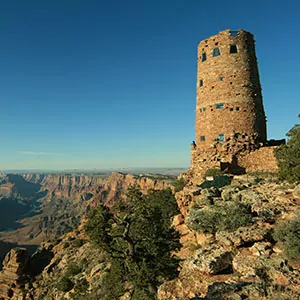 The average high at the South Rim in August is 82 degrees fahrenheit, and the average low is 49 degrees fahrenheit (high of 28 degrees celsius, low 9 degrees celsius.) However, these temperatures are much warmer inside the Canyon (by 10-20 degrees, but feels even warmer in the sun.) Average days of rain in August is 6.
At Phantom Ranch at the bottom of the Canyon, the average high temperature in August is 103 degrees fahrenheit, and low of 74 degrees fahrenheit (39H/23L degrees celsius.)
Join a Guided Hiking Adventure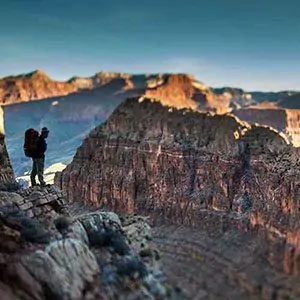 Grand Canyon National Park is home to some of the most unique and spectacular hiking vacations in the world. Wildland Trekking offers trips with stunning views, geologic history, and incredible hiking and backpacking for visitors who want to have an active, adventurous experience.
Guided Grand Canyon treks include permits, local transportation (excluded on certain tours), meals, gear, risk management systems and professional guides, allowing guests to make the most of their visit to the Canyon, focus 100% on enjoying their experience, and do it all with an increased level of safety and comfort.
GRAND CANYON ADVENTURE TOURS