January in the Grand Canyon
Learn all about what it means to visit Grand Canyon National Park in January
Updated: 09/09/22
Winter in Grand Canyon National Park is a magical time to be there. There are some wonderful benefits to visiting this time of year and some drawbacks as well. If January is the month you can make it happen, then our recommendation is to go for it! You'll have an amazing time, and will almost assuredly leave with an appreciation of not just the Canyon, but also visiting the Canyon this time of year.
Benefits of visiting in January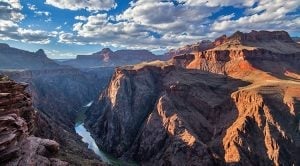 The number one benefit of going to the Grand Canyon in January is the lack of crowds. Summer is the busiest time at the South Rim, and spring and fall are also hopping, although not like summer. Winter is peaceful and quiet in comparison. Instead of crowded roads, long lines for services, and busy overlooks you are more likely to find the park to be quiet and hushed, perhaps with snowfall. The National Park Service records that fewer than 15% of the park's 6 million annual visitors visit in December, January, and February. Fewer visitors also means more readily available accommodation and less expensive rates. More likely than not, you won't find any accommodations in the summer if you're trying to book less than six months in advance, but in winter you're more likely to find availability within a few weeks or months of your trip. Fewer tourists also mean less than peak accommodation rates, especially if you book in advance.
Another big benefit is the cool temperatures in the Canyon. While the South Rim may be quite chilly (but not always), once you're down into the Canyon the temperatures will level out and much of the time be perfect for hiking. This is a blessed relief from the 110° or more heat in the canyon in the summer that makes hiking dangerous and less enjoyable. Make sure you're still prepared for winter weather though, as you won't be able to reach the milder desert temperatures on the floor of the canyon until you journey through the mountainous, forested terrain of the South Rim. Permits for back-country hiking and camping are much easier to obtain in the winter, and even last-minute reservations at Phantom Ranch are commonly available. Wildlife viewing and photography opportunities abound in winter. While many of the animals slow down because of the cold, you might still see mule deer and elk, as well as condors, big-horn sheep, foxes, and bobcats. The canyon itself is majestic and worthy of pictures any time of the year, but if there has been recent snow, the crimson and blood orange rocks just edged with white take on an entirely unique look.
Drawbacks of Visiting in January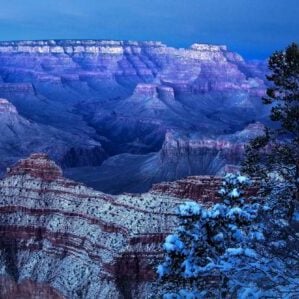 Perhaps unsurprisingly, the biggest drawback of January in the Grand Canyon is the temperatures at the South Rim and the possibility of a winter storm. While the inside of the canyon is a desert environment, the rims are pine-forested mountain ecosystems that get multiple feet of snow every winter. This means that visitors will have to be prepared for winter weather with more gear and clothing than traveling in the summer or during the shoulder seasons. It is also possible that you won't have to use any of your winter gear, which may make your additional shopping and packing seem like a waste of time.
Winters in Grand Canyon are not to be laughed at, despite the park's reputation for heat instead of cold. Hypothermia is a real danger and slipping on ice and snow can cause serious injury. When a snowstorm does hit, it can close roads, make hiking very difficult, and generally bring activities in the canyon to a screeching halt. In addition to the possibility of adverse weather, many of the trails of the South Rim become treacherously icy in winter regardless of whether or not there's snow, and it's strongly recommended to use hiking crampons and trekking poles if you hike in January. This makes the trails less accessible as this equipment can be expensive and those who are not steady on their feet may not want to attempt hiking even with the increased traction this gear will give them.
The North Rim is also closed from early November through mid-May, so the South Rim is your only option. This leaves much of the park mostly inaccessible and limits what you can see. While the South Rim is gorgeous and by far worth visiting, many people feel as though they have missed out if they don't get to see the North Rim. While wildlife is still around in January, many of the species have slowed down because of the cold. You won't get a chance to see any reptiles or amphibians and some of the larger animals will be less active and thus less visible. An additional drawback is that not only will the days be colder, but they will also be shorter than in the summer. The temperature drops sharply after the sun goes down and you do not want to be caught out after dark, so you will have less time when there is sunlight and the air is warm enough to enjoy hikes and sightseeing.
Things to Do in January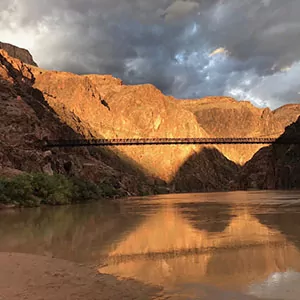 There are plenty of great things to do in the Canyon in January; in fact, most of the activities available at any other time of year are yours to choose from. Certainly, a hike on the South Kaibab or Bright Angel Trail is very much worth doing, but be sure to have hiking crampons for the icy trails (it's not particularly advisable to hike Grandview, New Hance, or Tanner Trails in winter unless you're with a guide company or are experienced.) Experienced hikers can also take a trip to the closed North Rim of the canyon by backpacking from the South Rim. This allows you to access one of the most remote locations in the entire park and have it almost entirely to yourself. There are also opportunities for snowshoeing and cross-country skiing if there is snow on the ground, but these activities are not as consistently available as they are in places like Yosemite and Yellowstone because the snow in Grand Canyon often doesn't stick around as long and you may find yourself visiting the park in winter with no snow on the ground at all.
Sightseeing in the park is endless. If the roads are clear, you can drive along the rim of the canyon and stop at various overlooks. The most spectacular is in the west between the visitor center and Hermit's Rest, but the east and south provide some amazing views as well. Helicopter or airplane tours, van tours, and – if roads are clear – bicycle tours are great activities (read about Grand Canyon's best tours for links to recommended companies.)
Checking out things like the Yavapai Geology Museum and the Kolb Studio is worth doing if the weather prevents you from being outside. The 22 visitor center film is a great way to learn more about the park from the warmth of a heated building. A trip on the Grand Canyon Railway that runs from Williams to the canyon is also a great way to wait out some of the weather and may include a visit from old western outlaws. On the West Rim, the Grand Canyon skywalk (a bridge made entirely of glass suspended nearly 4000 feet above the canyon floor) or a visit to Eagle Point Native American village are both great options. Guests can also enjoy an all-American dinner at famous and historic El Tovar, which is a must-do activity in Grand Canyon, and reservations will be much easier to get in January than many months.
Wildlife and winter photography are great options for Grand Canyon in January. Although the wildlife will be less active than they are in the summer, patient visitors may still catch glimpses of the park's iconic animals. The California condor, one of the rarest birds in the world and possessing the largest wingspan of any North American bird, can still be seen flying above the Grand Canyon. With a quality lens for zooming in, the condor makes an excellent photography subject. Night sky photography is also popular, especially if you can get some of the canyon walls in the foreground of your picture of the Milky Way. Make sure to break out your layers and maybe a blanket for being out in the evening though, as the winter nights can get very cold.
Things to see in january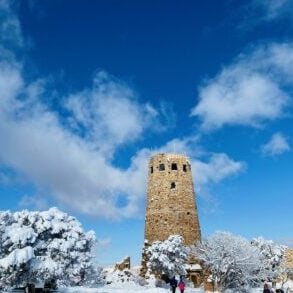 Grand Canyon National Park is well known for its sightseeing and there are almost as many things to see in January as there are to do (and if you read the section above, you know that's a lot). Below, we've made a list of some of the must-see sights in Grand Canyon National Park in January. The list is by no means exhaustive, so make sure to do your own research about what especially piques your interest in the park.
Hermit's Rest/Scenic Drive:  This scenic drive is one of the most popular in the park, but it is popular for a reason. Heading west along the south rim, the drive has many overlooks that give you excellent views of the canyon beneath. Winter is arguably the best time to drive this route as it is the only time that you can. Shuttle buses run in the summer and the only other options are walking or riding your bike as the road is closed to private vehicles with the exception of backpackers with permits. Being able to drive this route gives you the ability to explore at your own pace and to take your time at the overlooks. At the end of the road is Hermit's Rest, built in the early 1900s but designed to look like an old miner's cabin.
Plateau Point: This overlook, along the very famous and very popular Bright Angel Trail, is one of the best views of the Colorado River in the park. While during the summer, this trail is packed with visitors, in the winter you will find fewer people but unfortunately more ice and snow. Kaibab Trail has more sun and is less icy, but the Plateau Point is so spectacular that for experienced hikers with crampons and trekking poles, it might be worth it to take the longer trek.
Hopi Point: Along the Hermit's Rest Scenic Drive, Hopi Point is one of the best places for sunrise or sunset. With sweeping panoramic views of the entire canyon as well as little glimpses of the Colorado River, this spectacular viewpoint is great any time of the year, but with the ability to drive to this point instead of taking the shuttle, January is a perfect time to catch golden hour as the rocks are bathed in the deep orange light of the sun.
Desert View Watchtower: The first thing you see when you enter the park from the east is this watchtower, but few people stop to–and perhaps don't you can– climb it. Built in 1932 by architect Mary Colter, the tower's design is made to look as though it is rising out of the canyon itself and is based on the architectural designs of the Ancestral Puebloan people that inhabited the Colorado plateau. Inside, you'll find a recreation of a Native American Kiva which hosts cultural demonstrations in the summer and outside you'll find your first spectacular views of the canyon.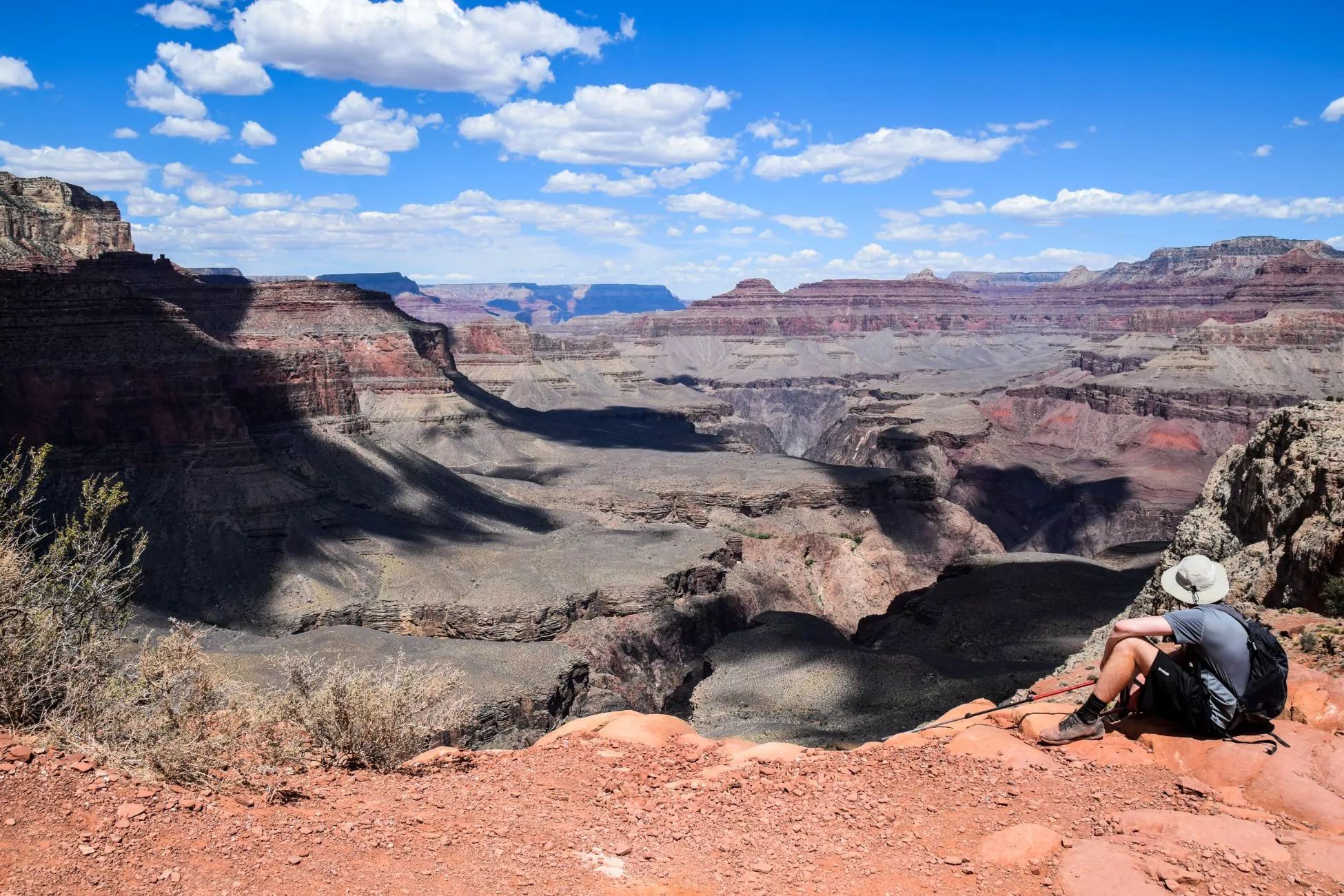 Hiking in January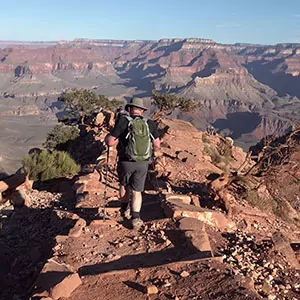 As mentioned above, hiking in January can be richly rewarding, and temperatures can be near perfect for the physical exertion of ascending back out of the Canyon. We recommend sticking to Bright Angel Trail and South Kaibab Trail unless you're going with a tour company or are an experienced hiker. Bright Angel Trail, while it is the most popular and famous, will have the most ice and snow of the easier trails in the winter due to the increased shade on the trail (making it popular in summer). Expect to encounter ice for at least the first 3 miles of this trail. South Kaibab Trail, on the other hand, receives much more daytime sun and heat. The first 1/4 of the trail, called the chimney, is north facing and maintains ice and snow throughout the winter, but below this section ice is intermittent.
Whatever trail you decide to hike, you will need to bring crampons or Microspikes to give you extra traction on the trail. Much like chains that you put over car tires, microspikes are for your boots and are made up of chains, rubber, and small spikes that dig into ice and compacted snow, giving you increased traction. It only takes a small section of ice to make you thankful that you had these devices. As most of the trails in Grand Canyon are steep, sliding down or slipping while trying to climb up the trails without additional traction on your feet is very likely. While this equipment may seem expensive, especially for a short trip to Grand Canyon, it is critical to have. Tour companies include this in gear if you book a tour with them, which can help reduce your cost.
Early mornings can be very chilly at the South Rim, where the trails begin, so be prepared with warm layers– especially insulating layers– wind-proof outer shells, gloves, and a warm hat. It's best to start hiking around 8 or 9 am and keep your hike to 6-8 hours due to the shorter days of winter. The temperature drops sharply after dark, and you will not want to be out once the sun has gone down and any ice that has melted during the day begins to refreeze.
Hypothermia is a real danger in the Grand Canyon in the winter and it is important to recognize the signs of this condition and to know what to do if you or one of your group experience this condition. It does not have to be below freezing for you to experience hypothermia; instead, it is when your body is not able to regulate its temperature after being exposed to cold and/or wet conditions. Because hypothermia causes confusion and carelessness, it is difficult to know if you have it yourself, so make sure you're hiking with a group and that you all know how to prevent this condition. The most important thing is to put on your warm layers before you start shivering and to break out your rain jacket before you get wet. This will prevent you from getting chilled, which can lead to hypothermia. Look for the symptoms of the "umbles"– grumbling, stumbling, mumbling, and fumbling.
Make sure to also be drinking plenty of water on your hike, even though it is cold. It might be best to carry it in an insulated container to keep it from freezing. With a recent increase of deaths in the Canyon due to "water poisoning" — a life-threatening condition caused by an imbalance of sodium in the body which causes cells to swell with water– it is important to also snack frequently while you hike, especially with salty foods to maintain the sodium balance in your bloodstream.
backpacking in january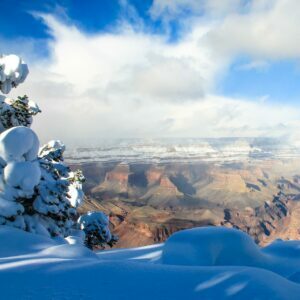 Despite it being winter, Grand Canyon National Park still has backpacking options available in January. While the rims of the canyon will be very cold and likely have snow, inside the canyon, the desert environment makes for comfortable days and cool nights perfect for camping and backpacking. Being in the backcountry will come with some dangers that don't come with day hiking, but it is well worth it if you are willing to put in the work to make your trip safe. If you've never backpacked in the Grand Canyon before or if you've never camped in winter, consider going with a guiding company. The expert guides will take care of all the details and make sure you aren't missing any critical safety information so that you can relax and enjoy the scenery.
Depending on which trail you take, you'll either be able to hike in only your hiking boots or have to bring cross-country skis or snowshoes to traverse deep snow. If you want to hike down into the canyon to escape the colder weather and the snow, consider a short trip down the South Kaibab Trail to Bright Angel Campground, one of the most picturesque campgrounds in the park situated near Bright Angel Creek. Explore the canyon around Garden Creek or Havasupai Garden before hiking back up to the South Rim via the Bright Angel Trail or South Kaibab Trail. There are many other options within the canyon, like a trail that goes further west called Hermit Loop, which has stunning sites, great history, and spectacular fossils.
On many backpackers' bucket lists is a Rim-to-Rim-to-Rim backpacking trip in the Grand Canyon. This means hiking from the South Rim to the North Rim, and back to the South Rim over the span of a few days. This feat can be accomplished in winter, but only with significantly more gear and expertise than in the shoulder seasons. Winter does, however, afford hikers journeying to the North Rim remarkable solitude as the roads to this section of the park are closed and few hikers make this trek in winter. This trail, however, is very strenuous with dramatic elevation loss and gain and serious height exposure.
Besides the dangers of the trail as it is, winter brings additional risk with the rims having all the hazards of winter in the mountains besides crevasses and avalanches: whipping winds, freezing temperatures, and wild snow storms that may drop many feet of snow. Backpackers will need to be aware of these dangers and understand what to do in a survival situation. Test out your winter gear before you rely on it in the backcountry, especially on the North Rim which is one of the most remote places in the lower 48 states. In addition, all the dangers of day hiking are only amplified in the backcountry, so make sure to read the section above if you're interested in this activity. Backpacking in Grand Canyon in January can be a very rewarding experience with solitude like few other places in the country, so assemble your winter gear and get ready to head out on an adventure.
Wildlife in January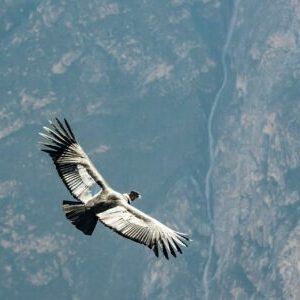 Wildlife in the Grand Canyon in the winter months slows down compared to summer and the shoulder seasons. The reptiles and amphibians are in hibernation for the colder weather, so you won't get to see many of the park's staple animals of the desert like rattlesnakes, collard lizards, or the Gilla monster. There are, however, many animals that stay out and about during the winter that you can see. Mule deer and elk are both still active and can be seen foraging on the rims among the evergreen Ponderosa Pines. Some visitors might see a peregrine falcon or a bald eagle soaring in the skies above the canyon. The park's squirrels, namely rock squirrels and the Alberts squirrel, are in their borrows for much of winter but do come out on occasion to forage. Multiple species grow tufts of fur on their ears to keep out the cold.
Perhaps the most famous of Grand Canyon's wildlife is the California condor, recently re-introduced after being on the brink of extinction. The largest bird native to the Americas, the California condor has a wingspan of up to 9.5 ft and can weigh up to 23 pounds. These birds are scavengers and are often confused with turkey vultures while flying. You can tell the difference between these birds by the way they fly: turkey vultures appear to be wobbly when they fly while condors have a much smoother wing pattern. Seemingly a land equivalent of the ocean-going albatross, condors can travel many miles in one day and very seldom roost in the same place for two nights in a row unless they have a nest. A breeding pair of condors may only produce one egg every two years, so their recovery story from the brink of extinction through captive breeding programs and their subsequent release into the wild is a great conservation success story.
Another of Arizona's distinct wildlife residents is the javelina, also known as the collared peccary. While they go by many common names and look like pigs, javelinas are in a different family than pigs and are known for their tough eating habits which sometimes even include cactus. Grand Canyon National Park is home to hundreds of species, many of which are not often seen by visitors. Bighorn sheep inhabit the park but blend in so well with the rocks they inhabit that they are often not seen. Mountain lions, coyotes, bobcats, and gray foxes also live in this habitat but all of these with the exception of coyotes are generally shy and avoid people. The snow can be an advantage to those looking for wildlife as it maintains tracks better than dirt. While many of these species are less active because of the cold, patient visitors can still catch a glimpse of them and it will be well worth the wait.
Weather in January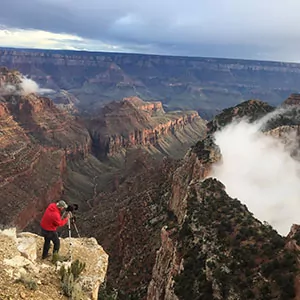 The Grand Canyon is a large park and due to the nature of the canyon landscape, the weather varies greatly between the rims of the canyon and inside the gorge itself. The average high at the South Rim in January is 44 degrees Fahrenheit, and the average low is 18 degrees Fahrenheit (high of 6.6 degrees Celsius, low -7.7 degrees Celsius.) However, these temperatures are much warmer inside the Canyon (by 10-20 degrees, but even warmer in the sun.) The average number of days of rain/snow in January is 5. At Phantom Ranch at the bottom of the Canyon, the average high temperature in January is 58 degrees Fahrenheit, and the low of 38 degrees Fahrenheit (14H/3L degrees Celsius.) Visitors should keep in mind that these temperatures are only averages and that the park can experience much warmer– and much colder– temperatures than these. The possibility of both rain and snow, moderate temperatures, and freezing can make packing for your trip more difficult as you have to bring both fall and winter gear. Rain that falls during the warmer daytime hours is likely to freeze overnight and create treacherous conditions on the roads and trails. Snowfall can be heavy and temporarily close roads, so you might want to bring a deck of cards or a good book to keep yourself busy if the weather prevents you from being outside for a day or two.
Mornings are typically on the chillier side and the temperature drops sharply after sundown, so you'll want to make sure your hike or activity doesn't leave you out in the elements after dark. Plan on starting your activities in the morning if they are going to be longer than a few hours, but make sure to watch out for icy spots with a layer of water on the surface that have been melted in the morning light. This will make the ice more slippery and treacherous. Crampons or Microspikes are a must for this time of year as a slip on ice while hiking along a cliff can quickly turn into a disaster. Cross-country skis or snowshoes will be required for some trails in the area.
Hypothermia is a very real threat in Grand Canyon, so make sure you break out your warm layers before you start shivering, put on your rain/snow gear before you get wet, and turn around or take shelter if the weather turns bad. It is best to be prepared for the worst weather you might encounter, so make sure to dress in layers that you can take off/put on to regulate your temperature as the temperature around you changes. If you only bring your ski jacket, you are going to be too warm most of the time, but too cold if you take it off. Always check the forecast and current conditions before setting out on a hike and check with a ranger at the visitor center for specific information about different trails and roads.
Recommended Wildland trips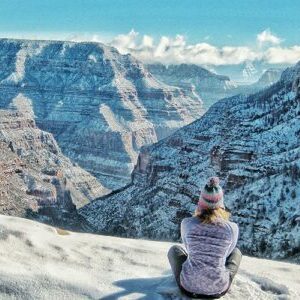 Planning a trip to Grand Canyon in winter can be overwhelming as you try to keep up with current conditions, closures, forecasts, and which trails and activities will be safe. But you can bypass all the headaches by booking a trip with Wildland Trekking and letting one of our expert guides show you around this spectacular landscape. We have a variety of trip styles from backpacking and mule-assisted treks to basecamp trips and inn-based tours. Feel free to explore all the trips we offer in Grand Canyon, but here are a few we especially recommend for January.
Best of Grand Canyon: Designed for those looking to explore the wonders of the Grand Canyon with the luxuries of hotels in the evening, this trip is the perfect blend of rustic and comfortable. With day hikes each day into the canyon, visits to the notable museums and visitor centers, and a memorable dinner at El Tovar Hotel, this trip will not disappoint. An all-inclusive 3-day tour with local transportation, meals, lodging, and much of your gear included, you won't want to miss this adventurous yet relaxing trip to Grand Canyon.
Phantom Ranch Tour: While this is also an inn-based tour, it is much nearer to a backpacking trip as you will trek down into the canyon to the famous Phantom Ranch for primitive (although heated and with running water) accommodations within the canyon itself. With 2 or 3-day options, this trip will allow visitors to experience hiking to the floor of the canyon and back without having to backpack and with the company of an expert guide. With all your meals, local transportation, and gear included, get ready for this very rustic inn-based tour.
Hermit Loop: One of your best backpacking options in the park, this 4 to 5-day, all-inclusive trip will take you through some of the most spectacular scenery in the park. Hiking along the Bright Angel Trail, you will get much of the solitude of a strenuous trip without so much work. Visit multiple rapids of the Colorado River, see prehistoric fossils of sea shells and animal tracks, learn about the pre-conservation history of the park, and hike along panoramic vistas.
Winter Rim to Rim to Rim: If you want to hike rim to rim to rim, but aren't sure if you have the equipment or expertise to do so on your own, this is the trip for you. Journey to the North Rim of the Grand Canyon when it's closed to car traffic and understand what true solitude is in one of the most remote places in the lower 48 states. With Native American ruins, waterfalls, box canyons, and the potential for wildlife, you are sure to enjoy this all-inclusive backpacking trip.
Join a Guided Hiking Adventure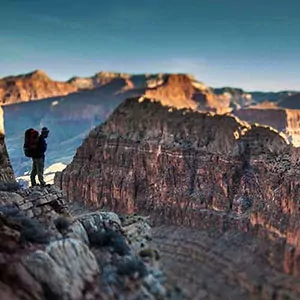 Grand Canyon National Park is home to some of the most unique and spectacular hiking vacations in the world. Wildland Trekking offers trips with stunning views, geologic history, and incredible hiking and backpacking for visitors who want to have an active, adventurous experience.
Guided Grand Canyon treks include permits, local transportation (excluded on certain tours), meals, gear, risk management systems, and professional guides, allowing guests to make the most of their visit to the Canyon, focus 100% on enjoying their experience, and do it all with an increased level of safety and comfort.
GRAND CANYON ADVENTURE TOURS