January in the Grand Canyon
Learn all about what it means to visit Grand Canyon National Park in January
Winter in Grand Canyon National Park is a magical time to be there. There are some wonderful benefits to visiting this time of year, and there are some drawbacks as well. If January is the month you can make it happen, then our recommendation is to go for it! You'll have an amazing time, and will almost assuredly leave with an appreciation of not just the Canyon, but also visiting the Canyon this time of year.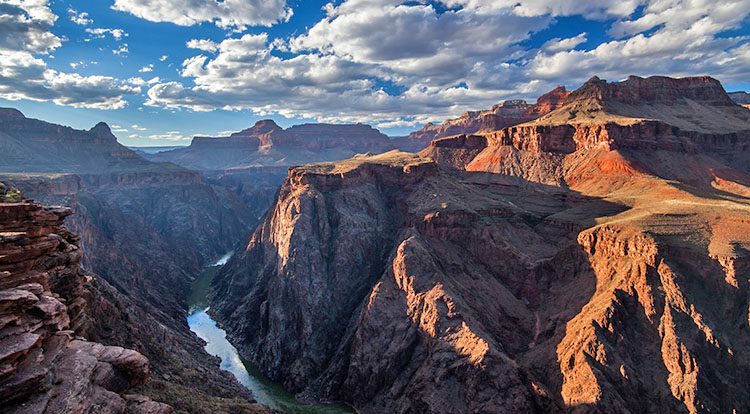 Benefits of Visiting in January
The number one biggest benefit of doing Grand Canyon in January is the lack of crowds. Summer is the busiest time at the South Rim, spring and fall are hopping but not like summer, and winter is peaceful and quiet in comparison. Another big benefit is the cool temperatures in the Canyon. While the South Rim may be quite chilly (but not always), once you're down into the Canyon the temperatures will moderate and much of the time be perfect for hiking. Lastly, accommodations and permits are much easier to obtain, and even last minute reservations at Phantom Ranch are commonly available.
Drawbacks of Visiting in January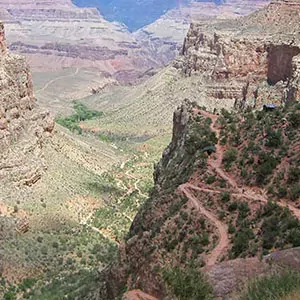 The only significant drawback of January in Grand Canyon is, not surprisingly, the temperatures at the South Rim and the possibility of a winter storm. While the inside of the Canyon is a desert environment, the rims are pine-forested mountain ecosystems that get multiple feet of snow every winter. When a storm does hit, it can close roads, make hiking very difficult, and generally bring activities in the Canyon to a screeching halt. Along these lines, it's worth noting that many of the trails off th South Rim become treacherously icy in winter and it's strongly recommended to use hiking crampons if you hike in January. Finally, the North Rim is closed from early November through mid May, so the South Rim is your only option.
Things to Do in January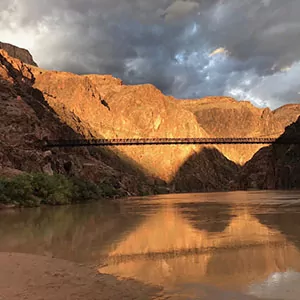 There are plenty of great things to do in the Canyon in January; in fact, most of the activities available any other time of year are yours to choose from. Certainly a hike on the South Kaibab or Bright Angel Trail is very much worth doing, but be sure to have hiking crampons for the icy trails (it's not advisable to hike particularly Grandview, New Hance and Tanner Trails in winter unless you're with a guide company or are experienced.) Helicopter or airplane tours, van tours, and – if roads are clear – bicyle tours are great activities (read about Grand Canyon's best tours for links to recommended companies.) Checking out things like the Yavapai Geology Museum and the Kold Studieo are very much worth doing if the outside weather is unagreeable. Finally, having dinner at famous and historic El Tovar is a must-do activity in Grand Canyon, and reservations will be much easier to get in January than many months.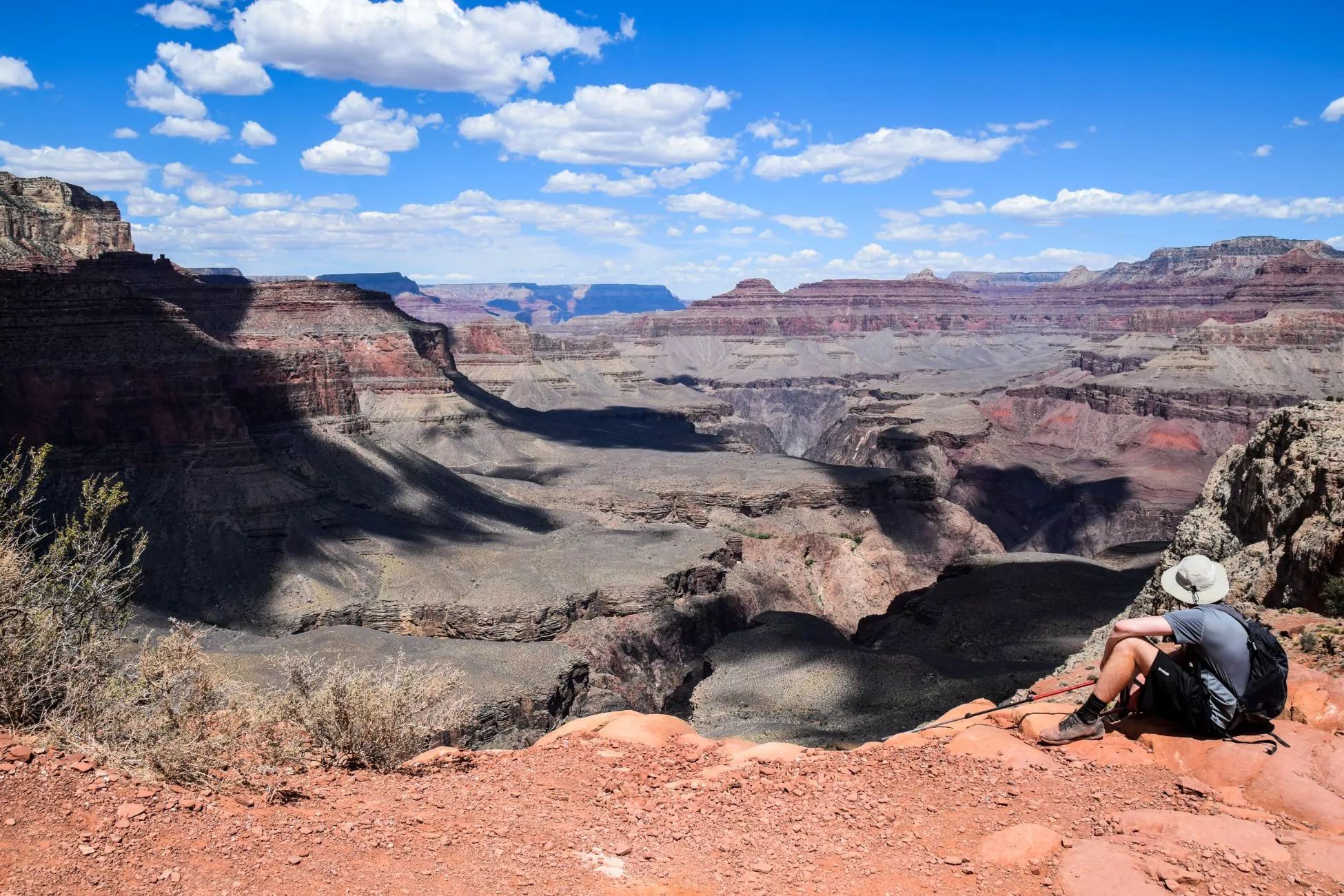 Recommended: Phantom Ranch Hike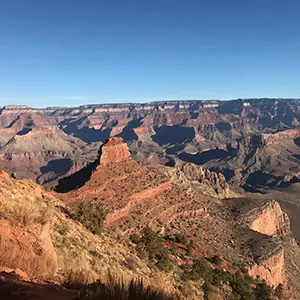 We highly recommend hiking to Phantom Ranch in January for multiple reasons. First, you'll have the most popular and scenic backcountry area in Grand Canyon much to yourself. Phantom Ranch is a short walk from the shores of the Colorado River and can be accessed via the South Kaibab and Bright Angel Trails which make for an amazing loop hike. Second, the temperatures for hiking are wonderful in the inner canyon. December is one of the best months of the year for hiking temperatures inside the Grand Canyon. Third, it can get chilly at night, and the Phantom Ranch cabins are heated. Fourth, Phantom Ranch reservations are easier to secure in the winter, and all-inclusive guided tours are also available.
Hiking in January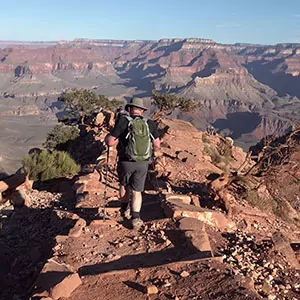 As mentioned above, hiking in January can be richly rewarding, and temperatures can be near perfect for the physical exertion of ascending back out of the Canyon. We recommend sticking to Bright Angel Trail and South Kaibab Trail unless you're going with a tour company or are an experienced hiker. And it's critical to have hiking crampons, aka Microspikes, to have traction on compacted snow and ice covering the trails (included on tours.)
Early mornings can be very chilly at the South Rim, where the trails begin, so be prepared with warm layers, especially insulating layers, wind-proof layers, gloves and a warm hat. Also, it's best to start hiking around 8 or 9 am and keep your hike to 6-8 hours due to the shorter days of winter.
Weather in January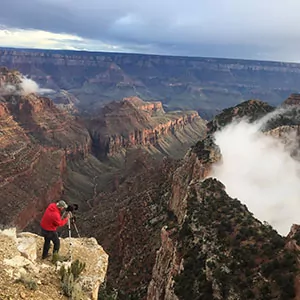 The average high at the South Rim in January is 44 degrees fahrenheit, and the average low is 18 degrees fahrenheit (high of 6.6 degrees celsius, low -7.7 degrees celsius.) However, these temperatures are much warmer inside the Canyon (by 10-20 degrees, but feels even warmer in the sun.) Average days of rain/snow in January is 5.
At Phantom Ranch at the bottom of the Canyon, the average high temperature in January is 58 degrees fahrenheit, and low of 38 degrees fahrenheit (14H/3L degrees celsius.)
Join a Guided Hiking Adventure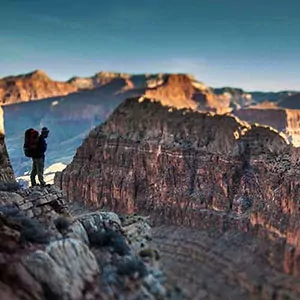 Grand Canyon National Park is home to some of the most unique and spectacular hiking vacations in the world. Wildland Trekking offers trips with stunning views, geologic history, and incredible hiking and backpacking for visitors who want to have an active, adventurous experience.
Guided Grand Canyon treks include permits, local transportation (excluded on certain tours), meals, gear, risk management systems and professional guides, allowing guests to make the most of their visit to the Canyon, focus 100% on enjoying their experience, and do it all with an increased level of safety and comfort.
GRAND CANYON ADVENTURE TOURS