April in the Grand Canyon
Learn all about what it means to visit Grand Canyon National Park in April
Updated: 09/20/22
April is one of the best months of the year to visit Grand Canyon. The temperatures at the South Rim and inside the Canyon are fantastic. While the South Rim still has hints of winter and can even have winter storms, the inside of the Canyon is at its prime. Spring break is normally over after the first week of April, and the summer crowds are still a month or more away. Whether you're coming to Grand Canyon to sightsee, hike, or raft, April is a fantastic month to do it.
Benefits of Visiting in April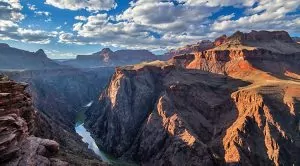 The biggest benefit of visiting in April is pleasant average temperatures at all elevations in the Canyon. While in March and earlier in winter you still need to be concerned about winter weather and late snow storms, the chances of these in April decrease significantly and you can travel to the park without the worry of encountering a whiteout or weather that prevents activities. Of course, April is also great for avoiding the heat that comes later in the year that the park is so famous for. You won't need to worry much about overheating or heat stroke in April. Another benefit of April is that crowds begin to die down a bit after the first week as spring break visitors subside. April is also great for white water rafting as the temperatures are beginning to warm up and the crowds will not be nearly as large this time of the year.
April is one of the best months of the year for hiking and backpacking because of the moderate temperatures. The trails will probably be mostly free of ice and snow, so you won't usually have to worry about slipping on wet ice while hiking. There is so much more to the park and the canyon than only the famous trails and April affords you the weather to be able to explore other areas all day without worrying about being out in midday or staying in the sun too long. While the temperatures during the day in the canyon may be slightly warmer than you would prefer for hiking, ascending up from the canyon floor is much easier as it gets cooler on the rims with the elevation. Even the famous Rim to Rim to Rim hike to the North Rim is available in April and you can experience the solitude of the North Rim while it is still closed to vehicles. While it will probably still have some snow, this trek is much less dangerous in April and more accessible to those without winter gear or experience. Opportunities for wildlife viewing also abound in April as all the reptiles will be out in the canyon so you might get the chance to see some of the park's snakes or even a Gila monster, one of the only venomous lizards in the Americas. The park's bigger wildlife like deer, elk, coyotes, condors, and big horn sheep will also be more active and easier to see. If you're more interested in exploring the South Rim village and rim-top activities, April is great as well, but we recommend avoiding the first week of April due to Spring Break.
Drawbacks of Visiting in April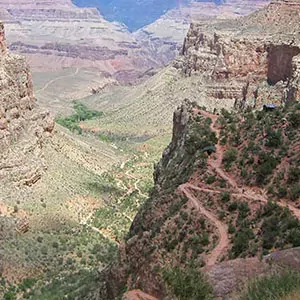 There aren't many drawbacks to visiting the Canyon in April, but the possibility of a winter storm is a potential one. While April is much less likely to have a winter storm than March when visitors still need to bring snow gear, there is still the possibility of a snowstorm that would bring the activities of visitors who were planning for spring weather to a halt for a few days. Nights that drop below freezing (the average in April) can be problematic if it rains during the warmer days as the water will freeze overnight and may cause icy conditions on roads and trails. While this is unlikely, it is still possible. In addition, crowds begin to pick up in April like they hadn't earlier in the season. While traditional spring breaks are early in April, some school districts take them later in the month and thus the entirety of April will be busier than March. While it may slow down the last couple of weeks as many of the schools go back in session, the crowd levels will still be greater than they were in previous months until they slow down in the fall. This makes accommodation availability and prices less than ideal as you have to plan your trip further in advance to get the locations and prices that you want.
In addition, the North Rim is closed for the winter still (early Nov – May 14). While those who want to backpack to this area will be glad it is not yet open to traffic, those who do not have the gear and expertise to go this might be disappointed. The South Rim is by far the most famous and has the most touristy things to do, but many visitors will feel they missed out without experiencing the phenomenal views and solitude of the North Rim. Despite these drawbacks, April is arguably the best time to visit the park as many of these concerns are minor and may not impact you at all. Crowds are far less than in summer, the weather is not likely to get in your way, and you have most of the park to explore. 
Things to Do in April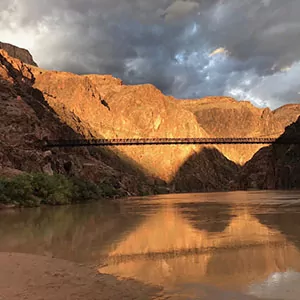 As mentioned above, April is one of the best months of the year for hiking and backpacking the Grand Canyon, so that's the number one recommended thing to do if you visit in April. The combination of the temperate weather, lack of major crowds, and less likelihood of winter storms make this month almost perfect for descending into the warmer areas of the canyon and then ascending back to the cooler temperatures on the rim. There are a plethora of options that range from single-night weekend trips to journeying deep into the canyon and having much of the landscape to yourself. Backcountry camping permits are required for backpacking which is very competitive in April, and you'll probably want hiking crampons for hiking or backpacking due to icy trails lingering from winter storms (permits and crampons are included on guided tours.)
Many other tours are also offered in April that give great opportunities to see the park. Rafting the Colorado River is a popular activity that has options from single-day to 18-day rafting trips. Helicopter tours, fixed-wing tours, sightseeing tours, and bicycle tours are all also available and afford visitors great views of areas of the park that they might not see otherwise. Hiking or taking a mule ride to Phantom Ranch is excellent in April if you can get reservations, which are very competitive this time of year. The ranch– the only park accommodation at the bottom of the canyon– is historic and quaint in many ways. Of course, there are many options for sightseeing in the park, one of the most popular things to do. The main attraction, the canyon itself, is grand from any view but is especially breathtaking toward the west of the South Rim between the visitor center and Hermit's Rest. You can no longer drive to Hermit's Rest Road in your private vehicle in April, but you can take the shuttle or explore on foot or on a bike.
If you're looking to explore more of the history and culture of the area whether it be mining, geology, Native American history, or early settlers, you can visit the Yavapai Geology Museum or the Kolb Studio, both of which have great information and are very interesting. The 22-minute visitor center film is a great way to learn more about the park, its history, and the surrounding area. The Grand Canyon also boasts an iconic, old western-style railroad, called the Grand Canyon Railway that brings visitors from the nearby city of Williams on a wonderful trip to the park, often accompanied by western outlaws and bandits. On the West Rim, the Grand Canyon skywalk (a bridge made entirely of glass suspended nearly 4000 feet above the canyon floor) or a visit to Eagle Point Native American village are both great options. Guests can also enjoy an all-American dinner at the famous and historic El Tovar, one of the best and most scenic restaurants in the area. Make sure to book your reservation far in advance, however, as you will be hard-pressed to get a walk-up reservation. Wildlife and landscape photography are also great options as many of the park's animals are out of hibernation and the canyon is simply gorgeous this time of year. Try your hand at night sky photography if you are willing to brave the cold and catch the canyon's stunning stone formations in the foreground of your milky way shot. There are almost endless opportunities for things to do here in April, so you certainly won't be bored. 
Things to see in APRIL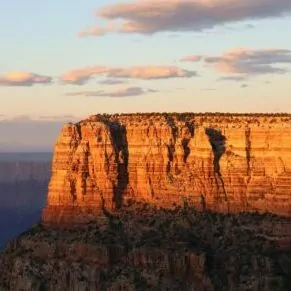 There are almost as many things to see in Grand Canyon in April as there are to do (and if you read the previous section, you know that's a lot). Sightseeing is one of the most popular things to do in the park, so there is no shortage of things to see. Below, we've put together a short list of some of the must-see sights in April, but make sure to do your own research to see what especially piques your interest in the park as this list is by no means exhaustive.
Desert View Watchtower: Located near the east entrance to the park, this watchtower is seldom visited by guests but is well worth a climb. The work of famous architect Mary Colter who designed many of the structures in the park, the tower seems to rise out of the very canyon wall itself. Featuring a replica of a Native American Kiva on the first floor and wonderful views of the canyon walls on the upper levels, make sure not to miss this little-known gem. 
Hopi Point: One of the overlooks along Hermit's Rest Scenic Drive, Hopi Point is one of the best places to see the sunrise or sunset in the park. With the April days becoming longer and warmer as summer approaches, you won't have to fight the cold as much this time of year to see the glorious colors that sunrise and sunset paint on the canyon walls. You cannot drive your own vehicle on this road this time of year unless you have backcountry permits and need to park at the end of the road, but you take the shuttle or choose to walk or bike the trail.
Hermit's Rest: At the end of Hermit's Rest Scenic Road is Hermit's Rest itself. Designed– again by Mary Colter– to look like an old miner's cabin, this structure now holds a snack stand and gift shop. In the early days of tourism in the canyon in the late 1800s, this served as the last stop of civilization for travelers before descending into the canyon. There are still many trails that lead into the canyon from this spot, including the lovely backpacking trail Hermit's Loop.
Tusayan Museum and Ruin: Just a few miles west of Desert View Watchtower, this museum and ruin is well worth a visit. Archeology in the park has uncovered hundreds of sites of both animal and human remains. This ruin is thought to be nearly a thousand years old and to have been home to the ancestors of the modern Hopi and Pueblo peoples. Visitors can walk the ruin on a self-guided tour or go on a free ranger tour where they can learn more about the history and culture of these people.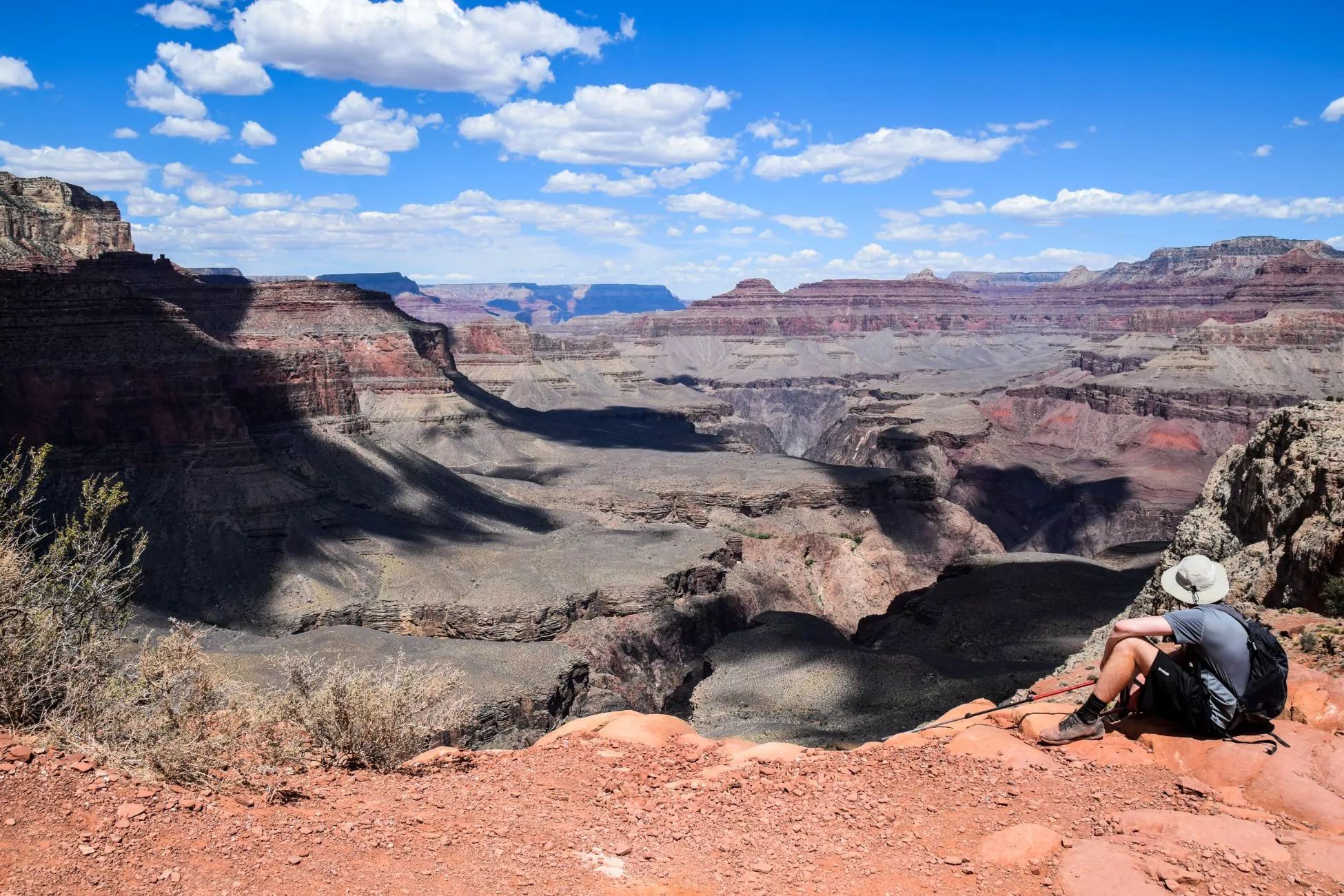 Hiking in April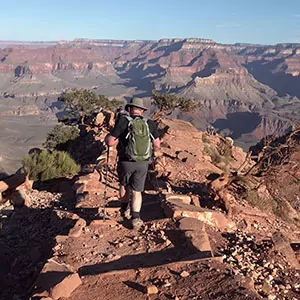 Have we said it enough times yet? April is fantastic for hiking and backpacking in the Grand Canyon! All trails are great, although the North Rim is closed from early November through mid-May, so the North Rim trails are for the most part not accessible (although some trailheads on the North Rim are accessible via obscure Forest Service roads – you can read more on the Kaibab Forest Service webpage). It is wise to have hiking crampons with you in April because the trails can be icy from previous winter storms. Much like tire chains for your car, these devices made of rubber, chain, and small spikes help gives you more traction on icy trails and snow. Most are able to strap over any hiking boot, and you'll be glad you had them if you encounter ice on the trails. Hiking to Phantom Ranch in April is excellent, as are all trips that go to the bottom of the Canyon and day hikes that just go part way down. Hermit, Bright Angel, South Kaibab, Grandview, New Hance, and Tanner Trails all lead from the South Rim and are great options. You can either hike all the way down to the canyon floor or take your time on the upper parts of the trail, taking in the overlooks and stunning vistas. Of course, Bright Angel and South Kaibab will be the most popular and will start to get some crowds in April. Bright Angel is shadier and will have a greater likelihood for ice in April for the first three miles while South Kaibab may only have ice on the first 3rd of a mile, called the Chimney. 
Mornings and evenings will still be chilly in April, so make sure your hike will end before the onset of the night as you will not want to be caught outside after dark when the temperature begins to drop sharply. Make sure to still dress in layers in April as the temperatures in the canyon are much warmer than on the rim and you will not want to become overheated or get hypothermia, both of which are risks in April. Hypothermia can occur even when the temperature is not below freezing due to long exposure to wind or rain. It is important to hike in groups where everyone knows the symptoms of this condition as it often causes recklessness and confusion and thus can be difficult to recognize in yourself. Look for the symptoms of the "umbles"– grumbling, stumbling, mumbling, and fumbling. Get the person warm and dry as soon as possible, even if that means turning around. It is also important in April to be aware of the ice that might be on the trail, even if it froze overnight from rain the previous day. Use trekking poles and crampons if you have them. Make sure to drink plenty of water even if the weather is chilly and eat salty snacks to keep blood sodium levels stable. Talk to a ranger if you're unsure about which trails are safe or best for your fitness level, and make sure to hike in groups and stay safe while on the trail. 
BACKPACKING IN APRIL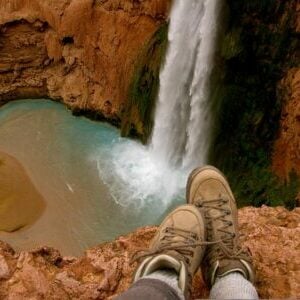 Backpacking in April is just as great as hiking as all the same benefits apply to those spending multiple days in the backcountry. If you've never backpacked in the Grand Canyon before or if you've never camped in spring, consider going with a guiding company. The expert guides will make sure that you have an enjoyable trip and that you're not missing any crucial safety information. April is definitely a better option than earlier in the season if you aren't seasoned in winter camping as the possibility of snow is greatly lessened, although not impossible. Because of the fantastic weather, you can expect to see a few more people on the trails during this month. Permits are very competitive in April in Grand Canyon and you will want to enter for one 6 months in advance when they open up for the date you want to go. In order to be able to experience some of the solitude of the canyon, you will probably have to spend longer in the canyon and hike on one of the less popular trails to escape some of the crowds. Strangely, although the park is not nearly as busy as it will be in summer, April is prime backpacking season and there will be about as busy as it will get in the next few months. This is mostly due to the extreme heat later in the summer that makes backpacking difficult and sometimes dangerous. If you're looking to do a short trip, consider hiking to the floor of the canyon and just spending a night or two before coming back up to the rim. South Kaibab and Bright Angel Trail both descend all the way down into the canyon and will drop you off near Bright Angel Campground and Creek where you can set up camp for the next few nights. Havasupai Garden and the creek offer great chances to see a part of the canyon that isn't entirely desert. There are many other options within the canyon, such as the trail that goes further west called Hermit Loop, which has stunning sites, great history, and spectacular fossils. Many backpacking trips that wind through the canyon can get complicated, but you can check out what backpacking trips are offered by guiding companies in the canyon and either book a trip or take some ideas from the itineraries.
Many backpackers want to do a rim-to-rim-to-rim trip to the North Rim of the canyon and back to the South Rim in a matter of a few days. April is prime time to do this trek, and while the North Rim is not yet open to wheeled vehicles, it will be busier than in winter as more backpackers are looking to do this iconic trip. The snow will be lessened on the North Rim in April depending on the weather, but you will still need crampons or microspikes to make the trek on the north-facing trails that do not get as much sun and will probably still have ice. All the dangers of day hiking are only amplified in the backcountry, so make sure to read the section above if you're interested in this activity. The canyon is at about 7,000 ft of elevation and the trails can be brutal and steep. Backpackers need to be sure that they can handle the trail that they chose. Talk to a ranger before setting out to see what the trail conditions are and if the trail is suitable to your experience level.
Weather in April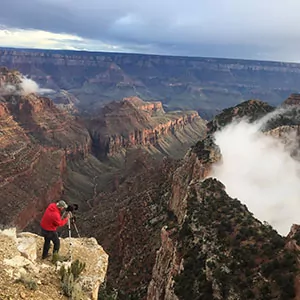 The Grand Canyon is a diverse park and the weather varies greatly depending on location and elevation because of the main feature of the park: the canyon itself. While the park is famed for its desert environment and intense heat in summer, it is only the bottom of the canyon that is desert. The rims of the canyon sit at about 7,000 feet in elevation, get serious winter storms with many feet of snow, and are an alpine habitat with ponderosa pines and conifers. For this reason, the temperatures inside the canyon coming up to the rim can change drastically. The average high at the South Rim in April is 61 degrees Fahrenheit, and the average low is 26 degrees Fahrenheit (high of 16 degrees Celsius, low -3 degrees Celsius.) However, these temperatures are much warmer inside the Canyon (by 10-20 degrees, sometimes feeling even warmer in the sun.) The average number of days of rain/snow in April is 3. At Phantom Ranch at the bottom of the Canyon, the average high temperature in April is 82 degrees Fahrenheit, and the low of 54 degrees Fahrenheit (28H/12L degrees Celsius.) Visitors should keep in mind that these numbers are only averages and that the park can experience much colder or warmer temperatures than this. 
The temperature typically drops sharply after sundown, so make sure your activities are wrapped up by then as you will not want to be caught out in the elements once it's dark. While it's not very likely to snow in April, ice can still form if rainwater from the warm days freezes overnight. Hypothermia is a real risk in the Grand Canyon and can occur even when the temperature is above 40°F. The best way to prevent this condition is to dress in layers so that you can regulate your temperature as the temperature around you changes and to put on your warm layers before you get cold or start shivering. This condition can be life-threatening and is difficult to recognize in yourself as it causes confusion. It is therefore important to hike in groups and know what signs to look for. Make sure you always check the forecast and current conditions before you set out and ask a ranger about the conditions of the trails if you get a chance. The weather in April is much less likely to get in your way than earlier in the season, but it is always best to be prepared for the worst weather you might encounter. Make sure you take the proper precautions to make your activities safe and enjoyable.
Wildlife IN APRIL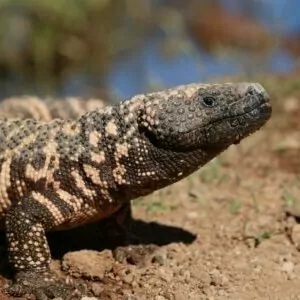 April is a great time to view the amazing biodiversity in the Grand Canyon. The park's combination of desert and Apline habitats make for a fantastic variety of creatures. By this time in the spring, most of the park's reptiles will be out of hibernation so you will have a better chance of seeing rattlesnakes, desert-collared lizards, or even a Gila monster, a large black and orange lizard that is one of the only two venomous lizards in North America. While a bite is not fatal to humans, it can be very painful, so give these beautiful reptiles plenty of space. Beware of rattlesnakes basking in the sun on trails especially in the morning and evening as bites from these creatures are often fatal without immediate medical attention. The park also has its fair share of mammals such as mule deer, big horn sheep, and elk along with coyotes, bobcats, and the rarely-seen mountain lion. Perhaps the park's most famous wildlife resident is the California condor. The largest bird native to the Americas with a wing span that can reach 9.5 feet in length, this majestic bird was brought back from the brink of extinction through captive breeding programs. Now these birds are commonly seen flying the skies above the canyon looking for carcasses to scavenge from. While they are often confused with vultures, condors are much bigger and have a smoother flight pattern while vultures appear "wobbly" when they fly. Another distinct resident of the Grand Canyon is the Javelina, also known as the collared peccary. These animals resemble pigs and are often noted for their tough diet which sometimes includes cactus. They often travel in herds and can be rather aggressive for their small size, so take your pictures from a distance. It's never wise to approach any animals that you see in the park. While the park is not known for dangerous animals like Yellowstone and other parks, Grand Canyon has a variety of venomous animals as well as some mammals that can be aggressive such as elk and javelinas. Grand Canyon affords wildlife viewers excellent opportunities to see a large variety of creatures.
Recommended Wildland Trips in April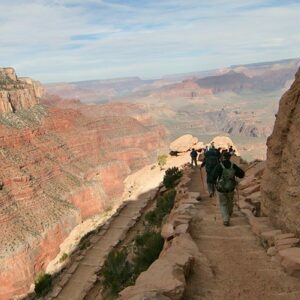 April is a great time to book a hiking tour of the park. While many chose to plan their own trip to Grand Canyon, this can be time-consuming and tedious as you try to make sure you have all the safety information and keep up with the weather and conditions. By booking a trip with Wildland Trekking, you can bypass all the headaches and just enjoy your trip with a preplanned itinerary and expert guide to show you around the park and guide you along the trail. We have trips that will suit every skill and comfort level from inn-based trips and day hikes to backpacking tours and base camp trips. Truly any tour we offer in April is exceptional because of the fantastic weather, but here are a few we especially recommend.
Best of Northern Arizona Tour: This fantastic, 6-day, inn-based tour will bring you to some of North Arizona's most spectacular sights. Enjoy stays on both the North Rim and South Rim of the Grand Canyon and get to explore Sedona, the nearby red rock landscape sacred to many Native Americans that boasts great hiking and wildlife. All-inclusive with you premier meals, fantastic accommodation, local transportation, and much of your gear included, you won't want to miss this chance to taste test these areas of this amazing state.
Grandview Trek: This backpacking trek lives up to its name the second you step on the trail. With views of Horseshoe Mesa, Cottonwood Creek, spectacular mining ruins, and the possibility to see the great Colorado River, this trek is nothing less than jaw-dropping. Taking you into a remote and quiet part of the canyon, Grandview Trail is likely to offer solitude that other trails don't. This 4 or 5-day trek is all-inclusive with your meals, accommodation, local transportation, and much of your backcountry gear included, so gear up for an adventure.
Grand Canyon Discovery Private Tour: If you're looking for a tour just for the day, look no further because this day hiking tour is not to be missed in the Grand Canyon. This full-day tour boasts classic Grand Canyon views, fantastic geological history, and an expert guide to give you information about what you are looking at. With picnic lunch, trail snacks, transportation from Flagstaff, and top-of-the-line day pack and trekking poles included, this is your trip if you only have one day to spend in the canyon or if you're looking to have a more explorative day on a relaxed trip.
Join a Guided Hiking Adventure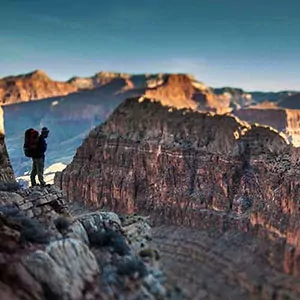 Grand Canyon National Park is home to some of the most unique and spectacular hiking vacations in the world. Wildland Trekking offers trips with stunning views, geologic history, and incredible hiking and backpacking for visitors who want to have an active, adventurous experience.
Guided Grand Canyon treks include permits, local transportation (excluded on certain tours), meals, gear, risk management systems, and professional guides, allowing guests to make the most of their visit to the Canyon, focus 100% on enjoying their experience, and do it all with an increased level of safety and comfort.
GRAND CANYON ADVENTURE TOURS