All About Hiking in the Heat
Know What You're Signing Up for and Be Prepared!
We operate trips year round, or much of the year, at some of our desert/canyon destinations, particularly Grand Canyon and southern Utah. It's very important that you understand what to expect and that you're prepared to hike safely by training appropriately. If, after reading this page, you doubt your ability to prepare properly for  a summer trip in the desert, we strongly recommend joining a spring, fall or winter departure.
We invite you to read on to learn more about extreme heat and how to be prepared.
What is Considered "Extreme Heat"?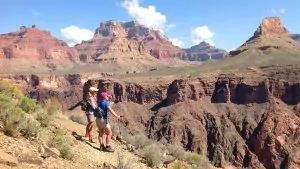 By our definition, extreme heat is when the ambient air temperature reaches 105 degrees fahrenheit or hotter. Ambient air temperature refers to the temperature in the shade. Standing or hiking in the sun will be significantly hotter (as much as 20 degrees) than the ambient temperature. During the summer months in the American Southwest deserts temperatures can be as high as 105-115 degrees fahrenheit in the shade.
Trip Types and Extreme Heat
Backpacking, Portered and Llama Treks
If you're joining a backpacking trip, llama trek or portered trek, it's especially important to be aware of the possibility of extreme heat. These are all backcountry based trips which means we're out on the trail for multiple days and are not able to easily alter itineraries or evacuate guests who are struggling. We also do not have the convenience of air conditioned hotel rooms or vehicles, frozen drinks and unlimited access to water.
Basecamp and Inn-based Tours
If you're joining a basecamp tour or inn-based tour, the heat is much less of an issue (but still can be a consideration on our day hikes) because we can more easily compensate by altering our hikes, staying at higher elevations, packing cold or frozen drinks, and carrying more water.
When and Where is Extreme Heat a Possibility?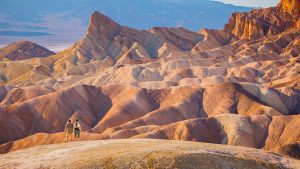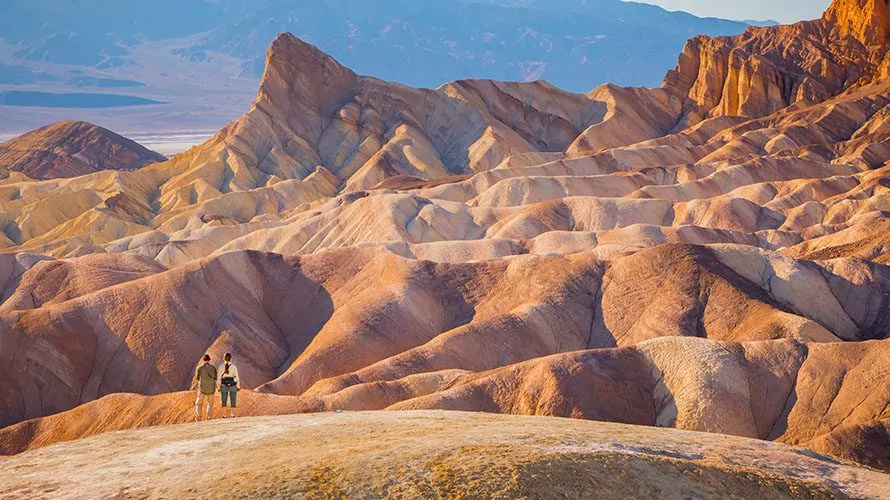 The three main Wildland destinations where extreme heat is a possibility are Arizona (Grand Canyon and Sedona), Utah Deserts (Zion, Canyonlands, Capitol Reef and Grand Staircase-Escalante) and California Deserts (Joshua Tree and Death Valley).
In the table below, "y" means extreme heat is possible, "Y" means it's probable, and "n" means it's not likely.
| | | | | | | | | | | | | |
| --- | --- | --- | --- | --- | --- | --- | --- | --- | --- | --- | --- | --- |
| | Jan | Feb | Mar | Apr | May | Jun | Jul | Aug | Sept | Oct | Nov | Dec |
| AZ | n | n | n | n | Y | Y | Y | y | y | n | n | n |
| UT | n | n | n | n | y | Y | Y | y | y | n | n | n |
| CA | n | n | n | y | Y | Y | Y | Y | y | n | n | n |
How Do We Compensate for Extreme Heat?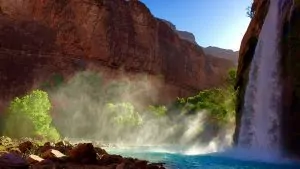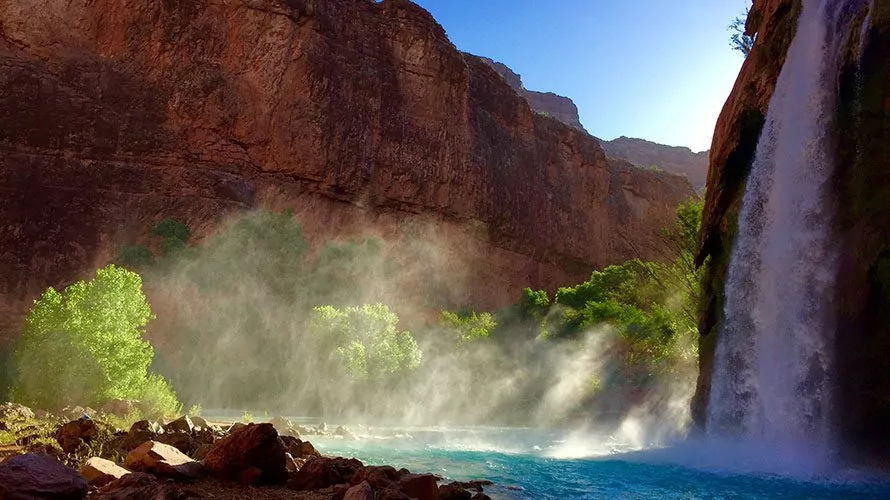 There are three main ways to compensate for extreme heat:
1) hike very early in the morning
2) stay wet
3) hydrate well along with plenty of salty food.
Early Starts. Getting up as early as 1:00 or 2:00 am and hiking by headlamp so we can set up camp and sit out the hottest part of the day is a very effective strategy, and one we use regularly in the Grand Canyon and Utah during the summer months.
Staying Wet. Another is to stay wet, which means swimming in creeks or rivers, dipping our shirts in the water or pouring water over ourselves. Evaporative cooling is incredibly effective in the desert because of the dry air, so if we do have to hike in the heat we will focus on staying wet.
Hydration. Finally, staying very well hydrated is critical, which also means eating plenty of food simultaneously to avoid hyponatremia. Hyponatremia, which can be a very serious medical condition, can happen when someone drinks too much water without eating enough. The result is their electrolytes become dangerously unbalanced. In extreme heat, we will ask our guests to hike with a gallon of water each, to drink as much as two gallons per day per person, and to increase food intake, especially salty snacks.
Dangers of Extreme Heat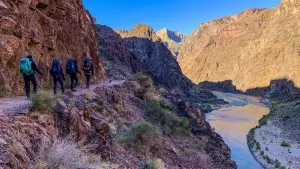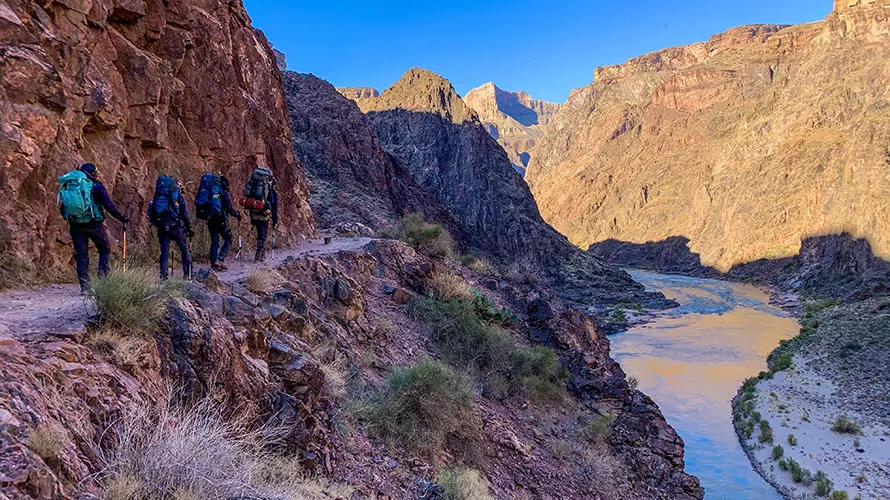 Extreme heat exposure coupled with physical exertion can cause serious medical emergencies, including heat stroke, dehydration and hyponatremia.
If you have had negative medical/health experiences triggered in part by heat exposure, please re-plan your trip to cooler months or let us know so we can support you in making the best decision. Issues could include any past dizziness and/or fainting, excessive physical challenge with exertion in heat, and past significant challenges while managing heat in general.
Some previous medical conditions could be aggravated by exceptional heat events – consider speaking with your medical professionals about your trip if you have not already done so.
How to Plan Your Trip Around HEat
Grand Canyon
Plan your backcountry trip from October to April
Join our Winter Rim to Rim to Rim backpacking trip for a Rim to Rim experience without the heat or crowds
If doing summer trips, join inn-based and basecamp tours
Utah Deserts
Plan your backcountry trip from October to April
If doing summer trips, join inn-based or basecamp tours
California Deserts
Plan your backcountry trip from November through March
Summer trips not offered