Hermit Loop
Trip Highlights
Guides Choice Backpacking Trip
Remote & Breathtaking Tonto Plateau
360° Kaleidoscope Views
Natural & Cultural History
Famous Bright Angel Trail
Rapids on the Colorado River
Scenic, Narrow Side Canyons
Rejuvenating Desert Solitude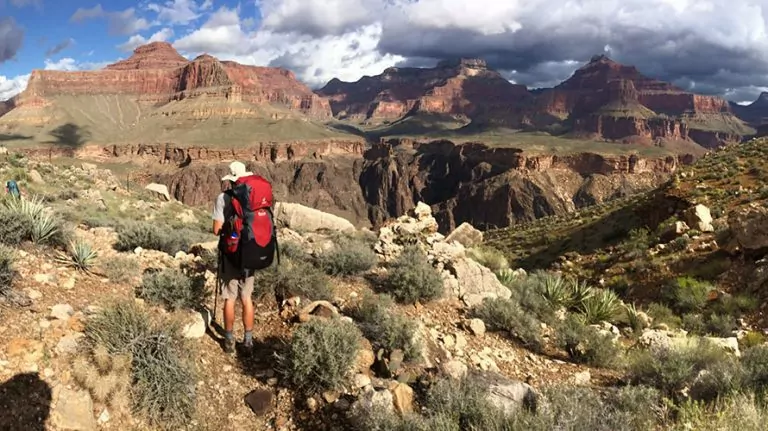 Description
This deservedly very popular, point-to-point Grand Canyon hike off the South Rim is excellent for guests looking for a more remote, diverse and absolutely stunning tour of the Canyon. It features fantastic views, historic ruins, a canyon narrows section, and time at one (on the 4-day itinerary) or two (on the 5-day itinerary) of the more spectacular and more photographed rapids on the Colorado River. This is probably the most scenic hike in the Grand Canyon and offers tremendous natural and cultural diversity.
The first day takes us down the famous Bright Angel Trail past Indian Garden. We'll take a side trip out to Plateau Point, one of the most scenic viewpoints in all of Grand Canyon, before hiking to our first camp. From here we'll hike west across the Tonto Trail, paralleling the Colorado River a thousand feet above it. The breathtaking views on this trip are punctuated by side hikes down narrow canyons to two impressive rapids on the river. We'll enjoy majestic creek-side camps, desert wildlife-viewing opportunities, ancient fossils, and some of the best hiking the Grand Canyon has to offer!

Need to Know: Grand Canyon Permits
It is strongly recommended to book your Grand Canyon backpacking trip 5 months in advance due to the Park's permit system. Backpacking permits are issued on the first of the month 4+ months in advance (see deadlines for each month.) Permits for the most popular trips sell out very quickly during the initial lottery, so registering prior to the deadline of the month you're interested in is highly beneficial. You can also pick any dates, and you'll receive a 5% early registration discount!
Pre-permit Registration $1306/$1524
4 Days: $1306
5 Days: $1524
Grand Canyon's permit process is complicated, but we take care of everything so you don't have to worry about it! Here's what you do need to know – Grand Canyon issues backpacking permits through a lottery system 4+ months in advance (deadlines listed below). Permits for popular trips sell out immediately during the initial lottery, so it's important to register before the process begins. Pre-permit registrants also receive a 5% discount and can pick any dates!
Return Guests get a 10% discount on all Trips!
DIFFICULTY LEVEL 4
Our difficulty ratings are based on a scale of 1-5, tours with a rating of 1 being least difficult, tours with a rating of 5 being most difficult
Backpack Weight:

30-40 pounds

Daily Hiking Distances:

4.5-9 miles

Most Elevation Loss:

3000 feet

Most Elevation Gain:

3400 feet

Quality of Trails:

Lightly maintained and rugged in places

Additional:

The longest hike is mostly flat, and the last day is 8 miles up a relatively rugged trail.
Participants should:
be active and healthy
regularly exercise vigorously
be comfortable hiking, biking, running, or swimming for several hours without many breaks
SOLITUDE LEVEL 3
1 least solitude, 5 most solitude
We rate this Grand Canyon hike a solitude 3 because it enters the Canyon on the most popular trail in the park (Bright Angel), but then follows the sparsely populated Tonto and Hermit Trails. You can expect hours of solitude at a time and often a feeling of having the Canyon to yourself.