Best Time to Visit
Learn about the best time to visit Grand Canyon based on what activities you'd like to do.
There are several factors to take into account when deciding when to visit the Grand Canyon. The first is weather, and we've used that as a determining metric in our advice below. Second is crowds – how crowded of an environment are you willing to tolerate and still enjoy? And finally, the activities you're interested in doing at the Canyon will affect when you should visit.
Below we've categorized the "when to go" question based on what you want to do, and we've used multiple secondary variables including weather and crowds, to give the best advice possible.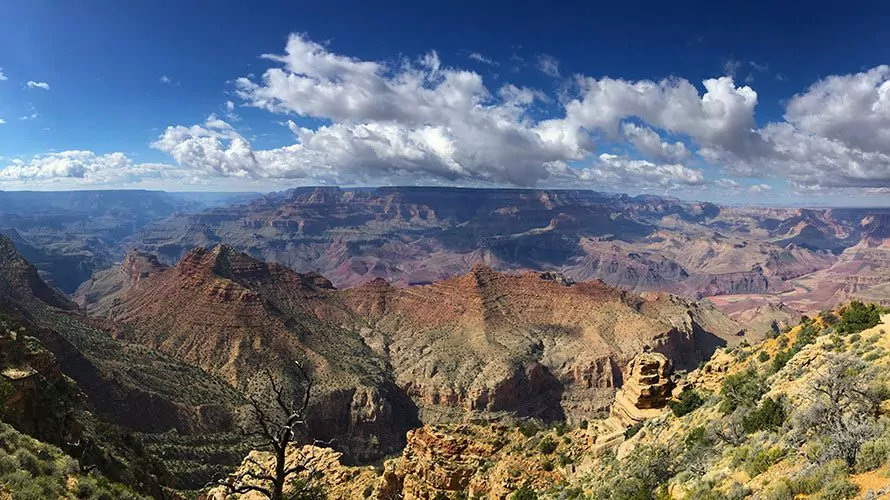 WEATHER AND TEMPERATURES
The Grand Canyon spans roughly 300 miles in length and over a mile in depth. The depth especially has a profound effect on the climates and temperatures inside and on the rims of the Canyon. At the bottom of the Canyon, at an elevation of roughly 2500 feet (the elevation of Tucson) is a very arid, hot desert. On the rims (which are at elevations of 7000-8000 feet) are mountain ecosystems consisting of pines and aspen forests with four solid seasons, plenty of snow in the winter, and intense thunderstorms in the summer.
Taking climate and weather into account is important when deciding when to visit the Grand Canyon.
SOUTH RIM, PHANTOM RANCH: AVERAGE HIGHS, LOWS AND PRECIP
Month
South Rim
Phantom Ranch
Days of Precip
Avg Hi
Avg Lo
Avg Hi
Avg Lo
January
44°F (7°C)
18°F (-8°C)
58°F (3°C)
38°F (14°C)
5 Days
February
48°F (9°C)
18°F (-8°C)
64°F (18°C)
42°F (6°C)
5 Days
March
55°F (13°C)
22°F (-6°C)
72°F (22°C)
47°F (8°C)
6 Days
April
61°F (16°C)
26°F (-3°C)
82°F (28°C)
54°F (12°C)
3 Days
May
71°F (22°C)
36°F (2°C)
92°F (33°C)
63°F (17°C)
2 Days
June
82°F (28°C)
43°F (6°C)
103°F (39°C)
72°F (22°C)
1 Days
July
85°F (29°C)
50°F (10°C)
106°F (41°C)
77°F (25°C)
5 Days
August
82°F (28°C)
49°F (9°C)
103°F (39°C)
74°F (23°C)
6 Days
September
76°F (24°C)
43°F (6°C)
96°F (35°C)
69°F (21°C)
4 Days
October
65°F (18°C)
33°F (1°C)
83°F (28°C)
58°F (14°C)
3 Days
November
52°F (11°C)
24°F (-4°C)
68°F (20°C)
46°F (8°C)
3 Days
December
45°F (7°C)
18°F (-8°C)
58°F (14°C)
38°F (3°C)
4 Days
BEST TIME OF YEAR FOR SIGHTSEEING
If you're mainly wanting to sightsee, you will be staying at the rim, either South Rim or North Rim. The North Rim is closed from early November through May 15, but the South Rim is open year round. Summer is the best time of year to sightsee at the Canyon. High temperatures are often in the 80s, and afternoon rain showers in July, August and September cool things down beautifully and create dramatic skies and views over the Canyon's sheer depths. Winter months can be cold, windy, and snowy on the rims, so if sightseeing is your main interest, avoid winter months. Spring and fall are often beautiful times to sightsee but it can still be cold with late or early snow storms, wind…etc.
BEST TIME OF YEAR FOR HIKING AND BACKPACKING
If you're going to hike or backpack in the Grand Canyon, it means you'll be going below – and often far below – the pine-forested rims. As you descend, the Canyon turns to desert and warms quickly. At the very bottom of the Canyon the high temperatures in summer are often well above 100 degrees fahrenheit in the shade. For this reason we recommend not hiking to the bottom of the Canyon or backpacking in the summer unless you with a guide company or are very experienced with desert hiking. Spring, fall and winter are the best times for hiking in the Canyon, and winter is a favorite for guides because you can escape the crowds and have it mostly to yourself.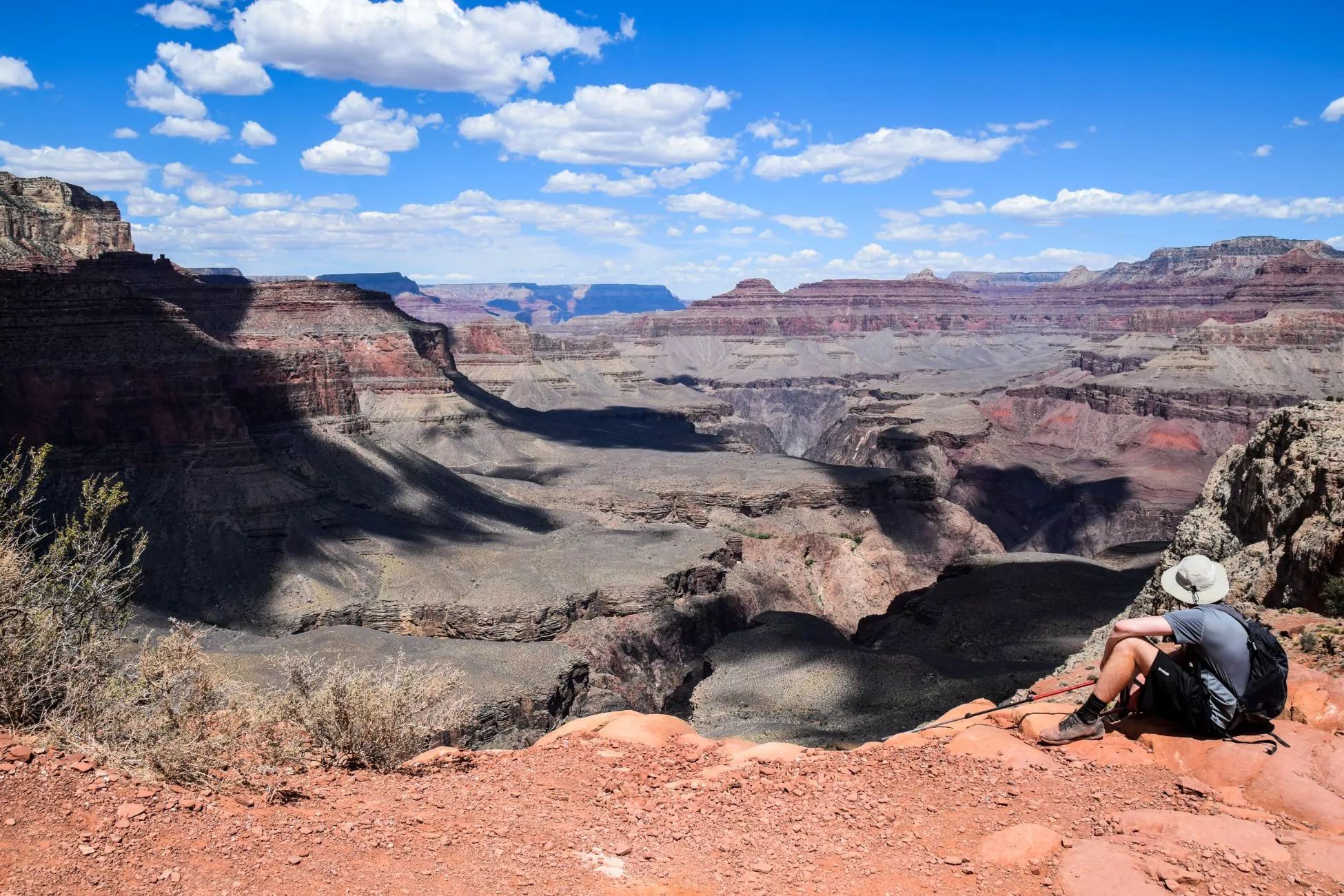 BEST TIME OF YEAR FOR RAFTING
The Colorado River runs through the hottest, driest portion of the Canyon (the bottom), but its waters flow out of the bottom of Lake Powell and remain a frosty 52ish degrees fahrenheit through the Canyon. So getting soaked in the rapids can be shockingly cold or wonderfully refreshing, depending on the time of year. The best time for rafting the Grand Canyon is April through October. The shoulder months (April and October mainly) can be quite chilly, but feasible. May and September are beautiful. June is very hot and dry, and July and August are monsoon months so thunderstorms, heavy rains and flooding are very possible.
BEST TIME OF YEAR TO AVOID CROWDS
Without a doubt the best time to avoid crowds at Grand Canyon is winter: December, January and February. You may at first think "Yeah, I don't want to be there in the winter either!" But it's an excellent time of year to visit for other reasons as well. For one, winter hiking can be perfect. As you descend, the temperatures steadily rise, until at the bottom of the Canyon winter highs are often in the 60s or even 70s. Another reason is the stunning views of snow contrasting with the other colors in the canyon. Winter storms and blue skies can set the stage for absolutely stunning photography.
JOIN A GUIDED HIKING ADVENTURE
Grand Canyon National Park is home to some of the most unique and spectacular hiking vacations in the world. Wildland Trekking offers trips with stunning views, geologic history, and incredible hiking and backpacking for visitors who want to have an active, adventurous experience.
Guided Grand Canyon treks include permits, local transportation (excluded on certain tours), meals, gear, risk management systems and professional guides, allowing guests to make the most of their visit to the Canyon, focus 100% on enjoying their experience, and do it all with an increased level of safety and comfort.
GRAND CANYON ADVENTURE TOURS
The Mt. Rainier Inn trip with Wildland was perfect. The Inn was comfortable; the guide was an expert in his field; the pacing was just right to accommodate all those on the trip; the scenery was ideal. If you can go please do.