Visiting Peru In January
Each month in Peru offers something different than the last - learn about what January offers.
If you hit Peru in January, you will be visiting during the height of summer. It is one of the warmest—and wettest—months. Although January isn't ideal for trekking, visiting during this month is a great time to hit the coast and flock to the beaches. However, this is the most expensive time to visit the coast, as Peru's summer is in full swing.
January is the wet season in the high country, so if you visit Cusco or Huaraz, be prepared for a rainy adventure. Travel with adequate rain gear and remember that trails will be more hazardous in wet, slippery conditions.
Benefits of Visiting Peru in January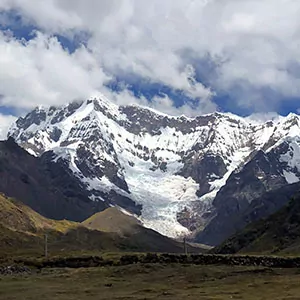 January is the height of beach season on the coast of Peru. Visitors flock to Mancora and Lima for ideal surf conditions, warm temperatures, and sunny skies.
While the beaches are sprawling with tourists in January, the Sacred Valley sees fewer crowds. Hotels are cheaper, as this is the low season. You'll experience shorter lines at tourist sights, such as Machu Picchu. The variety of flora along the trails is stunning, although you may be peering out from under your rain jacket hood. While the rainfall is high, breaks in the clouds create mesmerizing sights as low-hanging fog clings to the summit of Huayna Picchu.
In the Amazon, rivers swell with the downpours, meaning much of the otherwise inaccessible jungle is navigable by boat.
Drawbacks to Visiting Peru in January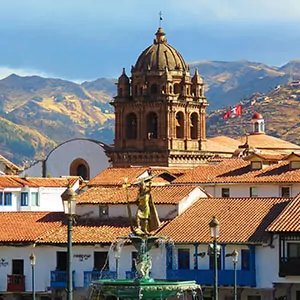 In January, crowds are at the highest along the coast. You'll want to book your accommodations in advance, especially if you are visiting around the holidays.
No matter which way you cut it, you'll probably experience a lot of rain if you visit Cusco or Huaraz in January, as this is the rainiest month of the year. Additionally, holiday tourism at the beginning of the year draws crowds despite the rain.
In the Amazon, the increase in rainfall also brings an increase in mosquitos. Not only are mosquitos pesky, but they can carry dangerous diseases. Be sure to bring proper clothing and bug-repellent.
Things to Do in January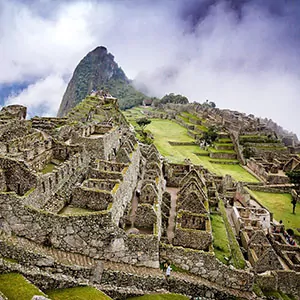 Spend some time in Lima, which receives much less rainfall than Cusco. This historic city is brimming with museums, parks, restaurants, and people. With nearly 10 million inhabitants, this capital city has a lot to offer.
Hit the coast to swim in the warm waters and relax on the beach. Kiteboarding, paddleboarding, and surfing are all popular activities in coastal towns such as Mancora and Punta Sal.
Celebrate one of many urban festivals that take place in January. New Year's Day festivals ring out across the country. In Trujillo, a marinera dance festival continues all month long.
Hiking in January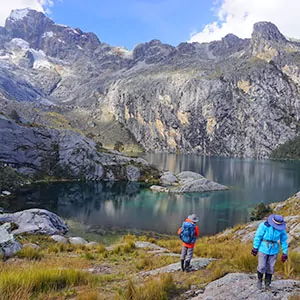 January and February are the worst months for hiking in Peru. Rainfall along popular trails, such as the Inca Trail, creates dangerous, slippery conditions. Visibility is low because of the thick cloud cover.
In the high mountains outside of Huaraz, snow covers mountain passes, making travel dangerous for all but the most competent mountaineers.
If you've decided to trek during this month, carry rain gear and plan day trips rather than overnight excursions. If you plan to backpack during this season, opt for a guided tour unless you are very experienced.
Weather in January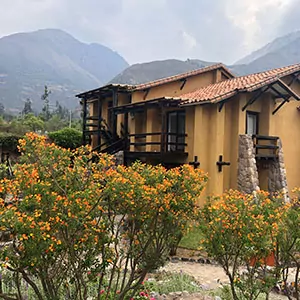 In the height of the summer, warm temperatures (70 -80° F) roll over the coast of Peru. In this region, January typically contains only one day of rainfall.
On average, high mountain towns, such as Cusco, see over 18 days of precipitation in January. However, temperatures are incredibly mild, with lows in the mid-40s at night.
JOIN A GUIDED HIKING ADVENTURE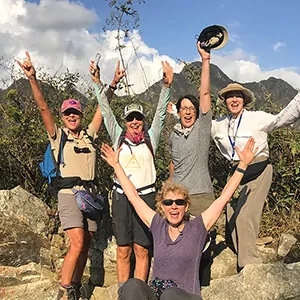 Peru is home to some of the most epic and amazing hiking vacations in the world. Wildland Trekking offers trips with the best that Peru has to offer: from classic Inca Trail lodge-based trekking to high-altitude Cordillera Huayhuash adventures. You'll see ancient ruins, turquoise lakes, glacier-covered peaks, and some of the tallest mountains in the world.
Guided Peru treks are all-inclusive: they cover permits, local transportation, meals, lodging, equipment, safety systems, and professional hiking/wilderness guides. All of these trip features allow visitors to maximize their time in Peru and focus entirely on enjoying the country and parks.
PERU ADVENTURE TOURS
TREKS TO MACHU PICCHU: Experience high-altitude mountains with only a light day pack. Each night, you'll camp in stunning backcountry locations, while a team of porters, chefs, and backcountry guides work to make your trip a delight. All of our hiking trips that include Machu Picchu (with one exception listed below) are portered, due to the high altitudes at which you will be hiking.
GUIDED INCA TRAIL HIKES: Our Inca Trail Trek is a portered hiking/camping trip with professional, local guides, porters, and a chef. This trip includes all gear, meals, permits, and more so you can focus on enjoying this iconic hike!
LODGE-BASED SHORT INCA TRAIL: Wildland offers this all-inclusive package to allow you to experience the Inca Trail with the comfort of nightly stays in historic lodging. You'll go on daily hikes, have expert guides, and get all your meals, transportation, and more set up for you!
PERU DAY HIKE TOURS: Make sure you're not missing out on a Peru classic, and add a Cusco area day hike to your Wildland adventure.