Visiting Peru In August
Each month in Peru offers something different than the last - learn about what August offers.
August brings similar benefits and drawbacks to July. This month, tourism has reached its peak. You'll experience the most crowding as thousands of people flock through the city of Cusco and pile into trains to Machu Picchu. Cloudless skies and magnificent mountain views draw visitors from all over the world. If you can handle the crowds, August is a wonderful month to experience Peru. Benefits of Visiting Peru in August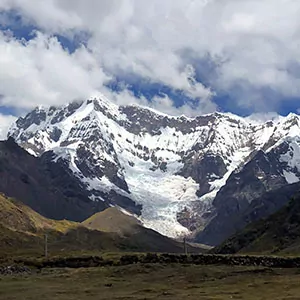 The weather is prime for sightseeing and trekking. Sunny skies minimize the chances that the mountains will be obstructed by clouds. As August is the middle of the dry season, you won't have to worry about rain during your travels.
It is the low season on the northern coast, but the weather is still fantastic. Here, prices are lower and accommodations are easy to book.
During August, the Amazon region experiences its lowest rainfall levels. You can spend long days trekking and exploring the jungle without getting too drenched. Additionally, mosquito populations are smaller during the dry season months, but you'll still have to bring layers and insect repellent to protect yourself against bites.
Drawbacks to Visiting Peru in August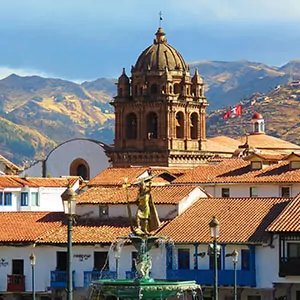 Massive crowds flock to all the tourist destinations. You'll wait in long lines to get into any attractions, and you must book your transportation and accommodations a month beforehand. Prices are inflated due to the high demand.
August is the middle of winter in Peru. While temperatures remain moderate year-round, nighttime temperatures can fall very low. If you plan on trekking, pack layers to stay warm at camp.
If you visit Lima, you can expect the city to be covered in the sea fog that settles during this time of year.
Things to Do in August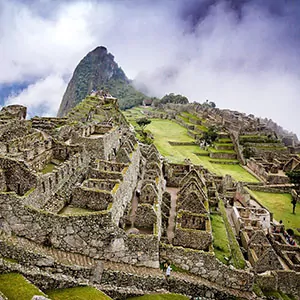 Tourism and attractions are booming in August in Peru, so you'll have no shortage of activities to keep you busy.  Due to the crowds at all the classic destinations and in towns, you may want to partake in a multi-day trip to get into the backcountry.
Multi-day hiking adventures are available all around the country. Guiding companies offer gear, transportation, meals, and accommodations. Traveling with a guide can be a rich experience: you'll get intimate knowledge of the region's cultural and natural history through a local's perspective. Also, you'll stay safe at high altitudes with an experienced, first-aid certified guide. With the exception of the Inca Trail, you can hike unguided, as well. If you plan to hike solo, plan in acclimatization days, as the Andes is one of the highest mountain ranges in the world.
In the Amazon, you could hop on a multi-day river trip. Many companies offer tours for all types of adventurers: from kayaks, to cargo boats, to luxury riverboats. Or, for a more authentic adventure, catch the cargo ship from Yurimaguas to Iquitos for a three-day journey you won't forget. Choose to either bring a hammock to hang on the deck or pay for one of the private cabins.
Hiking in August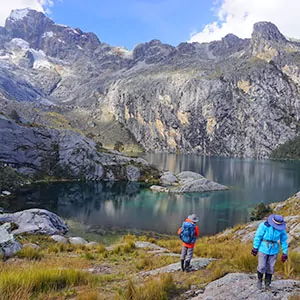 August's weather creates beautiful hiking conditions, and everyone knows it. It is the high season of trekking in Peru. This is a great time to seek out the lesser-traveled hikes, such as Cotahuasi Canyon in Arequipa or Choquequirao near Cusco.
It is also a great time to check out hikes around Huaraz, as the season is shorter in the high mountains. Lago de Wilcacocha and Churup Lake are great acclimatization hikes for the longer Santa Cruz trek and Cordillera Huayhuash circuit.
If you plan to hike the Inca Trail in August, book your reservations in October of the previous year to secure a spot.
Weather in August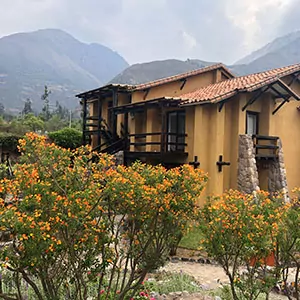 The mountain regions, such as Cusco and Huaraz, are hot and sunny during the day (mid-to-high 60s) with freezing temperatures at night. Bring sunscreen and a sun hat, as well as warm layers for the crisp evening air.
Lima is still covered with la garua, the low-hanging grey fog. This misty sea air brings lower temperatures (60s) and grey skies. Temperatures along the northern coast are perfect for swimming— high 70s to low 80s.
In the Amazon, rainfall never lets up, even during the dry season. August is about as dry as it gets, with 12 days and 6" of rainfall. Compare this to 20 days and 14" of rainfall in March and you'll understand why this is the dry time of year. The weather remains hot and humid year-round, with temperatures creeping close to 90°F in August.
JOIN A GUIDED HIKING ADVENTURE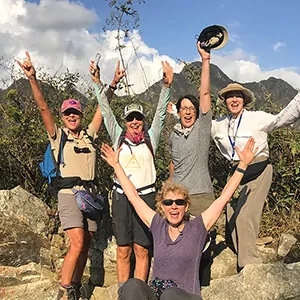 Peru is home to some of the most epic and amazing hiking vacations in the world. Wildland Trekking offers trips with the best that Peru has to offer: from classic Inca Trail lodge-based trekking to high-altitude Cordillera Huayhuash adventures. You'll see ancient ruins, turquoise lakes, glacier-covered peaks, and some of the tallest mountains in the world.
Guided Peru treks are all-inclusive: they cover permits, local transportation, meals, lodging, equipment, safety systems, and professional hiking/wilderness guides. All of these trip features allow visitors to maximize their time in Peru and focus entirely on enjoying the country and parks.
PERU ADVENTURE TOURS
TREKS TO MACHU PICCHU: Experience high-altitude mountains with only a light day pack. Each night, you'll camp in stunning backcountry locations, while a team of porters, chefs, and backcountry guides work to make your trip a delight. All of our hiking trips that include Machu Picchu (with one exception listed below) are portered, due to the high altitudes at which you will be hiking.
GUIDED INCA TRAIL HIKES: Our Inca Trail Trek is a portered hiking/camping trip with professional, local guides, porters, and a chef. This trip includes all gear, meals, permits, and more so you can focus on enjoying this iconic hike!
LODGE-BASED SHORT INCA TRAIL: Wildland offers this all-inclusive package to allow you to experience the Inca Trail with the comfort of nightly stays in historic lodging. You'll go on daily hikes, have expert guides, and get all your meals, transportation, and more set up for you!
PERU DAY HIKE TOURS: Make sure you're not missing out on a Peru classic, and add on a Cusco area day hike to your Wildland adventure.