Visiting Peru In February
Each month in Peru offers something different than the last - learn about what February offers.
Peru is one of the rainiest months in the Sacred Valley, and as such the government closes the Inca Trail during this time for repairs. However, if you're visiting in February, not all is lost. Machu Picchu remains open and accessible by train. While the highlands are at their wettest, the peak summer season hits the coast. Lima and Mancora see little rainfall and prime swimming (and beach-lazing) conditions.
In addition, February is the season of festivals. Carnaval takes place across the country during the few days before Lent, generally in late February.
Benefits of Visiting Peru in February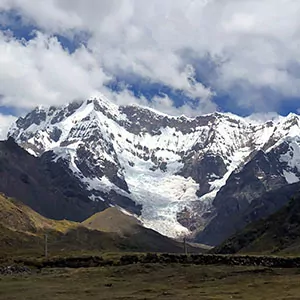 While rainfall is at its highest, there are some benefits to visiting Peru in February. Prices are generally lower in the Sacred Valley tourist destinations, while Machu Picchu sees its lowest number of visitors. February is a great time to seek solitude in the mountains.
In small towns, you'll forsake solitude for high-energy crowds. This month is full of Peruvian festivals, as they align with the Catholic calendar. The highland villages such as Cusco and Cajamarca are buzzing in celebratory excitement. In Puno, the Candelaria celebrations last for nearly two weeks. Dancers swirl in colorful costumes, traditional music fills the streets, and fireworks burst high above in one of South America's largest festivals.
Carnaval festivities take place across Peru before Lent each year. Be warned: weeks of water fights mark this time of year. Don't be surprised if you get caught in a water balloon crossfire. You may even get doused in foam, colored powder, or paint.
In the Amazon, high water levels allow visitors to access the jungle by boat. Wildlife sighting opportunities are better, as riverboats offer a more silent mode of travel. Fruits flourish in the high water levels and draw many animals out to feast.
Drawbacks to Visiting Peru in February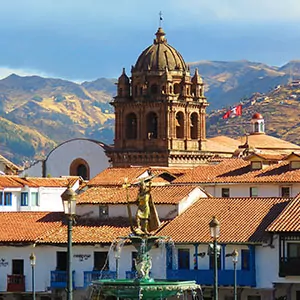 The biggest drawback to visiting Peru in February is the closure of the Inca Trail and the unrelenting rainfall in the high country. The heavy rains of the previous months cause landslides in the mountains. These landslides can delay train services for days at a time.
Prices are highest along the coast, and services are generally booked well in advance.
In the Amazon, the high water levels come with a few drawbacks: an increase in mosquitoes and a lack of trail access. Many companies do not offer trips to parts of the rainforest in February due to fast-moving water.
Things to Do in February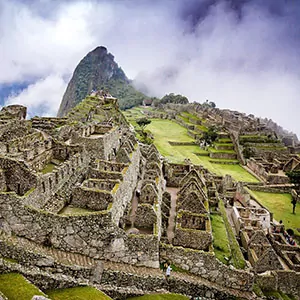 February is a great time to swim along the coastline of Peru because of the warm waters and ample sunshine. The lively beach towns are at full capacity, so beachside facilities are open and outdoor festivals are common.
If you brave the rain and travel into the highland villages, check out one of the many festivals across Peru this month.
And if adventure tourism is your cup of tea, you can watch competitions for rafting, climbing, and mountain biking at the Lunahuana Adventure Sports Festival. At the end of February, this event brings together athletes and travelers for two action-packed days of fun in a fantastic valley along the Cañete River.
Hiking in February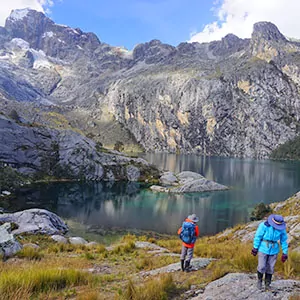 If you do find yourself around Cusco and the Sacred Valley in February, opt for shorter day hikes to take in the sights if the weather forecast looks terrible. Muddy trails, low visibility, and heavy rainfall create dangerous conditions for inexperienced hikers. Many tour companies stop offering trips during this low season. To compensate for travel delays, plan extra days into your itinerary.
The Inca Trail to Machu Picchu is closed during this month for annual repairs. However, Machu Picchu is accessible by alternative treks such as the Salkantay or Lares treks.  If you plan to attempt a multi-day hike in February, be sure to bring your waterproof gear!
Weather in February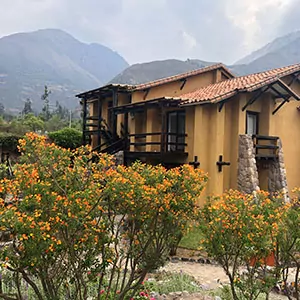 The towns along the coast of Peru see the warmest temperatures ('70s and '80s F) and the highest humidity in the summer. Swimming conditions are optimal, as water temperatures are in the low 70s. Nighttime temperatures hover around 68°.
You can expect around 13 days of rainfall in Cusco and the Sacred Valley throughout February. However, mild daytime and nighttime temperatures make the rain slightly more bearable.
JOIN A GUIDED HIKING ADVENTURE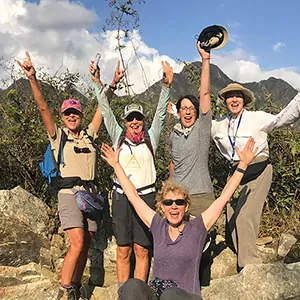 Peru is home to some of the most epic and amazing hiking vacations in the world. Wildland Trekking offers trips with the best that Peru has to offer: from classic Inca Trail lodge-based trekking to high-altitude Cordillera Huayhuash adventures. You'll see ancient ruins, turquoise lakes, glacier-covered peaks, and some of the tallest mountains in the world.
Guided Peru treks are all-inclusive: they cover permits, local transportation, meals, lodging, equipment, safety systems, and professional hiking/wilderness guides. All of these trip features allow visitors to maximize their time in Peru and focus entirely on enjoying the country and parks.
PERU ADVENTURE TOURS
TREKS TO MACHU PICCHU: Experience high-altitude mountains with only a light day pack. Each night, you'll camp in stunning backcountry locations, while a team of porters, chefs, and backcountry guides work to make your trip a delight. All of our hiking trips that include Machu Picchu (with one exception listed below) are portered, due to the high altitudes at which you will be hiking.
GUIDED INCA TRAIL HIKES: Our Inca Trail Trek is a portered hiking/camping trip with professional, local guides, porters, and a chef. This trip includes all gear, meals, permits, and more so you can focus on enjoying this iconic hike!
LODGE-BASED SHORT INCA TRAIL: Wildland offers this all-inclusive package to allow you to experience the Inca Trail with the comfort of nightly stays in historic lodging. You'll go on daily hikes, have expert guides, and get all your meals, transportation, and more set up for you!
PERU DAY HIKE TOURS: Make sure you're not missing out on a Peru classic, and add a Cusco area day hike to your Wildland adventure.