Visiting Peru In July
Each month in Peru offers something different than the last - learn about what July offers.
July is the height of the tourist season in the high mountains, especially in Cusco and Machu Picchu. The sun shines most of the day, the temperatures are perfect for hiking, and the trails are overrun with crowds. If you're not deterred by hoards of people, this is the best season (weather-wise) to experience the Sacred Valley. Peru's Independence Day occurs on July 28th, so crowds surge even more during this time. Benefits of Visiting Peru in July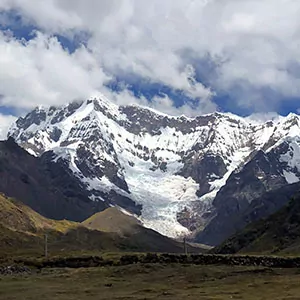 The weather in July is pristine. Cloudless skies mean you won't have to wait around for stunning mountain views.
July is the low season along the northern coast beach towns, but the weather is still fantastic. In towns such as Mancora and Punta Sal, prices have dropped from peak season.
The Amazon is less rainy than during the wet season, so your chances increase of sighting wildlife from the trail.
Drawbacks to Visiting Peru in July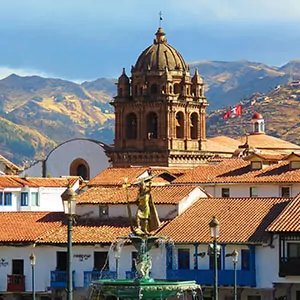 The high season requires advanced planning if you're visiting any classic tourist destinations. Don't expect to show up in Cusco without reservations. You'll also find the highest prices for lodging and other amenities during this time.
Trails in the Cusco region will be crowded, and every day, thousands of people will be trying to reach Machu Picchu. You'll need to get used to waiting in line if you plan on visiting any of the tourist attractions. Popular trips that require permits, such as the Inca Trail, get booked well in advance.
Temperatures fall drastically during the night and into the early morning. If you're camping, be prepared for temperatures close to freezing.
Things to Do in July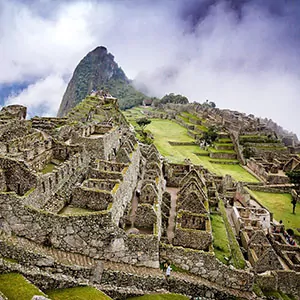 July is a great time to hit the trail: the skies are clear and the temperatures are moderate. However, if you're looking to avoid the crowds, skip Cusco and the Sacred Valley and head to Northern Peru. The Gran Vilaya Trek is a three or four-day journey through cloud forests and open valleys. You'll hike past stone structures left by ancient civilizations, including Kuelap, a walled fortress of over 400 buildings.
If you head to the coast, Chan Chan, a pre-Columbian archaeological site near Trujillo, is worth a visit. Smooth adobe walls tower above as you walk the labyrinth of the citadel.
If you do stay around Cusco and want to escape the hoards, check out alternative treks such as the Ausangate Trek or the Cordillera Huayhuash. July is a perfect time to be in the high mountains.
Hiking in July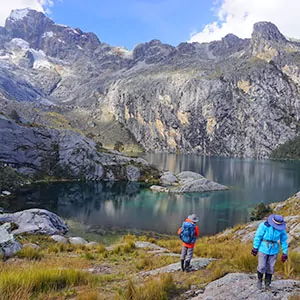 July is the perfect time to choose an under-the-radar backpacking trip. Peru has thousands of miles of trails to choose from, but most visitors flock to the Inca Trail. If you're seeking a multi-day trek in the Andes, many tour companies offer trips to destinations that offer solitude, cultural immersion, and spectacular views.
If you do wish to hike the Inca Trail, permits go on sale in October of the previous year. Book as early as you can with a licensed guiding company. These permits can sell out within hours.
The Cordillera Huayhuash is a stunning high-mountain trek that sees only a fraction of the traffic as other destinations in the Sacred Valley. If you're looking to stay closer to Cusco, the Ausangate Trek takes you deep into the backcountry to circumnavigate a rugged, glaciated peak.
If you're interested in hiking in the Amazon, July is a great time to do it. Trails that were flooded during the wet season are now accessible. Hit the trails in Manu National Park to experience one of the world's most biodiverse areas.
Weather in July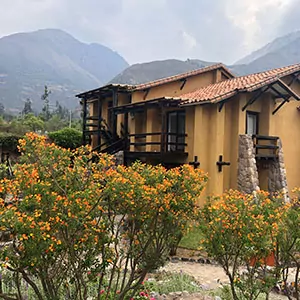 In Cusco and the rest of the highlands, sunny days are complemented by crisp evenings. Chilly temperatures linger into the early mornings until the sun warms the earth once again. You can expect freezing temperatures (31°F) when you wake up in the mornings.
Low-hanging fog in Lima is still accompanied by lower temperatures ('60s) and grey skies. The northern coast remains sunny with temperatures in the 70s or 80s.
In the Amazon, the dry season continues, but rainfall is still incredibly common. The weather remains hot and humid year-round.
JOIN A GUIDED HIKING ADVENTURE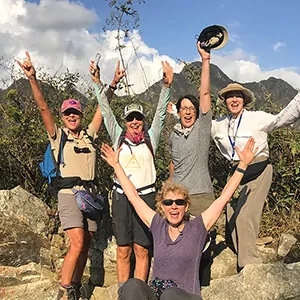 Peru is home to some of the most epic and amazing hiking vacations in the world. Wildland Trekking offers trips with the best that Peru has to offer: from classic Inca Trail lodge-based trekking to high-altitude Cordillera Huayhuash adventures. You'll see ancient ruins, turquoise lakes, glacier-covered peaks, and some of the tallest mountains in the world.
Guided Peru treks are all-inclusive: they cover permits, local transportation, meals, lodging, equipment, safety systems, and professional hiking/wilderness guides. All of these trip features allow visitors to maximize their time in Peru and focus entirely on enjoying the country and parks.
PERU ADVENTURE TOURS
TREKS TO MACHU PICCHU: Experience high-altitude mountains with only a light day pack. Each night, you'll camp in stunning backcountry locations, while a team of porters, chefs, and backcountry guides work to make your trip a delight. All of our hiking trips that include Machu Picchu (with one exception listed below) are portered, due to the high altitudes at which you will be hiking.
GUIDED INCA TRAIL HIKES: Our Inca Trail Trek is a portered hiking/camping trip with professional, local guides, porters, and a chef. This trip includes all gear, meals, permits, and more so you can focus on enjoying this iconic hike!
LODGE-BASED SHORT INCA TRAIL: Wildland offers this all-inclusive package to allow you to experience the Inca Trail with the comfort of nightly stays in historic lodging. You'll go on daily hikes, have expert guides, and get all your meals, transportation, and more set up for you!
PERU DAY HIKE TOURS: Make sure you're not missing out on a Peru classic, and add a Cusco area day hike to your Wildland adventure.