Visiting Peru In December
Each month in Peru offers something different than the last - learn about what December offers.
If you're visiting in December, you'll be visiting during the rainy season. But, not all is lost. While the weather is mostly rainy, some sunny days are sprinkled in. Be flexible with your plans and change them with the weather forecast. If you're seeking sunshine, hit the coast to relax on the beach or take surfing lessons. As Christmas approaches, festivities abound due to the Catholic influence in the country. Benefits of Visiting Peru in December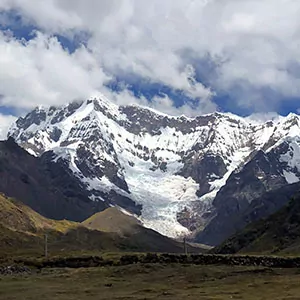 Beach season begins along the coast during this month. Although the weather is moderate year-round (especially north of Lima), the water and air temperatures are noticeably more pleasant for swimming. In addition, the fog that settled over Lima for much of the year finally disperses in December. As sunshine hits the city's coastline, Lima fills with energy as locals and tourists head to the beaches.
Cusco is lively throughout December because of the town's Catholic heritage. If you're visiting around Christmas, the Plaza de Armas twinkles with decorations.  On December 24th, shoppers bustle through the streets for the Santurantikuy market.
For the rest of the month in the highlands, you may have to brave some rain, but you'll be rewarded by higher nighttime temperatures. Also, you can easily book accommodations without much-advanced planning. (However, if you plan to visit around the holidays, make your reservations ahead of time!)
If you plan on visiting Machu Picchu, you won't be limited by the peak season entrance times. You'll be able to spend the day at the ruins in leisure. So, even if some clouds roll through, you can wait for the skies to clear instead of being rushed through the crowds.
Drawbacks to Visiting Peru in December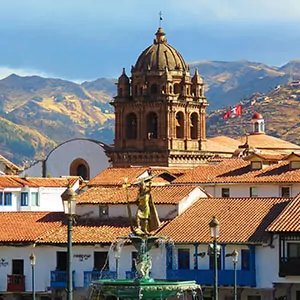 Heavy rain falls throughout December, and it can ruin a trip if you're not prepared. Plan your activities wisely to work with the weather. Muddy trails create slippery hiking conditions, and low cloud cover reduces the visibility of the surrounding mountains.
In the Amazon, water levels in the jungle rise, so trails that were accessible during the dry season are once again underwater. Mosquitos are worse during these wetter months, so bring bug spray!
Things to Do in December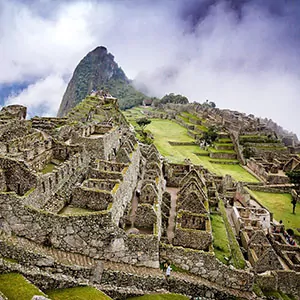 If you're heading to the beach, Peru has many coastal towns and villages to visit. Mancora is renowned for its nightlife, beginner-friendly surfing, and beautiful beaches. More advanced surfers will enjoy the surfing at quieter spots close to town, such as Los Organos or Cabo Blanco.
Now that the fog has passed, head to Lima for a delightful culinary experience. Pair ceviche with a pisco sour to try some Peruvian classics. Stroll or bike along the Malecón de Miraflores in the evening to watch the sunset over the crashing waves. Keep an eye out for paragliders as they fly high along this coastal ridgeline, using the uplift of wind from the ocean.
Hiking in December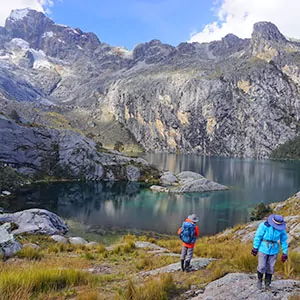 Hiking in Peru in December can be wet and muddy, but you can find solitude along the trails. In the mornings, you'll get the highest chance of clear skies. Cloudy skies increase throughout the day and obstruct mountain views. In general, plan to hike early to take in the views before low-hanging clouds roll in. However, weather is no guarantee. Check the forecast before heading out, and align your hiking plans accordingly.
If you are visiting Peru to trek, but don't like the rain, you might opt for a lodge-based trip instead of a long backpacking excursion. Many day trip options are available throughout the Sacred Valley, and mountain lodges provide quick access for day hikes.
Weather in December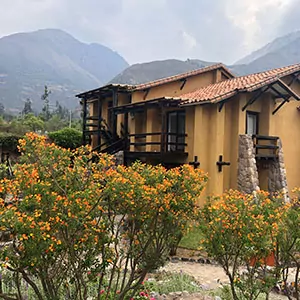 Along the coast, pleasant temperatures and sunny skies draw locals to the beaches. Lima stays around 75°F, and temperatures rise as you head north towards the equator.
Rain falls but temperatures stay moderate (68°F during the day) across the mountain regions, such as Cusco and Huaraz. Nighttime temperatures remain mild, at around 45°F. If you travel to the highlands regions, expect the skies to be clearer in the morning, growing steadily cloudy throughout the day.
Temperatures in the Amazon are lower than previous months. While December is the start of the wet season, rainfall is not significantly higher than during the dry season.
JOIN A GUIDED HIKING ADVENTURE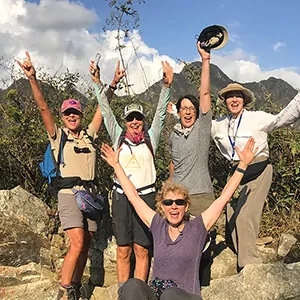 Peru is home to some of the most epic and amazing hiking vacations in the world. Wildland Trekking offers trips with the best that Peru has to offer: from classic Inca Trail lodge-based trekking to high-altitude Cordillera Huayhuash adventures. You'll see ancient ruins, turquoise lakes, glacier-covered peaks, and some of the tallest mountains in the world.
Guided Peru treks are all-inclusive: they cover permits, local transportation, meals, lodging, equipment, safety systems and professional hiking/wilderness guides. All of these trip features allow visitors to maximize their time in Peru and focus entirely on enjoying the country and parks.
PERU ADVENTURE TOURS
TREKS TO MACHU PICCHU: Experience high-altitude mountains with only a light day pack. Each night, you'll camp in stunning backcountry locations, while a team of porters, chefs, and backcountry guides work to make your trip a delight. All of our hiking trips that include Machu Picchu (with one exception listed below) are portered, due to the high altitudes at which you will be hiking.
GUIDED INCA TRAIL HIKES: Our Inca Trail Trek is a portered hiking/camping trip with professional, local guides, porters and a chef. This trip includes all gear, meals, permits and more so you can focus on enjoying this iconic hike!
LODGE-BASED SHORT INCA TRAIL: Wildland offers this all-inclusive package to allow you to experience the Inca Trail with the comfort of nightly stays in historic lodging. You'll go on daily hikes, have expert guides, and get all your meals, transportation and more set up for you!
PERU DAY HIKE TOURS: Make sure you're not missing out on a Peru classic, and add on a Cusco area day-hike to your Wildland adventure.