Visiting Peru In April
In each month, Peru offers something different than the last - learn about what April offers.
April in Peru is the shoulder season, bringing increasingly beautiful weather without the crowds of the dry season. Rain showers fall less frequently, but the greenery of the wet season remains. Orchids sprout from nearly every crevice in the jungle and mountains. If you're seeking both fewer crowds and mild weather, April is one of the best months to visit.
Benefits of Visiting Peru in April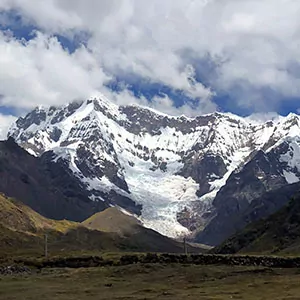 For many travelers, the shoulder season is the best time of year to travel. While the weather is slightly unpredictable, the lack of peak-season crowds more than makes up for a little bit of rain. You can book accommodations and activities on a whim (except for the Inca Trail!).
In Cusco and the Sacred Valley, the rain has dissipated and the crowds have not yet returned. The greenery is alive after months of heavy rainfall. While there are still days of rainfall, trekking conditions are prime as flora blooms along the trail. Booking tours through guiding companies is easier than in peak season, although Inca Trail treks should still be booked well in advance.
Temperatures in Lima and along the northern coast have cooled down after a sunny summer,  so it is an enjoyable month to partake in a walking city tour. Prices have dropped and accommodations are easier to secure. In beach towns, facilities are still open as moderate crowds remain.
Drawbacks to Visiting Peru in April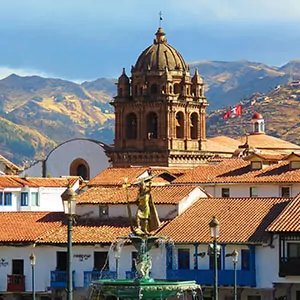 If Holy Week falls in April, prices skyrocket all across the country. Accommodations are often booked to capacity. If you plan to visit during the Easter season, reserve your spot well in advance.
Fog begins to plague the city of Lima in Peru's winter months. These low-hanging clouds come from the sea and settle over coastal districts such as the Miraflores and Barranco.
While rainfall has subsided in Cusco and Huaraz, the rainfall levels in the Amazon are still at their highest.
Things to Do in April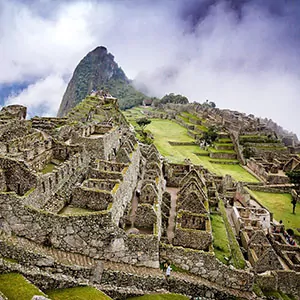 Millions of orchids bloom all around the country in the wet season and are best viewed in April after the rain has settled. Peru is home to over 3000 species of orchids, so keep your eyes out as your travel through the cloud forests.
If you plan on hiking the Inca Trail, April is a great month to do it. You must hike this trail as part of a guided group, and these reservations are much less competitive than in July-August. Still, you should book in October of the year before your trip to guarantee you get the dates you want. You may experience light rain along the trail, but you won't be able to deny the magic of low-hanging clouds swirling around the green peaks.
If you're visiting during Semana Santa (Holy Week), check out Cusco for the lively Easter celebrations. Just be sure to wait a few days after crowds disperse to hit the trails.
April is a great month to visit the coast, as temperatures are still high enough to swim. However, prices and crowds have dropped from peak season highs.
Hiking in april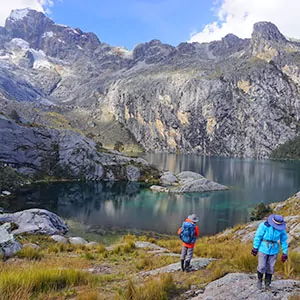 April is the time to check the classics off your bucket list without having to deal with overcrowded trails. Trekking in the Sacred Valley in April is especially sublime. The trails are relatively quiet, yet many tour companies are offering guided excursions. Orchids and other flora bloom along the trail, and the cloud-forest ecosystem breathes anew after months of rainfall. It is a great time to hit the Inca Trail if you've made a reservation. Or, choose from several lesser-traveled alternatives, such as the Salkantay Trek or Lares Trek.
While trekking in the Sacred Valley is picking up, backpacking in the Cordillera Blanca and Huayhuash is just getting started. Wet, unpleasant weather is still common in the high mountains. If you do plan a hiking trip out of Huaraz, you may want to consider day trips instead of overnights. If the weather seems good to go, you can plan a backcountry trip at the last minute.
Weather in April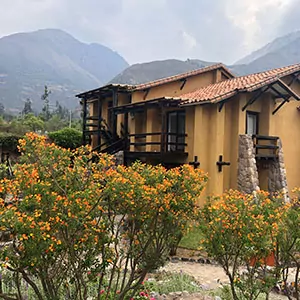 Temperatures all across the country are relatively mild. Daytime temperatures in Cusco hover around 66°F, while Lima stays in the mid-70s. April is the tail-end of the wet season, and only sees eight days of rain on average—a significant drop from the previous five months.
JOIN A GUIDED HIKING ADVENTURE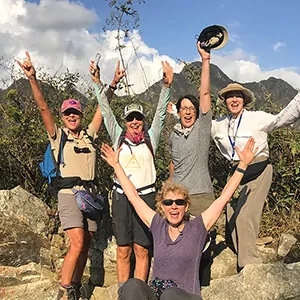 Peru is home to some of the most epic and amazing hiking vacations in the world. Wildland Trekking offers trips with the best that Peru has to offer: from classic Inca Trail lodge-based trekking to high-altitude Cordillera Huayhuash adventures. You'll see ancient ruins, turquoise lakes, glacier-covered peaks, and some of the tallest mountains in the world.
Guided Peru treks are all-inclusive: they cover permits, local transportation, meals, lodging, equipment, safety systems, and professional hiking/wilderness guides. All of these trip features allow visitors to maximize their time in Peru and focus entirely on enjoying the country and parks.
PERU ADVENTURE TOURS
TREKS TO MACHU PICCHU: Experience high-altitude mountains with only a light day pack. Each night, you'll camp in stunning backcountry locations, while a team of porters, chefs, and backcountry guides work to make your trip a delight. All of our hiking trips that include Machu Picchu (with one exception listed below) are portered, due to the high altitudes at which you will be hiking.
GUIDED INCA TRAIL HIKES: Our Inca Trail Trek is a portered hiking/camping trip with professional, local guides, porters, and a chef. This trip includes all gear, meals, permits, and more so you can focus on enjoying this iconic hike!
LODGE-BASED SHORT INCA TRAIL: Wildland offers this all-inclusive package to allow you to experience the Inca Trail with the comfort of nightly stays in historic lodging. You'll go on daily hikes, have expert guides, and get all your meals, transportation, and more set up for you!
PERU DAY HIKE TOURS: Make sure you're not missing out on a Peru classic, and add a Cusco area day hike to your Wildland adventure.