Visiting Peru In September
Each month in Peru offers something different than the last - learn about what September offers.
Once September begins, Peru experiences a drastic decline in visitation. Tourists from North America and Europe return to school and work, leaving the Sacred Valley with far fewer crowds. However, that's not to say the tourist destinations will be empty. You'll still need to book your reservations in advance — especially if you intend on hiking the Inca Trail.
Benefits of Visiting Peru in September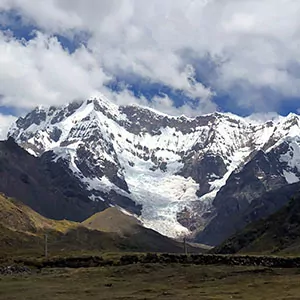 Amazing mountain weather lingers into September while the crowds disperse. This shoulder season month is a great time to reap the rewards of both the peak and low seasons. Popular destinations will still have crowds, but you'll experience solitude at less-popular sites, such as the ancient ruins at Moray or Ollantaytambo.
While accommodations can still be difficult to book, prices are lower than June – August rates.
September is a great month for birders, as northern migrating species make their way to Peru. Additionally, September is mating season for some of the colorful cloud forest Peru natives, such as the vibrant-red Andean tunki (also known as the cock-of-the-rock). Hikers often spot these colorful birds from trails in the Sacred Valley.
Drawbacks to Visiting Peru in September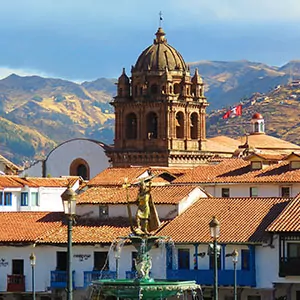 While September is quieter than the peak season, you'll still need to book your reservations well in advance if you plan to travel to tourist areas such as Cusco. Reserve your flights, buses, and train tickets before you travel. Plan ahead so you can visit Machu Picchu.
The weather in Lima is still dreary during this time, with low-hanging fog and the occasional drizzles.
Things to Do in September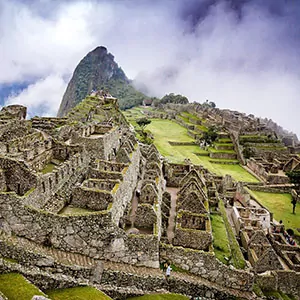 September is the best month to spot wildlife in the Amazon. The drier weather increases animal activity as they flock to a smaller selection of watering holes. Trails are open for hiking because of the low water levels in the jungle.
In Lima, the Mistura Food Festival takes place during the first half of the month. Over 300 participants set up shop to let you experience the array of food traditions and delicacies Peru has to offer. Sample local restaurants, street vendors, and food trucks during this enchanting festival.
Up north in Trujillo, el Festival Internacional de la Primavera celebrates the town's "eternal spring" with an elaborate festival of dance, art, and show horses.
Hiking in September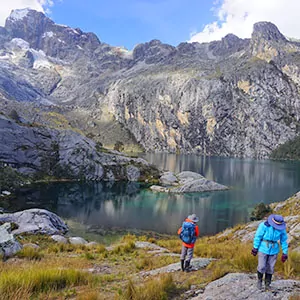 As the dry season winds down, hiking opportunities are plentiful. Trails in the Sacred Valley are quieter than they have been in months, and the high mountain passes outside of Huaraz are still clear. Because the towns are still lively, you can still easily book transportation to day hikes and multi-day trailheads. While mostly clear skies await you, rainfall steadily increases as October approaches. Make sure to bring a rain jacket and appropriate layers.
September is a great time to join a guided Ausangate Trek. This trail is generally remote but crosses through the immensely popular Rainbow Mountain region. In the peak months, Rainbow Mountain is very crowded. But, if you hike this trail in September, you'll get the opportunity to experience this magical landscape without the hoards of people.
Many trails are quiet, but the Inca Trail sees visitors year-round. You'll still need to book reservations well in advance if you plan to undertake this famous trek.
Weather in September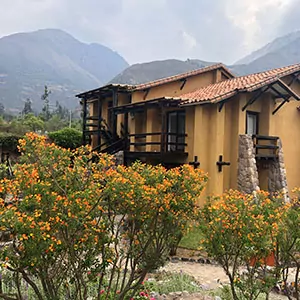 September is the end of the dry season. Rains become more frequent, so you'll want to carry rain gear. You may encounter the occasional shower, but overall the weather is fantastic for hiking and trekking. Nighttime temperatures have risen after Peru's winter, so freezing temperatures are not as common. You can expect daily temperatures in the upper 60s, with lows at night around 40°F.
The coast remains sunny and warm in the north, and increasingly cold and drizzly as you head south towards Lima.
JOIN A GUIDED HIKING ADVENTURE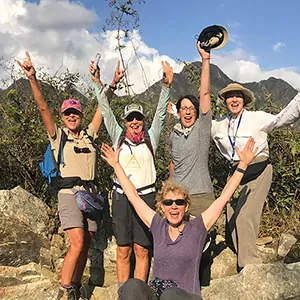 Peru is home to some of the most epic and amazing hiking vacations in the world. Wildland Trekking offers trips with the best that Peru has to offer: from classic Inca Trail lodge-based trekking to high-altitude Cordillera Huayhuash adventures. You'll see ancient ruins, turquoise lakes, glacier-covered peaks, and some of the tallest mountains in the world.
Guided Peru treks are all-inclusive: they cover permits, local transportation, meals, lodging, equipment, safety systems, and professional hiking/wilderness guides. All of these trip features allow visitors to maximize their time in Peru and focus entirely on enjoying the country and parks.
PERU ADVENTURE TOURS
TREKS TO MACHU PICCHU: Experience high-altitude mountains with only a light day pack. Each night, you'll camp in stunning backcountry locations, while a team of porters, chefs, and backcountry guides work to make your trip a delight. All of our hiking trips that include Machu Picchu (with one exception listed below) are portered, due to the high altitudes at which you will be hiking.
GUIDED INCA TRAIL HIKES: Our Inca Trail Trek is a portered hiking/camping trip with professional, local guides, porters, and a chef. This trip includes all gear, meals, permits, and more so you can focus on enjoying this iconic hike!
LODGE-BASED SHORT INCA TRAIL: Wildland offers this all-inclusive package to allow you to experience the Inca Trail with the comfort of nightly stays in historic lodging. You'll go on daily hikes, have expert guides, and get all your meals, transportation, and more set up for you!
PERU DAY HIKE TOURS: Make sure you're not missing out on a Peru classic, and add a Cusco area day hike to your Wildland adventure.