One Day At Olympic Overview
Learn How to Make the Most of One Day at Olympic
Olympic National Park is over 1,400 square miles—95% of that is Congressionally-designated wilderness, meaning it will remain untrammeled by man. The park protects 73 miles of rugged and pristine coastline, over 3,500 miles of rivers and streams, 60 named glaciers, over 1,200 plant species, 37 native fish species, 56 mammal species and 300 bird species. This land is special and unique, and you could spend months and months exploring it's mountains, rainforests and coastline. But, most visitors have time and budget restraints that prevent them from spending more than a couple of days in the park. Even if you only have one day to enjoy the park, you are still able to see the highlights and experience this amazing region. This guide will share tips and recommendations for how to make the most of just one day in Olympic National Park.
BEST WAY TO SEE OLYMPIC IN ONE DAY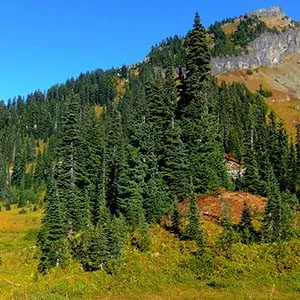 Olympic National Park hosts many unique ecosystems, sometimes it feels like this is three parks in one. There are ten main areas to visit in Olympic, they are briefly described below. You can check out the Getting Around page on the National Park Service's website for mileage and time estimates between each area of the park. It is not possible to visit each location in just one day, so you may want to do some research to see which areas are best for you.
1.  Hurricane Ridge: great for hiking—characterized by ridgetop traverses to subalpine lakes and valleys
2. Elwha Valley: ideal for hiking and fishing—known for it's watershed restoration
3. Sol Duc Valley: great for hiking and fishing—the Sol Duc River runs through the valley and is a highway for spawning salmon, also, the Sol Duc Hot Springs are located here.
4. Quinault Rainforest: a perfect hiking location—known as a "wilderness getaway to alpine meadows, jeweled lakes and ice-carved peaks"
5. Hoh Rainforest: ideal for hiking—this is the most famous temperate rainforest in the world, and one of the best habitats for wildlife
6. Lake Crescent: perfect for hiking and boating—characterized by it's cold, clear, glacially-carved lake surrounded by mountains
7. Lake Ozette: ideal for hiking—known for it's sea stacks, crystal-clear lake and old-growth forest
8. Mora and Rialto Beaches: great for hiking and tidepooling—characterized by it's rugged and rocky beaches, tidepools, sea stacks and crashing waves
9. Ruby and Kalaloch Beaches: great for hiking and wildlife viewing—home to Olympic Coast National Marine Sanctuary
10. Staircase: ideal for hiking—known for it's Douglas firs, old-growth rainforest and the meandering North Fork of the Skokomish River
SUNRISE IN OLYMPIC NATIONAL PARK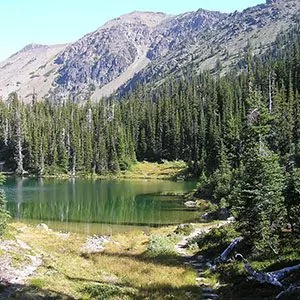 The Olympic Peninsula is stunningly unique at all times of the day, but especially so at sunrise. This is one of the best places in the world to watch the mountains spring to life with the day's first light, or to watch the sun rise over the horizon with sea stacks scattered along the shore and an ancient old-growth forest behind you. Below are the best locations for sunrise in Olympic National Park:
Hurricane Hill: For an easy and paved uphill hike that rewards you with spectacular views, the trail to Hurricane Hill is a great place to watch the sun rise. The trailhead is at the Hurricane Ridge Visitor Center, located in the northern section of the park, about 15 miles south of Port Angeles. As you gain elevation, you can peer down on Elwha Valley; and at the peak of Hurricane Hill, you get fantastic vistas of the Strait of Juan de Fuca and the surrounding mountains. At sunrise, these mountains are slowly illuminated one by one as the sun crests over the ridgeline.
Sunrise Ridge: This trail offers sweeping views of Elwha Valley, the Strait of Juan de Fuca and all of the surrounding mountains, just like Hurricane Hill, but without the crowds or paved path. In addition to it's expansive views, Sunrise Ridge is also known for it's abundant wildflower display and being home to many types of wildlife. The trail begins at the Hurricane Ridge Visitor Center, on the Mount Angeles Trail, and is 2.6 miles to the summit. Once at the summit, you can watch the mountains come to life as the rising sun awakens them with it's first light.
Cape Flattery: Located in Neah Bay, Cape Flattery is the most northwestern point of the contiguous United States. With permits (obtained at the Makah Tribal Museum or Washburn's General Store) in hand, Cape Flattery is fairly accessible to reach. From the trailhead, you will hike on a gravel path that turns to boardwalk, and at .7 miles, you will reach a point where the trail breaks into three spur trails. Each of these spurs takes you to a different lookout on the point, all equipped with a viewing platform.