Olympic Park in Summer Overview
Learn About Visiting Olympic National Park in the Summer
Summer is one of the best times of year to visit Olympic National Park because the weather is most amicable and the park is beautiful. The landscape is lush after a wet spring, and with over 140 inches of annual rainfall, the year-round moisture creates incredible waterfalls and wildflowers. Since Olympic National Park contains over 600 miles of hiking trails, and 95% of the park is Congressionally-designated wilderness, there are plenty of ways to escape the crowds. Visiting in the summer has many benefits, as well as some drawbacks. In this guide, we will go into detail about what to expect when visiting in June, July, and August.
BENEFITS OF VISITING IN SUMMER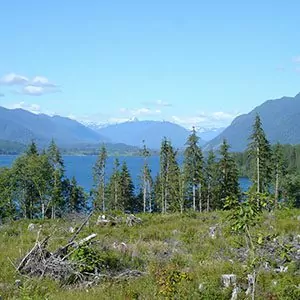 There are many benefits of visiting the Olympic National Park in the summer. First, the weather is most pleasant in the summer, with temperatures that are mild to warm, and a "dry" climate—although rain is always a possibility, so it is important to carry rain gear. Second, all roads in the park are open and accessible, after Hurricane Ridge Road opens in April. You can check the road conditions for the most up-to-date information. Last but not least, there are great chances to encounter wildlife in the summer, as they are soaking up the vitamin D as much as we are! Blacktail deer and Roosevelt elk are commonly seen in the river valleys and rainforests. Olympic marmots, a species endemic to Washington, are often found sunbathing on warm rocks at Hurricane Ridge. And marine mammals, such as sea otters, seals, and sea lions are often seen along the coast, at Kalaloch, Ruby, and Rialto Beaches. Humpback whales are also likely to be seen along the Olympic Coast during the summer months, you can check out the Whale Trail's viewing guide and interactive map to find the best viewing locations.
DRAWBACKS OF VISITING IN SUMMER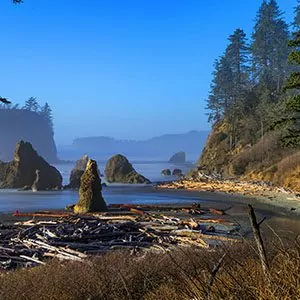 The biggest drawback to visiting Olympic National Park in the summer is the crowds. Summer is the busiest time of year, helping make Olympic NP the 7th most visited National Park in the United States, with three-quarters of its yearly visitation in June, July, and August. Although the park is definitely more crowded in the summer, don't let that deter you from visiting, there are many ways that you can be prepared and avoid the congestion:
Do your research: knowing where you want to go and what you want to see before you get to the park is crucial. Olympic is a big park, with many different and distinct areas; if you have done your research beforehand, you won't have to crisscross all over the park to see what you want to see. Check out the park's mileage chart to help you plan your driving.
Get an early start: many areas fill up as the day progresses, so getting your day started early is essential. Many areas of the park have their own entrance station, and when the parking lots fill, a queue line is started at the entrance station, one car entering at a time as another car leaves. On busy summer afternoons, the wait time can be up to three hours! Avoid wasted time in your car, as well as stress, by getting to popular parking areas before 10 o'clock.
Go backpacking: 95% of Olympic National Park is designated wilderness. The best way to avoid the crowds is to go deep in the wilderness that you can only get to on foot.
Make reservations in advance: it is important to plan ahead and get reservations/ permits before entering the park. Backpacking permits are required for all overnight wilderness camping, and popular backcountry destinations may fill well in advance. The same is true for tours, boating, and other activities.
Book a guided trip: take the stress out of planning a hiking trip by going with a guiding company that takes care of all the logistics and provides exceptional gear, knowledgeable guides, and delicious backcountry meals.