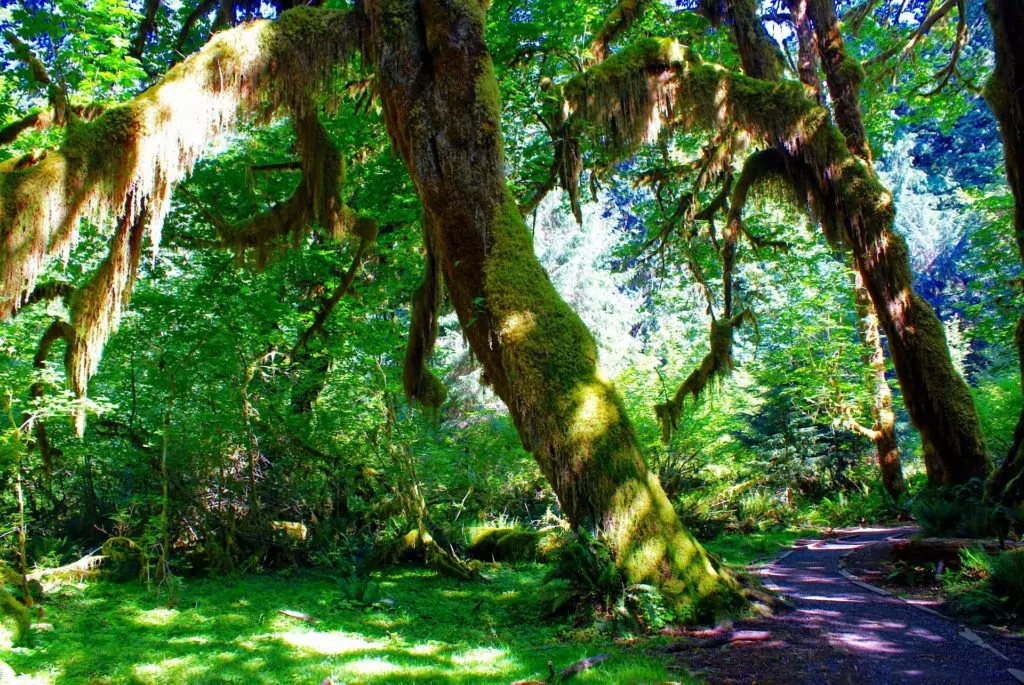 Hoh River Trail
General Description
The Hoh Rainforest is the most famous temperate rainforest in the world. Designated a UNESCO Biosphere Reserve and World Heritage Site, it receives over 140 inches of rain a year and is filled with spectacular old growth trees.  With ancient trees and deep cushions of moss, it is a prehistoric wonderland. The rainforests of Olympic National Park contain the highest biomass of anywhere in the world thanks to the prolific rainfall and summer fog. And due to all that moss the Hoh is one of the quietest places on earth. So come for the solitude and the incredible trees, but stay for the diversity of wildlife, the ferns and shrubs of the understory, and the glacial waters of the Hoh River. There are plenty of stunning destinations available for hikers of all levels, from a slow amble through the Hall of Mosses to a long backpacking trip up to the Blue Glacier on Mt. Olympus.
Explore Olympic NP with Expert Guides
Getting to the Hoh River Trailhead
From Highway 101, turn East onto Upper Hoh Rd and follow it 18 miles to the Hoh Rainforest Visitor Center.
History of the Hoh Rainforest
The Hoh Rainforest is a unique ecosystem, filled with endemic plants found nowhere else in the world, thanks to six periods of glaciation that separated in from the mainland. The indigenous peoples of the Olympic Peninsula have visited the Hoh River for thousands of years, accessing a treasure trove of salmon runs and plant life. While much of the old-growth rainforest of the Olympic Peninsula was logged during the 20th century, citizen pressure and the formation of Olympic National Park protected the Hoh Rainforest, preserving it as a unique ecosystem and critical wildlife habitat. Classic National Park architecture buildings can be found along the trail, from the Olympus Guard Station to the Happy Four Shelter (built by 4 foresters who, according to local legend, hated one another and were the opposite of happy).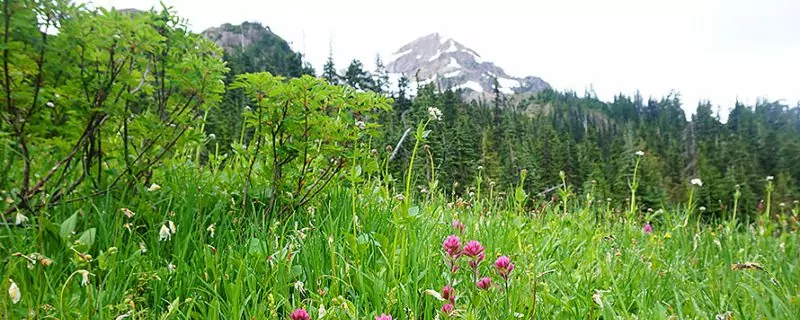 3 Best Day Hikes in the Hoh Rainforest
Take a short stroll among the Hall of Mosses, or head all the way for the Blue Glacier and Mt. Olympus.
Below are the primary options for day hiking in the Hoh Rainforest
| | | | | | |
| --- | --- | --- | --- | --- | --- |
| | Destination | Miles | Elev | Difficulty | Style |
| | Hall of Mosses | 0.8 mi | 100 ft | Easy | Loop |
| | Mineral Creek Falls | 5.6 mi | 100 ft | Easy | Out and Back |
| | Five Mile Island | 10 mi | 300 ft | Moderate | |
1. Hall of Mosses
The Hall of Mosses is an easy interpretive trail that's perfect for families, stretching your legs, and learning about the ecosystem of the Hoh Rainforest. At less than a mile long, it's ideal for photography and for slow appreciation of the giant trees and thickly layered moss. Keep an eye out for licorice ferns epiphytes, and shrubs growing high in the canopy of the Bigleaf Maples. When you're done, return to the visitor center for more interpretive exhibits.
2. Mineral Creek Falls
Mineral Creek Falls is a pleasant out and back hike that takes you deeper into the rainforest. Follow the Hoh River Trail past giant Sitka Spruces and under towering Bigleaf Maples, and keep an eye out for trees and shrubs growing out of nurse logs–old fallen trees that provide nutrients and a stable platform for new trees to take root. A short side spur at 0.9 miles leads to a gravelly beach on the Hoh River. Continuing along the main trail eventually brings you to a bridge over Mineral Creek, and to a small but beautiful waterfall. Stop here for photos and lunch, or continue just a little further to Mt. Tom Creek, where you can enjoy lunch alongside the river before returning to your car.
3. Five Mile Island
Five Mile Island is a great all day hike. Follow the Hoh River Trail as above, but continue past Mineral Creek and further into the forest. The further you go, the fewer people you'll see, and the quiet of the Hoh Rainforest will truly begin to set in. Keep an eye out for elk, black bear, deer, and more as you hike through the ancient forest. Upon reaching Five Mile Island the forest will open up into a beautiful series of maple flats, and you can head to the river for views of Bogachiel Peak and the gravelly braids of the Hoh River. Five Mile Island is a perfect lunch spot and a great spot for a nap. Return the way you came to round out the hike.
Maximize Your Visit to Olympic National Park on Hiking Tour
Multi-day packages allow visitors the opportunity to make the most of their time in Olympic National Park and to do it hassle-free. Guided tours include gear (backpack, trekking poles, crampons in winter), meals, accommodations on multi-day tours, local transportation, and a professional Washington hiking guide. Through their knowledge, stories, and personal passion, guides can bring a place to life in a way that's much more difficult to do on your own. Read more about Olympic Hiking Tours.
Award Winning USA Hiking Vacations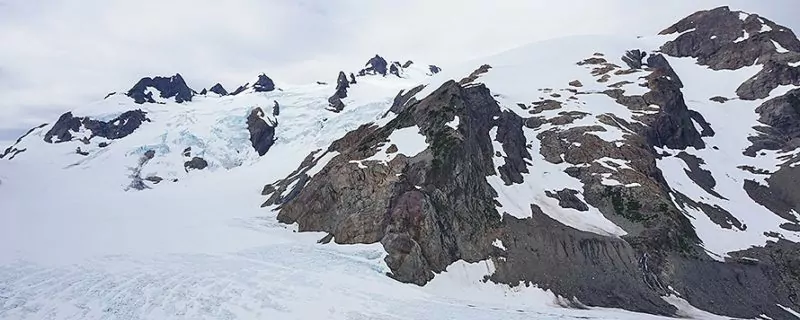 2 Hoh River Trail Backpacking Trips
The Hoh River is a wonderful backpacking destination, with options for easy kid-friendly trips as well as longer trips that lead up into the mountains and high alpine meadows.
Route
Miles
Difficulty
Campgrounds
Five Mile Island
10 mi
Easy
Five Mile Island CG
Blue Glacier
37 mi
Strenuous
Olympus Guard CG
Elk Lake CG
Five Mile Island CG
1. Five Mile Island (2 days)
Five Mile Island is a great destination for kids, a first time backpacking trip, or a relaxing overnight for the more experienced hiker just looking to get out for a spell. Majestic old growth trees line the well-maintained trail, while forest flowers and fallen epiphytes decorate the ground. The gravelly banks of the Hoh River at Five Mile Island are the perfect spot to enjoy an evening fire and watch the light change on Bogachiel Peak, and there are ample trees to hang up a hammock and relax after a pleasant hike. Make sure to bring bear canisters  to keep your food safe, and warm clothes for the evening.
2. Blue Glacier (5 days)
This 5 day trip takes you all the way to the end of the Hoh River Trail and an overlook of the Blue Glacier from a moraine high above. While the first day stays relatively level, winding through an ever-changing mosaic of old-growth forest, the next days have plenty of elevation gain to compensate. Eventually the trail leaves behind the river floor and climbs up through giant Douglas Firs and over a dramatic bridge suspended high above the Hoh River. Two nights at Elk Lake provide a chance to go for a swim, watch for wildlife, and take a dayhike up to the Blue Glacier on Mt. Olympus. Stare into the deep blue crevasses, look for the tiny dots of climbing parties attempting to summit the peak, and enjoy the delicate alpine wildflowers that dot the moraine. Make sure to taste the huckleberries above treeline–they're the sweetest and most flavorful berries you can find. A steep rope ladder down an avalanche chute provides an element of excitement, but it's nothing that a little concentration and nerves of steel can't handle. Hiking the Hoh River Trail all the way to its end and back gives you a great taste of the diversity of Olympic National Park. To finish off the trip, head back down and camp at Five Mile Island for one last night, or hike all the way out from Elk Lake if you're feeling strong or in a rush.
Join a Guided Olympic National Park Backpacking Trip
Joining an Olympic National Park backpacking tour  is a worry-free, adventurous way to experience [national park]. With your gear, meals, local transportation, permits, and fees taken care of for you, you can travel light and focus 100% on enjoying the hiking experience, while the guide company takes care of everything else. Also, by going with local experts you'll enjoy a greater level of safety and gain a much better understanding of the history and ecology of this remarkable region. Read more about guided Olympic backpacking trips.
All-inclusive Olympic NP Backpacking Adventures

When to Hike and Seasonal Considerations
Olympic National Park has a reputation for rain, but summers tend to be dry, warm, and very pleasant. Enchanted Valley is a rare low-elevation destination that can be hiked as early as May without having to worry about too much snow, but if you're hoping to cross the passes or day hike into the high country, you'll want to wait until late June or July. The waterfalls are most dramatic in early summer, but abundant berries and fall colors in August and September make it a spectacular location all summer long. Make sure to check the weather before you plan your trip.
Necessary Permits
Day Hike Permits
No permits are needed to day hike in Olympic National Park
Backpacking Permits
Self-serve permits are available from Olympic National Park at the Hoh Rainforest Visitor Center or the Port Angeles Wilderness Information Center. Hoh River Trail trips below Lewis Meadow don't require advance reservations, but if you want to continue up to Elk Lake or the Blue Glacier you'll need advance reservations. The Park Service also provides bear canister rentals for a small donation. For more information on Olympic National Park's permit system, click here.
Suggested Packing List
Day Hike Packing List (edit)
Lightweight hiking shoes or hiking boots
Waterproof rain jacket and pants
Warm wool or fleece top
Warm hat and gloves (Spring, Fall, Winter)
Water bottles or bladder (2 liters total capacity)
Sunhat
Headlamp
Sunglasses, sunscreen and lip balm
Salty, calorie-rich snacks
lunch
backpack
trekking poles
1st aid kit
Backpacking Packing List
all items listed for day hikes PLUS
multi-day backpack
3-season tent
sleeping bag
sleeping pad
backpacking stove and fuel
backpacking meals
3 pairs wool socks
extra t-shirts
Please Respect Our National Parks – Leave No Trace
We strongly recommend abiding by all Leave No Trace ethics guidelines and practices so that our national parks and public lands are preserved for the enjoyment of future generations and for the people and animals who call these places home. Simple things like packing out your trash, obeying national park rules, and respecting the peace and quiet of our national park trails is a great start. If you're going on a backpacking trip, you can read about more about the 7 Leave No Trace Principles.