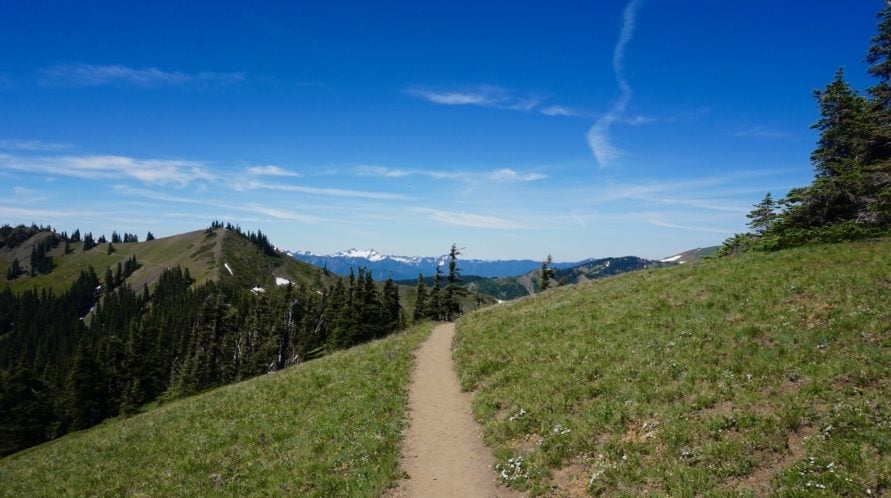 Hurricane Ridge
Hurricane Ridge is named for the fierce wind and weather systems that can come off the Strait of Juan de Fuca in the winter. But don't let that scare you away — the weather is beautiful all summer long, and the views are unrivaled. This stunning destination sits one mile above sea level, and on a clear day, you can view the Strait of Juan de Fuca and Vancouver Island to the north, and the Olympic Mountains, including Mt. Olympus and the Blue Glacier, to the south. Wildflowers are abundant all summer long, and marmots whistle and play on Hurricane Hill. Hurricane Ridge is a wonderful destination for a dayhike, as it has a variety of options for all levels. Or, you could use this area as the starting point for your multi-day adventure.
Explore Olympic NP with Expert Guides
History of Hurricane Ridge
Indigenous People of the Olympic Peninsula have used and occupied Hurricane Ridge for thousands of years. Distinctive leaf-shaped spearheads have been found all over the Olympic Mountains dating back to 12,000 years ago, and human use of the area has continued through to the present. European-Americans first reached Hurricane Ridge as part of Joseph O'Neill's 1885 expedition — though it took them a month of clearing brush, building trails, and route-finding to make their way to the top from Port Angeles. A major National Park campaign in 1956, along with public funding, helped to construct a fully paved, two-lane road all the way to Hurricane Ridge–in addition to a ski area that is still in use today!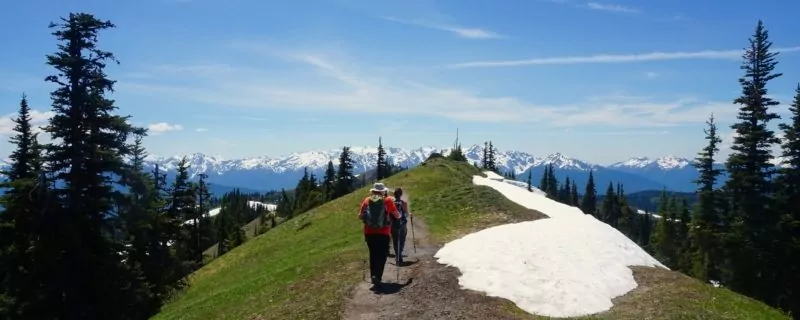 the 3 Best Day Hikes at Hurricane Ridge
Take a short stroll up Hurricane Hill, leave the crowds behind on Klahane Ridge, or bag Maiden Peak. Hurricane Ridge has endless options for hiking to suit your ability.
Below are the primary options for day hiking Hurricane Ridge
| | | | | | |
| --- | --- | --- | --- | --- | --- |
| | Destination | Miles | Elev | Difficulty | Style |
| | Hurricane Hill | 3.2 mi | 650 ft | Easy | Out and Back |
| | Klahane Ridge |  5.2 mi | 1,000 ft | Moderate | Out and Back |
| | Maiden Peak | 8 mi | 840 ft | M0derate | Out and Back |
1. Hurricane Hill
The Hurricane Hill Trail is paved most of the way up for an easy hike with a great payoff. Drive past the Visitor Center to the end of the road, where you'll start hiking up the mellow grade, taking in flowers and views along your way. In the early summer, keep a lookout for delicate avalanche and glacier lilies that begin growing under the snow. Later in the summer, look out for blue lupine and magenta fireweed. Once you gain some elevation, you can peer down into the Elwha River Valley. From the peak of Hurricane Hill, you can gaze across the Strait of Juan de Fuca and the surrounding mountains. Abundant, endemic (native only to this region) marmots make their homes on Hurricane Hill, so keep an eye out for these friendly creatures. But, make sure not to leave them any food! Return the way you came to finish out the day, and check out the Visitor Center for interpretive exhibits.
2. Klahane Ridge
For a little more solitude and a longer hike, follow the High Ridge trail from the Visitor Center towards Sunrise Point, and then hang a right on the Klahane Ridge Trail. The views will amaze you as you follow the spine of this ridge — Mt Olympus and the heart of the Olympic Mountains on your right side, Vancouver Island and the ocean to your left, and occasional glimpses of Mt Baker and Glacier Peak in the North Cascades on a clear day! You can follow the trail as long as you want, but most hikers turn around at the base of Mt. Angeles, where a small climbers' trail heads up to the peak. If you're feeling strong, you can extend your hike up to the ridge on the backside of Mt. Angeles.
3. Maiden Peak
Hike from Obstruction Point to Maiden Peak on one of the highest trails in the Olympics. Experience panoramic views of the Olympics, the North Cascades, and the Strait of Juan de Fuca. You'll also see abundant alpine wildflowers and wildlife on this out-and-back day hike. To access the trailhead, follow the Obstruction Point Road from the Visitor Center parking lot. From there, head East towards Elk Mountain, and take in the sweeping views of Moose Lake, Grand Lake, Mt Olympus, and more. Although this is the highest continuous trail in the park, there is very little elevation change, so soak up the views and count your blessings for the easy access. Maiden Peak makes for a good lunch break and turnaround spot, although ambitious hikers can head all the way to Deer Park with a car shuttle.
Maximize Your Visit to Olympic National Park on Hiking Tour
Multi-day packages allow visitors the opportunity to make the most of their time in Olympic National Park and to do it hassle-free. Guided tours include gear (backpack, trekking poles, crampons in winter), meals, accommodations on multi-day tours, local transportation, and a professional Washington hiking guide. Through their knowledge, stories, and personal passion, guides can bring a place to life in a way that's much more difficult to do on your own. Read more about Olympic Hiking Tours.
Award Winning USA Hiking Vacations

Hurricane Ridge Backpacking Trips
Hurricane Ridge is a great departure point for short backpacking trips
| | | | | |
| --- | --- | --- | --- | --- |
| | Route | Miles | Difficulty | Campgrounds |
| | Grand Valley | 10-12 mi | Moderate | Grand, Moose, or Gladys Lake CG |
| | Lake Angeles | 7.5 mi | Moderate | Lake Angeles CG |
1. Grand Valley (2-3 days)
Grand Valley contains a beautiful chain of alpine lakes, all easily accessible from Obstruction Point. Permits for this area are competitive, though, so make sure to apply in advance. Head South on the Grand Pass trail, following Lillian Ridge and taking in views of wildflowers and mountains all around, and then drop steeply down into Grand Valley. There are three different campgrounds to choose from, each next to a gorgeous lake. Stay for one night for a quick weekend trip, or stay tw0 nights and relax next to a lake on the middle day or hike up to Grand Pass for amazing views further to the South.
2. Lake Angeles (2 days)
This trail begins below Hurricane Ridge at Heart O' the Hills Campground. There's a steep climb involved, but the payoff is worth it: a high alpine lake sitting in a rocky glacial cirque. Lake Angeles is one of the largest alpine lakes in Olympic National Park; it is evidence of the massive glaciers that once covered this epic landscape. Meander through tall forests before climbing up a series of switchbacks and finding your camp for the night by Lake Angeles. If you're feeling bold, you can turn this into a loop, climbing up to Klahane Ridge and then back down into Heather Park for a second night, and then returning to Heart O' the Hills on your third day. Or, take it easy and relax by Lake Angeles and watch the wildlife, mountains, and lake change with the light.
Join a Guided Olympic National Park Backpacking Trip
Joining an Olympic National Park backpacking tour  is a worry-free, adventurous way to experience [national park]. With your gear, meals, local transportation, permits, and fees taken care of for you, you can travel light and focus 100% on enjoying the hiking experience, while the guide company takes care of everything else. Also, by going with local experts you'll enjoy a greater level of safety and gain a much better understanding of the history and ecology of this remarkable region. Read more about guided Olympic backpacking trips.
All-inclusive Olympic NP Backpacking Adventures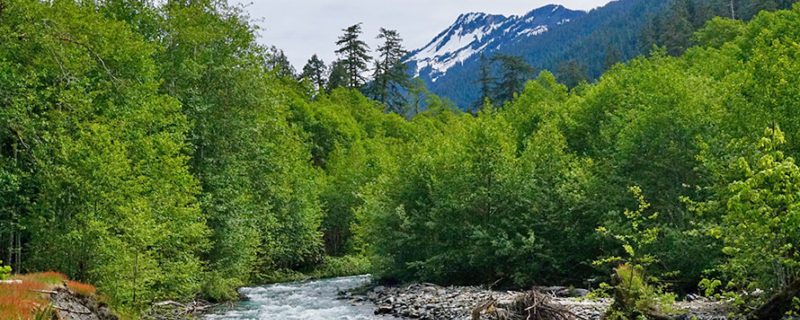 when to hike hurricane ridge
Olympic National Park has a reputation for rain, but summers tend to be dry, warm, and very pleasant. Hurricane Ridge tends to have good weather from June through September, but it's been known to get rain and snow year-round, so come prepared with a warm layer and rain jacket in your pack. Make sure to check the weather before you plan your trip.
Necessary Permits
Day Hike Permits
No permits are needed to day hike in Olympic National Park
Backpacking Permits
Self-serve permits are available from Olympic National Park at the Port Angeles Wilderness Information Center. Lake Angeles trips don't require advance reservations, but if you want to talk to a ranger about trail conditions it's worth stopping in at the ranger station to get your permit in person. All backpacking trips in Grand Valley require advance reservations, so contact the park ahead of time, or ask if there are any walk-up permits available at the WIC in Port Angeles. The Park Service also provides bear canister rentals for a small donation. For more information on Olympic National Park's permit system, click here.
Suggested Packing List
Day Hike Packing List
Lightweight hiking shoes or hiking boots
Waterproof rain jacket and pants
Warm wool or fleece top
Warm hat and gloves (Spring, Fall, Winter)
Water bottles or bladder (2 liters total capacity)
Sunhat
Headlamp
Sunglasses, sunscreen, and lip balm
Salty, calorie-rich snacks
Lunch
Backpack
Trekking Poles
First Aid Kit
Backpacking Packing List
All items listed for day hikes PLUS
Multi-day backpack
3-season tent
Sleeping bag
Sleeping pad
Backpacking stove and fuel
Backpacking meals
3 pairs of wool socks
Extra t-shirts
Please Respect Our National Parks – Leave No Trace
We strongly recommend abiding by all Leave No Trace ethics, guidelines, and practices so that our national parks and public lands are preserved for the enjoyment of future generations and for the people and animals who call these places home. Simple things like packing out your trash, obeying national park rules, and respecting the peace and quiet of our national park trails is a great start. If you're going on a backpacking trip, you can read more about the Seven Leave No Trace Principles.