Olympic National Park Inn-Based Hiking Tours
On our inn-based hiking tours you can sit back and relax while we take care of everything. Your only "job" is absorbing and enjoying all Olympic National Park has to offer!
An inn-based hiking tour in Olympic National Park is an opportunity to experience the incredible diversity this park has to offer, get some absolutely fantastic hiking in, and enjoy a high level of comfort with accommodations and meals at a local historic lodge. These trips take you high into the mountains, into the alpine zone, for big views, wildflowers and stunning beauty. They will take you deep into the rainforests, where unique flora and fauna abound. And they will take you along the Pacific coastline for wonderful hiking near crashing waves, tidal pools, unique rock formations and more!
We offer two inn-based tours of Olympic National Park. We have a 3-day tour that focuses entirely on Olympic's diversity of ecosystems, and we have a 5-day tour that combines hikes in Olympic and Mount Rainier National Parks for a wonderful, encompassing experience of the Pacific Northwest.
Our inn-based tours combine lodging, transportation, meals, guided hikes, entrance fees, natural and cultural history interpretation, and more into all-inclusive vacation packages. Come join us this summer for a trip you'll never forget! Call us at 1-800-715-HIKE (4453) or email us to learn more.
Olympic National Park Inn-Based Hiking Tours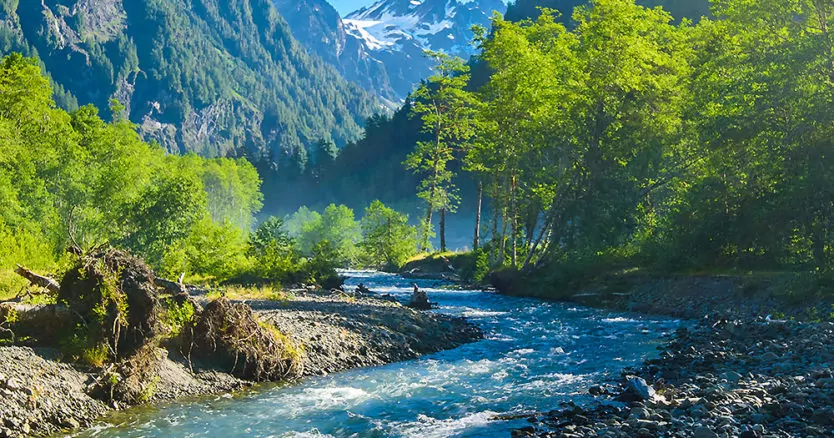 Olympic Backpacking Trips
There's no better way to experience Olympic National Park than on an Olympic backpacking adventure! Escape the crowds and highways and venture into a pristine and stunningly scenic landscape with rainforests, waterfalls, wildflower-laden meadows, picturesque rivers and lakes, and abundant wildlife! Join our expert guides for an unforgettable trip that includes all gear and meals, as well as local transportation.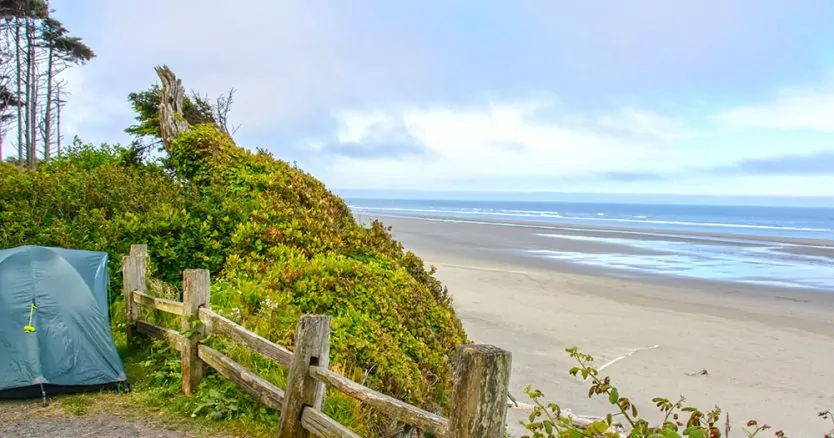 Olympic Basecamp Tours
Our Pacific Northwest basecamp tours are opportunities to enjoy an outdoor experience camping under the stars, hike hand-picked trails in Olympic and/or Rainier to hit a diversity of highlights, see what we consider the best of the Pacific Northwest, and enjoy amenities like showers, campfires, comfortable camping and fresh foods. All gear and meals are provided, as well as local transportation. Our expert guides are ready to show you all Washington has to offer!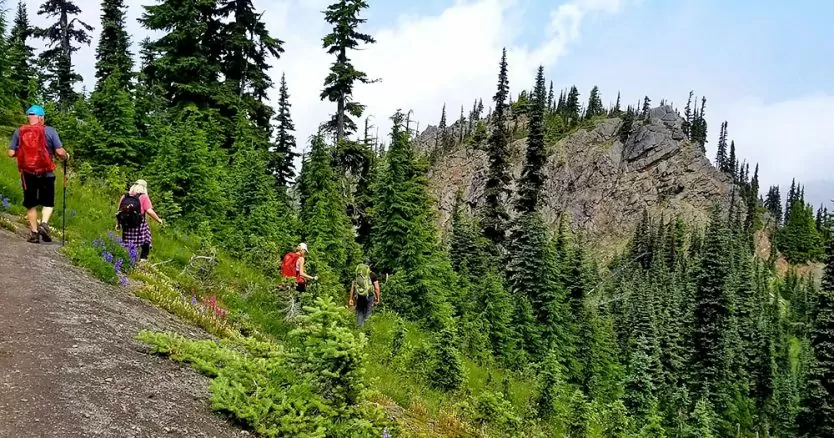 Olympic Day Hike Tours
Make the most of your visit to Olympic National Park on a guided Olympic day hiking tour! Join our expert Pacific Northwest guides on a full day hike to explore Olympic's amazing backcountry. Join us for a hike to an alpine summit or to an amazing section of the roaring Skokomish River and surrounding rainforest. As you hike you'll learn about the fascinating natural and cultural history of the Olympic Peninsula.
OLYMPIC VISITOR INFORMATION
TIPS FOR VISITING OLYMPIC