Visiting in Spring Overview
Learn About Visiting Olympic National Park in the Spring Time
After a long, wet, sunless winter in the Olympic Peninsula, spring greets you with an abundance of waterfalls, wildlife, wildflowers, and warmer weather. The park is teeming with life—wildlife frolicking with their young, whales beginning their migration, and a lush, green landscape—creating a refreshing and magical feel to this already extraordinary region. There are many benefits to visiting Olympic National Park in the spring, as well as some drawbacks. In this guide, we will go into detail about what to expect when visiting in March, April, or May.
BENEFITS OF VISITING IN SPRING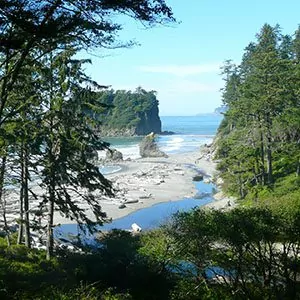 There are many benefits of visiting Olympic National Park in the spring. First, the wildlife is spectacular: The Roosevelt elk are giving birth to their young in the Hoh and Quinault Rainforests; and it is especially wonderful to watch wildlife in the river valley, where they eat the early spring vegetation. As spring migration begins in May, birdwatching is a very popular activity in Olympic National Park. And, in addition, amphibians, snails, and banana slugs are commonly seen along the trail since the temperatures are rising and the humidity is still high. Second, waterfalls are cascading dramatically over cliffs. Many locals refer to the Olympic Peninsula as "the valley of 10,000 waterfalls". There is a trail of waterfalls that will lead you to the most notable waterfalls in Olympic National Park. Some of the best waterfalls in Olympic include Sol Duc Falls, Falls Creek Falls, Madison Creek Falls, and Enchanted Valley. And, lastly, the crowds have yet to arrive in the spring, making the trails nearly empty. Although Olympic National Park is the seventh busiest park in the United States, most people visit the park from July through September. With less congestion, you are able to see the majority of the park without having to share it with a hundred other visitors.